Build your own Travel Brand!
Ready to go-LIVE travel solutions that helps your travel agency to sell a range of travel services pretty instantly. adivaha® travel solutions make sure you have no boundation over your imagination, you can do everything online, without the need for any technical knowledge or design skills. Easy Backoffice, extensive reporting with integrated Funds Management System. Upload funds easily and instantly through Netbanking, Debit Card, Credit Card. The best part is, we do offer customizations in case you believe it will boost your business!
Understanding the Basics of the Amadeus GDS System: Guide
Amadeus GDS System has been providing its services in the airline industry from 1987 and has become the industry standard over the years. It has played a significant role in globalization and has helped increase the business of airlines all over the globe. The main objective while making this system was connecting airlines and travel booking api agencies.
The idea behind this was to improve the relationship between the two, leading to the benefit of both parties. This model has been successful and has helped make travelling a global scale business.
GDS system stands for the Global Distribution System, is a network that allows transactions to occur between service providers in the travel industry. They are primarily used by travel agencies, in order to gain real-time access to inventories and to book hotel rooms, airline tickets, car rentals and other travel products for their customers. It is one of the major GDS systems and was originally created by the Air France, Lufthansa, Iberia and SAS airlines as a European-based alternative to Sabre, which is a similar GDS system based in the United States. It was founded in 1987 and while it initially focused on connecting end-users with airline inventories, it has since grown to offer access to other travel services, including hotel rooms and car rental services. Amadeus GDS Integration helps by giving you 24-hour access to flight inventories. amadeus reservation system is the largest GDS and accounts for almost 40% of the total bookings in the travel industry. Amadeus GDS API Integration will provide you with a platform that is currently being successfully used by almost 90,000 travel companies. You will attach yourself to a world-renowned brand that is enriching businesses on a daily basis.
Amadeus Software has been the global leader in the industry of the Global Reservation System for a very long time. Their platform has been the top priority of all the leading airlines for a long time, and its reliability has been the critical factor in it.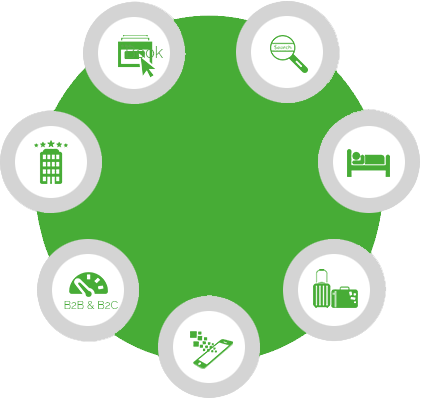 Choose Amadeus GDS for Your Travel Business
It has been able to create a functional relationship between airlines and travel agencies. This Platform has been the best middleman between the consumer and airlines. It is capable of mirroring the PNR or Passenger Name Record of the customer. PNR is a part of the amadeus hotel api Software, and it holds records of a passenger or a group of passenger's itineraries. The record can contain full information or required segments of that.That is highly dependent on the needs of the airlines and the travel agent. If a passenger itinerary includes the route in which he/she may have to travel through different airlines, Passenger Name Record in the Amadeus GDS will hold information of the entire itinerary. For example, if a passenger books a journey from Amsterdam to London on KLM, London to New York on British Airways, New York to Frankfurt on Lufthansa through a travel agent, and if the travel agent is connected to Amadeus. The PNR would contain the full itinerary. The airlines he took on the route will have information only on their itineraries, but the Amadeus GDS will have information of the entire journey. It gives the travel agencies and the customer a huge advantage to keep track of flights for future references.
Amadeus hotel search api GDS System has been at the forefront of the evolution of the globalization of the aviation industry. It always has taken steps to be ahead of the competition in this ever-changing industry. Their high technological standards and technological advancements have been the core reason for their success. They provide the best technology to their clients and help them keep themselves one step ahead of their competitors. They keep their technology up to date with the latest advancements in the tech industry to make their system better and more and more efficient. Not only this, but they also provide tremendous flexibility to their customers. They are the only ones who offer full migration of systems and platforms to open systems technology. This facility has been the main reason why Amadeus's clients stick to them and do not shift to other options in the market. Amadeus offers a lot of facilities that are unique, which competitors fail to offer, one of those is that airlines and travel agencies using Amadeus GDS can work seamlessly with each other without the need of synchronization. It reduces a lot of effort and time, and both parties can work more effectively and provide the best experience to the end consumer or traveller without any hiccups in the process. Amadeus GDS Software is not just a platform, it is the reason why airlines are inspired, and more travel is promoted across the globe. The platform harnesses intelligent use of data and integrates new interfaces and architectures.
Amadeus GDS Software
Amadeus web services api GDS aims at providing their customer with services that helps them increase their abilities and customer focus, it has always been one of their core values. They make changes according to the feedback of their clients, and over the years they have made a lot of changes to improve the experience of their customers. One of those is bringing all travel content together. We deliver travel content of airlines, hotels, ground transport, destination services, and insurance together. We do this to distribute the material over any channel or device. It makes sure that comparisons between two service providers are made easy, and the end consumer can get the best value for the spent money. Amadeus GDS can bring content from any source; whether it be EDIFACT, NDC, or any other Travel APIs, we cover them all. It has led to a significant rise in our popularity in the industry. The peace of mind that customer gets choosing us makes us the first choice among others. Everything is done according to the need of our customers. Not only comparisons are made easy, but the booking process becomes more relaxed and less hectic than ever. Amadeus Software provides transparency in comparisons because they believe that transparency will give the best results to their customers, and they can provide their travellers with the best travelling experience possible, making everyone happy, travel agencies and the traveller.
Amadeus travel have always embraced new ways of facilitating travel distribution and have always been successful in capturing the needs of the travel industry. They are always evolving and improving. Amadeus has grown from a GDS system to a Live travel space, which has enabled travel sellers and travel agencies to connect seamlessly. It has improved communication between the two and has helped the expansion of the business of both the parties. They help travel providers by accessing direct and indirect channels to help them deliver their contents and package more productively. It means, by choosing Amadeus, you get more eyes on your content. They try to bring you more business, you will get a boost in the number of calls and inquiries. They try to make every process streamlined so that everything is done efficiently, and in the end, everyone gets a piece of the pie. If you are a travel seller doing business online, Amadeus will help you in generating more traffic and keeping your customers engaged with your business from the moment they choose you. If you are a corporation trying to give your staff the best end to end experience, we got you covered with our class-leading Self-booking and duty care solutions. We have solutions for almost everything you need, and that is one of our most significant assets. All of this will help you grow your business day by day and will lead to a more successful business than ever. Because nothing comes overnight, it is a day by day process, and amadeus flight booking api will help you achieve your targets daily, and eventually, you will exceed your expectations. That is how Amadeus remains at the top of the game, promoting your business so that it is functioning to the best of its abilities.
With facilities like this, one question may have arisen in your mind. What about security and prevention from attacks. Well, the amadeus flight api GDS technology is one of the best in terms of the safety and security of data. Security is one of their top priorities, and they always make their operations more and more secure by implying the latest advancements. Their work ethic helps them to achieve the best security. They follow class-leading practices in the IT industry, which ensures the safety of their customer's data. Amadeus GDS Engine has the industry-standard security framework which supports ISO standards and is certified as compliant with the Payment Card Industry Data Security Standard (PCI DSS). With the best safety and security standards and the best norms, you can be assured that choosing Amadeus will guarantee you peace of mind and you can focus on your business without being worried about the security. When you choose Amadeus, they make it their responsibility to ensure that you are not concerned about the safety of your data and services.
Moreover, they have the best action in case any incident is reported to us regarding the security of our customers. They always take strict measures to ensure that if something goes wrong, it is fixed as soon as possible. Their speed of execution in fixing security loopholes is amongst the fastest in the industry, and that is why their customers have unbreakable trust in us. The faith of their customers is crucial to them and they always do things to ensure that this remains the same. Trust is one of the major pillars on which a business stands, and Amadeus values that. To ensure that all their customers are safe, they have invested a lot of capital in security. They spend a lot on modern technologies like cloud computing and try new ways to make their consumers more secure. They believe that automation in the industry will increase efficiency and improve the reliability of the systems. Amadeus is moving towards Platform as a Service or PaaS. It means that all the computers that use Amadeus Software need to be configured once in for all. This Platform as a Service will bring more automation in the system and will reduce human effort in many tasks. Amadeus GDS is committed to providing the best experience to the customer. That is why Platform as a Service model will provide better management and running of operations. It is a cloud-computing technology that follows the "follow the sun" model. It will make sure that all the customers using amadeus gds api will get continuous supervision from them, which will help in improving efficiency, reliability, and most importantly, the security of the business. This integration of cloud-computing technology in the Amadeus System is a prime example of why it should be the first choice of the people.
The reliability and success of the Amadeus GDS System is not only a spoken thing. Well, the numbers speak for themselves, or don't they? They have been at the top of their game for a long time and have served customers worldwide. Their top tier technology has enabled them to handle over 632 million bookings and 1,657 million passengers just by 2017. If that is not enough, they do business with more than 440 airlines, 110 low-cost carriers, 90 rail operators, 300 hotel chains & 230 tour operators. They not only have expanded across the globe, but they also have the most extensive reach in every amadeus travel segment across all regions. They have been growing and developing continuously successfully expanding their reach all over the world.
adivaha® is a amadeus travel api solutions companythat tend to all your travel website's needs. Amadeus Software provided by us has been the key to the success of many businesses, and we continue to help them achieve greater heights. Many travel agencies and corporations have flourished after being a part of us, and we continue to deliver every promise we make. We have given global access to a full airline inventory of 85% of carriers to our travel agency customers. We have provided the best possible customer support to our customers, and that is the primary reason why our customers value us. Because we believe our relationship with our customers does not end after providing them with a service, we believe in standing with our customers to help them cross every hurdle. Getting to us is as easy as it gets. We have our offices across the globe, and you can also connect with us online through our website. We will be glad to help you, and we are open to new ideas every time. Every problem of your business is a challenge to us, and we will help you overcome those with our high-end technology and top tier approach. So, if you are a corporation in the travel industry, an airline or a travel agency planning to grow your business and reach new heights, think no further than api amadeus system.
Our Comprehensive List of Services
adivaha® is a one-stop-shop for all your travel website needs. We offer a multitude of services that empower you to become a market leader. Contact us for more info.
Have Questions?
The Internet is a huge resource, but
if your question requires particular expertise.
Keep Refreshing your customers - Who doesn't want his site to stand out from crowd? adivaha® gives you multiple options for home pages, headers, colors etc. Which can easily be managed from admin via shortcodes and settings. The theme supports almost all the big players in this market ie, WEGO, Travelpayouts, Agoda, Booking, Expedia etc.
Frequently Asked Questions
Below are some of the questions asked by visitors. Do visit our adivaha® Digest for more such questions. Don't hesitate to ask us if you have any questions