Build your own Travel Brand!
Ready to go-LIVE travel solutions that helps your travel agency to sell a range of travel services pretty instantly. adivaha® travel solutions make sure you have no boundation over your imagination, you can do everything online, without the need for any technical knowledge or design skills. Easy Backoffice, extensive reporting with integrated Funds Management System. Upload funds easily and instantly through Netbanking, Debit Card, Credit Card. The best part is, we do offer customizations in case you believe it will boost your business!
How to Choose the Right Hotel Plugin for your WordPress Website
Choosing the right hotel booking plugin for your WordPress website is crucial to ensure smooth hotel management, online bookings, and a seamless user experience for your guests. It provides clear information about room availability, pricing, and amenities. Choosing a reputable hotel plugin from a trusted developer ensures that you have access to regular updates and security patches. Additionally, reliable plugins often undergo thorough testing and adhere to coding standards, reducing the risk of conflicts or performance issues on your website.
Identify your specific needs
Before searching for a hotel plugin, determine the specific features and functionalities you require. Consider aspects like online booking system, room availability management, pricing and discounts, payment gateways, integration with third-party booking systems, and multilingual support. Determine whether you need a plugin that allows guests to book rooms directly on your website. Consider features such as availability calendars, room selection, guest information forms, and real-time booking confirmation. Assess if you require features to manage room inventory, set different room types, define room amenities, and track room availability. This is particularly important if you have multiple room categories or properties. Consider whether you need the ability to set room rates based on factors like seasons, weekdays, or special events. Determine if you want to offer discounts, promo codes, or package deals. Decide which payment gateways you want to integrate for accepting online payments. Consider popular options such as PayPal, Stripe, or other local payment methods. If you use external systems like channel managers or property management systems (PMS), determine if you need the hotel plugin to integrate with these systems for seamless data synchronization and management. Assess if you need multilingual support to cater to a diverse range of guests. Determine if the plugin provides translation capabilities or integrates with translation plugins. Consider if you require customization options to match the plugin's appearance and functionality with your white label website design and branding. Look for features that allow you to customize booking forms, display room details, and personalize confirmation emails. Determine if you need reporting and analytics features to track booking trends, occupancy rates, revenue, and guest demographics. This can help you make data-driven decisions to optimize your hotel's performance. Consider if the plugin is optimized for mobile devices to provide a smooth booking experience for guests using smartphones or tablets.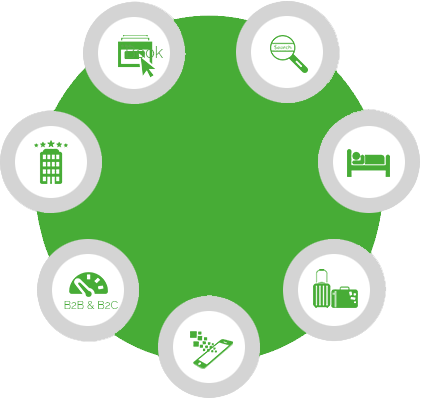 Perfect Hotel Plugin For Your WordPress Website
Research available options
Explore the WordPress booking plugin repository, third-party marketplaces, and reputable plugin developers' websites to find hotel plugins that meet your needs. Look for plugins with positive reviews and high ratings to ensure their quality and reliability. By researching different hotel plugins, you can gain a better understanding of the features and functionalities they offer. This allows you to compare and evaluate plugins based on your specific needs and requirements. Researching available options helps you determine which plugins are suitable for your hotel business. Each plugin may have different strengths and weaknesses, and by researching, you can identify the ones that align with your goals and objectives. Looking at user reviews and ratings provides valuable insights into the experiences of other users. It helps you gauge the reliability, performance, and overall satisfaction levels of a particular wordpress travel agency plugin. Researching different hotel plugins allows you to assess their compatibility with your current WordPress version, theme, and other plugins you may already be using. This helps avoid potential conflicts or issues down the line. Researching available options helps you compare pricing structures and licensing models. Some plugins may offer free versions with limited features, while others have premium plans with additional functionalities. By researching, you can find a plugin that fits your budget and offers the desired features. Researching plugins enables you to assess the level of support and frequency of updates provided by the plugin developers. It is important to choose a plugin that is actively maintained and has responsive support to address any issues or concerns you may have. If you already use third-party systems like channel managers, property management systems, or payment gateways, researching plugins helps you identify which ones seamlessly integrate with these systems. This allows for smoother data synchronization and workflow management.
Check for support and updates
Ensure that the plugin is actively supported and regularly updated by the developer. Look for a plugin that offers responsive customer support and timely updates to address any issues, security vulnerabilities, and compatibility with the latest WordPress version. Support from the plugin developer is essential if you encounter any issues, have questions, or need guidance during the setup and usage of the plugin. A responsive support team can provide timely assistance and help you resolve any problems, ensuring the smooth operation of your hotel management system. Regular updates from the plugin developer ensure compatibility with the latest version of WordPress and other related plugins. Updates also address any security vulnerabilities that may arise, ensuring the protection of your website and guest data. Updates often include bug fixes to address any reported issues or conflicts with other plugins or themes. They may also introduce new features, performance improvements, or usability enhancements based on user feedback. Regular updates ensure that you have access to the latest features and improvements available for the hotel plugin. A plugin that receives regular updates and support is more likely to remain compatible with future versions of WordPress. This helps future-proof your website and ensures that you can continue using the plugin without interruption as WordPress evolves.
Evaluate user experience
User experience is crucial for both you, as the hotel comparison sites owner, and your guests. Install a demo version of the plugin, if available, to test its usability, customization options, and interface. Pay attention to the booking process, reservation management, and any other features that directly impact the user experience. Test the booking process provided by the plugin from the perspective of a guest. Evaluate the ease of navigating through the booking form, selecting room types, specifying dates, and entering guest information. A user-friendly and intuitive booking process increases the chances of successful conversions. Assess how the plugin presents room availability and pricing information to users. It should provide clear and up-to-date availability calendars, and accurately display room rates and any applicable discounts or special offers. Ensure that the information is easily understandable and accessible to users. Check if the hotel plugin is responsive and works well across different devices and screen sizes. With the growing use of smartphones and tablets for online browsing, it's essential that the plugin provides a seamless experience on mobile devices as well. Evaluate the level of customization offered by the plugin. It should allow you to match the plugin's appearance and functionality with your website's branding and design. Look for options to customize colors, fonts, layouts, and other visual elements to create a cohesive user experience. Review the confirmation process and communication methods provided by the travel booking plugin wordpress. Users should receive clear and comprehensive booking confirmations via email or on-screen messages. Assess if the plugin supports automated email notifications for booking confirmations, cancellations, and modifications. If the plugin has a backend interface for managing bookings and settings, evaluate its ease of use. It should provide an intuitive and well-organized dashboard or control panel where you can easily manage reservations, room availability, pricing, and other hotel-related settings. Test the plugin's performance and loading speed. A slow-loading plugin can frustrate users and lead to a poor user experience. Ensure that the plugin doesn't significantly impact your website's overall performance and that it operates efficiently. Read user reviews and feedback about the plugin's user experience. Look for common positive or negative comments related to usability, ease of use, and overall satisfaction. Consider both the quantity and quality of user feedback to assess the plugin's user experience.
Assess pricing and licensing
Review the pricing structure of the plugin and ensure it fits your budget. Some plugins offer free versions with limited features and premium versions with additional functionalities. Evaluate the value you'll receive from the plugin and choose a pricing plan that aligns with your budget and requirements. Determine the pricing models offered by the plugin developer. Some plugins offer a basic version with limited features available for free. Evaluate whether the free version provides sufficient functionality for your needs or if you require premium features. Premium plugins typically have a one-time or recurring fee for access to the full range of features and support. Evaluate the pricing structure and compare it to the value the plugin offers for your hotel business. Assess if the plugin offers different feature tiers or plans to cater to various needs. Consider which features are essential for your hotel booking websites and whether they are included in the pricing tier you are considering. Determine if there are additional costs for specific features or integrations. Review the licensing terms of the plugin. Check if the license is valid for a specific duration (e.g., annual or lifetime license) and if it includes updates and support during that period. Understand any restrictions or limitations on the number of websites or installations covered by the license. Consider the overall value the plugin provides in relation to its pricing. Evaluate the features, functionality, support, and updates offered by the plugin in comparison to its cost. Determine if the pricing is reasonable and justifiable based on the benefits and advantages the plugin brings to your best hotel booking site. Assess the potential return on investment the plugin can generate for your hotel business. Consider how the plugin's features can help increase bookings, streamline operations, improve customer satisfaction, and drive revenue. Evaluate whether the pricing is justified by the potential benefits and returns you can achieve. Look for user reviews and recommendations regarding the pricing and value of the plugin. Consider feedback from other hoteliers or WordPress users who have experience with the plugin's pricing structure and licensing terms. This can provide insights into the perceived value and cost-effectiveness of the plugin.
Our Comprehensive List of Services
adivaha® is a one-stop-shop for all your travel website needs. We offer a multitude of services that empower you to become a market leader. Contact us for more info.
Have Questions?
The Internet is a huge resource, but
if your question requires particular expertise.
Keep Refreshing your customers - Who doesn't want his site to stand out from crowd? adivaha® gives you multiple options for home pages, headers, colors etc. Which can easily be managed from admin via shortcodes and settings. The theme supports almost all the big players in this market ie, WEGO, Travelpayouts, Agoda, Booking, Expedia etc.
Frequently Asked Questions
Below are some of the questions asked by visitors. Do visit our adivaha® Digest for more such questions. Don't hesitate to ask us if you have any questions
I am setting up this plugin for my client's website, I tried registering and received the account activation email, but …

9

views

0

answers

0

votes