Build your own Travel Brand!
Ready to go-LIVE travel solutions that helps your travel agency to sell a range of travel services pretty instantly. adivaha® travel solutions make sure you have no boundation over your imagination, you can do everything online, without the need for any technical knowledge or design skills. Easy Backoffice, extensive reporting with integrated Funds Management System. Upload funds easily and instantly through Netbanking, Debit Card, Credit Card. The best part is, we do offer customizations in case you believe it will boost your business!
Everything You Need To Know About Rental Plugins For WordPress
Take your rental business to the next level with WordPress rental plugins! Simplify reservation management, automate tasks, and secure online payments for a smooth customer experience.
Discover how rental plugins for WordPress can streamline your rental business by managing bookings, availability, pricing, and online payments. Enhance your website with booking calendars, customization options, and a seamless user experience.
Optimizing Your Rental Experience: Introducing Rental Plugins for WordPress
In the world of rental plugins for WordPress, Adivaha, as a travel technology solution supplier, play a key role. We are experts in creating and offering cutting-edge rental plugins designed exclusively for the travel business. We develop plugins with crucial features like user-friendly booking calendars, easy availability management, dynamic pricing modification, and fast online payment connection. The rental plugins can be customized to meet the particular branding and design requirements of various travel agencies thanks to our expertise in modification and branding. By customizing the plugin's visual components, user interface, and user experience, we create a unified and dependable appearance that strengthens our clients' brand identities. Other important aspects of our function include partnership and collaboration. We actively seek collaborations with travel businesses, agencies, and WordPress development agencies to expand our reach and offer bundled services. These partnerships may involve joint marketing efforts or collaborations to customize the rental plugin based on specific business needs. As the travel industry evolves, we have the responsibility to enhance and update the rental plugin regularly. This includes adding new features, improving performance, and incorporating user feedback. Staying ahead of industry trends and customer demands ensures that your rental booking WordPress plugin remains competitive and valuable in the market.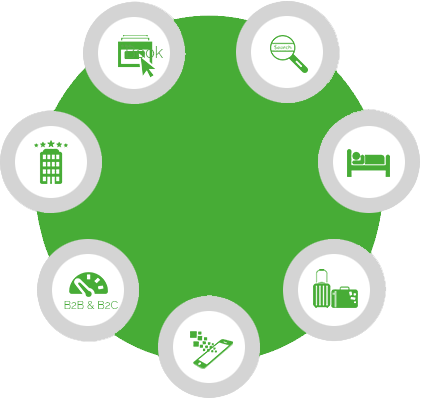 Guide to Rental Plugins for WordPress
Functionality Enhanced: Exploring the Key Features of Rental Plugins
There are some of the key features and functionality that rental plugins for WordPress provide. Depending on the specific plugin you choose, you can have features that cater to your unique rental business needs.It's essential to assess your requirements and select a rental plugin that aligns with your business goals and enhances the booking experience for your customers.
Booking Calendars:

Booking calendars offer a clear and intuitive way to display the availability of rental properties, equipment, or services. Customers can easily see which dates are available for booking, helping them make informed decisions. With booking calendars, customers can conveniently select their desired rental dates. They can navigate through the calendar, choose specific dates or date ranges, and initiate the booking process with a simple click or tap.

Availability Management:

Rental plugins offer real-time updates to availability, ensuring accurate information is displayed to customers. When a booking is made, the availability status is automatically adjusted to reflect the reservation, preventing double bookings or conflicts. Rental plugins allow you to block off specific dates or time slots when your rentals are not available. This feature is useful for situations such as maintenance, seasonal closures, or any other periods when rentals are temporarily unavailable.

Customizable Booking Forms:

One of the key features offered by rental plugins for WordPress is the ability to create customizable booking forms. Customizable booking forms allow you to gather specific details from customers according to your business needs. You can include fields such as name, contact information, rental preferences, special requests, or any other information that is relevant to your rental business.

Online Payment Integration:

Online payment integration is a vital feature provided by rental plugins for WordPress. It allows customers to make secure and convenient payments directly on your website when booking rentals. Rental plugins integrate with reputable payment gateways, ensuring secure and encrypted payment transactions. This helps protect sensitive customer data and provides peace of mind during the payment process. Rental plugins support various payment methods, including credit cards, debit cards, PayPal, and other popular payment processors. By offering multiple options, you cater to a wider range of customer preferences and increase the chances of successful bookings.

Multilingual and Multi-currency Support:

Multilingual and multi-currency support is a valuable feature provided by rental plugins for WordPress. Rental plugins with multilingual capabilities enable you to create booking interfaces and content in multiple languages. This feature ensures that your website can be accessed and understood by customers from different language backgrounds, enhancing accessibility and user experience.

Creating an Online Rental Platform Using WordPress

Setting up a rental website with WordPress involves a series of steps to create a professional and functional online platform for your rental business. Here's a guide on how to get started:

Choose a Domain Name and Hosting:

Select a domain name that reflects your rental business and register it with a domain registrar. Then, choose a reliable hosting provider that offers WordPress compatibility and install WordPress on your hosting account.

Install a WordPress Theme:

Browse through the vast collection of WordPress themes and select a suitable theme for your rental website. Look for themes that are responsive, visually appealing, and compatible with rental plugins or have built-in rental functionalities.

Install and Configure Rental Plugin:

Choose a rental plugin that aligns with your business requirements and install it on your WordPress website. Follow the plugin's documentation or setup wizard to configure its settings, such as booking calendars, availability rules, pricing options, and payment gateways.

Customize the Website Design:

Customize the appearance of your rental website to match your branding and create a unique identity. Modify colors, fonts, layouts, and other visual elements using the customization options provided by your chosen WordPress theme.

Create Rental Listings:

Add rental listings to your website, including detailed descriptions, high-quality images, and any specific rental information customers need to know. Depending on your rental plugin, you may have dedicated listing features or custom post types to manage your rental inventory effectively.

Set Pricing and Availability:

Configure pricing options based on rental durations, seasonal variations, or specific pricing rules provided by your rental plugin. Set availability for each rental unit or service, blocking off dates or time slots when rentals are not available.

Enable Online Bookings and Payments:

Integrate online booking and payment functionalities using your rental plugin's features or compatible payment gateways. Enable customers to select rental dates, make secure online payments, and receive confirmation emails or receipts.

Implement Booking Management Tools:

Utilize the booking management tools provided by your rental plugin to track and manage reservations efficiently. Monitor bookings, handle modifications or cancellations, and keep records of customer details and rental preferences.

Optimize for Search Engines:

Implement basic search engine optimization (SEO) techniques to improve your rental website's visibility on search engines. Optimize page titles, meta descriptions, and include relevant keywords in your content to attract organic traffic.

Test and Launch:

Before launching your rental website, thoroughly test all the functionalities, including booking processes, payment integration, and responsiveness across different devices. Ensure everything is working smoothly and resolve any issues or bugs.
Popular Rental Plugins for WordPress
There are several popular rental plugins available for WordPress that offer robust features and functionality for managing rental bookings and operations. Here are some well-known rental plugins:
WooCommerce Bookings:

WooCommerce Bookings is an extraordinary plugin that empowers rental businesses to soar to new heights of success. Developed by WooCommerce, a leading e-commerce platform, this majestic plugin provides a comprehensive and flexible solution for managing bookings on your WordPress website. It tailor the booking process to meet your specific business needs. Define booking durations, set available time slots, and customize booking rules to accommodate your rental availability and requirements. Set different pricing options based on specific timeframes, seasonal variations, or unique rental scenarios. Easily manage pricing variations for peak seasons, weekends, or special events.

MotoPress Hotel Booking:

This is a user-friendly plugin that is designed to help you efficiently handle bookings for your accommodation business. MotoPress Hotel Booking provides a simple and intuitive booking system. It allows guests to easily select their desired dates, check room availability, and make reservations hassle-free. Seamlessly integrate with popular payment gateways, allowing guests to make secure online payments directly on your website. This convenience enhances the booking experience and saves time for both you and your guests.

Bookly PRO:

Bookly PRO seamlessly integrates into existing websites, allowing businesses to effortlessly incorporate a professional booking system. This integration ensures a cohesive and consistent online presence while providing customers with a user-friendly booking experience. Businesses have the freedom to customize booking forms according to their specific requirements. They can tailor the form fields, gather essential customer information, and create a personalized booking journey that aligns with their brand and service offerings. The plugin offers real-time availability updates, enabling customers to view the most up-to-date appointment slots. This feature prevents scheduling conflicts and enhances transparency, ensuring a smooth booking process for both businesses and customers.
Conclusion
In conclusion, as a third-party service provider, we serve as a trusted partner in helping businesses set up and optimize their rental websites with WordPress. Our expertise, solutions, and ongoing support empower businesses to establish a strong online presence, streamline their rental operations, and provide a seamless booking experience that drives growth and customer satisfaction.
Our Comprehensive List of Services
adivaha® is a one-stop-shop for all your travel website needs. We offer a multitude of services that empower you to become a market leader. Contact us for more info.
Have Questions?
The Internet is a huge resource, but
if your question requires particular expertise.
Keep Refreshing your customers - Who doesn't want his site to stand out from crowd? adivaha® gives you multiple options for home pages, headers, colors etc. Which can easily be managed from admin via shortcodes and settings. The theme supports almost all the big players in this market ie, WEGO, Travelpayouts, Agoda, Booking, Expedia etc.
Frequently Asked Questions
Below are some of the questions asked by visitors. Do visit our adivaha® Digest for more such questions. Don't hesitate to ask us if you have any questions
What all GDS and Providers are connected in the platform?

36

views

1

answers

0

votes