Want to know more about Reservation-WP, the advanced solution designed to meet the specific requirements of travel businesses?
For tour operators and online travel agencies offering various travel packages, several top booking plugins are well-suited to meet your needs. These plugins offer user-friendly interfaces and versatile functionalities to streamline the booking process and enhance customer experiences. Here are some of the top booking plugins suitable for tour operators and travel agencies:
Travelo: Travelo is a visually appealing and feature-rich booking plugin suitable for travel agencies with multiple travel packages. It offers real-time search availability, a flexible pricing system, and advanced search filters to help customers find their desired packages easily. Its responsive design ensures a smooth booking experience across various devices.
Woo Commerce Travel Bookings: Woo Commerce Bookings is an extension for the popular Woo Commerce travel booking plugin wordpress, making it an excellent choice for tour operators and travel agencies already using Woo Commerce. It allows businesses to offer bookable tours, activities, and events with various scheduling options, and it seamlessly integrates with the existing Woo Commerce ecosystem.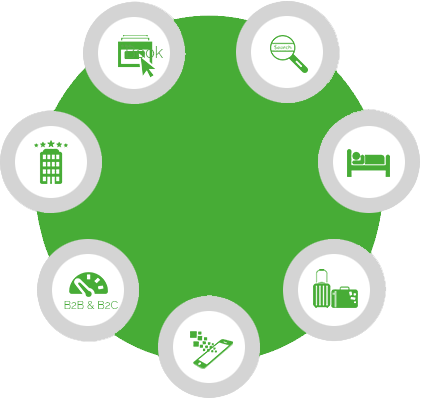 WordPress Plugins for Booking Reservations
Amelia: Amelia is an AI-powered booking plugin that can efficiently handle bookings for tour operators and travel agencies. With automated booking and customer inquiry management, Amelia streamlines the reservation process and reduces administrative workload. It also supports multiple languages, making it suitable for international travel businesses.
Bookly: While primarily designed for appointment scheduling, Bookly can be adapted to suit travel-related services offered by tour operators. It provides a user-friendly booking interface where customers can easily select dates, times, and activities, making it an accessible option for businesses looking for a customizable solution.
Which WordPress plugin provides real-time search availabilit y and supports multiple payment gateways?
As a leading third-party service provider in the travel industry, we are excited to introduce you to the exceptional WordPress travel plugin known as "Travelo." Travelo offers an impressive combination of real-time search availability and support for multiple payment gateways, making it the perfect choice for travel businesses like yours.
With Travelo's real-time search availability feature, your customers can effortlessly check the availability of travel packages, tours, or accommodations in an instant. This ensures a seamless booking experience, allowing them to secure their desired bookings with confidence.
Moreover, Travelo's support for multiple payment gateways empowers your customers to choose their preferred payment method, promoting a sense of convenience and flexibility in the booking process. By accommodating various payment options, you can cater to a diverse customer base and boost your business revenue.
As a trusted third-party service provider, we wholeheartedly recommend Travelo for its exceptional features that streamline the reservation process, elevate customer satisfaction, and optimize your travel business operations. Embrace Travelo today and witness the remarkable impact it can have on enhancing your customers' booking experiences.
What are the advantages of using WooCommerce Bookings as an extension for travel businesses?
As a prominent third-party services provider specializing in travel portal development solutions, we recognize the immense value of selecting the right tools to simplify and optimize the booking process for travel businesses. With WordPress being a widely favored content management system, the availability of numerous travel booking plugins has become a game-changer in the industry. These plugins offer an array of features that enhance user experience, streamline reservations, and ultimately contribute to boosting business revenue.
Seamless Integration: Woo Commerce Bookings seamlessly integrates with the widely-used Woo Commerce platform, which is one of the most popular e-commerce solutions for WordPress. This integration allows you to add booking functionality to your existing Woo Commerce-powered travel portal website without the need for major customizations or changes.
Versatility for Travel Businesses: Whether you are a tour operator, travel agency, or any other type of travel business, Woo Commerce Bookings is highly versatile and adaptable. It enables you to offer bookable tours, activities, accommodations, or any other travel-related services based on your unique business requirements.
Flexibility in Scheduling: The plugin provides various scheduling options, allowing you to set specific time slots, and custom availability periods, or even offer flexible bookings based on customer preferences. This flexibility caters to different travel experiences and accommodations your business may provide.
Capacity Management: With Woo Commerce Bookings, you can easily manage the capacity for each travel experience or service you offer. You can set limits on the number of bookings allowed for specific time slots or dates, ensuring that you maintain optimal customer experiences and avoid overbooking.
Automated Email Notifications: The plugin comes with built-in automated email notifications, which keep your customers informed about their bookings, cancellations, and upcoming travel experiences. This feature helps improve customer communication and reduces the need for manual follow-ups.
How does Adivaha stand out as an all-in-one travel solution and integrate with WordPress websites?
As a leading all-in-one travel portal solution, Adivaha stands out by offering a comprehensive range of cutting-edge technologies and services tailored to meet the diverse needs of the travel industry. Here's how Adivaha differentiates itself and seamlessly integrates with WordPress websites:
Comprehensive Travel Solutions: Adivaha provides a holistic approach to travel technology company, catering to various sectors within the industry. Whether you are an airline, hotel, car rental agency, tour operator, or any other travel-related business, Adivaha offers tailored solutions to meet your specific requirements.
Advanced Booking Engines and APIs: Adivaha®'s advanced booking engines and APIs empower travel businesses to showcase real-time travel inventory and handle bookings with ease. These powerful tools enable seamless integration, ensuring that customers can access up-to-date information and book their travel experiences effortlessly.
User-Friendly Interface: Adivaha prioritizes user experience, offering an intuitive and user-friendly interface for both travel businesses and their customers. The platform's design facilitates easy navigation, making it simple for customers to search, compare, and book travel technology services on WordPress websites.
Multi-Currency and Multi-Language Support: With Adivaha, travel businesses can cater to a global audience as the platform supports multiple currencies and languages. This feature allows customers from different regions to browse and book in their preferred currency and language, enhancing accessibility and user satisfaction.
Secure Payment Gateways: Adivaha integrates with trusted and secure payment gateways, ensuring smooth and secure transactions for customers. By offering various payment options, the platform enhances customer confidence and encourages bookings.
Intelligent Recommendation System: Adivaha®'s intelligent recommendation system uses data analytics and machine learning to suggest personalized travel options to customers. This feature helps enhance cross-selling and upselling opportunities, leading to increased customer engagement and revenue.
Seamless WordPress Integration: Adivaha seamlessly integrates with WordPress travel website, making it a user-friendly choice for travel businesses already using the popular CMS. The integration process is smooth and hassle-free, allowing businesses to incorporate Adivaha®'s advanced features into their existing websites without disruptions.
Responsive Design: Adivaha ensures that its technology is responsive, adapting seamlessly to different devices such as smartphones, tablets, and desktops. This responsiveness enables customers to access and book travel services conveniently on any device.
Robust Analytics and Reporting: Adivaha provides in-depth analytics and reporting tools to track business to business performance, customer behavior, and booking trends. These insights enable data-driven decision-making and help businesses optimize their offerings and marketing strategies.
Conclusion:
Selecting the right best travel plugin WordPress is crucial for any travel business looking to simplify the reservation process and enhance customer satisfaction. The highlighted plugins in this article offer a range of features to cater to different business needs. However, for comprehensive and top-of-the-line travel solutions, partnering with Adivaha can take your travel business to new heights, enabling you to stay ahead of the competition and meet the ever-evolving demands of the travel industry.