Build your own Travel Brand!
Ready to go-LIVE travel solutions that helps your travel agency to sell a range of travel services pretty instantly. adivaha® travel solutions make sure you have no boundation over your imagination, you can do everything online, without the need for any technical knowledge or design skills. Easy Backoffice, extensive reporting with integrated Funds Management System. Upload funds easily and instantly through Netbanking, Debit Card, Credit Card. The best part is, we do offer customizations in case you believe it will boost your business!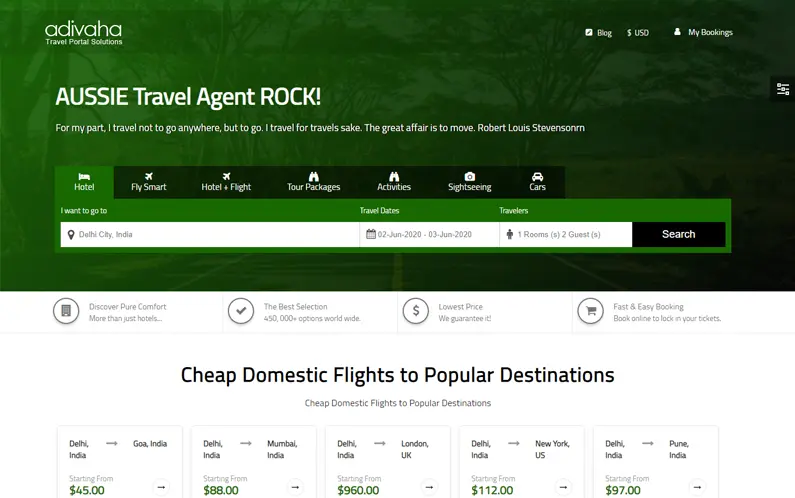 Top Tour-Booking Plugins for WordPress You Need to Know
Having an online reservation plugin system means offering your clients a tool that allows them to obtain your service easily, simply, and reliably. To accept an online Tour ticket booking wordpress plugin, your website must meet a series of essential requirements that ensure that you offer your customers the best service. In a world where everything can be done online, it is very important to offer an image of professionalism and trust, which you will only achieve with a suitable tour reservation plugin system. 
Access from the Tour booking plugin Wordpress must be instantaneous and highly visible so that customers can access through the search engine those tour packages that interest those most. Tour plugin wordpress is online booking software specifically designed for tourism companies, in particular tour operators, travel agencies, and destination management companies who wish to buy and sell tourism products or services. , running their business successfully.The Tour booking plugin is the system used by travel agencies for the management of reservations and purchases of airline tickets, hotel reservations, as well as for rental cars or other tourist services. Initially created exclusively for airline operators, these telematics booking systems have subsequently become the main tool of the entire world of the travel business. It manages large databases by connecting the various players in the sector, thus creating a "one-stop-shop" for travel reservations.
Key features of Tour booking plugin system
When it comes to comparing different travel wordpress ticketing plugin systems, it is crucial to understand which the most relevant features are. These are the ones that can help you manage your trips in a more secure, efficient, and profitable way.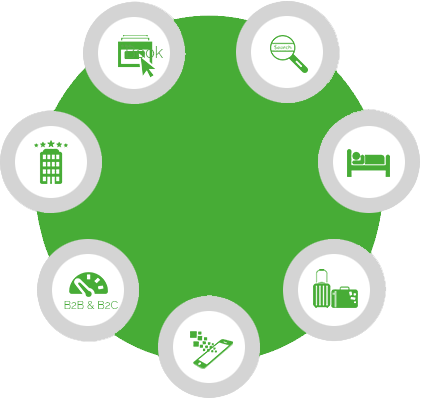 Best Tour-Booking Plugins for Your WordPress site
Customizable travel policies

One of the most important points to consider in a tour booking system for wordpress plugin system is the travel policy. Even when your company's office managers are in charge of booking on behalf of travelers, it is essential to have travel policies within the applications themselves to be online with the administrators.

Customizable approval flows

Tour wordpress tour booking plugin system has included approval flows within the platform. Thus, in the event of any event that is not contemplated by the policy, users could request approval of their reservations and save the details of their trip. In this way, they would avoid wasting time choosing the correct itinerary and sending the corresponding email. You should be able to determine these approval flows in any way you want, for example by assigning different people from different departments the ability to approve these trips, or by customizing the level of demand.

An extensive inventory

The booking tour packages plugin for wordpress policy and approval processes are vital to maintaining compliance at all times. But beware; your access to inventory is also very important. If there are no accommodation options or low-cost airlines in the travel management system you use, you are missing out on great savings opportunities. It would be quite wise if your platform included them since millennial tend to always choose low-budget options.

Assistance included at no additional cost

Paying a surcharge for each call to support is an old and expensive practice. The tour booking system wordpress plugin system has also included assistance at no additional cost. In this way, you will know exactly how much you are paying and avoid surprises at the end of the month. But most of all, travelers will have the assistance they need when they need it, without worrying about being caught by a finance colleague for making expensive calls to support.

No redirects

We all know how annoying it is to book a vacation and have the page redirect us to another site at once. When we are taken to another provider's page, we lose the trust we thought we had in that site. With the tour booking wordpress theme plugin, redirects are not only annoying, but they also prevent us from keeping track of them. At the end of the month, you'll find yourself flipping the internet trying to find all your bills. Avoid that at all costs.

Consolidated billing

The easiest way to keep track of business trips is to book them all in one place. However, some travel management systems do not function as a single provider, so you end up with multiple invoices from different providers. To save you time and trouble, choose the booking tour package wordpress plugin system that consolidates all your monthly trips into a single invoice from a single provider. The finance team will be delighted with you.

Tour booking plugin, including self-booking for travelers

Although your company does not allow travelers to book on their own, you should be able to offer a simple and intuitive tour booking wordpress experience to those in charge of making those reservations. If you are not interested in allowing self-reservations, choose a travel management system that travelers love: that is easy to use, meets their needs, and assists when they need it.

Relevant means of transport for your organization

Surely the least you expect from a travel management system is that it includes flights, hotels, and rental cars. But what about the trains? Trains are that mode of transport that your employees often choose. Consequently, you should choose a travel management system that includes them.Why should you consider including means of transportation (and even accommodation options like Airbnb) that your employees use frequently? So that all possible options are unified in a single platform, this includes all business trips and is easy to manage.

Integration with the expense tool

Your travel management system should integrate with the one you use daily for expenses. There is no possible excuse. If there is no integration available, check that the travel management system at least: Offer an external API so that your development team can integrate it with the expense management toolOffer customizable integration services

Saving traveler information

Booking business trips cannot take two hours. If you save all the traveler information in your travel management system (names and surnames, details of their travel documents, dates of birth, etc.), it will take you much less time to make reservations. Most of the time it will only be a matter of minutes.

Accumulation of loyalty points

Each company has a different policy when it comes to loyalty programs. Some do not allow travelers to accumulate points in their accounts and have all business trips accumulate points in the corporate account so that it is the company that gets the rewards.Either way, you should use a travel tour booking wordpress theme plugin system that stores the numbers for these loyalty programs. Thus, travelers will not have to enter them every time they book. And if your company only allows points to be accumulated in the corporate account, then an office assistant or administrator should be responsible for recording these numbers in the profiles of all travelers.
Conclusion
To buy and sell a large variety of products such as hotels, apartments, transfers, tours, flights, trains, car rentals, and much more this Tour booking plugin is a complete modular solution that allows your tourism company. Furthermore, our booking software is a highly flexible tool that can be adapted to the needs of your company by providing high levels of customization. Last but not least, it's a completely perfect solution that can evolve with your business.
The Digital Age has revolutionized the way we share and obtain information. As we have seen, the Tour booking tours and travel wordpress theme free has revolutionized the travel agency industry one step further and what in principle only served to manage flight reservations has been able to integrate many more features in real-time. Tour booking plugin is beginning to lay the foundations for the digital future and it is not surprising that many other sectors take the Tour booking plugin and are applied in other areas of sales to facilitate our day to day.
Our Comprehensive List of Services
adivaha® is a one-stop-shop for all your travel website needs. We offer a multitude of services that empower you to become a market leader. Contact us for more info.
Have Questions?
The Internet is a huge resource, but
if your question requires particular expertise.
Keep Refreshing your customers - Who doesn't want his site to stand out from crowd? adivaha® gives you multiple options for home pages, headers, colors etc. Which can easily be managed from admin via shortcodes and settings. The theme supports almost all the big players in this market ie, WEGO, Travelpayouts, Agoda, Booking, Expedia etc.
Contact
Have something unique in mind? Drop a message.
Estimated reply time: 3-5 Working Days