Build your own Travel Brand!
Ready to go-LIVE travel solutions that helps your travel agency to sell a range of travel services pretty instantly. adivaha® travel solutions make sure you have no boundation over your imagination, you can do everything online, without the need for any technical knowledge or design skills. Easy Backoffice, extensive reporting with integrated Funds Management System. Upload funds easily and instantly through Netbanking, Debit Card, Credit Card. The best part is, we do offer customizations in case you believe it will boost your business!
Top Tour-Booking Plugins for WordPress You Need to Know
Learn about the vital tour booking system WordPress plugins that will revolutionize your travel technology solutions. Discover how advanced tools, customized options, and seamless connectivity can help tour operators manage reservations, payments, and availability.
With the help of our carefully chosen selection of the best tour booking WordPress plugin, you can provide your customers with a wealth of useful features, easy integration, and several customization choices. Improve their websites with cutting-edge features that make it simple to manage tour bookings, handle safe payments, and monitor availability.
You may organize and display your tours and activities on your website with the help of a number of well-liked tour booking plugins for WordPress. Some of the best tour booking plugins to be aware of are listed below:
WP Travel
WP Travel is a popular and feature-rich tour- WordPress travel booking plugin for WordPress. It provides a comprehensive solution for tour operators and travel agencies to manage and showcase their tours and activities on their websites. With WP Travel, you can create and customize tour packages, set pricing and availability, handle online bookings, and integrate with popular payment gateways for secure transactions. The plugin offers a user-friendly interface, allowing you to easily manage bookings, generate invoices, and send email notifications to customers. It also provides advanced features like trip reviews and ratings, social sharing options, and multi-language support. WP Travel is a reliable choice for those looking to streamline their tour booking process and provide a seamless experience to their customers.
Tour Package Creation: WP Travel makes it simple to design and alter tour packages. Tour specifics like locations, itineraries, inclusions, and exclusions can be specified. This gives you the opportunity to present your tours in an organized and appealing way.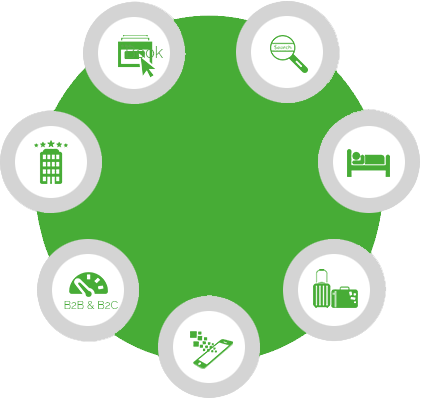 Best Tour-Booking Plugins for Your WordPress site
Pricing and Availability Management: The plugin provides versatile pricing choices that let you establish various costs depending on elements like the time of year, the number of people in a group, or supplementary services. By defining the tour dates, the number of slots, and the daily maximum number of reservations, you can also control availability. This ensures effective tour scheduling and helps avoid over booking.
Integration of online reservations and payments: WP Travel enables website visitors to make reservations directly online. For the purpose of securely processing online transactions, the plugin integrates with well-known payment processors like PayPal or Stripe. This ease and adaptability help make your clients' booking experience simple.
User-Friendly Dashboard: WP Travel offers a user-friendly dashboard that makes managing trip reservations simple. It is simple to check and manage reservations, create invoices, and interact with clients. You're learning curve is shortened by the user-friendly interface, which also makes it simpler for you to manage your tour operations effectively.
Email notifications and communication: The plugin automatically emails clients to confirm reservations and to remind them of upcoming events. This guarantees clear communication and keeps clients updated on their reservations. Additionally, you can alter the email templates to fit your logo and keep a polished appearance.
Trip reviews and ratings: WP Travel has an integrated review and rating system that enables users to provide feedback and share their experiences. Constructive criticism enables you to improve your travel technology services while positive evaluations can boost your reputation and increase bookings.
Woo Commerce Bookings
Woo Commerce Bookings is an ideal solution for businesses that want to leverage the power of Woo Commerce while incorporating robust booking functionality into their WordPress custom website. With its seamless integration, flexible booking options, and secure payment processing, it offers a comprehensive solution for managing and selling tours, activities, and other bookable services.
Seamless Integration: Woo Commerce Bookings seamlessly integrates with the Woo Commerce plugin, which is widely used for e-commerce functionality on WordPress travel websites. This allows you to leverage the existing features of Woo Commerce while adding booking capabilities to your website.
Flexible Booking Alternatives: To accommodate various tours and activities, the plugin provides a number of flexible booking alternatives. You can construct time slots, specify availability dates, and manage the number of reservations made for each session. By doing this, you can manage reservations based on your particular needs.
Pricing and inventory control: Woo Commerce Bookings offers a wide range of pricing choices. Depending on the time, date, or length of the tour, you can specify different prices. By indicating how many slots are available for each time slot or date, you may also regulate availability. You can efficiently restrict the wordpress travel booking capacity and avoid overbooking by doing this.
Secure Online Payments: The integration with Woo Commerce enables secure online payment processing. Customers can make payments for their bookings using various payment gateways supported by Woo Commerce, such as PayPal, Stripe, or credit cards. This ensures a smooth and secure transaction process for both you and your customers.
Booking Management Dashboard: Woo Commerce Bookings offers a user-friendly dashboard where you can easily manage bookings. You can view and edit bookings, update availability, and communicate with customers directly from the backend of your website. This streamlines the administrative tasks associated with managing bookings.
Customization and Personalization: The plugin provides options to customize the booking process to match your branding and website design. You can personalize booking forms, add custom fields to capture specific information and display booking details in a way that aligns with your brand identity.
Amelia
Amelia is a powerful booking plugin for WordPress that serves a range of markets, including tours and activities. It provides a complete answer for controlling bookings, reservations, and appointments made through your travel portal website. Amelia is an effective booking plugin that makes managing tour reservations and appointment scheduling simple because of its intuitive user interface, cutting-edge functionality, and customization choices. It simplifies the booking process for both you and your clients, boosting the effectiveness and client happiness of your tour company overall.
User-friendly Interface: Amelia offers a user-friendly interface that makes managing reservations and appointments simple. You can effectively examine, edit, and manage bookings using its user-friendly interface. An easy-to-use interface and clear navigation help to provide a satisfying user experience.
Appointment Scheduling: With Amelia, you can easily set up and manage appointments for tours and activities. Customers can select their preferred date, time slot, and service, making it convenient for them to book their tours online. The wordpress travel plugin ensures that your availability is updated in real-time, preventing double bookings.
Online Payment Integration: Amelia supports integration with popular payment gateways, allowing you to accept online payments securely. Customers can make payments at the time of booking, providing a seamless and convenient experience. This feature helps streamline your revenue collection and reduces manual payment handling.
Email Notifications and Reminders: Amelia sends automated email notifications and reminders to customers. These include booking confirmations, reminders of upcoming appointments, and notifications of any changes or cancellations. Such proactive communication keeps customers informed and minimizes no-shows.
Calendar Integration: The plugin seamlessly integrates with your WordPress calendar, as well as external calendar services such as Google Calendar. This synchronization ensures that your appointments and bookings are accurately reflected in your schedule, making it easy to manage and avoid conflicts.
Moto Press Hotel Booking
Moto Press Hotel Booking plugin wordpress is a versatile booking plugin designed primarily for hotels but can also be used for tour bookings and accommodations. It provides a comprehensive solution for managing bookings, availability, and payments on your WordPress website. With its responsive design, availability management, customizable options, and integration with payment gateways, it simplifies the booking process and enhances the user experience for both you and your customers.
Availability Management: The plugin enables you to manage the availability of your tours or accommodations effectively. You can set specific dates, define availability for different time slots, and control the maximum number of bookings allowed. This ensures efficient scheduling and prevents overbooking.
Flexible Pricing Options: Moto Press Hotel Booking provides flexible pricing options to accommodate different tour packages or accommodation types. You can set base rates, seasonal rates, and special rates, or apply discounts for specific periods or group sizes. This allows you to optimize your pricing strategy and maximize revenue.
Online Payments: Moto Press Hotel Booking integrates with popular payment gateways, such as PayPal and Stripe, enabling secure online payment processing. This feature allows customers to make payments for their bookings directly on your booking website wordpress, providing a convenient and seamless booking experience.
Customization and Design: The plugin offers extensive customization options, allowing you to tailor the booking process to match your branding and travel website designing. You can customize the appearance of the booking form, modify fields, and add custom CSS to ensure a cohesive and personalized user experience.
Multi-Language and Multi-Currency Support: Moto Press Hotel Booking supports multiple languages and currencies, making it suitable for businesses targeting an international audience. You can easily translate the booking interface into different languages and accept payments in various currencies, enhancing accessibility for customers worldwide.
Conclusion
In conclusion, these top tour-booking plugins for WordPress provide powerful solutions to streamline and enhance the booking process for tour operators, online travel agencies, and accommodation providers. Whether it's WP Travel, Woo Commerce Bookings, Amelia, or Moto Press Hotel Booking, each plugin offers unique features and benefits tailored to meet specific needs. These plugins empower businesses to create and manage tour packages, handle availability, accept online payments, and provide a seamless booking experience for customers.
Our Comprehensive List of Services
adivaha® is a one-stop-shop for all your travel website needs. We offer a multitude of services that empower you to become a market leader. Contact us for more info.
Have Questions?
The Internet is a huge resource, but
if your question requires particular expertise.
Keep Refreshing your customers - Who doesn't want his site to stand out from crowd? adivaha® gives you multiple options for home pages, headers, colors etc. Which can easily be managed from admin via shortcodes and settings. The theme supports almost all the big players in this market ie, WEGO, Travelpayouts, Agoda, Booking, Expedia etc.
Frequently Asked Questions
Below are some of the questions asked by visitors. Do visit our adivaha® Digest for more such questions. Don't hesitate to ask us if you have any questions
hello team, I want to know the cost of hiring your services. could you please provide full-fledged information regarding this?

29

views

1

answers

0

votes