Build your own Travel Brand!
Ready to go-LIVE travel solutions that helps your travel agency to sell a range of travel services pretty instantly. adivaha® travel solutions make sure you have no boundation over your imagination, you can do everything online, without the need for any technical knowledge or design skills. Easy Backoffice, extensive reporting with integrated Funds Management System. Upload funds easily and instantly through Netbanking, Debit Card, Credit Card. The best part is, we do offer customizations in case you believe it will boost your business!
Get Started With Tour Booking on WordPress Using Plugins
Ready to take your travel business to the next level? Unleash the potential of tour bookings on WordPress using plugins. Follow our comprehensive guide to easily set up, manage, and optimize your tour booking system for maximum customer satisfaction.
Start accepting online tour bookings on your WordPress travel websites effortlessly. This tutorial provides a detailed walkthrough of plugin selection, configuration, payment gateway integration, and customization to help you streamline your tour booking process.
Learn how to utilize WordPress booking plugins to create and handle tour bookings on your WordPress site effortlessly.
At Adivaha, we understand the importance of a reliable and efficient tour WordPress booking system. With the best travel booking plugin WordPress as our chosen platform, we can provide our clients with a powerful and customizable solution that caters to their specific needs. Our tour booking wordpress functionality, integrated within WordPress, empowers our clients to offer seamless online reservations for a wide range of tours and travel experiences. With a user-friendly interface, customers can easily browse available tours, select preferred dates and options, and confidently complete their bookings—all within the familiar WordPress environment. This streamlined process ensures a positive user experience for both our clients and their customers. We recognize the importance of search engine visibility in driving organic traffic and attracting potential customers. With Word Press's SEO-friendly infrastructure, we can optimize our clients' tour pages by incorporating relevant keywords, engaging content, and other SEO best practices. This empowers us to position their offerings higher in search engine results, increasing their online visibility and driving more traffic to their travel portal website.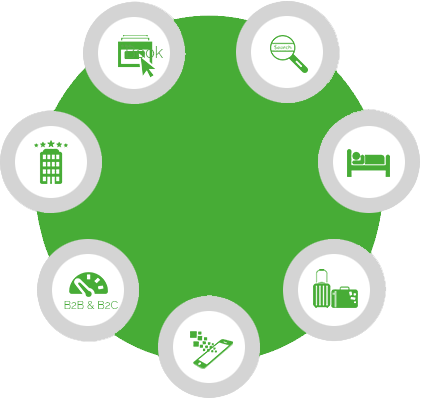 Essential WordPress Plugins You Need to Know
Choosing the Right Tour Wordpress Booking Plugin
When offering travel technology solutions, selecting the right tour booking plugin wordpress is crucial to ensure a seamless and efficient booking experience for our clients and their customers.
Woo Commerce Bookings: This widely used Woo commerce booking plugin seamlessly integrates with the popular Woo Commerce platform, allowing for flexible booking options, availability management, and payment integration. Its extensive features make it a popular choice for businesses of all sizes.
WP Travel: Designed specifically for custom travel website and tour operators, WP Travel offers comprehensive booking management features, including customizable booking forms, multiple pricing options, and robust payment gateways. It also provides compatibility with various travel-related plugins.
Amelia: Amelia is a powerful booking wordpress travel plugin that offers a user-friendly interface, appointment scheduling, and real-time availability updates. With its flexible pricing options, customer management features, and customizable booking forms, Amelia is suitable for various tour booking needs.
WP Simple Booking Calendar: Although primarily a booking calendar plugin, WP Simple Booking Calendar can be useful for displaying tour availability. It allows clients to easily manage and showcase their tour availability on their wordpress travel booking websites, providing transparency and convenience for potential customers.
Factors to consider when selecting a WordPress tour plugin
Features and Customization: Assess the features offered by the plugin, such as booking forms, availability calendars, payment gateways, and integration capabilities. Ensure that the plugin offers the necessary customization options to tailor the booking process to your clients' specific needs.
User-Friendliness: Consider the ease of use and intuitive interface of the plugin. A user-friendly backend ensures that our clients can manage their bookings efficiently without extensive technical knowledge or assistance.
Scalability and Performance: Evaluate the plugin's ability to handle large volumes of bookings without compromising performance. Look for scalability options, such as server optimization and caching mechanisms, to ensure smooth operation as our clients' businesses grow.
Support and Updates: Check the plugin developer's reputation for providing regular updates, bug fixes, and reliable customer support. A responsive support system is essential for troubleshooting issues and addressing concerns promptly.
Creating Your WordPress Website from Scratch with Adivaha
Choosing the Right Hosting Provider: Selecting a reliable hosting provider is crucial for ensuring optimal website performance, speed, and security. We assess various hosting options based on factors such as uptime guarantees, server resources, customer support, and scalability. A dependable hosting provider ensures that our clients' websites are accessible to their customers at all times.
Installing WordPress: We initiate the website setup process by installing wordpress travel plugin on the chosen hosting environment. This involves downloading the latest version of WordPress, creating a database, and configuring the necessary settings. Installing WordPress provides our clients with a user-friendly content management system (CMS) that enables them to easily manage their website's content and functionalities.
Choosing and Customizing a Theme: Selecting an appropriate theme sets the visual tone and layout of the website. We consider factors such as responsiveness, travel website designing flexibility, and compatibility with popular plugins. Customization options are essential as they allow us to tailor the website's appearance to reflect our clients' branding and create a unique user experience.
Installing Essential Plugins: We carefully select and install essential plugins that enhance the functionality and performance of the website. These plugins might include SEO optimization tools, security plugins, caching solutions, and analytics integrations. Each plugin is chosen to improve the website's visibility, protect against potential threats, optimize page loading speed, and provide valuable insights into user behavior.
Configuring Website Settings: We ensure that the website's general settings, such as site title, tagline, and time zone, are appropriately configured. This step also includes setting up search engine visibility preferences, permalink structures, and other foundational settings to optimize the website's overall performance and user experience.
Creating Essential Pages and Navigation: We create essential pages, such as the home page, about us, tours, contact, and booking pages. Careful attention is given to the website's navigation structure, ensuring intuitive menu organization and easy access to important sections. Clear and concise calls to action are incorporated to guide visitors toward the tour booking process.
Implementing Security Measures: Website security is a top priority for us as a third-party travel technology services provider. We take measures to protect our clients' websites and customer data by implementing security plugins, utilizing SSL certificates, and regularly updating themes and plugins. This ensures a safe and trustworthy environment for tour bookings and builds customer confidence.
Optimizing for Search Engines: We optimize the website's content, metadata, and structure to improve search engine visibility and rankings. This includes conducting keyword research, implementing on-page SEO techniques, and submitting sitemaps to search engines. Optimizing the best travel website for search engines helps drive organic traffic and attract potential customers.
Integrating Essential Tools: We integrate necessary tools such as analytics platforms, booking systems, and payment gateways to facilitate smooth tour bookings. Seamless integration ensures accurate tracking of website performance, booking analytics, and secure online transactions.
Testing and Launching the Website: Before making the website live, we thoroughly test its functionalities, responsiveness, and compatibility across different devices and browsers. This includes conducting booking tests, verifying form submissions, and checking for any potential issues. Once we are confident in its performance, we launch the website and monitor its performance closely.
Conclusion
In conclusion, as a trusted third-party service provider offering travel technology solutions, we recognize the immense potential of leveraging the best tour booking plugin WordPress and plugins to get started with tour booking. By carefully selecting the right tour booking plugin, setting up a robust b2b website WordPress, and customizing the booking process, we enable our clients to offer seamless and efficient tour reservations to their customers. we understand the importance of compatibility, scalability, and support. We meticulously consider factors such as plugin compatibility, integration with other travel technologies, scalability options, and reliable customer support when selecting the ideal tour booking plugin. By ensuring these aspects, we provide our clients with a seamless and efficient tour booking system WordPress that can handle their growing business needs.
Our Comprehensive List of Services
adivaha® is a one-stop-shop for all your travel website needs. We offer a multitude of services that empower you to become a market leader. Contact us for more info.
Have Questions?
The Internet is a huge resource, but
if your question requires particular expertise.
Keep Refreshing your customers - Who doesn't want his site to stand out from crowd? adivaha® gives you multiple options for home pages, headers, colors etc. Which can easily be managed from admin via shortcodes and settings. The theme supports almost all the big players in this market ie, WEGO, Travelpayouts, Agoda, Booking, Expedia etc.
Frequently Asked Questions
Below are some of the questions asked by visitors. Do visit our adivaha® Digest for more such questions. Don't hesitate to ask us if you have any questions
What all GDS and Providers are connected in the platform?

27

views

1

answers

0

votes