Build your own Travel Brand!
Ready to go-LIVE travel solutions that helps your travel agency to sell a range of travel services pretty instantly. adivaha® travel solutions make sure you have no boundation over your imagination, you can do everything online, without the need for any technical knowledge or design skills. Easy Backoffice, extensive reporting with integrated Funds Management System. Upload funds easily and instantly through Netbanking, Debit Card, Credit Card. The best part is, we do offer customizations in case you believe it will boost your business!
Choose the Right Travel Agency Software for Your Business Needs
Choosing travel agency booking software made it easy. Explore interface intuitiveness, security, and the Adivaha difference. Elevate your business operations and redefine customer experiences.
In the rapidly evolving landscape of the travel industry, staying ahead of the competition and providing exceptional services to clients is crucial for travel businesses. To streamline operations, enhance customer experiences, and manage various aspects of the travel business efficiently, the utilization of robust travel agency software has become a necessity. These software solutions offer a range of features that cater to booking management, itinerary creation, customer relationship management, and more. However, with a plethora of options available in the market, choosing the right travel agency software tailored to your business needs can be a challenging task. In this article, we will delve into the essential aspects of selecting the perfect travel technology software for your business, addressing key questions and considerations.
How does the software accommodate the size of your travel business, whether it's a startup, a mid-sized agency, or a well-established enterprise?
The software's adaptability to the size of your travel business is a crucial factor to consider when making your choice. Whether you're a startup, a mid-sized agency, or a well-established enterprise, the software's capacity to seamlessly accommodate your operational scale is paramount. Here's how the software's accommodation varies based on the size of your business:
Startups: For budding online travel agencies, software should provide an entry point that aligns with your budget constraints and operational needs. Look for solutions that offer essential features like booking management, itinerary creation, and customer management. A user-friendly interface and cost-effective pricing models are crucial to help you manage initial operations efficiently and grow your clientele.
Mid-sized Agencies: As your agency expands, the software should offer scalability to accommodate increasing transaction volumes, diverse services, and a growing customer base. Look for solutions that can handle multiple distribution channels, streamline bookings, and offer customization options. Advanced reporting and analytics features become essential at this stage, helping you identify trends and optimize your offerings.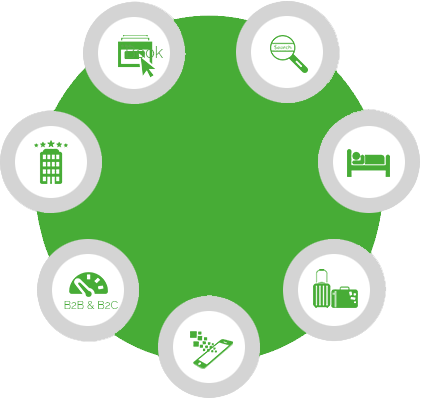 Right Travel Agency Software for Your Business Needs
Well-Established Enterprises: For larger travel businesses, software must have robust capabilities to manage complex operations seamlessly. This includes handling high booking volumes, managing a diverse range of travel services, and integrating with various third-party systems. Customization becomes critical to align the software with your brand identity and specific workflows. Enterprise-level reporting, analytics, and performance tracking are vital for data-driven decision-making.
Does the online travel software offer a user-friendly booking platform that enhances the customer experience?
One of the key elements to assess when considering travel CRM software is its capability to provide a user-friendly booking platform that significantly enhances the overall customer experience. This pivotal feature plays a crucial role in attracting and retaining clients, ultimately contributing to the success and reputation of your travel business. As a third-party service provider, we understand that a seamless and intuitive booking process can make all the difference in today's competitive travel technology company.
The software's user-friendly booking platform should encompass various aspects that prioritize convenience and satisfaction for both your customers and your agents:
Intuitive Interface: The software should boast an interface that is intuitive, visually appealing, and easy to navigate. A well-organized layout guides customers through the booking process step by step, eliminating confusion and reducing the likelihood of abandoned bookings.
Effortless Search and Selection: A robust search and filtering system empowers customers to swiftly find suitable travel options based on their preferences. From flights and accommodations to tours and packages, the software should present relevant choices in a clear and organized manner.
Transparent Pricing: Clear and transparent pricing information should be readily accessible to customers. Hidden fees and complicated pricing structures can lead to customer frustration and mistrust. The booking platform should display comprehensive cost breakdowns and any additional charges upfront.
Real-Time Availability: The software should provide real-time availability updates for flights, accommodations, and other services. This prevents customers from making bookings for services that are no longer available, ensuring accurate and up-to-date information.
Multiple Payment Options: A variety of secure and convenient payment options should be integrated into the booking platform. This includes credit/debit cards, online payment gateways, and other relevant methods that cater to the preferences of diverse customers.
Personalization Opportunities: The software should enable customers to personalize their bookings by selecting preferences, such as room types, meal options, and additional services. This customization enhances their travel experience and fosters a sense of engagement.
Why Choose the Right Travel Agency Software for Your Business Needs?
Choosing the right travel portal software tailored to your specific business needs is a pivotal decision that can significantly impact the success, efficiency, and growth trajectory of your travel business. As a third-party service provider, we emphasize the importance of this choice and highlight several compelling reasons for making an informed decision:
Operational Efficiency: The right software solution streamlines and automates various aspects of your travel business operations. From booking management and itinerary creation to customer relationship management, efficient software reduces manual workloads, minimizes errors, and allows your team to focus on providing exceptional service.
Enhanced Customer Experience: A well-designed software platform translates to an enhanced customer experience. A user-friendly booking process, transparent pricing, real-time availability updates, and customization options contribute to customer satisfaction, encouraging repeat business and positive referrals.
Scalability: Every b2b travel agency software aspires to grow. The right software offers scalability, accommodating the expansion of your services and customer base without disrupting operations. This future-proofing ensures that the software continues to meet your evolving needs.
Data-Driven Decisions: Modern software solutions come with advanced reporting and analytics capabilities. These insights provide valuable data on booking trends, customer preferences, revenue generation, and more, enabling data-driven decision-making to optimize offerings and strategies.
Integration Capabilities: The travel industry involves a myriad of systems and tools, from payment gateways to global distribution systems (GDS). The right travel technology software seamlessly integrates with these systems, ensuring smooth data flow and eliminating the need for manual data entry.
Is the software accessible and functional on mobile devices, catering to the growing trend of mobile bookings?
Certainly, the accessibility and functionality of the software on mobile devices are pivotal considerations in today's travel landscape, where mobile bookings are on the rise. As a dedicated third-party service provider, we recognize the significance of catering to this trend and ensuring a seamless mobile experience for both travelers and travel agents. Here's why mobile compatibility is crucial:
Changing Booking Behavior: An increasing number of travelers use smartphones and tablets to research, plan, and book their travel experiences. The software's mobile compatibility aligns with this evolving behavior, allowing customers to conveniently explore and book their travel technology services on the go.
User Experience: Mobile users expect a smooth and intuitive interface that adapts to their device's screen size. Software that offers a responsive design ensures that customers enjoy a consistent and user-friendly experience, regardless of whether they're using a desktop or mobile device.
Immediate Access: Mobile bookings often occur in the moment of inspiration or opportunity. With mobile-friendly software, travelers can quickly access your services, view availability, and make bookings in real time, enhancing their overall convenience.
Agent Flexibility: Travel agents benefit from mobile accessibility as well. On-the-move agents can access the software from their smartphones or tablets, manage bookings, respond to inquiries, and assist clients efficiently, even when they're not at their desks.
Mobile Payments: Many customers are comfortable making payments through mobile devices. Integrated mobile payment gateways within the software simplify the booking process, minimizing friction during the payment stage.
Notifications and Alerts: Mobile compatibility allows for push notifications and alerts, keeping travelers informed about booking confirmations, itinerary changes, or special offers. This enhances engagement and customer satisfaction.
The Role of Adivaha
While exploring your options for travel agency software, one name that stands out is Adivaha. Our innovative platform has been gaining attention for its comprehensive suite of travel portal solutions.. With a focus on simplifying travel business operations, Adivaha offers a customizable and scalable software solution that caters to the unique needs of travel agencies. Their cutting-edge technology ensures seamless integration with various APIs, allowing you to access a vast range of travel content and services. Moreover, our commitment to customer support and continuous updates positions it as a strong contender in the travel agency software landscape.
Conclusion:
Selecting the right travel software is a pivotal decision that can significantly impact the success and growth of your travel business. By carefully considering the factors mentioned above and by choosing Adivaha, you can make an informed choice that aligns with your business needs and goals. Remember that the right software solution can enhance efficiency, streamline operations, and provide a superior experience for both your team and your valued clients.
Our Comprehensive List of Services
adivaha® is a one-stop-shop for all your travel website needs. We offer a multitude of services that empower you to become a market leader. Contact us for more info.
Have Questions?
The Internet is a huge resource, but
if your question requires particular expertise.
Keep Refreshing your customers - Who doesn't want his site to stand out from crowd? adivaha® gives you multiple options for home pages, headers, colors etc. Which can easily be managed from admin via shortcodes and settings. The theme supports almost all the big players in this market ie, WEGO, Travelpayouts, Agoda, Booking, Expedia etc.
Frequently Asked Questions
Below are some of the questions asked by visitors. Do visit our adivaha® Digest for more such questions. Don't hesitate to ask us if you have any questions
I am setting up this plugin for my client's website, I tried registering and received the account activation email, but …

21

views

1

answers

0

votes