Build your own Travel Brand!
Pre-built travel solutions that helps your travel agency to sell a range of travel products pretty instantly - from hotels to flights to holidays and buses that too through the choice of your supplier. adivaha® travel solutions make sure you have no boundation over your imagination, you can do everything online and in one place, without the need for any technical knowledge or design skills. Easy Backoffice, extensive reporting with integrated Funds Management System. Upload funds easily and instantly through Netbanking, Debit Card, Credit Card. The best part is, we do offer customizations in case you believe it will boost your business!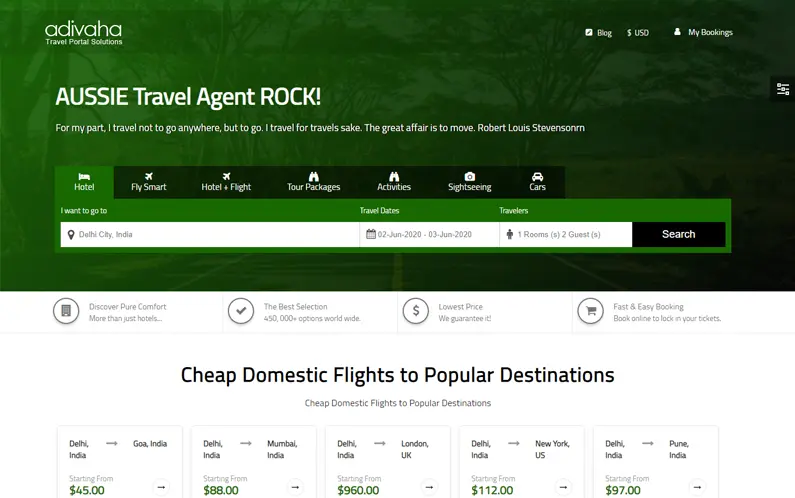 Travel Agency Software
In this modern-day and age the competition for customers, regardless of the service you're providing is cutthroat. Businesses need to change their strategies and adapt to the environment accordingly. One wrong move, one delay, and your business might become irrelevant. Travel agencies are no different; they need to keep up with the technology and offer their customers something novel, something unique.
Travel Agency Software has been a revelation to the travelling agencies. Companies have seen their business grow as they had never imagined. To understand how a Travel Agency Solution helps your travel business we must first understand how it works and the ins and outs of what a Travel's Agency Software is. There are different kinds of Travel booking System that impact your business in different ways. B2C Travel Portal and Self Booking Tool or Corporate Booking Tool are two of the major components of Travel Agency booking Software.
B2C Travel Portal provide you with an online presence. Your customers can book tickets through your website by using B2C Travel Portal. Few of the advantages of having a B2C Travel Portal are:
They provide you with an online presence without worrying about the technical details.
Appealing, user friendly, focused on selling your service which will help you increase your goodwill in the market. Making your customers coming back for more.
Easy product promotion through newsletters and promotional pages. This again will help you to market your business with ease.
Complete independence in creating pages and content which will help you sell your product the way you deem fit.
Search and book products' engine, including dynamic packages; Product upselling to increase the value of the sale.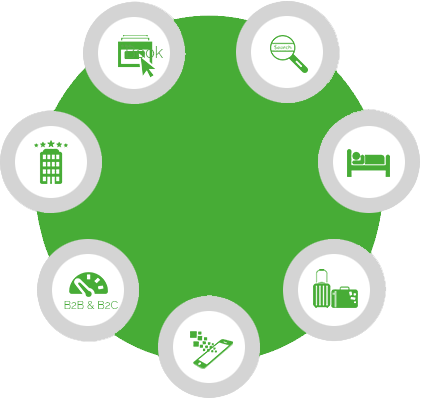 Travel Agency Software
Travel Software XML Integration
Travel XML Integration provides real-time booking platform and integrated booking software. This helps you streamline opportunities and cater to multiple guest requirements in the most efficient manner. Embedding Travel XML into your travel business website can produce supple and modernize form, without doing bigger investment in costly and sophisticated design plans.
To understand how a Travel XML integration process will help you with your business we must first understand what an API is:
API stands for Application programming interface. It is a set of, well-defined rules which helps an application to interact with certain system/libraries/application etc. It is intended to simplify the implementation and maintenance of software. Travel APIs can take forms, but often includes specification for routines data structures, object classes, variable or remote calls. POSIX, Windows API and ASPI are examples of different forms of APIs.
Documentation for the Travel APIs is usually provided to facilitate usage and implementation.
In more layman terms, imagine going to a restaurant for lunch. You don't know what's on the menu, and they don't know what you want. How can you communicate?
You can go to the kitchen, ask them for their menu, decide, go back to the kitchen to give them your order, go back for the third time to collect your food and finally go back for the fourth time to pay your bill. Sounds like a lot of work, right? But a restaurant will have a waiter who will do all these tasks for you. He will act as a conduit between you and the kitchen saving precious time and effort for both you and the restaurant. The waiter here is a perfect example of an API. An API communicates on your behalf and saves you both time and effort. API's have other uses other than being an integral part of a Travel Booking engine. Some of the examples that we use in our day-to-day lives include weather snippets, twitter bots, etc.
If you choose to purchase our Travel operator Software you will also require a platform where you can install it. That's where Adivaha's OTA Website Development expertise comes in handy. By availing our OTA Website Development, you can create a website that can be used to attract prospective clients. During the OTA Website Development process our team will establish communication with you. We will understand your vision and will try to replicate it, this involves choosing the best color combination and the best user interface. After the OTA website Development process is complete, we will proceed to the next step I.e. Travel XML Integration. adivaha® will complete the OTA website Development process and deliver you the finished product within 14 days. This Travel Agent Software will make your enterprise a force to be reckoned with. Travel Technology has been a revelation to the travelling agencies. Companies have seen their business grow as they had never imagined. Our Travel Company will provide you with a live inventory, cancellation option and many payment gateways. Your website will become a one-stop-shop for all your customers travelling needs.
Our Services
adivaha® is a one-stop-shop for all your travel website needs. We offer a multitude of services that empower you to become a market leader. Contact us for more info.
Have Questions?
The Internet is a huge resource, but
if your question requires particular expertise.
Keep Refreshing your customers - Who doesn't want his site to stand out from crowd? adivaha® gives you multiple options for home pages, headers, colors etc. Which can easily be managed from admin via shortcodes and settings. The theme supports almost all the big players in this market ie, WEGO, Travelpayouts, Agoda, Booking, Expedia etc.
Contact
Have something unique in mind? Drop a message.
Estimated reply time: 3-5 Working Days