Build your own Travel Brand!
Ready to go-LIVE travel solutions that helps your travel agency to sell a range of travel services pretty instantly. adivaha® travel solutions make sure you have no boundation over your imagination, you can do everything online, without the need for any technical knowledge or design skills. Easy Backoffice, extensive reporting with integrated Funds Management System. Upload funds easily and instantly through Netbanking, Debit Card, Credit Card. The best part is, we do offer customizations in case you believe it will boost your business!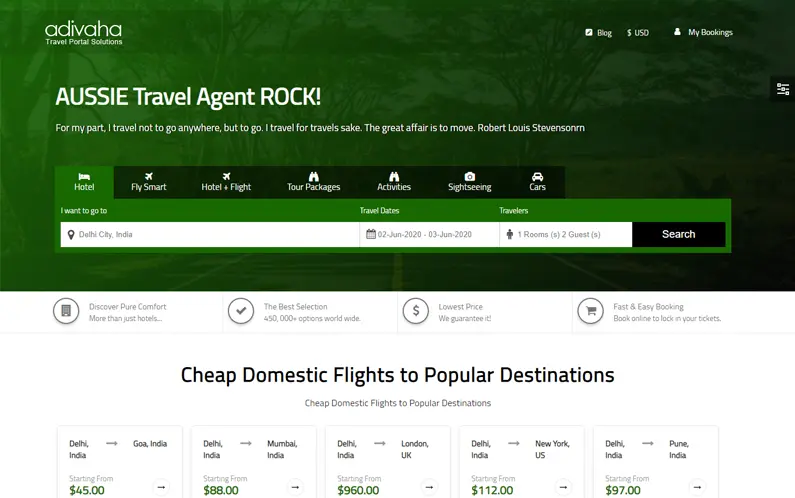 Making the Most of Travel API Integration for Your Business
When a small travel business begins to expand and becomes familiar with system integration, it may wonder - what is travel APIs for?
When a travel company has several overlapping software, services can become unmanageable and operations can be performed inefficiently. By implementing travel API integration, an organization can consolidate these processes and simplify the sharing of data across their enterprise.Can help business owners determine how implementing this operating system will improve their performance with learning the logistics of API integration.
What is a travel API?
The best travel system and software that integrates processes already established in a company. Travel APIs allow different systems to interact and collaborate on information so that parties can access data through a single user interface. In other words, this solution acts as a hidden intermediary providing commands and responses to and from the user.Using travel APIs allows companies not only to interconnect processes but also to develop additional programs as needed. With proper documentation, the travel APIs help developers quickly build applications related to system functionality rather than having to create a script from scratch. Instead, they can use the platform to determine what operations are required for systems and implement functions in travel API design.
The travel APIs make service maintenance efficient by interconnecting systems and eliminating redundant functions, allowing operations to run smoothly. This solution also offers flexibility in communication and data formatting. This takes the encoding from the third-party server and migrates it into a format that the service provider can digest.Offers business and software developers several advantages with implementing an API rather than a traditional point-to-point integration. Among which-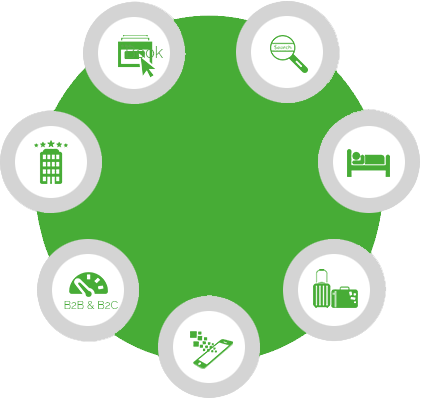 Creating an Effective Plan for Travel API Integration
Automated Operations
Complete Integration
System Personalization
Quick Software Development
Widely Scope on Functions
Easy Adaptation
Efficient Data Management
What are the Travel APIs for?
The opportunities for bees are endless. For example, if a travel business wants to link their social media pages, such as Twitter, LinkedIn, Facebook, or Instagram, to their website, there is an API option. If a manager wants to implement a translator in their systems to expand the reach of the client and client, there is also an API for this purpose.There are many types of web travel APIs, including Representational State Transfer, Simple Object Access Protocol, internal APIs, and Partner APIs, which meet specific travel business needs. While this solution can adapt to almost any function, most companies typically use travel APIs to simplify day-to-day operations within their business.
How does the travel APIs work?
Following the defined set of protocols and endpoints, Travel APIs enable communication between components and systems. As a messenger, the travel API sends requests to a server, translates the message, and delivers the response to the user. If the third-party server or resource containing the requested information can satisfy the user's command, the travel API integration can provide the data in real-time.An easy way to understand this process is to compare it to ordering a meal at a restaurant. In this scenario, the customer and the user, the travel API, and the third-party server. When the customer orders a dish, the waiter writes the order and passes it on to the chef. The chef then creates the meal, delivering it to the waiter to be delivered to the customer.However, if the external processor is unable to fulfil the request, the travel API will warn the user of the error due to denied access or removal of the resource. While this may be frustrating for the client, it is actually a security measure from the server's privacy policy. Instead of returning sensitive data from third parties, it keeps the program's encryption hidden and secure.
Key features of a Travel API system
When it comes to comparing different travel management systems, it is crucial to understand which the most relevant features are. These are the ones that can help you manage your trips in a more secure, efficient, and profitable way.
Customizable travel policies

One of the most important points to consider in a travel API system is the travel policy. Even when your company's office managers are in charge of booking on behalf of travelers, it is essential to have travel policies within the applications themselves to be in line with the administrators.You should be able to customize the travel policy based on several criteria:Special policies for a specific type of traveler (such as C-level executives or a department that frequently needs to book last minute flights).Global policies for hotel rates per night..Hotel rate per night by the city.Global policies to set the maximum cost of national and international flights.The maximum cost of flights for specific routes.Minimum number of days to be able to make a reservation.Global maximum cost on train tickets.The maximum cost of train tickets on specific routes.Travel API systems should allow you to predefine this policy so that it is ready and operational the moment anyone books their trip. Instead of a travel policy laid out in one long and boring document, it can be available to everyone where it matters most - in the reservations app.

Customizable approval flows

What if we need to book a trip not included in the said policy? Good question.Travel API systems should include approval flows within the platform. Thus, in the event of any assumption that is not contemplated by the policy, users could request approval of their reservations and save the details of their trip. In this way, they would avoid wasting time choosing the correct itinerary and sending the corresponding email. You should be able to determine these approval flows in any way you want, such as by assigning different people from different departments the ability to approve these trips, or by customizing the level of demand.Do all trips require approval? Or only those that does not enter the policy or are reserved by certain travelers? Travel API systems should be personalized to the maximum.

An extensive inventory

Travel API policy and approval processes are vital to maintaining compliance at all times. But beware; your access to inventory is also very important. If there are no accommodation options or low-cost airlines in the travel management system you use, you are missing out on great savings opportunities. It would be quite wise for your platform to include them since millennial tend to always choose low-budget options.

Assistance included at no additional cost

Paying a surcharge for each call to support is an old and expensive practice. Travel API systems should include assistance at no additional cost. In this way, you will know exactly how much you are paying and avoid surprises at the end of the month. But most of all, travelers will have the assistance they need when they need it, without worrying about being caught out by a finance colleague for making expensive calls to support.

No redirects

We all know how annoying it is to book a vacation and have the page redirect us to another site at once. When we are taken to another provider's page, we lose the trust we thought we had in that site. With Travel API, redirects are not only annoying, but they also prevent us from keeping track of them. 
Conclusion:
The travel API integration system has a multi-language and multi-currency service that will allow you to reach any market with great ease and you will be able to control the negotiations with your suppliers with the business rules. Now you can manage the forms of payment for each of your products to work on request or with online reservation according to your needs.Centralize all your commercial operations on a differentiated website, a unique image for your client, with a design prepared for correct viewing on any device and adapted to your audience. If you already have a website, you can integrate the travel API as well as offer it to your affiliates and third parties so that they have all your products.
Our Comprehensive List of Services
adivaha® is a one-stop-shop for all your travel website needs. We offer a multitude of services that empower you to become a market leader. Contact us for more info.
Have Questions?
The Internet is a huge resource, but
if your question requires particular expertise.
Keep Refreshing your customers - Who doesn't want his site to stand out from crowd? adivaha® gives you multiple options for home pages, headers, colors etc. Which can easily be managed from admin via shortcodes and settings. The theme supports almost all the big players in this market ie, WEGO, Travelpayouts, Agoda, Booking, Expedia etc.
Contact
Have something unique in mind? Drop a message.
Estimated reply time: 3-5 Working Days