Build your own Travel Brand!
Ready to go-LIVE travel solutions that helps your travel agency to sell a range of travel services pretty instantly. adivaha® travel solutions make sure you have no boundation over your imagination, you can do everything online, without the need for any technical knowledge or design skills. Easy Backoffice, extensive reporting with integrated Funds Management System. Upload funds easily and instantly through Netbanking, Debit Card, Credit Card. The best part is, we do offer customizations in case you believe it will boost your business!
A Step-by-Step Guide for Creating a Travel App
adivaha®White Label Travel Solutions are fundamentally an effective online travel booking engine that is being used by thousands of travel agencies around the globe. adivaha® Travel Solutions can be used to book online tickets, hotel accommodations, rental cars, and charter holiday packages as well.
To make flourish your business you have to increase your online presence. For this tour operator and travel agencies need a user-friendly portal where they could better advertise their services and offers, in turn, enhances their profits and revenues several times. adivaha® Travel Technology Company offers flexible and scalable travel portal development services, having a fully automated reservation management system, quotation management system with multiple sales channels enabling you to create customized tour packages. Moreover, payment flexibility and multi-currency and multilingual support with an impressive and seamless interface set us apart from our competitors.
adivaha® Travel Technology Company is one of the pioneers in the portal development services providing consultancy, developing all the features of B2C, B2B, and B2B2B, with API integration system for travel packages, flight and hotel bookings, and access to global travelling companies. Our travel portal development ompany Services along with Travel Mobile App goes well beyond customers' expectations, thus generating monetary benefits at every single click. Our application is well-integrated with weather widgets, google maps, and various other linked sources enabling our customers to plan their trips relying on the most authentic weather forecast and factual accommodation conditions, making our portal most smart and informative. Our Travel App is equally useful for small-scale customers, i.e. travel agents, travel agencies, to large scale travel enterprises.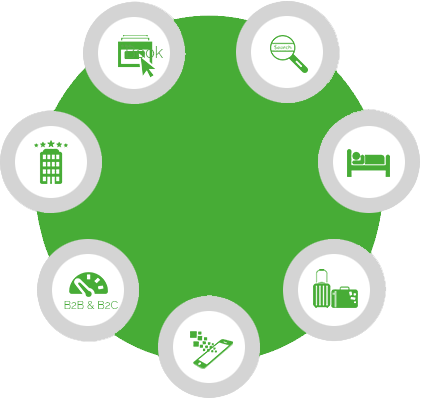 Developing the Perfect Travel App
With the latest advanced technological expertise at adivaha® Travel Technology Company, we have developed our hotel booking system robust and this allows our capability and reliability in the travel industry to be ahead of our competitors. Our Booking System, Car Rental System, Vacation Package System is best tailored for all types of customers, fulfilling their personalized needs. Our Travel Portal Developer includes GDS / Third Party API Integration for B2B Flight Booking Portal, Hotel Booking, and Car Booking Services. We offer all sorts of travel portal solutions for B2B and B2C travel agencies across the planet. We use the latest technologies to develop travel portals that help us make products cost-efficient and precise.
At adivaha® Travel Technology Company, we believe our target is incomplete until our customer is totally satisfied and carefree, and more than that; happily endorsing us for future plans. Therefore, we offer a wide range of travel portal solutions and Travel CRM Software to meet the growing needs of travel companies, resorts, travel agencies, travel consultants, and tour operators. We provide a feature-rich solution for mid- and large-sized travel businesses that is cost-effective and beyond your expectations. We will ensure that we are well-versed in your needs to provide you with proficient and customized travel portal solutions. Our portal development specialists will learn the latest technologies and market trends to provide you with web solutions. We have worked with many travel operators of International repute to help them simplify their online travel business with a focus on technology and innovation, we develop and deliver scalable travel portals and booking engines to deliver quality delivery and ensure rapid change. We think deeply, analyze your needs so that you get a full feature-optimized customized travel portal development solution. Our website design and development specialists will provide you with the travel solutions you need to apply cutting-edge technology, as well as market trends and the web solutions you are looking for. We deliver respectable results and provide a high return on investment for your growing travel business. We have an in-house online marketing team that helps bring your services to the online marketplace and puts you above your competitors.
Travel App Development at adivaha® Travel Technology Company provides you with a B2B and B2C travel portal development company in india , i.e. Business to Business and Business to Client. For greater business growth it is necessary to expand it around the world, which will give you better customers. This portal facilitates travel agencies and agents, tour operators, and web portals; consolidators manage sales, management, and collaboration with their B2B clients and B2B partners and suppliers. We have an expert and experienced team to develop customized B2B and B2C travel portals for your company. We have all the skills to offer fast-moving equipment to grow your business. Whether it's about developing a travel booking software or an online booking system, we make sure to take the latest technology. Our time-tested portal development techniques help us provide customers with a realistic and affordable product. Our portal solutions can meet all booking and b2b travel software management requirements so that you can make your business easier.
How does adivaha® Travel Portal Development Services can benefit your business?
We at adivaha® understand the fact that every business works to maximize its profits and is dependent on its customer's trust. Customer confidence is our greatest asset. adivaha® Travel Portal Development Services give your business recognition in a large number of audiences at the global stage. As the customer is the king of the market and online presence is becoming an important aspect. The portal business has proven to be the major and significant profitable factor for travel businesses.
Key Features of adivaha® Travel Portal Development Services:
Advanced Search Features:This is an auto-reference that works when customers search for any destination, then auto-suggestions help users find the exact destination they are looking for.
Image and Content Optimization: This helps the customer see the quality, relevant, and keyword-rich content improves your website design. Image optimization allows a website to load images faster.
Price and Availability: The price and availability table for search should be simple and clear so that customers or travellers can select the appropriate product from the list.
Integration of Google Maps: This enables many users to easily find a destination through a map and see nearby locations.
Travel Insurance: Customers want to know about Travel Insurance before buying any product, the customer has the necessary information about a secure insurance policy, and any travel website that has Travel Insurance has the most revenue generation probabilities.
Online Web / Mobile Booking System: It helps you find and book travel products (e.g., flight, hotel, holiday package, bus, and car on rent) with online payment gateway integration to pay for the service directly through your website helping customers. It makes booking much easier for any customer with details such as booking information, contact information, check-in date, and check-out date details, passenger information, and other travel bookings related information.
Ticket Search Filter Options: Customers can filter search options with different filter options, making the online booking experience easier for customers by meeting customer needs!
Booking Visual Effects: Travel Portal is more influenced by the images on the website, images play an important role, and the more images on the web designing journey the more customer attraction, so combine most web content with images and infographics.
Product Review and Rating: Travel-related products and other services, such as the website for commerce, all customers want to know other customers' experiences with the website and the product they are looking at before buying. Online customers' reviews and subsequent ratings attract more customers, enhances credibility, and increase conversion rates.
Design: Eye-catching graphics and layout are the things that attract the most visitors. We design attractive products for the travel industry. The way the website is viewed affects the conversion rate of visitors. Providing user-oriented platforms that support advanced technology will make your business a success. The distinctive visuals of the journey bring results.
Improvement: We enable an active design to meet high standards with efficiency. Responding to design is an important step. This will appeal to the full booking of visitors in a short time. An effective travel portal enables details such as development, maps, the latest news, tour suggestions, tour operators, and climate updates. Website integration with such features ensures a good booking experience for our customers. Good experience increases booking.
Third-Party API Integration: Our Portal and Application includes third-party API integrations such as travel service providers and trusted gateway integrations. One of the biggest concerns of travellers is to book an attractive trip. Passengers need timely and accurate information for uninterrupted travel. Without good connectivity with suppliers, it may not be possible for tourism companies to ensure timely services. Our Travel Portal Development involves integration with various service providers that offer reasonable prices to end-users.
Deployment: Customized and high standard portal development services according to a strict schedule. End-users can take advantage of the Travel Portal, which is instantly developed. You'll get an integrated website ready to use the services of XML service providers. It is our responsibility to correct every error.
Benefits of Working with adivaha® Portal Development Services Development Services
Increase Productivity and enhance your sales with us:Through adivaha® Travel Portal Development Services, you create more opportunities to engage, connect, and make money with your customer base. A complete solution for travel agents, tour operators, wholesalers, cruise, and villa professionals.
Improve your customer experience with our Travel Agency Software: With adivaha® Travel Portal Development Services you can enhance your market value. Increase revenue on each trip and add value to every phase of your business. With the adivaha® Global Airfare Platform, you can increase your revenue, streamline your operations, and increase your digital reach.
Global Airfare Platform for Travel Agencies and OTAs: adivaha® offers a web-based Online Travel Agency flight booking system for OTAs. Our application is easy to use and gives you a seamless experience to book flights. We offer various online booking tools that authorize travel agencies and online travel agencies (OTAs) to sell various travel products directly to booking websites with online travel agency software.
Increase your efficiency and automate your sales with Adivaha: We help you grow your travel business by connecting you to the # 1 market of Global Airfare.
Re-Designing the Travel Industry: Our Global Airfare Platform helps travel agencies to maximize their profits and promote customer service. adivaha® is a travel technology company specializing in developing complete end-to-end web solutions for online travel agencies that provide high-performance, affordable, easy-to-use online booking and Travel Portal Developers to your travel company. Provides sales success, and cheapest online reservation system.
Other benefits include
Exclusive B2B and back-office module.
Advanced reservation stream, collaborative networks, sales, and analytics tools.
Multi-language and multi-currencies in the booking engine
Comprehensive booking management tool
Real-time list
Due to state-of-the-art progressing expertise, we have established our Hotel Booking Management System that takes benefit of our proficient expertise in the travel industry, we make sure that you stay ahead of your competitors. adivaha® flight booking system, car rental system, vacation package system is suitable for all types of customers, from smaller travel agents to large-scale travel enterprises. Our travel portal services provide GDS/third party API Integration for Business to Business hotel booking, flight booking, and rental car and bus services. We employ the most modern and up-to-date technologies to develop the travel app development services that help us to deliver cost-effective and accurate services.
How adivaha® Works as a Travel Portal / App Development Company?
As with adivaha® Travel App Development Services, creating a great travel portal solution is not a difficult task. An organization needs a well-organized plan and a good aim; these are the main ones we consider while developing our services.
Travel API Integration Services
API is an abbreviation for Application Programming Interface. API is a software in-between that allows two applications to communicate with each other. In a simple sense, an API is an envoy that delivers your request to the provider of the services you want and then sends back you a response as a reply to your request.
adivaha® Travel Portal / App Development Company provides travel api integration services for travel agencies and agents. API integration is an end-to-end process of fetching data from the best travel API providers and displaying it on another website. In Hotel API Integration, Flight API Integration, Bus API Integration, Car API Integration, the developer associates the API with the provider and displays the required data on another website. Our company provides flight, hotel, LCC, car and travel API with operations, etc. A Travel API allows you to integrate third-party GDS / Wholesale list / feeds into the booking engine on your site.
In Hotel API Integration, the developer associates the API with the provider and displays the required data on another website. Third-party API integration opens up a lot of critical information. The hotel API provider allows access to various hotel deals, while the flight API provider allows the number of flights to be eliminated. In a limited time, the Travel Portal solution gets excellent feedback from end-users. Every supplier is different, they have their own unique set of glitches and needs and it is no small matter that they all work together. However, using ourtravel api provider, you can shortcut that entire process. With simple XML requests, you can search for and book products offered through our comprehensive list of suppliers.
Our API for Hotels and Flight Booking is a convenience pack tool that allows you to make bookings 24/7 days straight through your booking portal. The hotel website operates on its own with online hotel reservation software with integration of APIs and generates high returns on booking. This saves hotel time by reducing emails and calls to manage and confirm their reservations. adivaha® Travel Portal / App Development Company now offers API booking portals with API products and services by developing a variety of portals that are increasingly used as a hotel portal application.
Advantages of Travel API Integration
Search, book, confirm, through single Travel API Integration. Manage your agents' list and booking list, mark-up management, and discount management.
Easy setup and flexible integration.
Notification via email about ticket booking, cancellation, flight delay, etc.
Customers can manage tire bookings through the online booking portal.
Customers can cancel their bookings through the online booking portal.
Provide your customer with a discount and affordability.
Easy maintenance
Zero dependencies
Easy to manage
API Integration lets you manage inventory. This will facilitate booking for you and automation for you.
API Integration gives you all the amenities on your website. You no longer need to book flight hotels or any other website for bus services.
API Integration gives you all the amenities on your website. You no longer need to book flight hotels or any other website for bus services.
You can run your travel agency with API integration. You can provide travel services to your local people by developing a Travel Website Designers and API integration.
GDS Integration
adivaha® Travel App / Portal Services is a GDS integration company specializing in integrating global delivery systems. In addition to integrating the GDS system to book airlines with B2B, B2C, and B2C options, we also have proven records with admin modules. Our GDS Integration Service will make your travel company successfully book thousands of airlines online. We allow travel agencies, agents and travel companies to use our portal websites services to book flights online by integrating with the GDS API. We have also designed and developed a booking engine in conjunction with GDS functionality which is very valuable for airlines. Our dedicated team at adivaha® Travel App / Portal Services provides the best GDS system for your needs. We have a robust and secure mapping with static data and can also help increase the size of GDS trips. We provide GDS Flight API integration with a dedicated team to perform the required tasks. Our team at adivaha® Travel App / Portal Services can help you with B2B travel software services with many suppliers available in the world market. We will also help you implement GDS functionality for your portal, which will expand your business many times over. Our team at adivaha® Travel App / Portal Services provides specialized support with management and general updates related to GDS already implemented. We specialize in GDS API integration systems, including all GDS connections from a variety of GDS suppliers.
adivaha® Travel App / Portal Services offers a wide range of travel and air ticketing technology solutions for global customers. We are teaming up with Top GDS Integrations, including Amadeus, Saber, Travelport, WorldSpawn, and more. The development of the travel portal operates various online reservation systems and online booking applications such as airline reservation systems and other Travel Booking Engine.
Why Choose adivaha® Portal Development Services
SEO Friendly: We build customer-friendly websites for SEO purposes. The client can easily run their website in the Google search engine and get maximum traffic through Google.
Best Booking Software Delivery: Our company's approach is tailored to customer demand. We build website development and design according to customer demand, and we also offer API integration and customer solutions promptly.
Continuous Customer Services: We are here to fulfil all your needs on time and will help you to develop your business with advanced features that will give you more deals and discounts when you start generating more revenue for it.
Complete Solution to Your Business: Our company has developed a complete script to help people grow their business with no interruptions on their way. So, now you need to buy a script and install it to get started. Simple, efficient, and reliable for all types of businesses. There is no limit to a travel booking engine api system, bus booking system, or any other booking software that is currently in need of your business.
Reasonable Investment: The investment is reasonable, there is support to help you through the process or the amendment. What are you waiting for now? Take advantage of the affordability at a lower rate and move the world with your tourism services. Manage your rental vehicles, drivers, bookings, and customers through the same app and web portal.
Our Comprehensive List of Services
adivaha® is a one-stop-shop for all your travel website needs. We offer a multitude of services that empower you to become a market leader. Contact us for more info.
Have Questions?
The Internet is a huge resource, but
if your question requires particular expertise.
Keep Refreshing your customers - Who doesn't want his site to stand out from crowd? adivaha® gives you multiple options for home pages, headers, colors etc. Which can easily be managed from admin via shortcodes and settings. The theme supports almost all the big players in this market ie, WEGO, Travelpayouts, Agoda, Booking, Expedia etc.
Frequently Asked Questions
Below are some of the questions asked by visitors. Do visit our adivaha® Digest for more such questions. Don't hesitate to ask us if you have any questions