Build your own Travel Brand!
Ready to go-LIVE travel solutions that helps your travel agency to sell a range of travel services pretty instantly. adivaha® travel solutions make sure you have no boundation over your imagination, you can do everything online, without the need for any technical knowledge or design skills. Easy Backoffice, extensive reporting with integrated Funds Management System. Upload funds easily and instantly through Netbanking, Debit Card, Credit Card. The best part is, we do offer customizations in case you believe it will boost your business!
Travel Booking Engine API: A Comprehensive Guide
With this tool, you can sell directly and without commissions. Install a booking engine and increase the sales channels of your hotel.Do you want to sell your rooms online, directly, without depending on travel agency software and removing commissions from the middle? You are undoubtedly an ambitious hotelier and we like that! Achieving these goals is entirely possible with a booking engine. Here we explain everything you need to know to achieve your goals.
Before we go on listing what you can win (which is a lot), how about starting at the beginning? That is, what specifically is a booking engine?online travel api is a tool that is integrated into your website and allows your guests to make reservations online.  That means that thanks to the booking engine built into your website, passengers buy directly from you.Great advantages of this system: there are no intermediaries or surprises, and the hotel-guest relationship is strengthened without anyone acting as a mediator. And there is more: for you, it also means the absence of commissions. Isn't that cool?
What is a booking engine and how to use it?
The operation of an online booking engine consists of connecting to the hotel's website and securely processing reservations made through it. The information is then transferred to the establishment's management system so that it can access and manage reservations.The booking engine can also sync with the company's Facebook profile, in addition to the travel website designers. This means that guests can reserve the rooms without visiting the official website or any other online travel site.It's a pretty handy way for travelers to make reservations. In real-time and allow guests to select their preferred dates and complete the reservation process the booking engine will display rates and availability. They can include other functions, such as automating the sending of the reservation confirmation by email. A booking engine can also be integrated with a channel manager and can be managed in the same way as the online travel agencies to which the establishment is connected.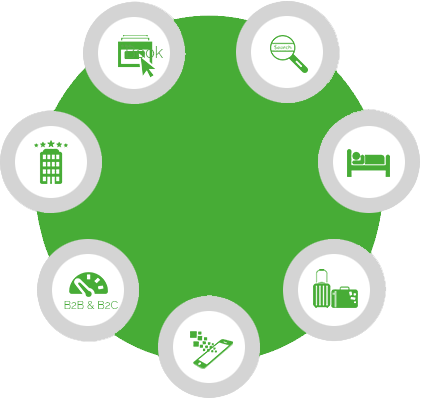 Guide to Using a Travel Booking Engine API
How about we examine the basics of a booking engine?
Usability

In most cases, installing it, using it is extremely simple, and programming it according to your own needs. It's also easy for guests to understand, as travel portal developers booking engines often feature an intuitive, simple, and 100% manageable design.

Adaptability

By choosing the colors that match your brand or the site, the engine is incorporated into your page and it does not seem like a strange or alien element. It is reliable and good, on the contrary.

Immediacy

Your guests can start booking online, from the very moment you put your custom booking engine on your travel app development for website. When it actually happens, both parties (hotel and guest) receive an email with the reservation request. Then, you just have to confirm it in the way you want and the sale will be made. If you have a PMS, the reservation is recorded in your management software. As simple and fast!

No commissions!

No commission is the best aspect of the business travel booking software engine. Without commissions or fine print, you can sell your rooms. We know how annoying it is to pay high percentages to online travel agencies because we are independent hoteliers just like you. Feel free to sell directly!
Advantages
Integration with Facebook

There's more good news: you can add your travel portal developerbooking engine to your Facebook fan page. In this way, those who visit you on this social network have the opportunity to reserve room's right there. As you will see, the idea is to make it easier for the guest to search and reserve.For your hotel, this also has a great advantage, because you have more security concerning no-shows. Since registration is done by capturing data from the guest's Facebook profile, you can establish a direct channel to communicate with them.

Advantage of having an online payment

If you want your guests to book from your website through this tool, you have to enable the online payment system with credit cards.In the market, there are several alternatives to receive online payments with national and foreign credit cards. Some of them are PayPal, Stripe, etc. They are widely known and very reliable tools that are coupled to your Travel booking engine API and allow you to perform operations in a transparent way and without difficulty. Although the main advantage of booking engine software is direct bookings, the software has the potential to offer much more.

Booking engine in place

Conversions can be increased with a single guest reservationTime is saved through a quick and easy setupEliminate manual entries with instant integrationBetter decisions can be made with dataYou get an advantage over competitors who don't have one.Some of the benefits that booking engine Travel CRM Software can offer are described in more detail below.

Improve business efficiency

With the Travel API Integration of the PMS (hotel management system) and the channel manager, availability is updated immediately the moment a reservation is received and not only in the system itself but also in all channels.

Simplify the administrative process for the company and employees

You won't have to respond to email requests and accept reservations over the phone, because an online reservation system does the job. So more time can be spent interacting with guests and maintaining staff organization and efficiency, as everyone will have real-time access to up-to-date information on hotel travel portal development occupancy.

Collect useful information about guests

Information gathering is absolutely vital, especially in the hospitality industry where guests demand more personalized attention. Information about guests can help tailor advertising campaigns to attract those most identified with the hotel's brand.

Directly improve the guest experience in the establishment

A cloud-based system allows guests to book the type of room they prefer from their computers, tablets, or mobiles. Thanks to short forms and secure travel portals payment, the process of reserving a room online is simple, easy, and pleasant. Remember that this is the traveller's first impression of the hotel and that it will have a lasting effect on the way the brand is perceived. It has to be easy to use for guests to complete the process and book online.

Option to pay in their own language and currency

An online corporate travel portal booking engine can allow customers to book in the language in which they feel most comfortable and to pay in the currency of their choice. Thus, they are offered the comfort and ease of use that most customers expect and what they can expect even before they arrive at the store is established.

Flexibility on the promotions offered

These types of offers increase loyalty and the probability that guests will have a satisfactory experience and will make a positive review. 
Conclusion:
What do you think? Isn't it a tool that will undoubtedly help you optimize your commercial performance, contact more guests and earn more money? The truth is that the internet and the advancement of technology have changed the hotel industry and the profile of the traveler. Therefore, survival requires adapting to changes, understanding how they work, and taking advantage of them.By incorporating tools such as a Travel Booking Engine API you will be able to provide a different service to your guests and according to current times: sell from your website (or fan page), without commissions, with a safe, simple, and fast system.Do you need more info? If you wish, you can analyze the advantages of adopting the Clerk Hotel booking engine. Create your hotel account and use the management software and the booking engine completely best option for you.
Our Comprehensive List of Services
adivaha® is a one-stop-shop for all your travel website needs. We offer a multitude of services that empower you to become a market leader. Contact us for more info.
Have Questions?
The Internet is a huge resource, but
if your question requires particular expertise.
Keep Refreshing your customers - Who doesn't want his site to stand out from crowd? adivaha® gives you multiple options for home pages, headers, colors etc. Which can easily be managed from admin via shortcodes and settings. The theme supports almost all the big players in this market ie, WEGO, Travelpayouts, Agoda, Booking, Expedia etc.
Frequently Asked Questions
Below are some of the questions asked by visitors. Do visit our adivaha® Digest for more such questions. Don't hesitate to ask us if you have any questions
I am setting up this plugin for my client's website, I tried registering and received the account activation email, but …

9

views

0

answers

0

votes