Build your own Travel Brand!
Ready to go-LIVE travel solutions that helps your travel agency to sell a range of travel services pretty instantly. adivaha® travel solutions make sure you have no boundation over your imagination, you can do everything online, without the need for any technical knowledge or design skills. Easy Backoffice, extensive reporting with integrated Funds Management System. Upload funds easily and instantly through Netbanking, Debit Card, Credit Card. The best part is, we do offer customizations in case you believe it will boost your business!
Top travel portal development company for expert seamless solutions.
In many organizations, corporate travel portal is essential to running a modern enterprise at a high cost. Travel costs must be managed, and the logistics should be handled, so travelers do not face issues. This is why many resorts to a travel management firm for assistance. In this post, you'll be able to learn more about the process of managing travel as a subject and also discover some of the major advantages a travel development firm can provide.
Adivaha is one of the most important Indian players in the tourism sector. Synonymous with professionalism, quality, and innovation, he entered the collective imagination as the leader of holidays: a long journey of many years lived with passion and seriousness, which has accompanied generations of Indians in the choice of their travels. Starting with Adivaha Travel Development Company, which gives it its name, the Group comprises leading tourism companies and brands with large numbers of employees in their offices in India. The world unites several subsidiaries in our country and abroad and is active along the tourism supply chain.
What is Travel Development?
In general, travel development refers to the strategic management of travel needs, with corporate travel management being the prime example. It typically involves everything from defining a travel policy to dealing with suppliers to booking and assisting in tracking and managing travel portal development cost and expenses.
A travel developer is in charge of managing travel for a client. The customer will usually be a company or other organization, but in some cases, individuals may choose to use a TDC company.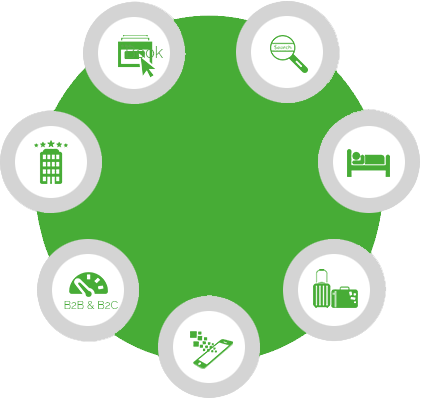 Travel Portal Development Company
In addition to handling travel requirements and logistics, a travel management company will typically aim to save customers time and money. Their role is broader in scope than a travel agent because a travel agent usually makes bookings based on pre-set criteria.
What is a company of travel development?
Traditional online travel agencies are rushing to bring value to the world of customer-centric. Airlines investing millions of dollars into buying new aircrafts and software systems are now entering the world of holiday packages and redefining travel conventions in a way that has never been before. While making a booking for a flight, passengers can rent a car or select hotel rooms and even book local travel plans and more in one place. This has put traditional travel agencies, online travel agents, and aggregators in a tough spot. They must rethink their business models and improve the experiences they offer to compete with the other companies. In a study on customer experience, about 81 percent of marketers believe that customer experience will become the primary factor in gaining competitive advantages in the next two years.
A company of travel development is a company that specializes in providing travel technology services for clients or clients. In the vast majority of cases, their clients will be companies, organizations, or groups who wish to outsource the responsibility of travel management. However, individuals can also turn to travel managers.
Development companies usually charge a subscription fee or a flat rate for specific services. Businesses turn to travel management companies for convenience, industry expertise, time savings, and comprehensive travel needs management. This can be especially important in large companies, with many business travelers.
We understand your business objective to offer the best service to your customers and thus provide the travel booking solution that evaluates your user needs. We keep the latest technology in mind as we develop the best solution for you. We introduced travel portal solutions that efficiently manage your operations and ensure a fruitful user experience. We allow you to discuss your plan and get the travel portal of your dreams.
Development Company takes unique keynote features like responsiveness, multi-language support, multi-currency support, and affordability. It adds them to B2B/B2C travel portal development, XML API, hotel API integration, etc. Our best-in-class Flight API Integration gives you all the data you need to develop an advanced reservation portal or software for Android and iOS. Our integrated API solution lets your customer get the best deals from global providers.
A travel management business can help businesses and individuals by assisting them in managing their travel requirements. A typical development company will engage travel agents in discussions with hotels to book flights and provide additional support. Companies can save money and have more time to focus on their day-to-day business.
Why do you need the development of a travel portal?
Adivaha is a renowned travel portal development company that brings you excellent travel software solutions. We firmly believe that effective travel portal development is the only way to accelerate revenue generation as it attracts more user engagement. We ensure you use the latest technology to get the right travel portal or online booking software. Also, it supports smoother business operations and improves the conversion rate on your best travel website.
Apart from this, developing an advanced travel portal provides information such as maps, recent updates, travel tips, travel operators and weather changes, etc. Help travelers plan their trips and facilitate the best user experience on your website. Travel portal development allows you to offer an integrated website with XML API for a better booking experience. Ultimately, it will increase the number of bookings on your portal.
Ultimately, we work to improve market adaptability and customer connectivity and ensure an effortless customer experience. Recognizing your business by posting it online is the key to success in today's business world. So if you haven't already, think about it. If you have any queries, we are always here to help. Talk to our expert and clarify your doubt!
It is essential to rapidly give relevant customer information to travel technology companies to develop appropriate solutions. Big Data offers a huge opportunity for travel development companies. A travel development can open up exciting opportunities for travel agents and tour operators over the coming years. A thorough understanding of the customer's preferences and tastes will enable travel agencies to offer personalized solutions to improve their customer experience.
Personalization

Companies adopting technological advancement realize the benefits of continually changing technology. And analyze and trigger an automatic response to give personalized suggestions. Carnival Cruises uses a wristband that provides specific directions to travelers, personalized drinks, tastings, poker tables, and other events and activities that passengers might be interested in according to their interests.

User-Generated Content

Another way to contribute to customer satisfaction through digital transformation is through the accessibility of content created by users. Digital channels aid top travel technology companies by providing an open-source platform for users to contribute their thoughts and produce helpful content for other travelers. Users can write reviews, post photos, explain the travel routes and the most affordable restaurants and hotels, and assist travelers in gaining more knowledge of the place of their choice. This will allow visitors can view the cruise line from the perspective of crew and passengers members.

Virtual Reality

Travel businesses are increasingly adopting Virtual Reality to create meaningful interactions with tourists. They can create three-dimensional pictures of places and their surroundings and share them with other travelers to provide real-time images of tourist attractions and hotels, providing virtual tours of the business. Marriott hotels use VR postcards to showcase locations anyplace around the globe. Customers can hear other travelers' stories and plan their trips to places they like.

Apps

More than 53% of the world's population is connected to the Internet, and over 40% are active social media users. While these statistics are evident, mobile penetration is the most noticeable. Smartphone apps have come into a major facilitator for travelers around the world. Businesses have apps that allow users to get details on prices for tickets and hotels, as well as destinations and more. Any time of night and day. Choose the best option for you.

Apps provide travel business the ability to connect 24 hours a day to their customers and the possibility of meeting their needs at any time and from anywhere. This is a huge help in boosting customer retention and engagement. Delta airlines Fly Delta app assists travelers in keeping track of their luggage and location so they can bring them back together quickly. By integrating mobile apps using technology, airlines can alert customers when their luggage is delayed. This is another way to ensure outstanding customer service.

These elements essentially help in adding to the customer's satisfaction levels and boost conversion rate optimization--leading businesses to sustained and inclusive growth.

A seasoned traveler can gather ample information regarding the travel destination through social media platforms such as Facebook, Twitter, etc. Interesting facts about locations that haven't been traveled, international cuisines that haven't been tried, and hotels still to be discovered. Agents and travel portals integrate the features of technology for travel to help customers understand their needs and develop customized tour packages. A travel development company can help increase your website's visibility and simplify information about offers and holiday packages to give you the most efficient travel portal solution.
How do you choose the best development company for travel portals?
The world of travel agents or portals isn't small. As time passes, the business is adding new features and technology daily and offering the most efficient service. Currently, if you're looking to develop the top travel portal development firm, it is possible to search for things that can make your business the most effective. When designing your travel portal, you might require some customers and manage these with the assistance of an additional travel portal development firm. Are:
A complete job within the time

Time is one of the Mons. Before doing any work, we have to give importance to time and try to do the work without time. Keep this in mind when choosing a travel software development company. We must be very sure that three must finish the job within time. Because when you start your business or handle a project, you must complete the assignments like ticket booking, hotel, NBSP booking, and all other arrangements within the time provided by the client. However, you cannot waste the waste of more than a month managing the entire travel package and satisfying your customer. Therefore, you are very sure that the travel portal development company will help.

Passionate Communication

If your chosen company is the best, you should have a strong communication advantage. They will not give you false hopes or a plane. They will know the best way to manage the project and provide you with a great strategy. But, they will only contact you on work issues and give you confidence. The most reliable travel portal development firm should be represented by comparable products and projects that offer you the highest quality service.

Unique business idea:

Submitting super smooth and unique ideas is one of the most important things for an agency. They must know how to attract customers with a different concept and a good plan. They must know how to make you feel good and produce positive vibes. They can give an attractive offer, create creative blogs and post on social media to promote the agency. This process will not only make the business high but also help give a regular customer who will surely hire you while making a travel plan or organization trip.

Company recognition

When you start a business and choose the travel portal development farm, you have to worry about its recognition, which gives you the truth label. The development of the travel portal should be recognized by APL and XML, which would try it with the opportunity to grow more and spread internationally. In addition, some clients only have a deal or make a travel plan with a recognized company or travel agency software. Therefore, recognition is one of the main things to choose from in the travel portal development farm.

The most helpful travel booking apps let you connect your accounts on social media to allow easy access and post what you enjoyed about your travels directly on your social media accounts!

Make your business more profitable with Website design.

Travel website designing will also make your business more profitable and attract more people to visit the site. The portal or website must be very present and also attractive. Most of the detail a customer is looking for should be included. The doorway must be updated with features and has new facilities to impress the viewer. That would surely create an image of your service on the website and help you in various ways to promote the business on multiple platforms.

Safety is one of the crucial things.

Safety is among the most important things we desire every day. In the realm of commercial enterprise, it is essential to make sure that your customers are safe. All your activities must be secure and safe, including travel plans, ticket booking, and sharing of customers' information to transactions with money. Since if there is a problem, this could affect your business. Furthermore, this security applies to all clients, whether international or domestic.

The trip budget

You must be sure about the trip budget as everyone wants to get the best at a minimum cost. Traveling is no exception. If we can make the budget affordable, no one can stop it from being the best travel portal development framework. Initially, you need to provide the most comfort to your clients in the last budget. That would also make your portal recommendable to others.

Better installation

For your travel portal website to be the best, you must consider giving your client the best facilities. Like airline ticket reservations in the shortest periods, which offer the best trip at fewer prices, good travel transportation, good hotels, and many more? That would help to attract forward customers and give good comments for your website.

Try blogging

Like many social media platforms, you need to promote your website on various platforms to get rich in your business. You can also create short videos, write blogs and use suitable keywords. Using a proper keyword with the content would help get your website's front position in the search listing.

Low-rate customers need

To get better wealth and popularity of your business, you must prioritize your customers. One has to take all comments positively and work on them. Just try to highlight your customer's problems if they complain and solve them for some reason. Don't try to skip that part and also not repeat it. After a lot of research, we can say that they will provide you with the best service and help you follow all the mech things for the above.

Now you easily understand the concept by reading the articles and quickly choosing the best travel portal software development company to grow your business. He is an MD at Adivaha; web/app design and development companies helping global businesses grow for international clients.
Conclusion
A website for tourism agencies must be constantly updated, not only with the information of your plans and promotions but also SEO strategies and web positioning. Mobile-friendly and different technologies that are updated continuously.
Are you prepared for visitors to search for your travel technology company online? It's time to get to work. If you have concerns, you'd like to ask us, leave them by leaving a comment. If you'd like to know more about internet presence, go to adivaha.com, and you'll get more information about Travel Development Company.
Our Comprehensive List of Services
adivaha® is a one-stop-shop for all your travel website needs. We offer a multitude of services that empower you to become a market leader. Contact us for more info.
Have Questions?
The Internet is a huge resource, but
if your question requires particular expertise.
Keep Refreshing your customers - Who doesn't want his site to stand out from crowd? adivaha® gives you multiple options for home pages, headers, colors etc. Which can easily be managed from admin via shortcodes and settings. The theme supports almost all the big players in this market ie, WEGO, Travelpayouts, Agoda, Booking, Expedia etc.
Frequently Asked Questions
Below are some of the questions asked by visitors. Do visit our adivaha® Digest for more such questions. Don't hesitate to ask us if you have any questions
I am setting up this plugin for my client's website, I tried registering and received the account activation email, but …

21

views

1

answers

0

votes