Build your own Travel Brand!
Ready to go-LIVE travel solutions that helps your travel agency to sell a range of travel services pretty instantly. adivaha® travel solutions make sure you have no boundation over your imagination, you can do everything online, without the need for any technical knowledge or design skills. Easy Backoffice, extensive reporting with integrated Funds Management System. Upload funds easily and instantly through Netbanking, Debit Card, Credit Card. The best part is, we do offer customizations in case you believe it will boost your business!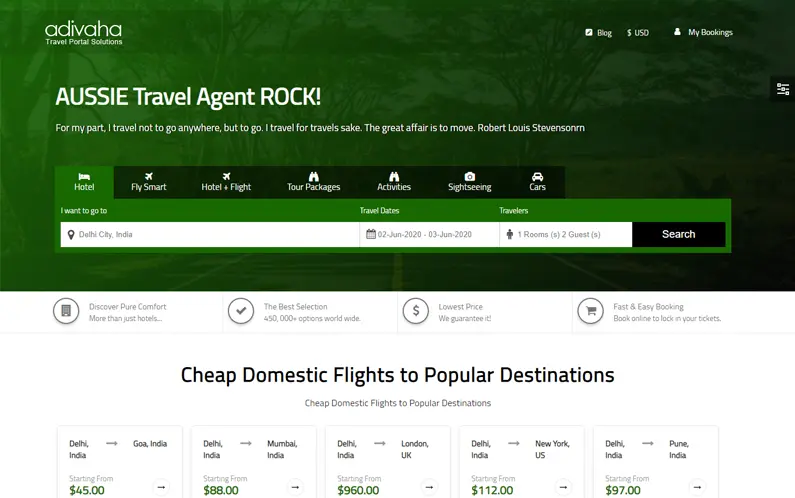 Finding a Reliable Travel Portal Development Company
Are you looking for the perfect travel portal development company to build your all-in-one solution? We have the perfect solution for you! Find all the resources you need, from graphically stunning designs to engaging functionality, with our reliable travel portal development services.
Research Companies' Portfolios and Reviews.
When researching the best travel portal development company to hire, take the time to know their portfolio and online reviews. Finding a travel portal website development company's portfolio and reviews can help you gain insights into their past work, expertise, and customer satisfaction. Check the company`s portfolio to see examples of their past work. Look for travel portals that they have developed in the past and see if they have experience developing portals that are similar to what you need. Checking the company`s reviews on the platform from past clients can give you an idea of the company`s professionalism, skills timeliness, and quality of work. This will help you to get an overview insight into the company's experience, customer service, and overall quality of work. Also, read up on any case studies or success stories to get an idea of how they've helped other companies create successful travel portals and achieve their business goals.
Check Offers and Professionalism
Evaluating a company's offers and professionalism is key when searching for the perfect travel portal development company. Some questions you should ask include: Does the company have additional services you may need other than travel portal development? Do they provide custom applications tailored to your specific needs and off-the-shelf applications that are easy to use? How long have they been in business, and do they offer reliable customer service? Look for feedback from their previous clients to get an idea of their experience working with the company. This can help you to figure out the company`s professionalism and customer service. Compare their pricing and packages with other companies in the market to see if they are competitive and reasonable. All this will help you find a reliable and professional travel portal development company that can meet all your requirements.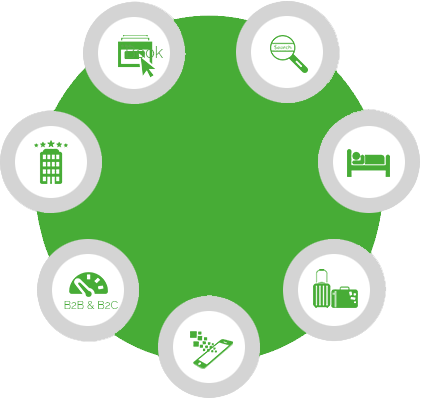 Travel Portal Development Company
Ensure Security Compliance and Data Encryption
Ask the company about its security policies and procedures. Ensuring security and data encryption is crucial to protect sensitive data when working with a white label travel portal development company. Ask the company about their data encryption of practices. This should include encryption of data of rest and in transit, as well as secure storage and transmission of encryption keys. When selecting a travel portal development company, you also want to ensure they abide by security protocols and provide encryption of data. This means that any sensitive customer or business data transmitted between the application and server is secure and accessible only to those who have access to the encryption key. Finding a reliable travel portal development company with all these qualities will ensure you're getting the best possible solutions for your needs.
Customization Options and Easy Integration
With a reliable travel portal development company, you can expect options to customize your portal according to your preferences. It is important to consider their customization options and ease of integration. Tweaking the design of the interface and homepage makes it easier for customers to find what they're looking for. Identify the specific customization options you need for the online travel portal. This can include branding, design, features, and functionality but also be careful that the company has the ability to meet these customization needs. Additionally, these portals should feature an easy integration process with existing web services and APIs so that customer data is stored in one secure place. Ensure that the company`s technology stack is compatible with your existing technology stack. This can help ensure seamless integration and avoid any compatibility issues.
Regular Maintenance and Support Service
To keep your travel portal working efficiently, it is important to look for a company that offers regular maintenance and support services. You can ask the company about their maintenance and support services, including their response time, availability, and level of support. Ask the company about its monitoring and reporting capabilities. This should include their ability to monitor the performance of the travel portal anad generate reports on usage, performance, and issues.This should include bug testing and troubleshooting, fixing broken links and pathways, keeping travel agency software up to date for the latest features and security updates, as well as providing technical help for customers when necessary. A reliable travel portal development company will also have knowledgeable staff available to answer any questions or concerns you may have.
Our Comprehensive List of Services
adivaha® is a one-stop-shop for all your travel website needs. We offer a multitude of services that empower you to become a market leader. Contact us for more info.
Have Questions?
The Internet is a huge resource, but
if your question requires particular expertise.
Keep Refreshing your customers - Who doesn't want his site to stand out from crowd? adivaha® gives you multiple options for home pages, headers, colors etc. Which can easily be managed from admin via shortcodes and settings. The theme supports almost all the big players in this market ie, WEGO, Travelpayouts, Agoda, Booking, Expedia etc.
Contact
Have something unique in mind? Drop a message.
Estimated reply time: 3-5 Working Days