Build your own Travel Brand!
Ready to go-LIVE travel solutions that helps your travel agency to sell a range of travel services pretty instantly. adivaha® travel solutions make sure you have no boundation over your imagination, you can do everything online, without the need for any technical knowledge or design skills. Easy Backoffice, extensive reporting with integrated Funds Management System. Upload funds easily and instantly through Netbanking, Debit Card, Credit Card. The best part is, we do offer customizations in case you believe it will boost your business!
The Latest Travel Technology Software To Streamline Your Business
Travel technology is a captivating term in the modern-day tourism industry. It uses the double-edged Information Technology (IT) or Information and Communications Technology (ICT) in the travel, tourism and hospitality sectors to boost growth. It is also alternatively referred to as 'tourism technology' or 'hospitality automation'.
This medium is something we are all familiar with our everyday lives. In the age of technology, when every individual is glued to the screen, businesses have had to adapt in order to suit the convenience of its customers. The luxury of planning an entire trip via the Internet is the primary goal for customer satisfaction. It is said that we are currently residing in the Era of Infostrialisation, where society, technological advancement, and economic change, are coupled together, transforming us from an industrial-based society into an information-based society.
E-tourism or e-travel has hence emerged as a pathway to applying e-commerce solutions - analysis, design, implementation - to the tourism industry. Travel technology software looks into the tracking of flights, trains, cars or other forms of transport. It makes information readily available to a large group of customers who can explore the list from the comfort of their own homes. It provides the consumer e-portals where they can browse packages and choose ones which complement their vacation needs. Travel agencies then produce detailed itineraries for the customer. This is achieved through the optimisation of search engines and extensive grasp on social media, augmented by the customer's information history. It also allows travellers to review their experience post-vacation, and thereby be a part of a trusted community of travellers. The reviews, in turn, serve as efficient feedback for the optimisation of the company's portal, as well as for other travellers to find their fit. It is a mutually dependent network created between the client and the company.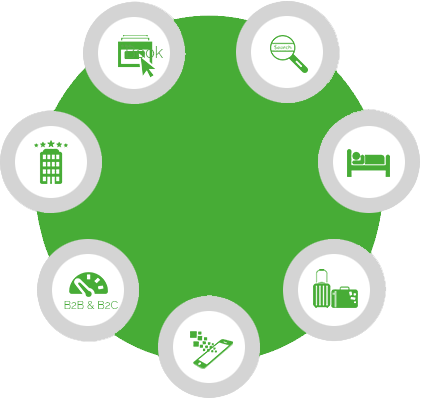 Newest Travel Technology Software Solutions
Some of the facets involved in e-tourism are:
Mobile technology: A study by TripAdvisor reveals that up to 50% of its users rely on their mobile screens for vacation planning. Hence, travel companies have to adapt their portals to suit mobile requirements conveniently.
eWOM or 'Electronic word of mouth' has become an undeniable force in negotiating business. A huge part of the clientele finds their way to travel operators' websites via word of mouth.
Virtual assistants not only provide real-time help to customers in need but also reduce the labour pressure on Customer Care. It also entails less hassle on the part of the consumer, since they don't have to go looking for answers themselves. Travel technology software should ensure focus on all of these facets. There are several other inbuilt measures provided by portal development companies, offering the betterment of a user interface, and bringing more revenue to travel agencies.
A Google Travel study reveals that as much as 74% of travellers plan their trips online, while only 13% or less continue to use the services of offline travel agencies. Hence the development and up-gradation of travel portals are incredibly necessary for businesses to remain in the lead. Salvador Anton Clavé, the Eurecat Tourism Innovation Department Director, stated during an event that the modification surpasses the need for improving processes or the traveller's experience. Instead, it involves stripping down and rebuilding the foundations of the tourism system itself. Due to such advancement, the channel that is formed between customer and supplier has been significantly shortened, removing the middlemen. Now customers have the opportunity to directly access the offers being provided by the revised tourism industry.
The future of tourism is aptly summed up in Amadeus' Four 'S's: a) Structured Data, to promote the juggling of multiple sources to provide various options for the client, b) Speed is important in order to keep up with the generation that 'swipe's its way through information in nanoseconds, c) Digital self-service needs to be made accessible and user-friendly, d) Use of analytics for the optimum profit margin and targeted marketing. These thumb rules in the domain of travel technology software implementation will achieve a significant increase in company revenue as well as positive feedback from tourists engaging in e-travel. It is time-saving and promises an effective response.
The Guardian calls this the "digital revolution for holidaymakers", hinting at its capability to redefine the market. The comparison between traditional and modern tourism is marked by convenience and technology. Travel agencies played an important role in traditional travel distribution, online travel agencies and direct distribution through airlines and hotels' websites revolutionized the entire industry. Booking and Reservation systems, Travel Management Solutions, Custom Software, Machine Learning, Artificial Intelligence, and Digital Customer Experience, coupled together, produce the backbone of success for any company in the e-tourism industry at present.
Travel Software Company
adivaha® is a Travel Technology company providing Travel Portal Development services by optimising companies' interface and client interaction. It seeks to redo or form the basis of a company's entire look and give the best possible resources to maximise their revenue. adivaha® seeks to aid and transform companies who want to shift their business to the online medium, which is the need of the day. Offline travel agencies are barely staying afloat in this wide-sweeping of electronic advancement. Aside from that, adivaha® also offers Third party OTA (Online travel agency), API Integration, and GDS integration with private branded websites. The company aims to be a significant market in the shift of the tourism economy.
OTAs (Online travel agents) are third party booking websites, which provide the customer with a large array of travel agencies to choose from. This easy-to-access list of service providers available to the user helps them make a more informed choice. Instead of having to manually gather information and compare options, all of it is presented in a list which saves a lot of time for the consumer and promises satisfaction. Some of the major tourism and hospitality channels offer their inventory through these Third-Party Intermediaries. adivaha® as a travel software company ensures that they host the most diverse database, and make connections which are dependable for life.
In the domain of Travel Portal Development, adivaha® harbours the most skilful technical team. We are invested in research, and the newly upgraded trends, developments, technologies, etc. We design the most cost-effective and innovative domains and websites for the travel companies, tour operators, travel agencies (travel agents) or destination management companies (DMC). There is high competition in this space, but our vision sets us apart. We are invested in making the most of your business. We have a lot of experience and expertise in creating the exact product that will suit our client's style of business, and well as optimise their standing in the industry.
Another important resource of this travel software company is its API integration offer. An application programming interface (API) is a sort of computing interface. It defines interactions among numerous software intermediaries. It regulates the sort of calls or requests that can be processed, the how-to instructions, the data formats that would correctly complement it, the rules or methods to follow, etc. adivaha® looks to assist with integrated Travel XML APIs, as your travel API provider. It brings the most up to date technologies to deem you ahead of your competitors. Accomplishing online booking, increase in revenue, and all of it through an easy process is a trademark of our company. We look to encourage the state-of-the-art designs in the portals we create, investing in them all that is necessary for an optimal tourist experience.
Along with API integration, our company also works with GDS integration. Global Distribution System can be defined as a computerized reservation network which acts as a singular point of access for different services including airline seats, hotel rooms, rental cars, and other travel necessities by the likes of travel agents, online reservation websites, and big corporations. adivaha® offers effective and easy GDS integration, thereby elevating the status of a web portal, making it more attractive to tourists, bringing several options under one umbrella, and doing all of this on an extremely cost-effective model. adivaha® promises good quality and has garnered plenty of supportive feedback from across the community, which is available to view on the home website. This travel software company seeks to be the backbone of the modern-day tourism industry, lifting it to the heights of technological convenience.
If you are looking for a shift to the online, then look no further. adivaha® has everything it takes to set a shining standard for you in the e-tourism industry.
Widely Used Some Popular Travel Technology Software
However, I can provide you with information about some popular travel technology software that was widely used at that time. Please note that there may have been new developments and advancements in travel technology since then.
Travel management systems (TMS)
TMS platforms like SAP Concur, Amadeus Cytric, and Sabre provide end-to-end solutions for managing travel bookings, expense reporting, policy compliance, and travel analytics.
Online travel agencies (OTA)
OTA platforms such as Expedia, Booking.com, and Kayak offer comprehensive search and booking capabilities for flights, hotels, car rentals, and other travel services.
Global distribution systems (GDS)
GDS platforms like Amadeus, Sabre, and Travelport connect travel agents and online travel agencies to a wide range of travel suppliers, enabling them to access real-time inventory and make bookings.
Travel itinerary management
Apps like TripIt and Google Trips help travelers organize and manage their itineraries by consolidating travel bookings, reservations, and trip details in one place.
Travel expense management
Tools such as Expensify and Certify simplify the process of tracking and managing travel-related expenses, including receipt scanning, expense categorization, and reimbursement workflows.
Mobile travel apps
Many airlines, hotels, and travel companies offer their own mobile apps, allowing travelers to book flights, hotels, and other services, access boarding passes, receive real-time notifications, and explore destination information.
Virtual reality (VR) and augmented reality (AR)
VR and AR technologies are being used in the travel industry to provide immersive experiences, virtual tours, and interactive maps to help travelers plan and preview destinations.
Artificial intelligence (AI) and chatbots
AI-powered chatbots are increasingly used in travel to provide personalized customer service, assist with booking inquiries, and offer recommendations based on user preferences.
Our Comprehensive List of Services
adivaha® is a one-stop-shop for all your travel website needs. We offer a multitude of services that empower you to become a market leader. Contact us for more info.
Have Questions?
The Internet is a huge resource, but
if your question requires particular expertise.
Keep Refreshing your customers - Who doesn't want his site to stand out from crowd? adivaha® gives you multiple options for home pages, headers, colors etc. Which can easily be managed from admin via shortcodes and settings. The theme supports almost all the big players in this market ie, WEGO, Travelpayouts, Agoda, Booking, Expedia etc.
Frequently Asked Questions
Below are some of the questions asked by visitors. Do visit our adivaha® Digest for more such questions. Don't hesitate to ask us if you have any questions
I am setting up this plugin for my client's website, I tried registering and received the account activation email, but …

21

views

1

answers

0

votes