Wordpress Booking Theme
Booking.com Theme Online Demo(s)
How to Choose a Stunning WordPress Booking Theme
In the digital age, establishing an online presence is vital for businesses of all kinds, especially those in the hospitality and service industries. With the rise of online bookings and reservations, having a well-designed and functional booking website is crucial. A WordPress travel Booking is a pre-designed template specifically tailored for creating booking and reservation websites on the WordPress platform.
Discover the ultimate guide on choosing a stunning WordPress Booking Theme. Unlock the secrets to creating an impressive booking website that captivates visitors and maximizes reservations.
Why Choose a Travel Booking Wordpress Theme?
Selecting a offers numerous benefits for businesses and individuals looking to set up a booking best travel website. Here are some compelling reasons to consider a WordPress Booking Theme:
User-Friendly: WordPress, as a content management system (CMS), has gained widespread popularity for its intuitive and user-friendly interface. Even those with limited technical expertise can quickly grasp the basics of using WordPress to create and manage websites. When you opt for a WordPress Booking Theme, this user-friendliness extends to the specific realm of booking travel website designing. These themes come equipped with user-friendly tools and features tailored to simplify the booking process. You can easily set up your booking website by following straightforward instructions and utilizing the built-in options. The intuitive nature of WordPress Booking Themes ensures that both beginners and experienced users can navigate the theme's functionalities effortlessly.
Customizability: One of the most significant advantages of using a WordPress Booking Theme is the extensive customizability it offers. These themes provide a vast array of options to personalize the appearance and functionality of your booking website according to your brand's identity and specific business needs. You can effortlessly change colors, fonts, layouts, and other design elements to match your branding. This level of best wordpress customization service ensures that your booking website maintains a unique and professional look, setting it apart from generic templates.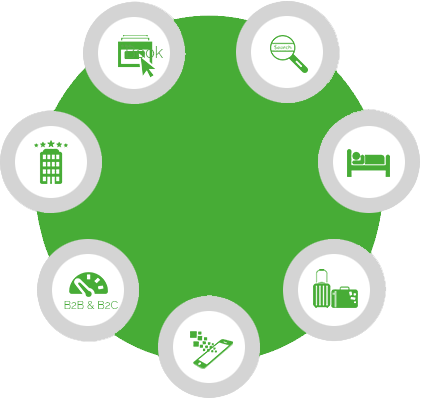 Choosing an Impressive WordPress Booking Theme
Responsive Design: A significant advantage of using a is the responsive travel website designing it offers. These themes are designed to adapt seamlessly to different devices and screen sizes, ensuring an optimal user experience for your customers, whether they are accessing your website from a computer, tablet, or smartphone. The content and layout automatically adjust to fit different screen dimensions, eliminating the need for users to scroll or zoom excessively. This seamless responsiveness enhances user satisfaction and encourages visitors to explore and engage with your booking website, regardless of the device they use.
Time-Saving: By opting for a ready-to-use WordPress Booking Theme, you eliminate the need to start from scratch. These themes come pre-designed with booking-related features, saving you valuable development time. You can simply install the theme, customize it to your liking, and add your content and booking details. The accelerated development process allows you to focus on other essential aspects of your travel business, such as marketing, customer service, and business growth. In a competitive market, having your booking website up and running quickly gives you a competitive advantage and allows you to start accepting bookings and reservations sooner.
How to Choose a WordPress Travel Booking Theme?
Selecting the perfect WordPress travel themes for your website can be a daunting task with the abundance of options available. However, by considering the following factors, you can ensure that you make a well-informed decision:
Define Your Requirements: Our experienced team will work closely with you to outline your website's specific requirements and goals. We take the time to understand the type of bookings you'll be handling, the range of services you offer, and any unique features you require. By delving into these details, we can effectively narrow down your choices to WordPress Booking Themes that perfectly align with your business requirements.
Design and Layout: We know that a visually appealing website is crucial to attract and engage visitors. Our curated collection of WordPress Booking Themes comprises themes with clean and modern designs, intuitive navigation, and customizable layouts. We ensure that the themes we recommend match your brand identity, creating a professional and cohesive visual experience for your customers.
Mobile Responsiveness: With the increasing number of users accessing the internet through mobile devices, having a responsive website is no longer an option – it's a necessity. Our team ensures that all the WordPress Booking Theme we recommend are fully responsive. This means that your website will look and function flawlessly on various screen sizes and devices, providing an optimal user experience for your customers on smartphones, tablets, and computers.
Reviews and Ratings: As part of our commitment to your satisfaction, we take reviews and ratings seriously. Our team meticulously evaluates user feedback for each WordPress Booking Theme in our collection. By considering the experiences and opinions of other users, we gain valuable insights into the theme's performance and user experience. We prioritize themes with positive feedback and high ratings, ensuring their quality and reliability.
Top WordPress Booking Themes
When it comes to choosing a stunning WordPress Booking Theme, there are several outstanding options available in the market. Here are some of the top-rated travel booking Wordpress theme free:
Booklium: Booklium is a highly versatile and feature-rich WordPress Booking Theme that caters to a wide range of industries, including hotels, vacation rentals, and tour operators. With its sleek design and user-friendly interface, Booklium provides a seamless booking experience for your customers. Its extensive array of booking options allows you to effortlessly manage reservations for different types of travel technology services. Moreover, Booklium boasts seamless integration with popular booking plugins, ensuring smooth and efficient booking management. Whether you operate a hotel, vacation rental property, or tour agency, Booklium's adaptability makes it an ideal choice to suit your specific business needs.
Travelo: Designed with online travel agencies and tour operators in mind, Travelo is a visually appealing WordPress Booking Theme that combines stunning aesthetics with robust functionality. Its captivating design ensures that your travel-related business stands out, captivating visitors and enticing them to explore your offerings. Travelo's powerful booking system supports multiple payment gateways, simplifying the payment process for your customers. The theme's advanced features enable you to handle various aspects of travel bookings, making it an excellent choice for businesses in the travel industry.
Hotel Booking: True to its name, Hotel Booking WordPress Theme is a specialized tailored exclusively for hotel and accommodation businesses. This theme offers a comprehensive booking system with real-time availability, empowering your guests to make instant reservations. With customizable booking forms and seamless integration with various payment gateways, Hotel Booking ensures a smooth and hassle-free booking process for both you and your guests. Its user-friendly interface allows you to manage reservations efficiently, providing a seamless experience for your customers.
Entrada: For businesses in the travel and tour industry, Entrada emerges as a visually striking WordPress Booking Theme with powerful functionalities. Its advanced tour search options enable your customers to find and book their dream tours easily. Entrada's booking management tools simplify the reservation process, allowing you to efficiently handle tour bookings. Additionally, the inclusion of a review system empowers your customers to share their experiences, fostering trust and credibility for your travel agency WordPress or tour operation.
How Adivaha Helps in Choosing a WordPress Booking Theme
As a third-party service provider specializing in web solutions, Adivaha understands the critical importance of choosing the right WordPress Booking Theme for your business. We offer a comprehensive and personalized approach to assist you in selecting a stunning theme that perfectly aligns with your unique needs. Our expert team at Adivaha carefully curates a collection of top-rated WordPress Booking Themes, ensuring that you have access to the best options available in the market. We consider your business requirements, target audience, and brand identity to recommend themes that will elevate your online presence and boost your booking capabilities. In addition to theme selection, Adivaha provides expert guidance and support throughout the process of creating your booking WordPress travel website. We assist you in the installation, customization, and integration of your chosen theme, ensuring a seamless and hassle-free experience.
Conclusion:
Selecting a stunning WordPress Booking Theme is crucial to creating an impressive and functional booking website that attracts customers and boosts your business. With its user-friendly nature, customizability, and a vast selection of top-rated themes available, WordPress Booking Themes provide an excellent foundation for your online booking platform wordpress.
By understanding your specific requirements, considering essential factors, and seeking expert guidance from reputable service providers like Adivaha, you can make an informed decision that aligns with your business goals and results in a stunning booking website wordpress that stands out from the competition.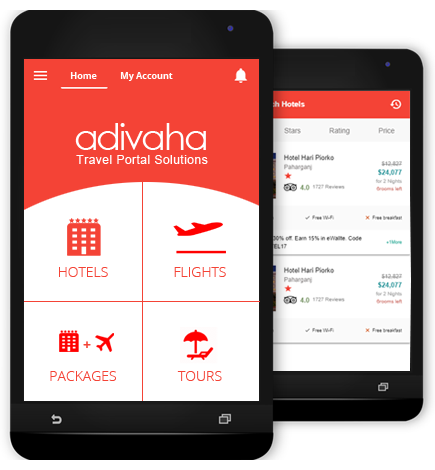 Easily create an app that provides guests book their Hotels, Flights, Packaged Holidays online.We would love to work with you if you are seeking to have your custom application.