Build your own Travel Brand!
Ready to go-LIVE travel solutions that helps your travel agency to sell a range of travel services pretty instantly. adivaha® travel solutions make sure you have no boundation over your imagination, you can do everything online, without the need for any technical knowledge or design skills. Easy Backoffice, extensive reporting with integrated Funds Management System. Upload funds easily and instantly through Netbanking, Debit Card, Credit Card. The best part is, we do offer customizations in case you believe it will boost your business!
How to Use API-GDS For Travel Bookings
The airplane industry has grown significantly over the past many years because it plays a major role in global travel. Not only it is the easiest way of traveling across continents, but it is also the best way. So, the boom of airlines was not startling.
The air industry today's worth is around 247.64 billion in the US and $72 billion in India. Thus, it is important for api for travel website businesses to take advantage of the opportunities present in the airline industry. It has become necessary for travel agencies to provide air ticket booking services through their travel portals. However, to provide airline booking services, travel businesses need to provide an extensive list of flight options to choose from. Earlier, it was difficult for travel agencies to provide information about multiple airlines, but now things are different. There are software that provides inventories of multiple airlines as a single platform. And there is no shortage of such api hotel booking and one such is GDS.
What Is GDS?
GDS stands for the global distribution system, it is a group of computers connected to form a network. This network facilitates information transfer between the independent computer reservation system of travel agencies and airline servers. When GDS is integrated with a travel agency's website it is responsible to provide results for the search queries of the users. However, GDS doesn't store this data itself. It retrieves data about the inventories from the airlines' servers when users search for any product related to airlines. Whenever a user puts a request, GDS establishes a real-time secured connection with the servers and access data related to the request. Moreover, Global distribution systems are not only limited to airlines, there are various GDS that also provides information about cars, hotels, etc. And adivaha® provides the best api for travel booking integration in Delhi, though we offer every travel-related services, but when it comes to integrating travel api, we are indifferent league.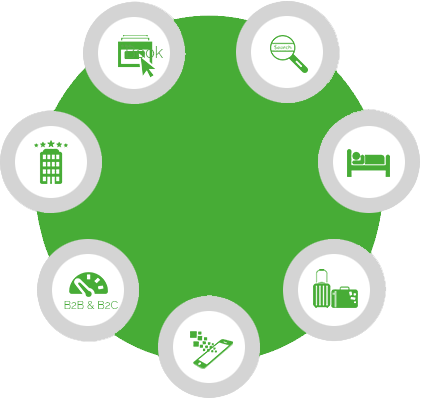 A Guide to Using API-GDS Technology
What Services Does GDS Provide?
Inventories of every major airline, hotel, car rental services, etc.
Real-time access to important data like price per seat/room, availability, type, etc.
Automated retrieval of data related to user queries from servers.
What adivaha® brings to the table?
adivaha® is a renowned api for travel agency solution providing company. It is a Delhi-based travel technology company with clients from all over the world. Though we are still new to the market, however, we have a team of experienced professionals with strong knowledge and extensive software development experience. Our services include building high-quality automated travel portals, developing custom travel-related APIs, integrating APIs like Expedia, Amadeus, Booking.com, Sabre, and providing other important software. Along with supplying high-quality products, we also believe in building a healthy relationship with our clients. And our api for flight booking GDS will help you to provide thousands of housing options, airlines, holiday packages, to your clients.
Here are some of the important GDS APIs that we provide:
Amadeus
Galileo
Worldspan
Sabre
Redbus
Whether you need Sabre, or Amadeus, or Galileo or any other api expedia we have everything and our XML/API integration solutions are the best in the market. Here are some benefits of using our integration services.
Amadeus GDS Integration
Amadeus GDS is one of the most used GDS systems and adivaha® has a dedicated team that works especially on implementing Amadeus Web-services. Amadeus when unified with your travel-portal, api flight booking engine, or mobile application will provide crucial real-time data about airlines, car rentals, vacation packages, car rentals, etc. Moreover, once it is integrated with your computer reservation system, it will also be responsible for providing availability and price. And it is the most cost-efficient way to increase the functionality of your travel portal with comprehensive content.
Sabre GDS Integration
Sabre is the oldest GDS platform developed by IBM in association with American airlines. It is one of three major GDS around the world. Just like Amadeus, by integrating Sabre with your existing booking engine you can gain access to huge options of accommodations, vehicles, flights, rails, etc. So, by using the Sabre api for hotel booking you can offer your customers options to book from hundreds of flights, thousands of hotels, etc from any part of the world.
adivaha® has extensive experience in integrating Sabre API, so not only we provide the most affordable Sabre API, but we also provide the best.
Galileo GDS Integration
Galileo GDS is owned by Travelport and has been around since the early 2000s. So, it has been in the market for a long time, which alone is proof of the quality of this product. Integrating Galileo has many benefits, it is a one-time investment that has helped travel businesses gradually enhance their efficiency and maximize profits for the past two decades. Besides providing the inventories of airlines, Galileo just like the above two GDS also aggregates content for hotel booking api of vehicles for hire, trains, hotels, with real-time prices, and availability.
Galileo GDS integration by adivaha® is a full technology suite for online travel agencies, offering all kinds of inventory-related solutions for both B2C and B2B travel businesses.
Worldspan GDS Integration
Worldspan GDS is another product of the Travelport GDS business. It has been around for a long time now. And just like some other good GDS, Worldspan also fulfill all catalog needs of thousands of travel management companies, travel agencies, tour operators, etc.
adivaha® offers a Worldspan api gateway GDS integration solution that enables travel companies to reduce overall expenditure, increase profits, and generate more revenue. It helps travel businesses to connect with leading travel service providers across the world. And also provides travelers thousands of options.
Conclusion
adivaha® is one of the leading online travel service solutions providing companies with expertise in integrating global distribution systems. We have worked on and deployed many GDS APIs like Worldspan, Galileo, Amadeus, Sabre, and many more. We have a perfect record in unifying api booking hotel GDS with websites of travel agencies along with the admin module. And our client reviews speak loudly about the quality of our integrating services.
adivaha® empowers travel agencies to harness the might of the internet and use it to expand their businesses in the global market and enhance customer experience.
Our Comprehensive List of Services
adivaha® is a one-stop-shop for all your travel website needs. We offer a multitude of services that empower you to become a market leader. Contact us for more info.
Have Questions?
The Internet is a huge resource, but
if your question requires particular expertise.
Keep Refreshing your customers - Who doesn't want his site to stand out from crowd? adivaha® gives you multiple options for home pages, headers, colors etc. Which can easily be managed from admin via shortcodes and settings. The theme supports almost all the big players in this market ie, WEGO, Travelpayouts, Agoda, Booking, Expedia etc.
Frequently Asked Questions
Below are some of the questions asked by visitors. Do visit our adivaha® Digest for more such questions. Don't hesitate to ask us if you have any questions
What all GDS and Providers are connected in the platform?

27

views

1

answers

0

votes