Build your own Travel Brand!
Ready to go-LIVE travel solutions that helps your travel agency to sell a range of travel services pretty instantly. adivaha® travel solutions make sure you have no boundation over your imagination, you can do everything online, without the need for any technical knowledge or design skills. Easy Backoffice, extensive reporting with integrated Funds Management System. Upload funds easily and instantly through Netbanking, Debit Card, Credit Card. The best part is, we do offer customizations in case you believe it will boost your business!
Exploring Expedia APIs - What Every Developer Should Know
There is something called ease of travel and this is what most people who embark on journeys either for pleasure or for business an this is what everyone want everyday of their lives. They want to be able to achieve a high percent of success while using limited energy or while doing these things stress ean api free.
This is the sole reason why cars were invented, why airplanes were invented, why phones were invented why shoes were invented. Human beings have always for different ways to ease and make their everyday routine more simple and easy to complete. It has been in our DNA for a very long time and that is why the internet was created and optimized by decompression that they can now fit into our computers as well as small gadgets we call phone. The phone now allows us to take every part of our lives from one place to another without being pressed by load, music, pictures, movies, work, leisure, pleasure and even travels. With the digitization of mostly everything, we now have online travel agencies that work around the clock to make sure everyone has a successful travel around the world. They have taken the world of travels to the next level by making use of certain tools and network such as the expedia api free to make sure that everyone would have the ease in traveling and reducing the headache and stress that comes with the process of planning a trip or traveling.
What is Expedia?
Expedia is a traveling flight api program that is aimed at making the process of planning and making a trip a safe, successful and easy one. How it does this is that it has an affiliate of other companies and other industries that would make the trip of anyone as easy and stress free as possible. They do not control the plane or being jet lagged, neither do the control traffics and bad weather, but Expedia makes sure the process that would get you to your destination is a very easy, simple and smooth process.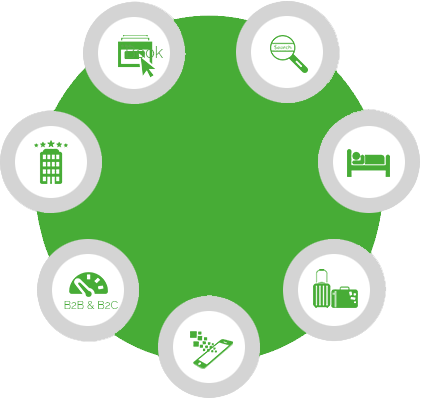 Unlock the Full Potential of Expedia APIs
The programs that are affiliated with expedia api example is what would make the process a smooth one because a tree does not make a forest, this made Expedia get affiliated with companies and industries that make your travel planning a sweet easy peasy process. Some of the affiliates include
Car rentals
Hotel reservations and bookings
Restaurant reservation and bookings
Tour and sight seeing bookings and reservations
Online gift stores
Expedia does not own any of the companies under these industries, it just has a expedia affiliate network api of brands that it has partnered with in fusing them with online travel agencies.
Partnering with brands from these industries would make the process of planning a trip easy. Let's consider the car renting industry, there are different brands that offer this service and some of this are partnered with Expedia making it easy for expedia php to bring them into any online travel agency when they become linked and this linking is done by API. What then is an API
What is an API?
API is an acronym, and it stands for Application Programming Interface. There are several types of expedia api because it is just an application program, several companies make use of it. What APIs do is that the link two individually separate entities which can be softwares or networks or servers together for them to function as one so as to gather information separately and individual, and the share or interact with each other. It can be seen as a conjunction that holds two English language sentences together. It is programmed to make sure that two servers, applications, networks can share their assets in a mutual relationship.
There are different types of APIs, depending on the industries in which they are used. For travelling industries there is the expedia api integration, Booking APIs, ProTraveler APIs and a lot more.
What are Expedia Integration's?
Expedia hotel api is an affiliate company that is partnered with various travel related industries and is poised to make the process of travel and easy one. This is done through various portals that are filled with tools that are easily accessible and easy to use.
The tools border in what is needed and how to get them one of such is a search engine that is easy to use, it processes results based on the analyzed data of what people search for and gives this results according to the user's preferences, location, reputation and relevance of the requests.
Expedia has various APIs that have been linked with online travel agencies some of which are Expedia hotel api, Expedia car rental api,expedia affiliate api. All of these APIs involves booking and reservations which means that this require payments. The Expedia APIs have a secure payment method in place which safeguards the private information of the user, what it takes is only the last four digits of the user's card details and stores this as an inventory. The user also gets confirmation of their orders, bookings and reservation both on the website as well as in their mails.
Expedia integration is a leading company in rendering traveling services to people all over the world and their systems are not hard to navigate, they are adaptable to different devices, mobile and desktop. The screen adaptability is also top notch anywhere in the world, it makes it easy for the users to navigate the website and get things done.
The integration of Expedia with online travel agencies have hanged the world of traveling and travel process. Because of the integration of these APIs, users can do everything they want in an online travel agency app without leaving the website at all, they can book flights, book hotels and also spots in touring trains and sightseeing. They have ushered in a new dawn in the world of travels.
Our Comprehensive List of Services
adivaha® is a one-stop-shop for all your travel website needs. We offer a multitude of services that empower you to become a market leader. Contact us for more info.
Have Questions?
The Internet is a huge resource, but
if your question requires particular expertise.
Keep Refreshing your customers - Who doesn't want his site to stand out from crowd? adivaha® gives you multiple options for home pages, headers, colors etc. Which can easily be managed from admin via shortcodes and settings. The theme supports almost all the big players in this market ie, WEGO, Travelpayouts, Agoda, Booking, Expedia etc.
Frequently Asked Questions
Below are some of the questions asked by visitors. Do visit our adivaha® Digest for more such questions. Don't hesitate to ask us if you have any questions
I am setting up this plugin for my client's website, I tried registering and received the account activation email, but …

9

views

0

answers

0

votes