Build your own Travel Brand!
Ready to go-LIVE travel solutions that helps your travel agency to sell a range of travel services pretty instantly. adivaha® travel solutions make sure you have no boundation over your imagination, you can do everything online, without the need for any technical knowledge or design skills. Easy Backoffice, extensive reporting with integrated Funds Management System. Upload funds easily and instantly through Netbanking, Debit Card, Credit Card. The best part is, we do offer customizations in case you believe it will boost your business!
Free Travel API
Travelling is of great importance to refresh one's soul, and this life is concise, so it is essential to explore the whole of this world and get into new places every day and every year. In the past few decades, the world has also been recognizing the importance of traveling, and that's the reason that there are millions of agencies offering traveling and tours planning for your trip no matter you are going for a business trip or a holiday trip multiple travel agencies are here to guide you regarding your whole trip and tour.
For you, one important thing is that in the past few years, the technology is evolving at such a fast pace that every person has a smartphone in hand and that the reason that traveling agencies rushed at software developing companies to developed software for their travel agency. Yeah, you are reading the right travel agencies working day and night to establish software for the travel agencies. The working order for software companies is also changing because of so many new inventions and new methodologies. So a good technology company must be up to date, and it is essential to keep in mind when a travel agency looks to a software company to build software. While software companies start building some software for some travel companies, then they look forward to freeing travel API to regulate multiple functionalities in a single software. Free Travel API is a set of web services that access different web services offering from different companies. There are many more in these APIs as it gives you the details of flight operations ticketing as well as hotel booking facilities and car rental services as well. These are all the things that are being used by travel agencies to facilitate their customer as these things made the travel much more comfortable than traditional ways.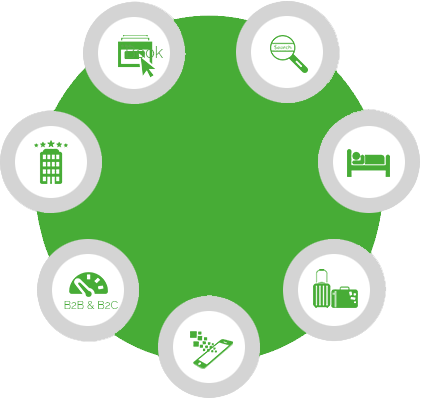 Free Travel
API
Why third Party Content?
One of the critical questions that arise in every body's mind is the need to connect multiple scenarios singly. Look if you are going on a tour, then you must in need of some various tasks just like you need flight booking services as well as you must be looking to pay for your ticket online, so you need an online payment gateway. Similarly, you must in need of some hotel booking service also as you are going to trip so there must be a platform that provides you complete details of hotels, location of the hotels nearby your journey and also you need a car rental service as well to go to the hotel and other places during his tour. By considering all these needs in mind, one must be thinking to build software that should be a multitasking software. Software technology companies start there working here as APIs provide them the facility of multitasking. APIs offer you the solution to all of the things mentioned above, at a single place. If you have a small business just limited to a city or belongs to a small organization, you might not need these free travel API as you don't need to compensate with multiple companies to run your travel agency. But if you are looking to expand your business to an international level, then don't wait anymore as you must need these travel APIs to grow your business and partnership with other organizations and services and provide them at single travel software.
What Travel API is
Travel API is considered an integrated platform that allows booking engine on your software or site. This works when a customer is going to book a flight or book a hotel room or book a car rental service. Travel API would not redirect you to that specific flight booking; instead, they will work commonly and offers you complete setup at that software. Similarly, through these travel APIs, you can collaborate with different payment gateways, including different banks and e-wallet programs, to collect payment. It will provide you a secure payment gateway as through APIs, you can get direct access to the banks and other payment profiles directly and can be able to pay directly through your debit or credit cards. All of these things came into possible because of the travel API used in the production of software.
Benefits of Free travel API
There are a series of bonuses that today's world is enjoying all because of these APIs. Yes, you are reading right as amazingly online business was never so accessible before the invention of the APIs. Here is a list of benefits of travel engine which are as follows:
One of the amazing interest of the API is that You can add markups for your agents as well for the end-customers
Another shocking amazing benefit of using API integration is that you can receive the payments directly from the costumers who are going to travel. There is no third party involvement or delay in the cash.
Moreover, it also provides highly accurate information that is being returned from the XML pages.
Because of the use of travel Integration, there is a less time consuming on the maintenance of content that resultantly allows you to focus on the main task of the travel just like marketing of your packages to the travelers and tourers.
Using travel APIs while creating software can reduce reduce Travel agency's overhead cost over a more extended time.

These are all the benefits of using free travel software while you are going to create software for any travel agency. After reading all of the above information, one thing must be clear in your mind that all of these things you are enjoying all because of these application programming interfaces. It provides an ease to the travel agencies and the end costumers, which is the main reason behind the popularity of travel APIs. There are some common types of APIs on which all of these functions are based that includes SOAP, XML as well as JSON and REST.
Our Comprehensive List of Services
adivaha® is a one-stop-shop for all your travel website needs. We offer a multitude of services that empower you to become a market leader. Contact us for more info.
Have Questions?
The Internet is a huge resource, but
if your question requires particular expertise.
Keep Refreshing your customers - Who doesn't want his site to stand out from crowd? adivaha® gives you multiple options for home pages, headers, colors etc. Which can easily be managed from admin via shortcodes and settings. The theme supports almost all the big players in this market ie, WEGO, Travelpayouts, Agoda, Booking, Expedia etc.
Frequently Asked Questions
Below are some of the questions asked by visitors. Do visit our adivaha® Digest for more such questions. Don't hesitate to ask us if you have any questions