Build your own Travel Brand!
Ready to go-LIVE travel solutions that helps your travel agency to sell a range of travel services pretty instantly. adivaha® travel solutions make sure you have no boundation over your imagination, you can do everything online, without the need for any technical knowledge or design skills. Easy Backoffice, extensive reporting with integrated Funds Management System. Upload funds easily and instantly through Netbanking, Debit Card, Credit Card. The best part is, we do offer customizations in case you believe it will boost your business!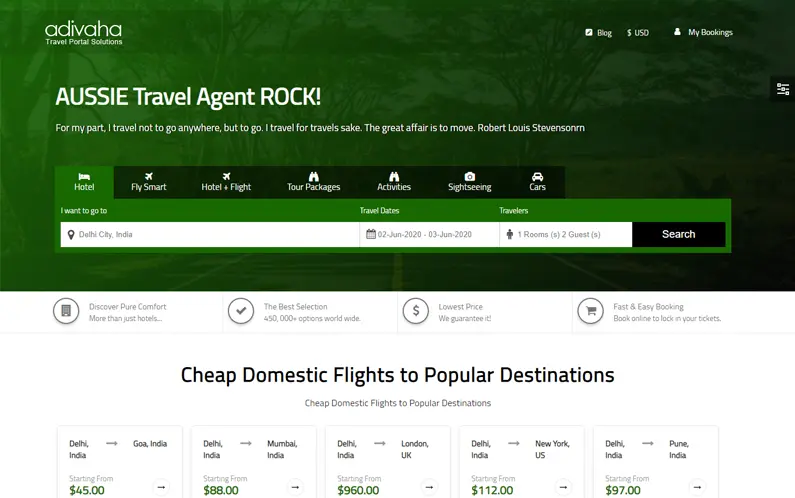 Power of Professional Travel Portal Development in Delhi Today
The industry of hospitality and tourism is among the biggest services in India. The tourism industry in India is a major element in the Make in India program. The tourism sector in India is a major economic multiplier. This is vital because India must grow rapidly and generate jobs.
India provides a variety of geographical features, world heritage sites, and niche tourism offerings such as cruises, adventure eco-tourism, medical and more. Amazing India has boosted tourism and jobs. Development in Tourism is vital for the growth of many economies around the world. There are many benefits to tourism in the host country. Tourism Development can boost the economic growth of the nation. It also creates a lot of jobs, helps build infrastructure for a government, and helps to increase appreciation of the interactions between citizens from other countries and their citizens. We will discuss Travel Portal Development in Delhi.
Bit about Dehli
You cannot describe Delhi in a handful of words. Delhi is far too vibrant to be able to do it to be described in a single sentence. The rich history that is awash with stories from the past is reflected in the beautiful buildings of the past that are tucked within the city's sprawl. The rough patina of old stonewalls adds a distinctive aesthetic to the city landscape, and you can almost hear the voices that the old days echoed.
This city is a heaven for gourmands. The city's vibrancy extends to its handlooms, too, filling the busy bazaars with colorful displays of local goods. Delhi can be described as an exotic, vibrant destination worthy of being on your list of goals.
What is travel development?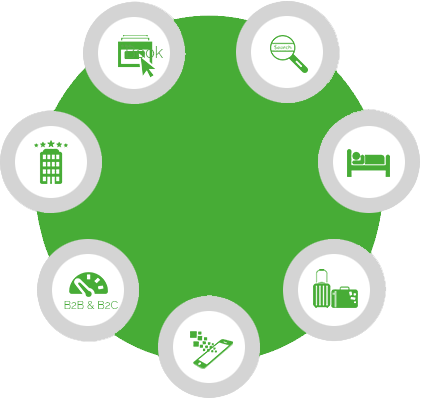 Professional Travel Portal Development in Delhi
The term "travel development" describes the development strategy of travel needs. This could include finding flight tickets, negotiating with suppliers, arranging transportation, and making reservations for accommodation. It could also involve controlling expenses and taking the necessary steps to protect travelers.
Travel development can be performed through or for the benefit of corporations, organizations, and individuals. Tourism can create an opportunity for social exchange between visitors and residents. Conferences, exhibitions, and other events typically draw foreigners. Organizers typically earn revenue from the cost of registration, gift sales, exhibition spaces, and the sale of copyright rights for media. Additionally, tourists from abroad provide diversity and enrichment to the country they visit.
Tourism offers a fantastic chance for foreigners to learn about a different culture, but it also provides residents with various opportunities. This Travel Portal Dovelopment company allows entrepreneurs of all ages to develop new services and products that cannot sustain the local population by themselves. In addition, residents benefit from the tourism that is happening in their own country.
Various aspects to consider when looking a travel development company.
There are various important aspects to consider when trying locating the ideal company for managing your travel. On a fundamental level, you should choose a business with sufficient experience and a reputation for providing top-quality service. Also, you should know that they can customize their services to fit your specific industry.
Working with a travel and tourism development firm with experience in your field is recommended. Setting up a travel policy for your company before beginning the research process is also the best option. The company you choose will be able to improve your travel policy; however, having a fundamental approach in place can assist you in finding the perfect one.
It is important to select the company that can provide the services you require for a reasonable price. However, it would be best if you chose a top-quality firm that uses the most recent technologies is essential. It is also important to know that the firm is available for all hours of the day or even near it.
How can hotels make money from Travel Development systems In Delhi?
corporate travel booking system is often costly and difficult to manage, particularly when you're trying to coordinate many business travelers on distinct itineraries. Because of this, numerous companies purchase the services of travel development firms located in Dehli and corporate travel agencies. They have the responsibility of the management of business travel arrangements, and that includes the booking of travel. Hotels wanting to make the most of business travel should be available to these companies.
A travel agent for corporate clients could be in charge of finding accommodation or flights and other transportation options. It generally relies on an international distribution system for assistance in these endeavors. For hotels, the central system GDS is an essential distribution channel. When you connect to these global distribution systems, you can provide travel agents with the most current hotel rates and availability information. This improves their chances of booking rooms in your hotel, allowing you to increase the revenue.
The benefits of making use of the Travel portal Development system in Dehli
Companies that develop travel portals can be beneficial to companies for a variety of reasons. Certain of them are obvious, while some are less obvious. Below, you'll discover the top nine benefits of hiring a travel company to oversee your travel plan.
Hotels and flights with best services

While it's true that travel companies require the payment of their services, typically as a subscription-based arrangement or through charging a charge for services you utilize, the truth is that they could still help you save substantial sums of money. This is particularly true if you frequently travel or have employees who frequently travel.

A travel management firm has relationships with the travel development industry, which allows them to get low hotel rates. They also have the expertise of finding cheap flights at the right time and scheduling flights at the best moment. In the end, your overall cost of travel could be drastically reduced.

Expert advice and insights

A Travel Portal Development Company in Dehli will know the travel industry thoroughly and learn a few tricks. With that in mind, they will be able to provide expert advice on how to spend your money best, the best travel routes, and what you need to know before visiting certain destinations.

Often, companies will work with a travel development company specializing in dealing with clients in their industry. This can be extremely helpful, as some industries have specific or nuanced travel needs. Previous experience can help society optimize your travel strategy and steer you away from common pitfalls.

B2B Travel Web Development

We assist travel agents, companies, distributors, and tour operators in seeking services related to developing Online Travel Portal Website. Build efficient, user-friendly B2B platforms that help improve collaboration and create new revenue opportunities.

Travel Application Development

Create fast, end-to-end, and responsive travel app solutions that increase user engagement across smartphones and help you gain a competitive advantage in the constantly growing mobile-driven markets.

Flight Booking Engine Development

Enhance search ability and offer seamless booking for flights or airlines. Please work with us to create and develop novel technology for booking flights that combines inventory, ticketing, payment, and much more on one platform.

Holiday Booking Engine Development

Our expert in the development of travel portal software can help you determine the areas of friction and design an individual holiday booking engine that combines speed and performance to give your customers an unforgettable holiday.

Support and assistance 24/7

Another benefit of having a relationship with a travel company is the accessibility of support. In most cases, they are readily available round the clock or close to it. That means that if there is a problem, or you have to make changes in a hurry or require urgent assistance, there are people available to assist you.

Without a travel management system, the organization must internally manage travel-related problems. This solution could result in you being unable to receive assistance during your normal working hours, or you are personally accountable for providing support to the corporate travelers within your business; however, they need help outside of normal hours.

Assistance with travel policy

Business travel must remain as constant as it is. However, it is essential for employees who travel to be safe and happy. With a clear and concise policy implemented, everybody knows what they can and cannot do, acceptable and unacceptable behavior are defined, and spending guidelines are set.

A company that develops travel portals will not only aid you in establishing a strong policy. However, it can assist in implementing it, for instance, by suggesting only options that satisfy all standards.

Consolidated reporting

Regarding reporting travel expenses, most travel portal management companies will consolidate information into one report, helping to bring all important information together in one place. This makes tracking travel expenses easier and identifying whether spending in this area is too high.

Travel warnings or advisories

With many companies, once the trip is organized, it is sidelined until the time comes. One of the best ways this manifests itself is through travel advisories or warning messages sent out to report important information.

For example, alerts can be sent if the planned travel route is disrupted, allowing you to prepare for all eventualities. Finding this information promptly can also provide huge financial benefits.

The use of modern technology

It is important to understand that a modern travel development company will provide you with the tools and systems you need to book your trip easily. This could, for example, mean that they will provide you with online travel portal software or a mobile app, allowing you to submit your travel plans or requests at any time of the day.

The state-of-the-art portal technology allows for much greater efficiency in this sector. If you manage travel arrangements, the whole process can take significant time. Conversely, using a mobile app or Travel CRM Software package to request your travel development company can usually be done in minutes.

More peace of mind

Travel portal development can be complicated, and it's surprisingly easy to overlook things, whether sorting out visa requirements, ensuring business travelers have the right medical coverage or arranging airport transfers. A key benefit of partnering with a Travel Portal Development Company is its peace of mind.

La will work with you to understand your needs and ensure everything is taken care of. Their experience in the field makes it much less likely that something will be accidentally overlooked.

More time for other activities

Not only will a high-quality Travel Portal Development be able to handle these responsibilities on your behalf, but they also have existing business relationships with suppliers, giving them much quicker access to the best possible rates.
Travel Portal Development Company: how to select one?
There is a wide range of travel portal development companies out there, each of which promotes itself as the best option for companies looking to outsource corporate travel management. So how can you choose between them? Below you will find practical tips to narrow down the various Travel Portal Development Company in India.
Commissions and savings

For most companies, the fees and possible savings are likely to be the most important consideration when choosing among travel portal development companies. All travel portal development companies will require payment for their services, but you need to consider how the money spent can be offset against the potential money saved.

For example, travel portal development companies tend to have excellent tourism industry contacts, allowing them to unlock discounts on hotel rooms and transportation that may not otherwise be available. It is also important to think that the money saved from travel needs is managed externally, allowing employees to focus on their daily work instead.

How much customization?

Next, you need to look at the amount of personalization offered by different travel portal solutions. You must entrust travel portal management responsibilities to a company willing to work with you rather than trying to adapt to your preferences.

The customer experience

The level of customer service and the experience for customers is a major competitive advantage for travel portal development companies. Even with the most effective procedures and policies, travel for corporate clients isn't always easy. There could be delays, sudden changes to plans may be necessary, and you'll need to be aware that your company can take action.

Think about what can happen with your business travel and locate an organization that can assist you in solving issues and preventing them from happening at all times feasible. Are they available 24/7 when you need them as a corporate traveler? What information or advice could they provide? Are they able to answer any last-minute inquiries?

Technology on offer

Travel portal development is important, so you want to know you're working with a company that takes it seriously. For this reason, it is worth learning about the technology used by the different travel management companies. In general, cutting-edge and high-quality technologies reflect well on them.

Ask them about their distribution systems worldwide and focus on the options available to you and your business. Do they have a mobile application? Do they provide clients with Travel Portal Software? What makes them special or distinctive? The online booking system is essential; however, a business with a phone plan might be more suitable for some companies.

Availability of reporting

Travel development goes beyond simply organizing business trips when it's needed. The management component provides for the definition of objectives, the taking of strategic decisions, and the continuous monitoring of results. For this to function effectively, you must be able to access information on how your travel plan works.

When looking at the development of travel portals, look at their range of reports. What type of reports will they provide? What frequency will you receive notifications? Do you have the ability to request information when you require it? It is helpful if you consider working with a company travel agent that can assist you in analyzing reports, drawing conclusions, and offering suggestions.

Feedback and reviews from customers

Ultimately, it's essential not to take travel portal companies at their claims. You must be certain that they will deliver their promises by seeking feedback. Reviews on the internet can be an effective starting point giving you an idea of what people think. However, you must go into the details.

The top travel portal development companies will happily provide customer references, so don't hesitate to inquire. If they are unwilling to give references could be a signal to get your attention. It is also best to inquire about the opinions of other companies in person, so if you know a company that has utilized travel development, ask them about their experiences.
Adivaha Expertise in Travel Portal Development
We are leading travel development firm that enables businesses in the travel industry to make an important shift. Utilize revolutionary Travel applications powered by the latest technologies that can transform the travel experience and create an exciting digital future.
Explore Travel Portal Development in Delhi to ensure high performance. Our expert-grade travel portal developers assist you in achieving collaboration with partners and building customer loyalty with a one-stop shop.
Our Comprehensive List of Services
adivaha® is a one-stop-shop for all your travel website needs. We offer a multitude of services that empower you to become a market leader. Contact us for more info.
Have Questions?
The Internet is a huge resource, but
if your question requires particular expertise.
Keep Refreshing your customers - Who doesn't want his site to stand out from crowd? adivaha® gives you multiple options for home pages, headers, colors etc. Which can easily be managed from admin via shortcodes and settings. The theme supports almost all the big players in this market ie, WEGO, Travelpayouts, Agoda, Booking, Expedia etc.
Contact
Have something unique in mind? Drop a message.
Estimated reply time: 3-5 Working Days