Build your own Travel Brand!
Ready to go-LIVE travel solutions that helps your travel agency to sell a range of travel services pretty instantly. adivaha® travel solutions make sure you have no boundation over your imagination, you can do everything online, without the need for any technical knowledge or design skills. Easy Backoffice, extensive reporting with integrated Funds Management System. Upload funds easily and instantly through Netbanking, Debit Card, Credit Card. The best part is, we do offer customizations in case you believe it will boost your business!
Power of Professional Travel Portal Development in Delhi Today
Understanding the power of travel portal development helps businesses make informed decisions about their technology investments. By recognizing the value and potential returns offered by a professional travel portal, you can allocate resources to develop or enhance their online presence, improve customer experiences, and drive business growth.
Enhanced Customer Experience
Enhanced customer experience is one of the key benefits of professional travel portal development in Delhi today. A well-designed travel portal software provides a user-friendly interface that makes it easy for customers to navigate and find the information they need. Intuitive search functionalities, clear presentation of options, and simple booking processes contribute to a seamless user experience. Travel portals offer a wide range of travel options, including flights, hotels, car rentals, vacation packages, activities, and more. By providing a comprehensive selection of choices, customers can conveniently compare prices, amenities, and availability to make informed decisions based on their preferences. Personalized suggestions for destinations, accommodations, and activities enhance the customer experience by catering to their specific interests and needs. Travel portals prioritize the security of online transactions, ensuring that customer payment information is protected. They offer secure payment gateways and multiple payment options, making it convenient for customers to complete their bookings securely and efficiently. Travel portals often provide customer support services, including live chat, email, or phone support. Customers can seek assistance regarding their bookings, make changes or cancellations, and address any queries or concerns they may have. Prompt and reliable customer support enhances the overall experience and builds trust in the travel portal designers. Many travel portals incorporate reviews and ratings from previous customers, allowing potential travelers to make more informed decisions. This feature enables customers to read about other travelers' experiences, gain insights into the quality of services, and select the most suitable options based on user-generated feedback. Professional travel portals often offer mobile-responsive or dedicated mobile applications, enabling customers to access the platform and make bookings on their smartphones or tablets. Mobile accessibility enhances convenience, allowing travelers to manage their travel arrangements on the go.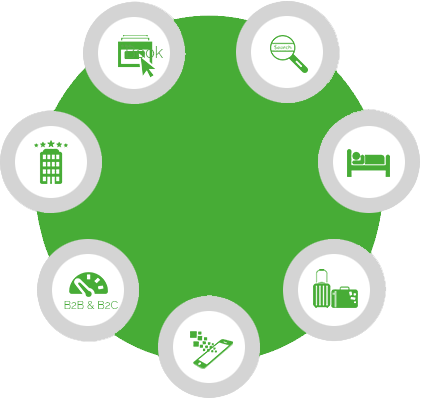 Professional Travel Portal Development in Delhi
Increased Efficiency and Productivity
Travel portals automate various manual processes involved in managing bookings, reservations, and other travel-related tasks. This automation eliminates the need for repetitive manual data entry, reducing the chances of errors and saving time for travel agencies and tour operators. It streamlines operations, enabling staff to focus on more value-added tasks. A well-developed travel portal provides a centralized platform for managing travel-related operations. It allows businesses to consolidate their inventory, including flights, hotels, and other services, in one place. This centralization simplifies inventory management, making it easier to update and maintain accurate information across multiple channels. Travel portals integrate with various systems, such as Global Distribution Systems (GDS) and hotel aggregators, to access real-time availability and pricing information. This real-time data ensures that travel agents and customers can access the most up-to-date information when searching for flights, hotels, and other travel services. It minimizes the risk of double bookings and enables quick decision-making. Professional travel portals integrate with third-party APIs, such as GDS, hotel aggregators, payment gateways, and more. These integrations streamline processes by allowing seamless communication and data exchange between different systems. For example, integrating with a GDS enables travel agents to access flight availability, book tickets, and retrieve booking confirmations without leaving the portal. Travel portals often incorporate reporting and analytics features that provide valuable insights into business performance. These tools generate reports on bookings, revenue, customer behavior, and other key metrics. By analyzing this data, travel businesses can identify trends, measure performance, and make data-driven decisions to optimize their operations and improve profitability. By automating processes, reducing manual efforts, and centralizing operations, travel portals save time and resources for travel businesses. Staff members can focus on tasks that require human expertise, such as customer support, marketing, and strategic planning. The time saved can be redirected towards providing better service to customers or exploring growth opportunities. Travel portals often include features that facilitate communication between travel agents, suppliers, and customers. Integrated messaging systems, email notifications, and alerts help ensure efficient and timely communication, reducing delays and improving customer satisfaction. Professional travel portals are designed to handle large volumes of transactions and accommodate business growth. They offer scalability and flexibility, allowing travel businesses to expand their operations, add new services, and integrate with additional suppliers or distribution channels as needed.
Global Reach and Market Expansion
Global reach and market expansion are key advantages of professional travel portal development company today. Travel portals enable integration with global suppliers, including airlines, hotel chains, car rental companies, tour operators, and more. This integration provides travel businesses in Delhi with access to a vast inventory of travel services from around the world. It allows them to offer a wide range of options to customers and cater to diverse travel preferences. With a well-developed travel portal, businesses in Delhi can target and attract customers from various parts of the world. The portal can be designed to support multiple languages, currencies, and payment options, making it convenient for international travelers to search, book, and manage their travel arrangements. Travel portals facilitate global distribution by connecting with Global Distribution Systems (GDS) and Online Travel Agencies (OTA). These distribution channels allow travel businesses to distribute their inventory to a wide network of travel agents, OTA websites, and other online platforms. This expands their visibility and reach to a broader audience, driving potential customers from different parts of the world. Professional travel portals can showcase various destinations and promote lesser-known or emerging destinations to a global audience. Through attractive visuals, detailed descriptions, and curated travel packages, travel businesses can highlight the unique offerings and attractions of different regions, driving interest and bookings from international travelers. To cater to international customers, travel portals can be developed with multilingual capabilities, allowing users to browse and book in their preferred language. Similarly, supporting multiple currencies enables travelers to view and transact in their local currency, enhancing the booking experience and reducing barriers to international transactions. Travel portals serve as a platform for marketing and advertising travel services to a global audience. Businesses can leverage digital marketing strategies, search engine optimization (SEO), and targeted campaigns to attract customers from different countries. Travel portals provide opportunities for businesses to showcase their offerings and engage with potential customers through promotional content, deals, and discounts. Professional travel portals enable collaboration with global partners, such as online travel agencies, tour operators, hotels, and other travel service providers. By forging partnerships with international entities, businesses in Delhi can expand their reach, tap into new markets, and offer specialized travel products or services that cater to specific regions or niches.
Integration with Third-party APIs
Third-party APIs, such as Global Distribution Systems (GDS), hotel aggregators, car rental systems, and activity providers, offer a vast repository of travel content and inventory. By integrating these APIs into the travel portal, businesses gain access to real-time information on flights, hotels, car rentals, and other travel technology services. This ensures that the portal provides up-to-date and accurate data to users. Integrating with third-party APIs allows travel portals to expand their inventory and offer a wider range of travel options to customers. Instead of relying solely on their own contracted inventory, businesses can tap into the extensive databases of airlines, hotels, and other service providers available through the APIs. This enables customers to choose from a larger selection of options and increases the chances of finding suitable travel arrangements. APIs provide real-time access to availability and pricing information for flights, hotels, and other services. By integrating with these APIs, travel portals can display current availability and pricing to users, ensuring that the information is accurate and up-to-date. This saves time for both customers and businesses, as they can immediately see the available options without the need for manual updates. Third-party API integration enables a seamless booking process within the travel portal India. Users can search for flights, hotels, or other services, view the details and pricing, and complete the booking without being redirected to external websites. This streamlines the user experience and keeps the customers engaged within the portal, increasing the chances of successful bookings. Many third-party APIs offer secure payment gateways that can be integrated into travel portals. This ensures that customers' payment information is processed securely within the portal itself, enhancing trust and confidence. Seamless integration with payment gateways simplifies the booking and payment process for customers, leading to a smoother user experience. Third-party APIs also provide access to ancillary services, such as travel insurance, visa assistance, airport transfers, and more. By integrating these APIs, travel portals can offer customers a one-stop travel portal solution for all their travel needs. This enhances convenience and improves the overall customer experience by providing a comprehensive range of services. travel API integration automates various processes within the travel portal, such as retrieving availability and pricing information, generating booking confirmations, and updating inventory. This automation improves operational efficiency, reduces manual efforts, and minimizes the chances of errors. Travel businesses can save time and resources by leveraging the automated capabilities provided by third-party APIs.
Business Growth and Competitiveness
Travel portal template provide a digital platform that allows businesses to showcase their travel services and offerings to a wider audience. By having an online presence, businesses can reach potential customers beyond their physical location, expanding their reach and visibility in the market. This increased exposure leads to more opportunities for customer acquisition and business growth. Travel portals offer round-the-clock availability, allowing customers to access and book travel services at any time. This convenience not only caters to customers' needs but also provides a competitive advantage over businesses that operate within traditional business hours. By being accessible at all times, travel portals can capture bookings and generate revenue even when the business is closed. Professional travel portals provide a seamless and user-friendly booking process. Customers can easily search, compare, and book travel services within the portal, leading to a frictionless user experience. A streamlined booking process enhances customer satisfaction, encourages repeat bookings, and positions the business as a preferred choice for travelers. travel portal solution allow businesses to diversify their offerings by including a wide range of travel services such as flights, hotels, car rentals, vacation packages, activities, and more. By providing a comprehensive selection, businesses can cater to various customer preferences and capture a larger market share. Diversification helps businesses stay competitive by meeting the evolving needs and demands of travelers. Travel portals can incorporate personalization features that tailor recommendations and offerings based on customers' preferences, travel history, and behavior. By understanding customers' preferences, businesses can provide personalized travel experiences, offering customized recommendations and targeted promotions. This level of personalization enhances customer loyalty, increases customer satisfaction, and differentiates the business from competitors. Travel portals allow businesses to set competitive pricing for their travel portal development services. By comparing prices across different suppliers and aggregators, businesses can ensure that their offerings are competitively priced. Additionally, travel portals enable businesses to create special offers, discounts, and promotional campaigns to attract customers and gain a competitive edge in the market. Professional travel portals often incorporate analytics and reporting functionalities that provide valuable insights into customer behavior, booking trends, revenue generation, and other key metrics. By analyzing this data, businesses can make data-driven decisions, identify areas for improvement, and optimize their strategies to drive growth and enhance competitiveness.
Our Comprehensive List of Services
adivaha® is a one-stop-shop for all your travel website needs. We offer a multitude of services that empower you to become a market leader. Contact us for more info.
Have Questions?
The Internet is a huge resource, but
if your question requires particular expertise.
Keep Refreshing your customers - Who doesn't want his site to stand out from crowd? adivaha® gives you multiple options for home pages, headers, colors etc. Which can easily be managed from admin via shortcodes and settings. The theme supports almost all the big players in this market ie, WEGO, Travelpayouts, Agoda, Booking, Expedia etc.
Frequently Asked Questions
Below are some of the questions asked by visitors. Do visit our adivaha® Digest for more such questions. Don't hesitate to ask us if you have any questions
I am setting up this plugin for my client's website, I tried registering and received the account activation email, but …

21

views

1

answers

0

votes