Build your own Travel Brand!
Ready to go-LIVE travel solutions that helps your travel agency to sell a range of travel services pretty instantly. adivaha® travel solutions make sure you have no boundation over your imagination, you can do everything online, without the need for any technical knowledge or design skills. Easy Backoffice, extensive reporting with integrated Funds Management System. Upload funds easily and instantly through Netbanking, Debit Card, Credit Card. The best part is, we do offer customizations in case you believe it will boost your business!
Best Online Travel Portal Development Company for Your Needs
We can define an online travel portal development system as a type of computer packaging management system that works automatically. It allows us to manage business reservations directly through the network. The travel agency will receive the information on the reservations that are received, including it in a practical database that can be controlled as desired.
Online Travel Portal Development Company for the management and online marketing of tourist products whose purpose is to centralize the administration of your own products and/or products of your suppliers simultaneously allowing the online sale of customized packages.
What is a booking engine used for?
This online travel portal is used to manage the reservations that the business is going to process. It was a system designed by companies to fully enter the Internet, expanding the possibilities of booking.com wordpress integration any trip (which until then were limited to booking physically or by telephone).Travel portal development company is a system that works automatically, a type of software that does the entire online booking process: from providing information about the trip, indicating some conditions, giving the possibility of customizing it to the client's whim, and even completing the payment.Due to the practicality of this online travel portal, they were extended to other businesses, such as the hotel booking engine software sector (for hotel reservations), the hospitality sector (to reserve a table in a restaurant), etc.
Features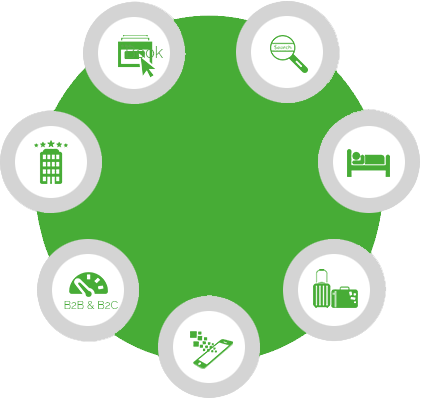 Selecting an Online Travel Portal Development Company
Reports on travel expenses

One of the most important characteristics of travel booking management systems wordpress is the ability to record information about your business trips. Here are some of the things you should be able to track:Travel expenses by the period of time,Travel expenses by department or team,Travel expenses incurred outside the policy,Travel expenses by project, client, or event,Travel expenses dedicated to hiring.In addition to generating reports, the trip management online travel booking system should include the ability to add tags and categories to trips.

Consolidated billing

The easiest way to keep track of business trips is to book them all in one place. However, some travel systems do not function as a single provider, so you end up with multiple invoices from different providers. To save you time and trouble, choose a system that consolidates all your monthly trips into a single invoice from a single provider. The Travel Portal Development Company finance team will be delighted with you.

Check the status of all your trips in one place

The most important reason to use a Travel Portal Development solutions system is to be able to consolidate them. Let's see a real example. Suppose 20 travelers must each book their own trip to attend an upcoming event.As a travel portal, you should be able to log into the management platform and see:Who booked your trip in compliance with your travel policy?Who requests a reservation outside of the policy and whyWho has selected an itinerary, but has not finalized their reservation?Who has not booked their trip? When you have the responsibility of booking trips or helping others book them, you need to know what is really going on. You should be able to monitor everything instantly to see if any travelers require additional help. What's more, once trips are booked, you should be able to access a single site to view online booking software confirmations, itinerary details, possible cancellation notices, etc.

Ease of booking, including self-booking for travelers

Although your travel technology company does not allow travelers to book on their own, you should be able to offer a simple and intuitive booking experience to those who are in charge of making those reservations. If you are not interested in allowing self-reservations, choose an Online Travel Portal Development Company that travelers love: that is easy to use, meets their needs, and assists when they need it.

Relevant means of transport for your organization

Surely the least you expect from a online travel booking portal management system is that it includes flights, hotels, and rental cars. But what about the trains? Trains are that mode of transport that your employees often choose. Consequently, you should choose a travel management system that includes them.Why should you consider including means of transportation that your employees use frequently?So that all possible options are unified in a single api integration platform, this includes all business trips and is easy to manage.

Mobile application for travelers

The truth is that some travel management hotel booking engine system still do not offer their own mobile application or have some that are too basic and difficult to use. Before embarking your entire company on a new travel portal system, you should download its app yourself and test the navigation experience.

Saving reservations in progress and collaboration

Collaborative bookings relate to some of the features we've mentioned above, like approval flows or the ability to review incomplete bookings.However, it is such an important feature that it is worth dedicating the travel portal's own section. The possibility of collaborative hotel booking script can be very useful in a wide variety of cases:When your CEO chooses a flight and a hotel and wants you to finalize their reservation.When travelers are allowed to choose the routes they want, but not book (so you must finalize the reservations they have chosen).When a trip needs to be reviewed for multiple people, so you can save it and check the details with each traveler before completing the reservation.When a potential hire, client, or talent chooses the details of their trip, but it must be booked by the main office.The possibilities are endless. And just as you can save a draft of a report, collaborate on it with other people, and come back to work on it later, you should also be able to do it with a travel reservation.

Saving traveler information

Booking business trips cannot take two hours. If you save all the traveler information in your travel agency api system (names and surnames, details of their travel documents, dates of birth, etc.), the travel portal development company will take you much less time to make reservations. Most of the time it will only be a matter of minutes.

Accumulation of loyalty points

Each company has a different policy when it comes to loyalty programs. Some do not allow travelers to accumulate points in their personal accounts and have all business trips accumulated points in the corporate account so that Travel Portal Development Company is the company that gets the rewards.Either way, you should use a travel technology company that stores the numbers for these loyalty programs. Thus, travelers will not have to enter them every time they book. And if your company only allows points to be accumulated in the corporate account, then an office assistant or administrator should be in charge of registering these numbers in the profiles of all travelers.
Conclusion:
At adivaha® our extensive experience in the tourism sector in different fields both in specialized consulting and in the development and design of software differentiates us when undertaking a project for a travel agency. Whatever your best online travel agency project, we will advise and manage your project, developing your ideas to carry out the website you need. From the creation of the agency, the design of your logo to advice on the type of website that best suits your business. In addition to web development, we have a specialized management department to process the creation of your agency and everything related to accounting and taxation. We are experts in the design and development of technological solutions for travel agencies. With our online Travel technology software, you will manage and bill your files in a safe and agile way.
Our Comprehensive List of Services
adivaha® is a one-stop-shop for all your travel website needs. We offer a multitude of services that empower you to become a market leader. Contact us for more info.
Have Questions?
The Internet is a huge resource, but
if your question requires particular expertise.
Keep Refreshing your customers - Who doesn't want his site to stand out from crowd? adivaha® gives you multiple options for home pages, headers, colors etc. Which can easily be managed from admin via shortcodes and settings. The theme supports almost all the big players in this market ie, WEGO, Travelpayouts, Agoda, Booking, Expedia etc.
Frequently Asked Questions
Below are some of the questions asked by visitors. Do visit our adivaha® Digest for more such questions. Don't hesitate to ask us if you have any questions
What all GDS and Providers are connected in the platform?

27

views

1

answers

0

votes