Build your own Travel Brand!
Ready to go-LIVE travel solutions that helps your travel agency to sell a range of travel services pretty instantly. adivaha® travel solutions make sure you have no boundation over your imagination, you can do everything online, without the need for any technical knowledge or design skills. Easy Backoffice, extensive reporting with integrated Funds Management System. Upload funds easily and instantly through Netbanking, Debit Card, Credit Card. The best part is, we do offer customizations in case you believe it will boost your business!
Finding the Best Travel-Portal-Development-Company in Delhi
Delhi is a hub for various industries, including the travel and tourism sectors. Working with a online travel portal development company in Delhi can provide networking opportunities and potential collaborations with other travel businesses. Before finding the Best travel portal development company in Delhi it is important to consider some factors. Let`s look at this one by one:
Research, Evaluate, and Experience
Look for companies with a strong reputation in the industry. Check online reviews, ratings, and testimonials from their previous clients. Pay attention to feedback regarding their professionalism, expertise, quality of work, and customer satisfaction. Review the company's portfolio and case studies to gauge their experience and expertise. Examine the travel portals they have developed in the past to assess the quality, functionality, and user experience. Look for diversity in their portfolio, including different types of travel portals (e.g., flight booking, hotel reservation, tour packages) and varying complexities. Ensure that the company has expertise in the technologies relevant to travel portal development. This may include web development frameworks (such as PHP, Python, or . NET), content management systems (like WordPress or Drupal), API integrations, responsive design, secure payment gateways, and mobile app development if you require it. Evaluate the company's understanding of the travel industry. A good travel portal development company should have knowledge of industry-specific requirements, such as integration with Global Distribution Systems (GDS), access to real-time flight and hotel inventories, Travel API Integration, and compliance with industry standards and regulations.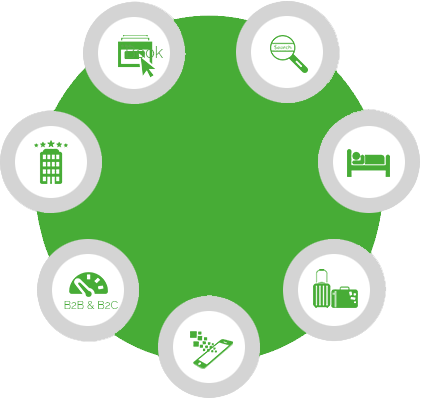 Travel Portal Development Company in Delhi
Assess the company's ability to customize the travel portal template according to your specific requirements. Consider whether they can handle complex features, customization of search filters, integration with third-party APIs, multi-language support, and scalability to accommodate future growth and updates. Effective communication and project management are crucial for successful development. Evaluate the company's communication channels, responsiveness, and ability to understand and address your requirements. They should provide regular updates, involve you in decision-making, and offer a transparent and collaborative development process. Request references from the company and reach out to their previous clients. Ask about their overall experience, satisfaction with the final product, adherence to timelines, post-development support, and willingness to work with the company again. Check if the company holds any relevant industry certifications or partnerships. This can be an indication of their commitment to quality and adherence to industry standards. By thoroughly researching, evaluating the experience, and assessing the expertise of a travel portal development company, you can make an informed decision and choose the right partner for your project.
Review portfolios
By reviewing portfolios, you can evaluate the quality and functionality of the travel portals the company has developed. This allows you to assess their design aesthetics, user interface (UI), and user experience (UX). You can see how well the portals are organized, how easy they are to navigate, and how visually appealing they are. It gives you a sense of the company's ability to create a professional and user-friendly travel portal. Portfolios help you understand the company's expertise and specialization in travel portal development services. You can see if they have experience in developing portals for specific types of travel businesses, such as airlines, hotels, or tour operators. This expertise is valuable as it demonstrates their understanding of industry-specific requirements and their ability to cater to the unique needs of your travel business. By reviewing portfolios, you can assess the technical capabilities of the company. Look for features and functionalities that are important for your travel portal, such as flight and hotel booking systems, search filters, payment gateways, user account management, and integration with third-party APIs. This helps you gauge the company's technical expertise and ability to deliver the desired functionalities. Portfolios can serve as a source of inspiration and ideas for your own travel portal solution. You can see how other travel portals have implemented certain features, organized content, and presented information to users. This can help you refine your vision and provide valuable input to the development company, enabling them to better understand your expectations and preferences. Portfolios can showcase the company's ability to think creatively and bring innovation to travel portal development. Look for unique features, innovative designs, and creative solutions they have implemented in their previous projects. This indicates their willingness to go beyond the standard and deliver a distinctive and engaging travel portal for your business.
Communication and support
Effective communication is essential for ensuring that the development company understands your project requirements accurately. Clear and consistent communication helps prevent misunderstandings, reduces the risk of errors or misinterpretations, and ensures that both parties are aligned on the project goals and deliverables. A good communication channel allows for seamless collaboration between you and the development team. Regular updates, progress reports, and discussions enable you to actively participate in the development process, provide feedback, and make informed decisions at each stage of the project. Communication ensures that you receive timely updates on the progress of your travel portal development services. It allows you to stay informed about milestones, achieved deliverables, and any potential challenges or delays. Transparent and regular communication helps you manage your expectations and plan accordingly. In any development project, challenges and issues may arise. Effective communication is crucial for addressing these challenges promptly and finding appropriate solutions. A company that values communication will be proactive in identifying and resolving any issues that may arise during the development process. Communication extends beyond the development phase. It is important to consider the level of support the company offers after the travel portal is developed and deployed. A reliable company will have clear communication channels for post-development support, allowing you to reach out for assistance, address any issues, and receive timely resolutions or updates.
Cost and timeline
Understanding the travel portal development cost of the project is crucial for effective budget management. By discussing the cost with the development company upfront, you can ensure that their pricing aligns with your budgetary constraints. A transparent discussion about costs helps you plan your finances and make informed decisions about the scope of the project. While cost is important, it's equally important to consider the value you receive in return. Choosing the cheapest option may not always provide the desired quality or functionality. Evaluate the company's expertise, experience, portfolio, and the value they bring to the table. Ensure that the cost is justified by the quality of their work and the value they can deliver through your white-label travel portal. The cost of the project will vary depending on the complexity and scope of your travel portal. Customizations, integrations with third-party systems, and additional features may impact the overall cost. It's important to have a clear understanding of what is included in the proposed cost and any potential additional expenses for specific requirements. The timeline for developing your travel portal is a crucial factor to consider. Delays in development can have implications for your business plans and marketing strategies. Discuss the expected timeline with the development company and ensure that they have a realistic timeframe for delivering the project. Look for a travel technology software company that has a track record of delivering projects on time. When discussing the cost and timeline, assess the company's flexibility and willingness to accommodate your specific needs. They should be open to discussing timelines and costs, taking into consideration any specific deadlines or requirements you may have. Clear communication regarding the project timeline helps manage expectations and ensures that both parties are aligned on the expected delivery date. Discuss the payment terms and milestones with the development company. Understand when and how payments are expected throughout the project. Ensure that the payment schedule aligns with your financial capabilities and that it provides a fair balance of upfront and milestone-based payments.
Personal consultation
A personal consultation allows you to have an in-depth discussion about your specific requirements and expectations for the travel portal. It provides an opportunity to explain your business goals, target audience, desired features, and any customization needs. By having a face-to-face or direct conversation, you can ensure that the development company fully understands your vision. Through personal consultation, the best travel technology company can gain a better understanding of your unique needs and tailor their solutions accordingly. They can offer insights, suggestions, and recommendations based on their expertise and industry knowledge. A personal consultation allows for a more personalized and customized approach to developing your travel portal website. You may have questions, doubts, or concerns about the development process, technology choices, project management, or other aspects. A personal consultation provides an opportunity to seek clarification and get direct answers to your queries. It can help you make more informed decisions and alleviate any uncertainties you may have. Meeting the travel portal software development company in person or having a personal consultation helps in building rapport and establishing trust. It allows you to gauge their professionalism, expertise, and commitment to your project. Building a positive working relationship and trust is important, as it sets the foundation for effective collaboration throughout the development process. A personal consultation provides an opportunity to assess the communication style and compatibility with the development company. You can observe how well they listen to your ideas, understand your requirements, and communicate their approach. Compatibility in communication styles and work culture can contribute to smoother collaboration and a better overall working relationship.
Our Comprehensive List of Services
adivaha® is a one-stop-shop for all your travel website needs. We offer a multitude of services that empower you to become a market leader. Contact us for more info.
Have Questions?
The Internet is a huge resource, but
if your question requires particular expertise.
Keep Refreshing your customers - Who doesn't want his site to stand out from crowd? adivaha® gives you multiple options for home pages, headers, colors etc. Which can easily be managed from admin via shortcodes and settings. The theme supports almost all the big players in this market ie, WEGO, Travelpayouts, Agoda, Booking, Expedia etc.
Frequently Asked Questions
Below are some of the questions asked by visitors. Do visit our adivaha® Digest for more such questions. Don't hesitate to ask us if you have any questions
Hello team, can you tell me if I can connect several APIs in one platform or website?

20

views

1

answers

0

votes