Build your own Travel Brand!
Ready to go-LIVE travel solutions that helps your travel agency to sell a range of travel services pretty instantly. adivaha® travel solutions make sure you have no boundation over your imagination, you can do everything online, without the need for any technical knowledge or design skills. Easy Backoffice, extensive reporting with integrated Funds Management System. Upload funds easily and instantly through Netbanking, Debit Card, Credit Card. The best part is, we do offer customizations in case you believe it will boost your business!
Tour Theme WordPress: How to Create An Impressive Website
Create a captivating tours and travels WordPress theme website with our comprehensive guide. From hosting setup to customization and SEO, unleash the potential of your online tour business.
In today's digital age, a visually stunning and user-friendly best WordPress travel website is crucial for tour businesses to capture the attention of potential customers and stand out from the competition. Whether you're an established tour operator or a passionate adventurer starting your own venture, this guide will take you through the step-by-step process of building an exceptional online presence.
Setting Up Your Travel Tour Wordpress Theme Website
When setting up your impressive tour WordPress theme, ensuring a simple and successful setup is essential. We are here to help you through the process as a dependable third-party service provider, providing knowledgeable advice and detailed instructions to make sure your setup is simple and straightforward. We will lead you through the necessary procedures to launch your website in the section titled "Setting Up Your Tour Theme WordPress travel Website templates." We are aware that picking a trustworthy host and getting the ideal domain name are essential building blocks for your online presence. Our knowledge will help you choose a hosting company that provides exceptional performance and dependability, guaranteeing that users can access your free themes for the website at all times.
We'll walk you through setting up a one-page b2b website WordPress on your server after you've decided on a hosting company. Your installation will go smoothly thanks to our comprehensive instructions and practical advice, which will free you up to start creating your stunning tour theme website right away. For newbies, navigating the WordPress dashboard can be difficult, but don't worry — our professional advice will make it easier for you. We'll acquaint you with the numerous options and tools available in the WordPress dashboard so you can easily manage and alter your website.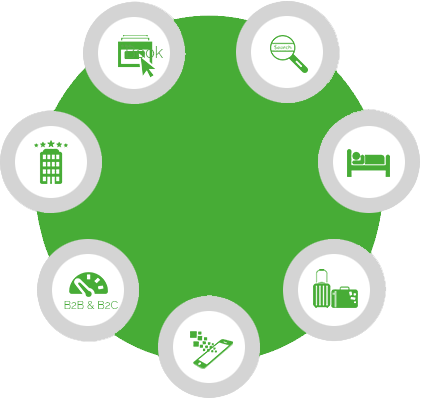 Stunning Website with Tour Theme WordPress
At Adivaha, we recognize the value of offering a thorough and user-friendly manual. We make an effort to guarantee that each step of setting up your best travel agency api theme for a WordPress website using the tour theme is explained in a clear and simple way because of this. No of your level of technical expertise, our goal is to provide you the tools to take full control of your website.
How to Choose and Install the Perfect Tour and Travel Wordpress Theme
We can use our experience as a dependable third-party service provider to help you choose and set up the ideal tour theme for your best travel website. We will walk you through the process in this part, "Selecting and Installing the Perfect Tour Theme," assisting you in examining numerous alternatives and factors to make an informed choice.
A crucial initial step is to investigate the possibilities and factors related to tour website WordPress themes. We are aware that your travel technology company has particular quirks and branding needs. We will assist you in finding themes that complement your tour theme by emphasizing elements that can improve the look and feel of your travel website. Whether you seek a sleek and modern design or a vibrant and adventurous look, we will assist you in finding the perfect match.
Once you've narrowed down your options, the next step is finding and installing a tour theme from the WordPress repository or marketplace. Our guide will provide you with a curated list of reputable sources, ensuring that you have access to high-quality themes that have been thoroughly vetted for performance, security, and compatibility with the latest WordPress version.
For a WordPress website to be truly distinctive and striking, customization is essential. We will walk you through the process of activating and customizing your tour theme to match your brand and satisfy your unique requirements when it has been installed. We will give you vital pointers and best practices to help you construct a visually attractive and coherent website, from modifying color schemes and font to customizing layouts and incorporating your logo.
With our guidance, you can successfully navigate the selection, installation, and customization processes for the ideal tour theme for your travel portal website. We are devoted to assisting you in building a powerful internet presence that attracts people while also showcasing your excursions. Let us be your trusted partner as we embark on this journey together, ensuring that your tour theme WordPress website truly stands out from the crowd.
Enhance and Customize: Enriching Your Website with Feature-Packed Plugins
Plugins enhance the functionality of your website beyond the core features provided by WordPress.
They offer a convenient way to customize and enhance specific functionalities based on your unique requirements.
Essential plugins can optimize your website for specific purposes, such as adding booking systems, contact forms, advanced search functionality, and social media integration.
Plugins seamlessly integrate with your tour theme WordPress website, enhancing the overall user experience and making it easier for visitors to engage with your tours and travel technology services.
This comprehensive guide will introduce you to a variety of essential plugins that can elevate your website's performance and functionality.
You'll learn how to install and configure each plugin through step-by-step instructions, ensuring a smooth integration process without any technical complications.
Expert recommendations will guide you in selecting reliable plugins from trusted sources, ensuring compatibility, security, and optimal performance.
Specific plugins discussed may include online travel booking system, contact form plugins, SEO plugins, and others tailored to meet the unique needs of tour businesses.
The focus is on empowering you to enhance your website's functionality with the right combination of plugins, enabling you to provide a seamless and engaging experience to your website, visitors.
Ensuring Responsiveness and Mobile-Friendliness
Ensuring that your tour theme WordPress website is responsive and mobile-friendly is vital in today's digital landscape. In this section, "Ensuring Responsiveness and Mobile-Friendliness," we will guide you through the essential steps to create a website that provides a seamless user experience across various devices.
Testing your website's responsiveness on different devices is crucial to ensure it looks and functions flawlessly for all users. We will provide you with practical tips and techniques to test your website on various screen sizes, including desktops, smartphones, and tablets. By doing so, you can identify any layout or functionality issues and make necessary adjustments to optimize the user experience.
Optimizing images is an important aspect of creating a responsive and mobile-friendly website. We will guide you in optimizing image sizes and formats to ensure fast loading times and optimal performance across devices. Additionally, we will explore responsive travel website designing techniques, such as using media queries and fluid grids, to create a visually appealing and flexible layout that adapts seamlessly to different screen sizes.
Creating a seamless user experience across desktop, mobile, and tablet devices is paramount for engaging visitors and encouraging them to explore your tours. We will provide insights on best practices for responsive navigation, ensuring that your menus and navigation elements are easy to use and accessible on all devices. Moreover, we will discuss the importance of touch-friendly design and ensuring that interactive elements, such as buttons and forms, work flawlessly on mobile and tablet devices.
By implementing the guidelines and techniques we provide, you can ensure that your tour theme WordPress website delivers a consistent and enjoyable user experience, regardless of the device being used. Your visitors will be able to access and navigate your website effortlessly, resulting in increased engagement and potential bookings.
Testing and Launching Your Website
Testing your website before the official launch is a critical step in identifying and rectifying any errors or issues. We will provide you with a comprehensive checklist to guide you through the testing process. This includes testing website functionality, navigation, forms, links, and responsiveness across different devices and browsers. By conducting thorough testing, you can ensure that your website provides a smooth and enjoyable user experience. Based on user feedback and testing results, you may need to make necessary adjustments and refinements to your custom travel website. We will provide you with guidance on addressing common issues and implementing improvements to enhance user experience and address any identified shortcomings.
Once you are confident in the quality and performance of your travel website development, it's time to proceed with the official launch. We will walk you through the necessary steps to make your website accessible to the public. This includes finalizing domain settings, adjusting website visibility settings, and ensuring search engine indexation. During the launch phase, it is crucial to have a well-planned strategy for promoting your website and attracting visitors. We will offer insights and recommendations on effective marketing techniques, such as search engine optimization (SEO), social media marketing, and email campaigns. By implementing these strategies, you can drive traffic to your website and generate interest in your tours and services.
Throughout this process, we encourage you to monitor your website's performance and gather feedback from visitors. This feedback will help you identify areas for improvement and make necessary adjustments to optimize your website further.
In conclusion, creating an impressive tour theme WordPress website is an exciting endeavor that can greatly benefit your tour travel business. By following the comprehensive guide we have provided, you have gained valuable insights into each step of the website creation process. Best of luck on your journey to creating an impressive tour theme WordPress website that leaves a lasting impression on your audience and drives your tour business to new heights.
Our Comprehensive List of Services
adivaha® is a one-stop-shop for all your travel website needs. We offer a multitude of services that empower you to become a market leader. Contact us for more info.
Have Questions?
The Internet is a huge resource, but
if your question requires particular expertise.
Keep Refreshing your customers - Who doesn't want his site to stand out from crowd? adivaha® gives you multiple options for home pages, headers, colors etc. Which can easily be managed from admin via shortcodes and settings. The theme supports almost all the big players in this market ie, WEGO, Travelpayouts, Agoda, Booking, Expedia etc.
Frequently Asked Questions
Below are some of the questions asked by visitors. Do visit our adivaha® Digest for more such questions. Don't hesitate to ask us if you have any questions
a. What security measures are in place to protect sensitive customer data? b. Does the API comply with data protection …

6

views

0

answers

0

votes