Build your own Travel Brand!
Ready to go-LIVE travel solutions that helps your travel agency to sell a range of travel services pretty instantly. adivaha® travel solutions make sure you have no boundation over your imagination, you can do everything online, without the need for any technical knowledge or design skills. Easy Backoffice, extensive reporting with integrated Funds Management System. Upload funds easily and instantly through Netbanking, Debit Card, Credit Card. The best part is, we do offer customizations in case you believe it will boost your business!
Trivago Wordpress Theme
Trivago is, according to their own words, the world's largest hotel search engine. As can be seen from this definition, Trivago allows you to compare hotel prices. It searches prices with hundreds of service providers (such as Booking.com, hotels.com, and similar systems) and directs you there.
Trivago has managed to attract attention with its recent advertisements and thus attract a large number of users. Here, we will talk about the new technology of the Trivago Wordpress theme, how to use Trivago theme, what is Trivago theme for, and whether it is reliable. Although we use the word hotel throughout the article, it also searches for hostels. The webs of comparative prices are booming. It is an ideal way to monetize a website. There is a lot of money behind product or service comparisons. You have never wondered why so many advertisements for hotel or insurance comparators appear on TV. They earn a lot of money by offering the customer very valuable information (comparing the prices of similar products) in exchange for a commission that they will pay to the company that makes the comparisons.
At the bottom of a membership gains. We already saw the best WordPress Trivago theme. It is a very specific and lucrative type theme of the website that makes money through affiliation.
This is so for two reasons:
It is a triple profit method: The customer wins because they get the cheapest hotel or insurance. The website that receives a commission wins. And the hotel or the insurance company that gets a client also wins.
The conversion of this type of website is very high. Users of our website have the intention of purchasing something. If we are looking for the cheapest insurance or the cheapest hotel, it is because they intend to purchase it.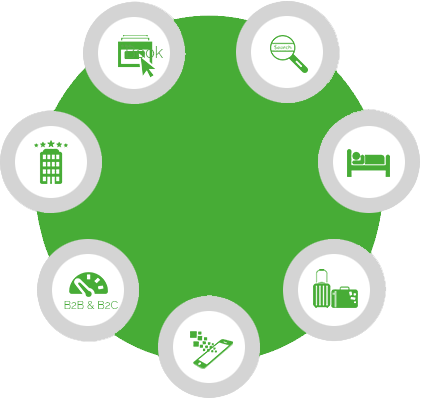 Trivago Wordpress Theme 
If we want to design a comparison website, the most comfortable and easy option is to obtain an optimized Trivago theme for making comparisons on our website.Trivago wordpress theme is one of the best WordPress themes for affiliation, coupons, or comparison. We already analyzed the Trivago theme issue. It is constantly updated incorporating new functionalities that cover all the monetization possibilities of a website. Of the various demos that it includes, there are two more focused on the online price comparison: Rewise and compare. Both are demos included in the Trivago theme focused on comparisons. It allows infinite category classifications and has high conversion rates.
Trivago theme Operating Logic, How to Use Trivago theme?
Trivago's theme of working logic is actually quite simple. The Trivago theme is only an intermediary and receives commissions for the bookings it directs within its agreements. Thanks to its software, it compares prices over the sites that it receives service, it has no other function. If we describe matter by substance;
Your search from Trivago theme,
It compares prices through dozens of sites in your search database.
It brings you the hotels it finds according to popularity
It shows you the cheapest of the related hotels at different prices
If you want a different option (double room, triple room, etc.), you should click on more opportunities.
When you press the Show button, you will direct you to the relevant website and make your reservation from the site it directed you to.
In short, this is the working logic of the Trivago theme.
Advanced Mobile WordPress Theme support
Mobile traffic is on the rise today. Therefore, the adivaha® team continues to improve mobile functions and these are our priority.All of our products and our mail grid and list have Great Compact Stylish looks on mobile phones
Multi-vendor WordPress Theme options
The Trivago Wordpress theme has a custom unique store profile layout that is also integrated with community functions. Such as Follow / Unfollow, Add Friend, reputation system, Private messages. All product templates are customized to show specific vendor information box. And of course, we made custom responsive layouts for the vendor control panel, including compact custom navigation. Also, you can add additional fields to the seller profile during registration. Another unique and cool function is that you can now compare the Seller Price on a single product and help users choose the best product.
Affiliate wordpress theme functions
Do you want to create a comparison site like Pricegrabber or a deal/coupon site? You can now have absolutely new partnership smart functions. No more duplicates of external products, we offer a much smarter way for affiliate websites making your site really useful for users and search engines.We researched the most profitable methods and added many unique tools. Such as top list builders, top tables, dynamic comparison (included). Multi-group comparison) and many custom post templates and layouts.
We've added support for many popular affiliate plugins as well as an import tool. As with the best comparison sites, you can also use the Trivago theme together with content Pro and Affiliate Pro to have mega powerful functions.  We have also added custom smart templates that can help turn the theme into a monetization autopilot site. This is not only imported like other products, but you can also make a professional site.
Directory theme options
You can also use your site as a directory theme or a Review theme. Since we've added the Frontend PRO plugin for frontend submission and the WPF plugin to create custom search filters. We've added a lot of functionality for this and you don't need to be paid plugins anymore. There is no limit to the type of data you can add to each post. Range slider, select, checkbox, number fields.
We've also added custom code fields with some custom product layouts and examples so you can customize the look of the post and add advanced blocks. Trivago theme has front-end shipping, paid submissions, and limited submissions options. You can sell shipping packages and subscription packages.The Trivago theme also has advanced integrations that can help you search any type of Location for the WordPress plugin. Also, we added a Table constructor which can help create custom tables. Of course, there are Review functions for Editors, custom review blocks, user reviews, help or not buttons, criteria, ranking order, etc.
Community theme functions
Trivago theme has a collection of all popular websites. We have added advanced community functionality with special support for Buddy Press, Mycred, and the membership plugin. All functions are linked more strongly than ever before. We added SEO optimization for Buddy press Profiles and even shared options.Create a business directory from your Buddy press, add a blog and product tabs to profile, users can post anything directly from their profile. The registration page has been improved a lot and we also added the member type plugin with role sync support.
Would you like to easily add different fields to User member types? You can do this with the Trivago theme. Would you like to add a reputation system? Easy (badges, special points support, rank support). Do you need a forum? Just one click.
Conclusion:
The best thing is that this Trivago Wordpress theme is very affiliate-oriented. It is not an online store that allows you to offer different prices but compares prices for products being focused on monetization through affiliation.
It is a very simple template to configure but very functional. It is possibly the best alternative if you want an original and attractive website, with high conversions. Trivago theme also has the advantage of being less exploited than other templates as it is recently created and has less well-known but very professional developers, with great support.
Our Comprehensive List of Services
adivaha® is a one-stop-shop for all your travel website needs. We offer a multitude of services that empower you to become a market leader. Contact us for more info.
Have Questions?
The Internet is a huge resource, but
if your question requires particular expertise.
Keep Refreshing your customers - Who doesn't want his site to stand out from crowd? adivaha® gives you multiple options for home pages, headers, colors etc. Which can easily be managed from admin via shortcodes and settings. The theme supports almost all the big players in this market ie, WEGO, Travelpayouts, Agoda, Booking, Expedia etc.
Frequently Asked Questions
Below are some of the questions asked by visitors. Do visit our adivaha® Digest for more such questions. Don't hesitate to ask us if you have any questions
I am setting up this plugin for my client's website, I tried registering and received the account activation email, but …

21

views

1

answers

0

votes