Build your own Travel Brand!
Ready to go-LIVE travel solutions that helps your travel agency to sell a range of travel services pretty instantly. adivaha® travel solutions make sure you have no boundation over your imagination, you can do everything online, without the need for any technical knowledge or design skills. Easy Backoffice, extensive reporting with integrated Funds Management System. Upload funds easily and instantly through Netbanking, Debit Card, Credit Card. The best part is, we do offer customizations in case you believe it will boost your business!
Travel Portal Development Company in India
One of the digital tools that are most useful for the hospitality sector is online reservation platforms, which allow customers and restaurants to communicate quickly and efficiently. And it is that online reservations have increased by 40% during the pandemic in the last year.
The customer can access the platform and view whether the reservation is available on the day and time they would like to book their reservation. Adivaha is an online Travel Portal Development Company in India which provides Online Travel Portal Solutions and Booking Engines for Travel Agents. If you're considering developing your own travel-related business, we're here to help with the information you need to establish your portal-related solutions.
Our team of highly skilled professionals can provide the top web development for travel websites. We can customize your web-based travel websites that meet the ever-changing needs of your customers. Adivaha specializes in designing and developing travel solutions and integrating different GDS's XML APIs, testing, and deployment to the client domain. We provide technical and customer support. Adivaha assists those seeking online travel portal development services and B2B and B2C online travel portals.
Tourism in India
Tourism is not only one of the most important sectors of the Indian economy but also one of the fastest growing. The natural landscapes, strong cultural roots, and gastronomy added to solid tourism, and security policies and infrastructure make tourism in Mexico one of the most important sectors of the country's economy.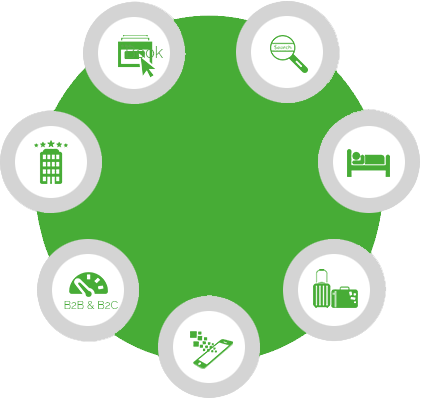 Travel Portal Development Company in India
However, there is another important aspect that has helped boost the tourism economy, and that is technology. Tourists have recently changed and rely heavily on the Internet to decide their trips.
It is important to highlight the current situation in India. Different country brand marketing campaigns and the strong connotations to Indian culture make known the Indian customs and culture.
Travel Portal Development Solution and Travel Business
Adivaha is a leader in the field of travel technology by providing innovative business solutions. We aim to become a one-stop shop for all of your technological requirements. We design and develop websites for travel that will bring you financial returns.
The Adivaha Company is the best Travel Portal Development Company in India. It offers software for travel portals, service for B2C models and B2B models, and API integration for travel portals with online hotel reservation systems and car reservations, flight booking systems, holiday booking systems, tour reservations systems, bus bookings, and payment gateway integration insurance, cruise booking and more.
According to the specifications, Adivaha integrates the client's travel portal with various tools like weather widgets, Google maps, and different information sources that offer the latest information on travel, news about trips, and travel guides that will assist travelers in planning their trips efficiently while making the portal more appealing and useful to customers.
Why is the travel development company necessary for the tourism sector?
Competition in different markets has always been difficult, but in recent times, this competition has become more acute due to various factors. First, the global economic crisis makes customers look for the best option for their trips, the travel agency that offers them the package with the best value for money. At the same time, the latest trends in the travel industry indicate that potential customers are looking for a personalized, specialized service to schedule their trips. Additionally, it is essential to keep up-to-date with technological advancements as increasing numbers of people are using the Internet and mobile apps to learn about tours and tourist attractions. We agree,
Keeping all these factors in mind, here are the basic features of a travel development company for an established travel agency and a newly established travel agency to succeed in the fierce market competition.
Offer a quality service.

Good quality service is essential to succeed in sales and achieve customer loyalty. But it is important to point out what points are considered in the definition of the quality of service offered by a travel agency.

The first important point is to be able to offer a product suited to the needs of each client, for which it is necessary to know their preferences. In addition, to provide a variety of products that adapt to the needs and preferences of each client, differentiated products must be prepared. Second, expert advice must be offered by properly trained personnel. Lastly, it is important to work on the follow-up and control of the product to corroborate the adequacy between the quality specifications of the product and those found at the destination.

Design attractive portal web pages for users.

Travel development companies have already obtained good results by offering their services through web pages strategically designed to create a pleasant, practical, and efficient user experience, facilitating the user's conversion into a customer. Smaller travel agencies can also use the network to attract customers and increase sales. Simple web pages, where the product is displayed properly and contains a virtual assistant that can answer questions or clear up user doubts, are important tools to acquire customers.

Specialization of the service.

This advice is especially suitable for small travel agencies. For this type of agency, it is sometimes difficult to adequately respond to the concerns of all clients since they may be looking for completely different travel experiences. But it is possible to concentrate on one part of the market, specializing in a theme, for example, adventure travel, which includes extreme sports, or trips for students, or the whole family, to name a few examples. This way, it is easier to focus on a specific customer profile; direct advertising campaigns towards this profile, and offer what this type of customer prefers.

Establish a corporate blog.

Nowadays, it is always a good idea to take advantage of all the tools that the Internet can provide to improve the chances of success of a travel agency. One of these tools can be a corporate blog, where customers can comment on their trips, share experiences, and upload photos and videos. Nothing better than the experiences of satisfied customers as a recommendation for new customers.

Carry out a good e-marketing campaign.

This is another important tool that both large and small agencies must use to be successful in these times. Many people search for information about tourist destinations on the Internet. Therefore, it is essential to capture this public through an adequate campaign.

There are also many other features to keep in mind, such as offering complementary services in addition to traditional ones. One of them could be allowing reservations through mobile applications or allowing the traveler to share their travel experiences in real-time, upload photos from their mobile, or be provided with virtual assistance 24 hours a day. Travel development companies always have to be aware of new trends and dare to offer the best, the latest technology to achieve the success of a travel agency.
How does Adivaha be the best travel development solution in India?
We are a firm that has been involved in the development of travel for the past few years. Therefore, our experts are well-aware of the needs of our clients. We offer highly responsive development-based travel software for travel agencies. We're focused on supplying advanced technology with easy-to-use travel booking engines that will aid you in making your travel business the primary preference of travelers. Choose the most reliable website design and development solutions by Travel Portal Software and get an online reputation for your company.
Development companies intelligently design travel portal solutions to deliver great results for all travel businesses. At Adivaha, we use the best technology to develop unique software for your business and guarantee value for money. Adivaha is a leading travel technology company providing well-integrated travel portal website solutions for global travel businesses. Assessing clients' travel portal requirements and delivering solutions demonstrates our team's excellence.
Using the latest technology, we provide endless support to our clients to build an online presence and increase visitors to their websites. We provide travel portal solutions that improve conversion rates and turn your business into a potential one. Adivaha, a renowned travel portal development company, offers advanced travel booking software for booking flights, vehicles, excursions, hotels, and tour packages.
Our Hotel API takes data from hotel providers and travel companies worldwide and consolidates it into one API. Adivaha supports its clients by offering excellent solutions using the right skills when needed. We assure you of an effortless travel technology solution. Offering the right solutions at a reasonable price and continuously improving our services are at the core of our efforts. With the continuous effort of our determined and expert team, we leave no room for mistakes. Every $ you spend on purchasing our travel portal software will bring you multiple returns in the form of increased website visitors and revenue generation.
A user-friendly and powerful administrator panel that lets you control your website.
Variety of features to suit corporate and retail customers, as also travel agents.
We offer a flexible, powerful, and easy-to-use online Booking Engine.
Travel Portal Solution includes hotels across the globe.
Rental cars are available in many countries.
We are a partner with airlines around the world.
Tours of more than countries across the globe.
At Adivaha, we are a team of professionals with years of experience working together to help a growing online travel company. The increase in revenue comes through commission-based packages.
Alongside the development of the website, there are additional important aspects that have to be considered. Travel Portal software allows you to build a responsive website with a strong internet presence. We're there to assist you in finding all travel portal-related solutions. Our expert team can provide the top. We offer fully-customized software for travel portals to meet your specific business needs.
We provide the services of a travel portal software that allow online travel agents as well as tour operators and travel companies to offer a fully-loaded web-based travel portal that is far beyond what they expect and will enable them to be online using only one point of access through multiple interfaces we guarantee our clients that they will receive inventory, the best rates, and mission.
Adivaha is aware of what you want from a travel platform for business. We started with a clear and innovative approach that focused on our clients' needs and built our system from the start. We have a Travel Platform that lets you provide the most convenient business travel options with a user-friendly and powerful travel platform that is designed to meet the needs of small and medium-sized business clients. Advertise your brand on the Internet, and ensure that your customers can contact you anytime they require it, and with the ability to book around the clock.
Characteristics of Adivaha Travel Booking Software Developers India
Include features for your trip software without spending lots of dollars. We offer low-cost software developers with extensive experience in travel and specialize in GDS integrations, reservation systems, price engines, and many more.
There are a variety of characteristics that are essential to creating the ideal travel agency; we will give you the top ones:
Analyze the market.

Travel trends are a good reference source for an online travel agency if you are going to start your activity or are already a travel agency. If you want to develop a new line of business, analyzing trends in travel and favorite destinations will help you locate the most suitable market niches for you.

Analyze the competition.

Both in a specialized travel agency and a multi-product travel agency, there are numerous competing agencies that you can look at to obtain data on the products they sell, the prices, and the services that tourists demand the most.

Development of the Travel Portal

Our expert travel portal developers are experienced in designing and developing custom websites and private label portals with a navigable user interface and user-friendly UX with advanced search and filtering features. We create online travel portals with agent and agency access, central booking management dashboards, travel content mapping, commission management, and more.

GDS Integration

We designed the architecture for seamless integration with popular global distribution system APIs for access and distribution to a wide range of online sales channels. We program popular features, including dynamic pricing engines, price comparison tools, travel packages, transfer management, mobile ticketing, and insurance options.

Reservation Platforms

Our developers are experienced in programming online reservation platforms that integrate seamlessly into new or existing tour operators and OTA websites with scheduling, calendars, payments, CRM, and business intelligence modules. We develop Property Management Systems and Central Reservation Systems to integrate them with open distribution channels, GDS, extranets, and Online Booking Tools.

Reservation Systems

Our developers are experienced in creating Central Reservation Systems for direct bookings, inventory management, user profiling, and confirmation and cancellation modules, as well as inventory blocking for individuals, groups, and businesses. We can customize online booking engines to handle multiple point-of-sale platforms, including online bookings with affiliate networks, OTAs, and direct bookings via extranets.

Get to know your customers.

When contracting with a travel agent, the client seeks knowledge and personalization. That is the main difference that leads a tourist to hire a trip with a travel agency instead of buying it only online. Give added value to your service. Personal destination recommendations usually work quite well.

Take care of your brand quality/standard

Traditional word of mouth has become part of "customers say…." or the scores that your travel agency can receive on social networks and other web pages. It takes great care of customer service and the management of complaints and comments, and social profiles. They will be your great allies.

Know the product.

Nothing is better than a travel agent dedicated to a product you know. Giving an image of customer experience and dedication to those trips or products will help you improve your professional appearance. Being able to recommend the best hotels, restaurants, or activities in destination to a client will make them feel much more confident with your agency. It will help that client come back to you and recommend you to their friends and family.

Offers accessible customer service.

The concept is to provide clients with all the tools to get in touch with you. Clients who make reservations through a travel agent do so because they are looking for an expert traveler to help them resolve any issues they encounter. Provide a unique service based on your experience and let your client know they can count on you. With the advancement of technology, you will be in touch with your client throughout the journey to provide more personal attention.
Hire an Adivaha developer as per your need
As a Travel Portal Development Company in India, we love the world's beauty. We are committed to acting with respect for cultures, peoples, nature, and the environment. Through various initiatives, we try to contribute to preserving the wealth and uniqueness of the planet, which is our most precious resource. We believe in the people who work for and in the companies of the Group in Italy and the world, and we promote positive relationships with local communities. We take care of relationships with suppliers and customers. In a changing world, we focus on the positive innovation of processes and technological systems, techniques, commercial, logistic, and financial practices.
We provide you with the freedom to pick from various types. As a leading software development firm, we are committed to providing our customers with the best service according to their requirements. Don't miss the chance to have your software development tasks completed by experts. Employ the best developers on the market. Get in touch with our customer service team, discuss your requirements and give us the rest. Our customer support is available 24/7 to provide our customers with 24/7 assistance. We're here to provide our clients with top-quality software development solutions. Contact us today!
Our Comprehensive List of Services
adivaha® is a one-stop-shop for all your travel website needs. We offer a multitude of services that empower you to become a market leader. Contact us for more info.
Have Questions?
The Internet is a huge resource, but
if your question requires particular expertise.
Keep Refreshing your customers - Who doesn't want his site to stand out from crowd? adivaha® gives you multiple options for home pages, headers, colors etc. Which can easily be managed from admin via shortcodes and settings. The theme supports almost all the big players in this market ie, WEGO, Travelpayouts, Agoda, Booking, Expedia etc.
Frequently Asked Questions
Below are some of the questions asked by visitors. Do visit our adivaha® Digest for more such questions. Don't hesitate to ask us if you have any questions
I am setting up this plugin for my client's website, I tried registering and received the account activation email, but …

18

views

1

answers

0

votes