Build your own Travel Brand!
Ready to go-LIVE travel solutions that helps your travel agency to sell a range of travel services pretty instantly. adivaha® travel solutions make sure you have no boundation over your imagination, you can do everything online, without the need for any technical knowledge or design skills. Easy Backoffice, extensive reporting with integrated Funds Management System. Upload funds easily and instantly through Netbanking, Debit Card, Credit Card. The best part is, we do offer customizations in case you believe it will boost your business!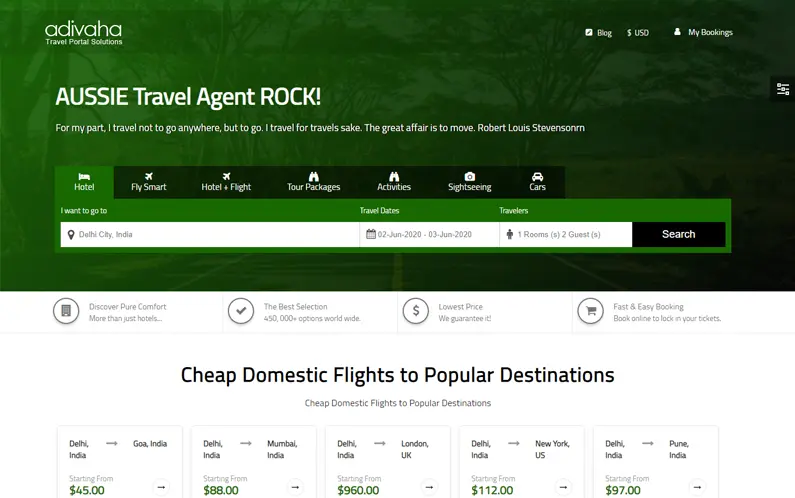 Benefits of Travel Portal Development With Experts From India
Many businesses went through bankruptcy during the lockdown, and the inability to adopt simple or complicated software travel portal solutions didn't allow them to compete in their industry. However, the firms that quickly adopted new strategies could overcome the challenges
As a business development specialist at Adivaha Travel Portal Software Development Company, we decided to do a quick "audit" on the travel industry and outline the biggest challenges, losses, gains, and technological developments during the pandemic. To start with: Travel Portal Development India can download open source software that is available to everyone and helps to digitize daily manual activities. It is flexible and not customized for a travel business.
Many companies prefer to hire a custom development team to build their ideal travel portal software. A business may also need to create a travel app to make it available for public use and collect money. These custom options aim to meet specific goals, including necessary functionality while removing confusing features.
Introduction of Travel Portal Development
Since the beginning of time, we've travelled between Intercity, Intercity, Intrastate, Interstate, or foreign countries by using one or more modes of transportation. There were various procedures and procedures, not forgetting to obtain an official travel document. The past was when they were at counters or as part of pre-purchases or a journey.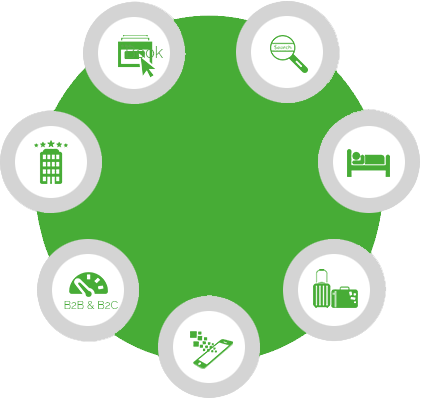 Indian Travel Portal Development Experts
In recent times, however, the entireties of the processes that are used to purchase and sell tickets to travel have been completely different.
With the development of the Internet and the advent of digital gadgets, b2b booking engine for tickets to all sorts of travel needs has become easy.
Concerning human behavioral changes, there are also drivers of change, like pioneers and first-movers in the business who set an example and inspire others in the industry to follow the same path.
In the present situation in the travel industry, Digital transformation is essential for all travel companies, both small and large, ranging from but not limited to the web or mobile reservation engines, automated processes, and marketing via digital channels.
We've been able to recognize and comprehend the technical implementation of travel businesses more efficiently and have collaborated with Travel businesses, Travel Management Companies, OTAs, and Tour Operators to provide them with our expertise and experience that has vast experience working in the field of travel.
In India, Travel Portal Development
Adivaha offers the Best Travel Portal Development company service, allowing your business to grow faster. The company has expert portal developers who are well experienced in their fields. They utilize the technology more effectively and efficiently and keep up with the rapidly changing development market.
travel portal development Travel portal development to help OTAs become established brands and provide their customers with the highest efficiency. Our goal is to offer affordable and innovative solutions that adopt technological advances that help companies market their services. The development of travel portals is now an extremely competitive solution in the market. Making a move online for travel agencies is easy when they choose the right solution built with modern technology, with Adivaha assisting them with effective solutions and tech support.
Developing your solution by experienced professionals with years of expertise in best travel technology company constantly helps you grow your business online. All over the globe, there is a growing need for online portals for various sales channels are increasing to different degrees.
The software for travel portals developed by Adivaha is a complete and efficient web-based booking system designed by our experienced team of developers and managers proficiently in the latest technological modules. Our software improves travel efficiency, particularly for travel management firms and destination management companies—B2 B B2C travel agents, tour operators, and travel agents.
In India, Adivaha is the best Travel Portal Development Company and tech support, partner. There is a significant need for tech support once you enter the market. Adivaha always has the advantage of providing full assistance in terms of technology and communication with suppliers for any integration required for travel.
In India, Adivaha is the best travel portal dovelopment and tech support, partner. There is a significant need for tech support once you enter the market. Adivaha always has the advantage of providing full assistance in terms of technology and communication with suppliers for any integration required for travel.
At Adivaha, We offer consultation for all aspects of developing a travel portal at any level. We will help you analyze your needs and offer the most suitable solution with our knowledge regarding technological solutions.
We have expert developers in travel technology industries.
At Adivaha, we develop world-class software and applications for startups, small and medium-sized enterprises, and large corporations.
Custom Web Development

Our web development solutions facilitate workflows, increase revenue and streamline business operations.

Implementation and Deployment

We design an in-depth software implementation and deployment plan, evaluating your company's needs to provide improved technologies to end users.

API development

We create reliable easily-used, well-documented, and user-friendly APIs that permit flexibility in the integration and customizing of software products that are already in use.

Software integration

Our software integration experts adopt new processes and technologies to address potential problems from design and architecture to testing and implementation.

Custom Application Development

We rely on our technology expertise across multiple industries to deliver highly scalable, flexible, and interoperable web, mobile, desktop, and hybrid applications.

Application Maintenance

Our support and services for maintenance are specifically designed to assure the entire software infrastructure's capacity, sustainability, performance, and longevity.

API integrations

We design custom APIs for all applications, adding features to your software and aiding communication between your software and other third-party.

UX/UI Design

Utilize the most up-to-date UI/UX technology and the latest trends, architectures, and technologies to build scalable, responsive applications that enhance customer experiences across different channels.

Software Testing Services

We provide comprehensive software quality testing services to deliver high-value, aligned software applications, and solutions in an agile manner.

Data Migrations and Updates

We perform cloud data migrations, system upgrades, and other vital software modernization services, emphasizing system uptime and data integrity.

Support Services

We comply with your contracted Support Service Level Agreements, guaranteeing compliance with the agreement and ensuring optimal monitoring, reporting, and management of your agreed services.

IT Security Services

Our comprehensive threat audits help us identify the most critical vulnerabilities in your infrastructure, allowing us to implement the ciphers and protocols you need.

Data Backup and Disaster Recovery

We employ robust recovery and backup strategies for cloud-based, on-premises, and hybrid servers to protect data integrity and ensure business continuity.

Services for supporting infrastructure

We offer full IT infrastructure support, including Help desk support, customized collaboration and messaging, network management, and systems management.

Over a decade of expertise developing innovative and responsive white label travel website and software applications that integrate with a fully functional flight booking engine, reservation API, and more. For travel agents and companies.

Corporate B2B, B2C B2B2C, B2B2C, and B2E travel agencies can increase their sales on the Internet by integrating our cutting-edge flight services into their systems, and databases. Stop the repetitive manual inputs to flights with our automated solution for traveling.

Our Developers Work by Contract

We are proud to employ more than hundred in-house developers, with many years of combined software development experience, in a wide range of industries.

Real-Time Communication

Our developers work within our client's time zone to enable real-time collaboration. We work to achieve a true sense of "branch presence." We infuse accountability and transparency into our business model with regular management and progress reports.

Scalable Business Model

We work with you to find the areas that are best suited to deliver value to you. Depending on your needs, our flexible business model allows you to scale up or down your dedicated team at any point in the project lifecycle.

The Source Code Belongs to You

Many firms in the field of software insist on having their source code to keep customers from using different vendors or tools. In our agreement, your company is the only proprietor for the code source as well as intellectual property.
What are the reasons for the success of Adivaha in Travel Portal Development?
Competition in different markets has always been difficult, but in recent times, this competition has become more acute due to various factors. First, the global economic crisis makes customers look for the best option for their trips, the travel agency that offers them the package with the best value for money. At the same time, the latest trends in the travel industry indicate that potential customers are looking for a personalized, specialized service to schedule their trips. It is necessary to be aware of technological developments since more and more people use the Internet and mobile applications to find out about tourist destinations and tour packages. Agree with this,
Keeping all these factors in mind, here are reasons for an established Best travel portal development company success in the fierce market competition.
Adivaha offers a quality service.

Good quality service is essential to succeed in sales and achieve customer loyalty. But it is important to point out what points are considered in the definition of the quality of service offered by a travel agency.

The first important point is to be able to offer a product suited to the needs of each client, for which it is necessary to know their preferences. In addition, to provide a variety of products that adapt to the needs and preferences of each client, differentiated products must be prepared. Second, expert advice must be offered by properly trained personnel. Lastly, it is important to work on the follow-up and control of the product to corroborate the adequacy between the quality specifications of the product and those found at the destination.

Specializing in dealing with clients

Any reputable travel management firm has studied the industry of travel well and will have learned some tips. In this way, they'll be able to offer an expert opinion on how you can spend your money wisely and the most efficient routes to travel, and the things you need to know before going to certain places.

Often, companies will work with a portal development company specializing in dealing with clients in their industry. This can be extremely helpful, as some industries have specific or nuanced travel needs. Previous experience can help optimize your travel strategy and steer you away from common pitfalls.

Design an attractive web page for users.

Wholesale tour operators have already obtained good results by offering their services through web pages strategically designed to create a pleasant, practical, and efficient user experience, facilitating the user's conversion into a customer. Smaller travel agencies can also use the network to attract customers and increase sales. Simple web pages, where the product is displayed properly and contains a virtual assistant that can answer questions or clear up user doubts, are important tools to acquire customers.

Assistance in navigating policies

Business travel must be as consistent as possible, but it's also essential for employees traveling to feel safe and happy. With an explicit and clear policy, everybody understands the rules of acceptable and unacceptable behavior. The rules are clearly defined, and spending rules are established.

A company that manages travel will not only help you in the creation of a sound policy. However, it can be able to assist in implementing it such as by suggesting only choices that are in line with all the requirements.

Specialization of the service.

This advice is especially suitable for small travel agencies. For this type of agency, it is sometimes difficult to adequately respond to the concerns of all clients since they may be looking for completely different travel experiences. But it is possible to concentrate on one part of the market, specializing in a theme, for example, adventure travel, which includes extreme sports, or trips for students, or the whole family, to name a few examples. This way, it is easier to focus on a specific customer profile; direct advertising campaigns towards this profile, and offer what this type of customer prefers.

Effective Project Communication

It is not the job of the business to connect with the top web design company. Communication is a way to increase understanding.

Thus, you can contact the business that develops travel websites for B2B firms whether they can provide you with a no-cost estimate and then sign an agreement for the most suitable. A reputable web design company for travel will have experience working with a broad range of travel-related products. A travel portal designer knows how to connect the site to well-known APIs.

Establish a corporate blog.

At present, it's recommended to use every tool the Internet can offer to boost the odds of success for an agency for travel. A good example of this could be a blog for the company, which allows customers to comment about their travels and share their experiences. They can also upload pictures and videos. There is nothing better than the experience of happy customers to recommend new customers.

The use of modern technology

It is important to understand that a modern travel management company will provide you with the tools and systems you need to book your trip easily. This could, for example, mean that they will provide you with computer software or a mobile app, allowing you to submit your travel plans or requests at any time of the day.

The use of state-of-the-art technology allows for much greater efficiency in this sector. If you manage travel arrangements, the whole process can take significant time. Conversely, using a mobile app or computer software package to request your Company can usually be done in minutes.

Carry out a good e-marketing campaign.

This is another important tool that both large and small agencies must use to be successful in these times. Many people search for information about tourist destinations on the Internet. Therefore, it is essential to capture this public through an adequate campaign, which includes the Google, yahoo, and MSN networks.

There are many more suggestions to consider, including offering complimentary services in addition to the traditional ones. One of them could be allowing reservations through mobile applications enabling the traveler to share their travel experiences in real-time, upload photos from their mobile, or be provided with virtual assistance 24 hours a day. You always have to be aware of new trends and dare to offer the best, the latest technology to achieve the success of a travel agency.
Get help from the Best Travel Portal Development Company?
Online Travel Portal Software Development helps you take your travel company to the next step. We design and develop best Travel Portals, so that your brand will be recognized. We provide a complete set of travel solutions, from web design, travel portal development or app development, Integration of APIs, and maintenance. We offer various services for travel of all kinds and sizes of travel-related businesses.
We know that your travel website is the front-line for your business, so our experts take note of your requirements precisely and design top-of-the-line B2B or B2C travel portals to help to increase the popularity of your business. We create and build customized travel solutions that allow easy integration of apps per your business's needs.
We at Adivaha create solutions for clients based on the needs of their customers since we are a tourism web development company. Travel Portal Development India comes with the latest features. A powerful call to action includes personalized search filters, live chats, numerous secure payment gates, and more. If you have any web-based travel portal development requirements, reach us for an estimate for free!
Our Comprehensive List of Services
adivaha® is a one-stop-shop for all your travel website needs. We offer a multitude of services that empower you to become a market leader. Contact us for more info.
Have Questions?
The Internet is a huge resource, but
if your question requires particular expertise.
Keep Refreshing your customers - Who doesn't want his site to stand out from crowd? adivaha® gives you multiple options for home pages, headers, colors etc. Which can easily be managed from admin via shortcodes and settings. The theme supports almost all the big players in this market ie, WEGO, Travelpayouts, Agoda, Booking, Expedia etc.
Contact
Have something unique in mind? Drop a message.
Estimated reply time: 3-5 Working Days