Build your own Travel Brand!
Ready to go-LIVE travel solutions that helps your travel agency to sell a range of travel services pretty instantly. adivaha® travel solutions make sure you have no boundation over your imagination, you can do everything online, without the need for any technical knowledge or design skills. Easy Backoffice, extensive reporting with integrated Funds Management System. Upload funds easily and instantly through Netbanking, Debit Card, Credit Card. The best part is, we do offer customizations in case you believe it will boost your business!
Benefits of Travel Portal Development With Experts From India
Cost reductions are quite important when making a decision because creating a travel portal development can require substantial expenditure. Employing Indian professionals offers a cost-effective approach without sacrificing quality. The following are some benefits of partnering with Indian specialists to construct travel portals:
Cost-effectiveness
India's IT sector is extremely competitive, which has prevented it from developing as quickly as many other nations. Businesses can reduce their development costs greatly thanks to this cost advantage. When compared to other regions, you may acquire high-quality services from Indian specialists for a far lower price. India is home to many highly qualified software developers and IT specialists. A large talent pool makes it possible for you to discover seasoned professionals for your project to construct a travel portal India. Indian professionals are a cost-effective option for organizations since, in spite of their competence, they frequently offer their services at reasonable rates. Keeping costs low does not mean sacrificing quality. Indian professionals are well known for their technical proficiency and adherence to accepted industry standards. They deliver high-quality solutions that meet international standards while offering cost advantages. This translates to value for money, where you get a well-developed travel portal at a reasonable price.By opting for cost-effective travel portal development services from India, you can allocate your resources effectively. The cost savings can be reinvested in other areas of your business, such as marketing, customer service, or expansion plans. This flexibility in resource allocation helps you optimize your overall business strategy.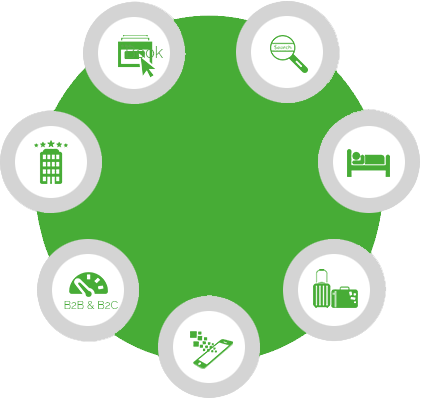 Indian Travel Portal Development Experts
Travel portal development company projects often require customization to meet specific business requirements. Indian experts can provide tailored solutions that align with your budget constraints. They understand the importance of cost-effectiveness and work closely with you to create a customized travel portal that meets your needs without unnecessary expenses. In addition to development costs, ongoing operational expenses of maintaining a travel portal can be minimized with Indian experts. Their cost-effective support and maintenance services ensure that you receive timely assistance and system updates at a reasonable cost. This helps reduce your long-term operational expenditure and improves your return on investment.
Technological expertise
IT specialists in India are well-versed in a wide range of technological skills and abilities. They are skilled in a variety of technologies, frameworks, and programming languages related to the creation of travel portals. This knowledge guarantees that your travel portal is created utilizing the best and most current technologies, improving its functionality, security, and user experience. Indian professionals keep up with current best practices and industry standards for travel portal software development. They are knowledgeable about the most recent developments and trends in travel portal development, ensuring that your platform meets the highest requirements. Their expertise aids in the application of best practices code optimization and the incorporation of features and functionalities unique to the industry. Travel portals often require integration with multiple systems and APIs, such as travel booking engine, payment gateways, content management systems, and global distribution systems (GDS).
Indian experts have experience in integrating these components seamlessly. Their technological expertise enables them to establish smooth and efficient connections between various systems, ensuring the proper flow of data and transactions. As your travel portal grows and attracts more users, scalability becomes crucial. Indian experts understand the importance of designing scalable architectures and implementing performance optimization techniques. They can build a robust and scalable travel portal that can handle increasing user traffic and transaction volumes without compromising performance or user experience. With the increasing popularity of mobile devices, having a mobile-friendly and responsive travel portal software is essential. Indian experts are well-versed in developing mobile-responsive websites and applications. They can ensure that your travel portal is optimized for different screen sizes, providing a seamless and consistent experience across desktops, smartphones, and tablets.
Domain knowledge
Indian experts are very knowledgeable about the complexity, difficulties, and developments in the travel and hospitality sector. They are accustomed to the special needs of travel portals, including integrating with global distribution systems (GDS), managing complicated itineraries, managing multi-currency transactions, and accommodating dynamic pricing models. Because of their expertise in the field, they can create travel portal websites that are tailored precisely to the requirements of the sector and its customers. India has skilled travel industry analysts that have experience examining consumer behavior and preferences. They can include functions that improve the entire user experience and encourage consumer interaction, such as tailored recommendations, approachable user interfaces, and clear navigation. Many times, integration with numerous third-party services, such as airlines, hotels, and vehicle rental agencies, is necessary for travel software.
Since Indian professionals are skilled in setting up these integrations, the travel site and outside service providers would be connected without interruption. Users can now access a variety of travel-related services from a single platform thanks to this. Specific rules and requirements that must be followed in terms of data security, privacy, and payment processing apply to the travel business. These rules are understood by Indian professionals, who guarantee that your travel website conforms to all applicable laws and professional requirements. Essential travel portal elements including flight and hotel booking engines, travel itinerary management, trip planning tools, reviews and rating systems, and secure payment gateways have been built by Indian developers with real-world experience. Their industry expertise enables them to apply these features successfully, creating a thorough and user-friendly travel site for you. They respond quickly to adjustments and new travel technology services, ensuring that your travel portal stays current and competitive in the constantly shifting industry.
Quality and timely delivery
Indian experts in online travel portal development adhere to high-quality standards and best practices. They follow established software development methodologies, conduct rigorous testing, and perform quality assurance processes to ensure that the final product meets or exceeds your expectations. Their attention to detail and commitment to quality help deliver a travel portal that is robust, reliable, and user-friendly. Indian experts understand the importance of timely delivery in the competitive business landscape. They have experience in managing projects efficiently, setting realistic timelines, and ensuring that the development process progresses as planned. Their project management skills and effective communication help in delivering the travel portal template within the agreed-upon timeframe, avoiding unnecessary delays. Indian experts are skilled at identifying and mitigating risks and issues that may arise during travel portal development. They employ proactive measures to address potential challenges, ensuring that the project stays on track and is completed on time. Their problem-solving abilities and proactive approach contribute to timely project delivery.
Indian development firms often adopt agile development methodologies like Scrum or Kanban. These methodologies promote iterative and incremental development, allowing for frequent feedback and course corrections. By employing agile practices, Indian experts ensure that the development process remains flexible, adaptable, and aligned with your evolving requirements, thereby minimizing delays and maximizing efficiency. Indian experts prioritize transparent communication throughout the development process. They keep you updated on the progress of the project, discuss any challenges or bottlenecks, and seek your input to ensure that the travel portal aligns with your expectations. Clear and open communication helps in resolving any issues promptly and maintaining project timelines. Indian experts emphasize thorough testing and quality assurance to deliver a high-quality travel portal solution. They perform various testing activities, including functional testing, performance testing, security testing, and user acceptance testing. By conducting comprehensive testing, they identify and rectify any issues or bugs, ensuring that the final product is stable, secure, and ready for deployment.
Scalability and flexibility
Indian experts understand the importance of building scalable travel portals that can handle increasing user traffic, transactions, and data volumes. They employ scalable architecture, efficient database design, and optimization techniques to ensure that your white label travel portal can scale seamlessly as your business grows. This scalability allows your portal to accommodate a larger user base without compromising performance or user experience. Indian development firms offer flexible engagement models to suit your specific requirements. Whether you need a dedicated development team, a fixed-cost project, or hourly rates, you have the flexibility to choose the most suitable model for your travel portal development solution. This flexibility enables you to align the engagement model with your budget, timeline, and project scope. Indian experts are skilled in tailoring travel portals to meet your unique business needs. They understand that each travel business has its specific requirements and preferences. With their expertise, they can provide customizable solutions that align with your branding, workflows, and feature requirements. Their adaptability allows for seamless integration of your business processes into the travel portal, providing a personalized experience for your users.
Travel portal api often require integration with various third-party systems and APIs, such as airlines, hotels, payment gateways, and tour operators. Indian experts have experience in integrating these systems smoothly and efficiently. Their flexibility in integrating diverse platforms ensures that your travel portal can seamlessly connect with external services, enhancing its functionality and providing a comprehensive experience to users. Indian experts emphasize building modular and extensible architectures for travel portals. This approach enables the addition of new features and functionalities in a flexible manner, allowing your travel portal to evolve as your business needs change. It also facilitates easy maintenance and updates, reducing downtime and improving the overall agility of your travel portal. Indian experts are well-versed in leveraging cloud computing technologies for travel portal development cost. Cloud-based solutions offer enhanced scalability and flexibility, enabling your travel portal to adapt to fluctuating demands and traffic. Cloud infrastructure provides the ability to scale resources as needed, reducing the costs associated with maintaining physical servers and allowing for seamless expansion.
Our Comprehensive List of Services
adivaha® is a one-stop-shop for all your travel website needs. We offer a multitude of services that empower you to become a market leader. Contact us for more info.
Have Questions?
The Internet is a huge resource, but
if your question requires particular expertise.
Keep Refreshing your customers - Who doesn't want his site to stand out from crowd? adivaha® gives you multiple options for home pages, headers, colors etc. Which can easily be managed from admin via shortcodes and settings. The theme supports almost all the big players in this market ie, WEGO, Travelpayouts, Agoda, Booking, Expedia etc.
Frequently Asked Questions
Below are some of the questions asked by visitors. Do visit our adivaha® Digest for more such questions. Don't hesitate to ask us if you have any questions
What all GDS and Providers are connected in the platform?

36

views

1

answers

0

votes