Build your own Travel Brand!
Ready to go-LIVE travel solutions that helps your travel agency to sell a range of travel services pretty instantly. adivaha® travel solutions make sure you have no boundation over your imagination, you can do everything online, without the need for any technical knowledge or design skills. Easy Backoffice, extensive reporting with integrated Funds Management System. Upload funds easily and instantly through Netbanking, Debit Card, Credit Card. The best part is, we do offer customizations in case you believe it will boost your business!
Create Your Own White Label Travel Portal For Free
Create your own white label travel website without spending time! Our easy-to-follow guide shows you exactly how to set it up and start getting bookings fast.
Are you interested in creating your own white label travel portal? With the right tools and knowledge, you can set up a custom website that matches your brand and allows customers to easily book flights and hotels online — all without spending any money. Our guide will show you how to get started.
Find the Right Technology Partner for your White Label Travel Portal.
The first step in creating a white label travel portal development is finding the right travel technology company partner. Whether you go with an established travel provider (like Expedia or Priceline) or a lesser-known provider, make sure they offer the features and services your brand requires and answers any questions you have. Additionally, it's important to read user reviews and compare pricing options so that you choose the best service for your budget.
Find a White Label Travel Platform
Finding the right white label hotel booking platform to host your website is key. Research different platforms and read customer reviews to get a sense of what features each platform offers and which ones would be most useful for your business. When selecting a platform, opt for one that is easy to use with comprehensive support options. Additionally, make sure you check whether or not the platform charges any fees, as this could affect your overall budget. This will help you understand what features each platform has and which ones would be most helpful for your business.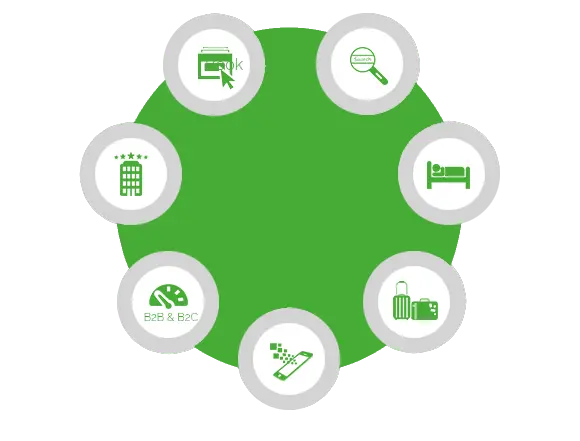 Build and Launch Your Own Customized Travel Portal
Register with them
Create a streamlined user profile, reservation form, and confirmation processes to ensure travelers can book their trips with ease. Make sure you include easy-to-understand forms that capture all the information required for a successful white label travel booking engine, then create an automated processing system that sends out booking confirmations quickly and efficiently. Additionally, built-in functionalities like payment options so customers have more ways to pay for their trips.
Customize your Travel Portal
Now, it's time to design your custom travel portal solutions. This is the fun part! Take some time to think about how you want to design the white label travel site and which features you would like to include. Ensure that your website is user-friendly and has an intuitive navigation system for easy browsing. Consider using high-quality images or videos that showcase different destinations available through your platform and make sure all essential information is easily accessible to customers. Finally, keep in mind that mobile optimization is critical for a modern business website as most people nowadays access the internet from their smartphones or tablets.
Set Up a Professional Website/SEO.
Once the underlying technology is in place, it's time to create a professional, attractive website for your white level portal. With the right design and quality content, you can create a stunning user experience that will attract travelers looking for great deals. Additionally, use SEO best practices to ensure your white label website builder ranks high on search engine results pages, making it easier for customers to find and book their next trip with you.
Setting Up a White Label Travel Portal with adivaha® Travel Platform.

1. Select the Template: Start by selecting the White label template that best fits your requirement https://www.adivaha.com/white-label-templates.html, Explore the white label travel platform features and offerings. Familiarize yourself with the services, solutions, possibilities and the benefits we provide to travel businesses looking to create your own customized travel portals.
2. Contact adivaha®: Get in touch with us through inquiry form. Express your interest in setting up a white label travel portal using our platform. Our team will respond to your inquiry within 24-48Hrs and provide you with further details about the platform, and the process of getting started.
3. Discuss requirements: Have a detailed discussion with our Experts to discuss your specific requirements and goals for your white label travel portal. Share your branding preferences, customization options, and the types of travel services you want to offer. This conversation will help us understand your needs and tailor the platform accordingly.
4. Platform setup: We will guide you through the process of setting up your white label travel portal. This may involve selecting and configuring the design elements, integrating your branding elements like logos and color schemes, and determining the layout and structure of the portal. adivaha's platform is designed to be user-friendly and intuitive, making it easier for you to navigate and make necessary adjustments.
5. API integration: A key aspect of setting up a white label travel portal with adivaha is the integration of the travel APIs. We will assist you in integrating adivaha or the third party APIs into your portal, enabling you to access real-time inventory and booking capabilities for flights, hotels, car rentals, and other travel services. This integration ensures that your customers can search, book, and pay for their travel arrangements seamlessly.
6. Testing and customization: Before launching your white label travel portal, it is important to thoroughly test its functionalities and ensure everything is working smoothly. adivaha® provides customization options, allowing you to adjust the portal's appearance, layout, colors, and content to align with your brand and preferences. Take the time to review and fine-tune these elements to create a unique and appealing user experience.
7. Payment gateway integration: adivaha® will help you integrate a secure payment gateway into your white label travel portal. This integration allows customers to make secure online payments for their bookings, ensuring a seamless and hassle-free booking process. Choose a trusted and reliable payment gateway provider that supports multiple payment methods to cater to a wide range of customer preferences.
8. Launch and start promotion: Once your white label travel portal is ready, it's time to launch your travel portal. Promote your portal through various marketing channels, such as social media, online advertising, and email campaigns, to attract potential customers. Highlight the unique features and benefits of your platform to differentiate yourself in the competitive travel industry. Continuously monitor and analyze the performance of your portal, making necessary adjustments and improvements to optimize its success.
Our Comprehensive List of Services
adivaha® is a one-stop-shop for all your travel website needs. We offer a multitude of services that empower you to become a market leader. Contact us for more info.
Have Questions?
The Internet is a huge resource, but
if your question requires particular expertise.
Keep Refreshing your customers - Who doesn't want his site to stand out from crowd? adivaha® gives you multiple options for home pages, headers, colors etc. Which can easily be managed from admin via shortcodes and settings. The theme supports almost all the big players in this market ie, WEGO, Travelpayouts, Agoda, Booking, Expedia etc.
Frequently Asked Questions
Below are some of the questions asked by visitors. Do visit our adivaha® Digest for more such questions. Don't hesitate to ask us if you have any questions
What all GDS and Providers are connected in the platform?

27

views

1

answers

0

votes