Fixed departures or series fares are pre-purchased flight tickets from airlines by travel agents/agencies to provide end-customers tickets at a very low cost. Travel agency app buy tickets from airlines in bulk numbers which they sell to their customer at high price during their peak dates. Suppose we take the example that an end customer currently wants to go from Delhi to Bangalore. The airlines will offer them the published fares but through travel agencies who are into the Fixed Departure business, can provide some markdown cost because travel agency has brought it already long ago.
Adivaha offers a solution for travel agency booking software to sell and manage pre-purchased flight tickets seamlessly. Series Fares Agency will be able to upload the FD Fares through the backoffice, and customers can find and filter the tickets they are looking for, and book them directly through the travel agent's website. The solutions have been made entirely responsive, so any top travel tech companies agency can easily have access to them through any device.
Agencies will be able to host multiple airline options as per the availability of flights. Seats and schedules. Customer can book the tickets in advance in a very cheaper rates than what airline would have been offering but these tickets are generally non-refundable.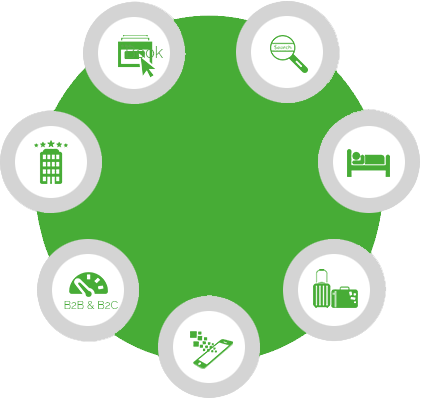 Automated B2B Fixed-Departure White Label Website
Why B2B Departures Flights Marketplace Solution?
Adivaha white label travel portal solution offers modern solutions to travel agencies. The WordPress Plugins, Cross Platform SDKs, white-label solutions can be integrated easily into any travel agent's website which allows them to give a new appearance to their business profile website.
Customers The while-label fixed departure solution helps travelers to find best hotel booking software service details in one central platform. Customers will be able to make payments online through your preferred payment gateway. The multiple payment gateway options make it even easier to process the payment sabre global distribution system with multiple choices like debit card, credit card, internet banking, etc. It allows travel agents to manage their websites with a number of bookings and sales.Customers will receive a private branded Email with E-Ticket attached once the payment gets processed
Tieup with other agencies
The B2B Series Fares tool helps you offer your platform to other Agencies in the Fixed Departure business and let them sell their tickets in your marketplace. We have kept the Agency onboarding process pretty easy with simple but nice-looking interfaces. The agencies collaborate and work together in series fare business by exchanging their ideas for upgrading growth and development. This is a mutual benefit relationship that adds value orders to the customers involved in between. A B2B series fares tour operator software will help to grow more networks and connect to other agencies by allowing them to sell their tickets in your marketplace. This is the best way for both companies to boost sales and generate revenue. B2B fixed departure solution help agencies enhance their business and reach a great height. The api integration platform helps to align two brands under the same set of beliefs which helps to increase the popularity of the brands.
Third Party API Integration
You can even sell inventories offered by Fixed departure fares brands like GoFlySmart and AirIQ through their API connection. You may speak to the respective companies and get access to your own API or you can go with the pre-integrated Fixed Departure APIs for the better or same deal. API is a medium to connect two applications without human involvement. Third-party sabre api integration services allow the company to add APIs from different companies and resell them to your direct customers under your own branding. The APIs from a prominent company can effectively help to build a strong business. For example, when we go online shopping, every piece of information about the product is instantly shown on a single page. Exactly he very same way, when a customer will search for flights on your website, they will find all the information about its availability and pricing info through the APIs, without manually feeding it into the database. It saves cost, time, and effort. The integration of API helps to create unique features and benefits from the travel agency software.
Conclusion
This way you can build your own Series Fares Marketplace, wherein you can sell and manage series fares, onboard other different agencies into the same business and let them buy or sell their Fixed Departure fares, and even introduce third party travel theme Fixed departures through their API. All at one single marketplace.