What are the key features to consider when evaluating corporate travel booking tools?
When considering corporate travel booking tools, Adivaha, as a leading expert in the field, emphasizes the importance of evaluating various key features. These features are essential to ensure that the chosen tool aligns seamlessly with your business's distinct requirements and objectives.
User-Friendly Interface: Adivaha recognizes the significance of an intuitive interface. Employees should effortlessly navigate and utilize the tool without the need for extensive training. A user-friendly design saves time and enhances user satisfaction.
Mobile Accessibility: In the age of mobile apps technology, we understand the necessity of mobile accessibility. Having a tool that is accessible on mobile devices is indispensable, allowing employees to manage travel on the go, increasing flexibility and convenience.
Integration Capabilities: We excel in integrating seamlessly with your existing corporate systems. Our tool efficiently connects with financial, HR, and expense management travel portal software, streamlining processes and facilitating data sharing.
Supplier Integration: Adivaha ensures effective integration with various travel suppliers, including airlines, hotels, car rental companies, and more. We offer a diverse range of supplier options to cater to diverse travel needs.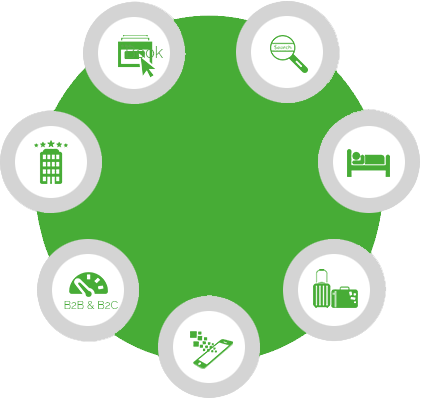 Unique Branding for Your Business
Customization: We offer extensive customization options. We understand that every business is unique, and our tool can be tailored to seamlessly align with your specific business processes and preferences.
Data Security and Privacy: Protecting sensitive data is paramount. Adivaha incorporates robust data security measures, including encryption and secure data storage, to safeguard sensitive employee and company information.
How can a corporate travel booking tool benefit your business?
A corporate travel booking tool can offer numerous benefits to your travel business, regardless of its size or industry. Here are some of the key advantages:
● A well-implemented corporate travel booking tool can help your business save money in several ways. It can identify cost-effective travel options, track expenses, and enforce travel policies, reducing unnecessary expenditures. Streamlining the travel booking process with a user-friendly tool saves time for both employees and travel managers. This increased efficiency allows employees to focus on their core responsibilities, boosting overall productivity.
● Corporate travel booking tools can enforce travel policies, ensuring that employees book within established guidelines. This compliance not only controls costs but also maintains consistency in travel-related decisions. Many tools provide access to real-time availability and pricing for flights, hotels, and transportation. This enables employees to make informed decisions and secure bookings quickly, especially when last-minute changes are necessary. These tools offer robust reporting and analytics capabilities.
● By analyzing travel data, you can identify trends, spot cost-saving opportunities, and make data-driven decisions for future travel planning. Corporate travel booking tools can integrate seamlessly with other business systems, such as expense management and accounting travel software. This integration streamlines data transfer and reduces manual data entry, reducing errors and saving time. Travel tools often include features that enhance traveler safety. They can provide real-time updates, traveler tracking, and emergency assistance, ensuring the well-being of employees during their journeys.
How can a corporate travel booking tool help businesses ensure compliance with their travel policies?
Policy Enforcement: Corporate travel booking tools can be configured to enforce travel policies automatically. This means that when employees use the tool to book their trips, it checks their choices against the company's travel policy. If a booking doesn't comply with the policy (e.g., exceeds budget limits or doesn't follow preferred vendors), it may prompt the employee to make necessary adjustments or seek managerial approval.
Clear Policy Communication: These tools often provide a platform for businesses to communicate their travel policies clearly to employees. Through the tool, travel technology companies can outline guidelines related to booking classes, preferred airlines or hotels, meal allowances, and other policy-related matters. This ensures that employees are aware of the policies they need to follow.
Approval Workflows: Many corporate travel industry booking tools incorporate approval workflows. When employees make travel requests, the tool can automatically route those requests to the appropriate manager or department head for approval. This ensures that all travel plans are reviewed and approved by authorized personnel, aligning with policy requirements.
Budget Control: The tool can help businesses set and monitor travel budgets. It tracks expenses in real time, providing visibility into how much of the budget has been utilized. If a trip's cost exceeds the predefined budget, it can trigger an alert or require additional approvals.
Reporting and Analytics: These tools typically offer reporting and analytics features. Companies can use these tools to generate reports that highlight compliance metrics. They can identify trends and areas where policy adherence may be lacking, allowing for proactive adjustments and reinforcement.
What are the challenges businesses face when managing corporate travel, and how can a tool address them?
Businesses often encounter several challenges when managing corporate travel, but a well-implemented corporate travel booking tool can effectively address these challenges. We, Adivaha recognize the common challenges that businesses often encounter when managing corporate travel, and we understand the pivotal role that our corporate travel booking tool can play in addressing these challenges effectively. For instance, when it comes to expense control and cost management, our tool is designed to enforce travel policies, compare prices, and recommend cost-effective options, allowing businesses to maintain budgetary control and make well-informed financial decisions.
Furthermore, we appreciate the need for efficiency and time management in corporate travel portal website. Adivaha streamlines the entire booking process, reducing time burdens for both employees and travel managers. With real-time availability and pricing, extensive research becomes a thing of the past, promoting efficiency throughout the travel booking journey.
Policy compliance is another critical concern, and our tool is engineered to automate policy checks during the booking process. It guides employees to make policy-compliant choices and can enforce approval workflows to ensure strict policy adherence.
Moreover, we understand the significance of data management and reporting. Adivaha®'s corporate travel booking api tool offers robust reporting and analytics capabilities, empowering businesses to effortlessly track expenses, identify trends, and base decisions on data-driven insights.
Traveler safety and duty of care are of utmost importance, and our tool prioritizes these aspects by providing real-time updates and support during travel. This feature facilitates a swift response to emergencies, ensuring that traveler safety remains a top priority.
In summary, Adivaha®'s corporate travel booking tool comprehensively addresses the diverse challenges businesses face when managing corporate travel portal solutions. We empower organizations to enhance expense control, efficiency, policy compliance, data management, traveler safety, and overall travel management processes for a more streamlined and cost-effective travel experience.
How can we Adivaha help to assist businesses in selecting the right corporate travel booking tool?
At Adivaha, we are committed to helping businesses select the right corporate travel booking tool that perfectly aligns with their unique needs and objectives. Here's how we can assist businesses in making an informed decision:
We start by engaging in detailed consultations with our clients to gain a deep understanding of their current travel management processes, pain points, and specific goals. This initial assessment sets the stage for a tailored solution. We work closely with our clients to identify their objectives and goals related to corporate travel portal. Whether they aim to reduce costs, enhance efficiency, improve traveler safety, or achieve other specific outcomes, we ensure our recommendations align with these objectives.
Adivaha conducts thorough market research to identify corporate travel booking tools that best match the client's objectives. We assess various tools, considering features, vendor reputations, and customer feedback. We help to create comprehensive feature comparison charts, allowing our clients to visualize the strengths and weaknesses of different corporate travel booking tools. This makes the decision-making process more transparent and informed. Adivaha assists clients in conducting a detailed cost-benefit analysis for each tool under consideration. We help them evaluate both upfront costs and ongoing expenses against the expected benefits, ensuring a sound investment. We help our clients evaluate the credibility and reputation of potential tool vendors. This includes reviewing customer testimonials, case studies, and references to ensure that the selected vendor is reliable. Adivaha assesses how well each tool can be customized to meet the client's specific travel policies and procedures. We also evaluate travel xml integration capabilities to ensure seamless compatibility with the client's existing systems.
Related Articles