How To Create a Travel Agency App in 3 Easy Steps?
Mobile App
1

Choose a layout to start building your app

Multiple switchable layouts and we keep adding it in the library.

2

Add icons, pictures, app name etc.

Customize it to take your app to the next level.

3

Publish your app to Google Play Store

Make a travel agency app for Android and iOS without any coding.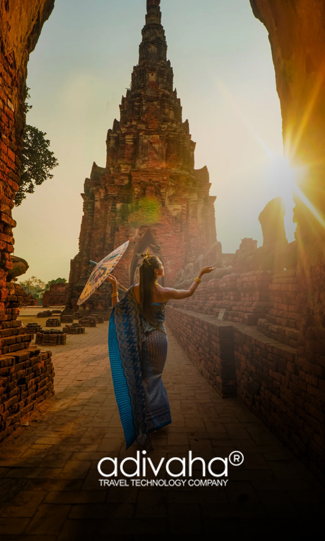 Scan it with your mobile
Why Apps ?
Be Visible to Customers at All Times
Create a Direct Marketing Channel
Provide Value to Your Customers
Build Brand and Recognition
Improve Customer Engagement
Stand Out From the Competition
Cultivate Customer Loyalty
How does it work?
How To Create a Travel Agency App in 3 Easy Steps?
It's easier than you think.Follow 3 simple easy steps

Choose a layout to start building your app

Add icons, pictures, app name etc

Publish your app to Google Play Store
Integrated GDS, Bedbanks, OTAs and Payment Gateways
Integrated GDS, Bedbanks, OTAs and Payment Gateways of your interest. Enter your credentials and go LIVE pretty instantly.
How to Choose the Best Travel Agency App Builder for You
Increase your business's tourism potential with a mobile app for travel agents. Adivaha offers travel app development solutions.
The days of guide maps, compasses, maps, and other paper documents essential to conducting any tour or travel portal solution company are gone since they've been completely replaced with digital platforms. The majority of travel and tourism businesses are now operating on their websites. However, as we know, technology is improving daily, and the company must transform its offerings into a new, mobile, and more adaptable platform.
Mobile applications are being used significantly, and you could be among those millions or billions of users who use mobile apps to get any service or get things accomplished. As you can see, there is no consistency in technology. Changes occur regularly, and you have to adapt to the changing times. If there's anything more enjoyable than travel agency booking software is the anticipation. The idea of a dream location, perusing the exciting places to stay, and perusing travel guides to find the best restaurants in the city and must-sees in the local area are all great ways to begin looking around before even packing your bags. Here we will learn about the best travel agency App Builder.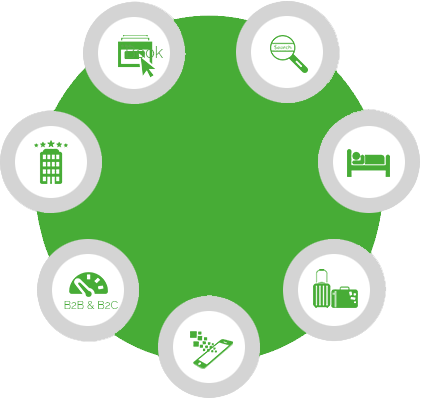 Select the Best Travel Agency App Builder
Why Should A Travel Business Develop An Application?
Applications are changing the nature of all industries, including tourism. A travel agency software company could use many motives in launching its mobile app. Consider why you stop by a travel agent's office if you're capable of planning your travels using an app. If all questions about travel and tours can be answered through a single application, why should anyone be anxious and visit numerous places for ticket and hotel reservations?
These are the statistics provided by us and show that people all over the globe are moving in the direction of technological advancement. Your company, startup, or company needs to keep up with the latest trends in technology.
You're browsing the app store and wondering which the best travel planner app is. There are hundreds of apps available. How do you decide? The choice isn't easy. In reality, a lot of them are far more useless than helpful. So, how do you sort out the junk clogging the phone?
The most effective travel booking sites application have these key features.
Also available offline.
If you're planning to travel abroad, there's no guarantee you'll have access to Wi-Fi. If you aren't on an international plan with a phone, local SIM card, or like roaming costs, limited Wi-Fi could be a problem for those who want to use your travel apps from within the country. The top travel apps offer offline versions that allow you to access them from anywhere and at any time.
Offer a booking service.
If you're searching for the best travel application you can trust, it's likely to have the ability to book tickets. Whether searching for accommodation options or arranging tours and tickets, booking the app simplifies everything. We'll call it your one-stop shop.
There are reviews available.
The most effective way to locate authentic experiences is to search for reviews from others who are tourists or locals who have discovered treasures that are hidden. Thoughts can affect any travel arrangements. The top travel booking applications will provide expert travelers' advice and tips.
End user user-friendly
According to research, 42 percent of people worldwide use smartphones to book vacation packages, tours, or other activities. Thus, we should not restrict ourselves exclusively to travel websites or best hotel booking software engines. Increase your options by providing applications for travel to your users, and let them connect to you quickly.
Connection direct to the customers
It is always possible to get customer feedback directly from them and assist you in improving the efficiency of your business.
Your brand will be reflected on the mobile platforms.
Alongside your online travel booking site, travel apps also help build your brand's presence for smartphones, as browsing via phone is higher. Your company will have an online presence on the play store through travel applications and, consequently, smartphones' screens. This will increase awareness of your products and services and eventually increase the likelihood of people visiting and making reservations to increase sales.
Equipped with a translation function.
When you're on the road between different countries, it's helpful to have a translator function in your travel apps so that you don't need to switch between applications to find what you're looking for. With a translation feature, it is possible to travel without language barriers, making travel more accessible, no matter if you know the language of your home country.
Integrate social media.
As easy as it seems, the time it takes to create a profile and sign up for a brand-new app can be essential for many. In a time when we require access to information at our fingertips, it's an issue if you take too long to set up an account before you can access an application.
The most helpful travel booking apps let you connect your accounts on social media to allow easy access and post what you enjoyed about your travels directly on your social media accounts!
Travel planner feature.
We're not satisfied with just an opportunity to book an overnight bed. We're looking for an app that can assist us in organizing our travel plans and save our most-loved destinations, design schedules, and make traveling effortless. If you want the best tour operator software to plan your trips, you'll be aware that you've found it if you're in a position to manage your travel plans from one location.
Why should you build your travel apps with us?
Following the success of its travel guides for iOS and Android, with millions of downloads; Adivaha has developed specific offers for different segments of the third party travel theme industry: tourism bodies, tour operators, travel agencies, and industry publishers. Each mobile solution responds precisely to the needs of the industry in terms of added value for the user, brand, or destination visibility, the ability to generate additional revenue, and ease of use. Advanced technology, innovation, quality design, and optimized usability allow us to offer our customers the best in mobile technology.
sabre gds software that is as simple as ordering pizza is the service we provide, and creating your travel application with us is as easy as it gets. Create any travel application without writing code at a lower price and twice the speed. We have everything you need to make building apps quick, easy, and affordable. This is why you should create the app you want to build by working with us.
Don't build your top travel technology companies app from scratch. Don't start from scratch, but begin assembling your travel app using hundreds of features that can be reused from our collection of features that can be reused. Select the most similar app to the idea of your app and then select the elements suggested by our AI with a human, and then you're ready to outline your app concept. Your app can be a prototype within about 10 minutes. It's quick, and there's no technical expertise required.
Run your app on any public cloud with Adivaha. Pick our prepay Cloud Wallet, and you can access all cloud services in one account without the risk of spending too much. Doesn't worry about cloud costs since we've helped hundreds of companies save big on their cloud expenses?
Our Care Technologies change constantly, so you must keep updating the code to ensure that your software runs efficiently. We ensure that your software stays current for the duration of time, thanks to the aid of our backend technology that is updated every time needed to ensure that your applications run without a hitch. We upgrade it before you even realize there is a need for it.
Best travel applications for you
It is among the most competitive sectors and offers a variety of choices for those looking to plan their next trip. Today there are hundreds of applications in the best marketplace wordpress theme. Creating a more efficient, faster, and innovative product than current applications is essential. We're here to assist you in creating custom applications to fill these needs. What you can build:
Hotel aggregator application:
Create a stunning hotel app for aggregating information. It's easy to develop your hotel booking applications to be compatible with iOS, Android, and the web. There's no coding required and no assistance from our staff.
Best for Flight booking:
These make booking flights very simple for travelers. If you've got an idea that could make online flight booking easier, we can assist you in developing your concept quickly.
Best for resolve the Transportation problem:
Without local transportation, there is no way to plan an excursion. If you're trying to resolve your city's transportation and travel problems and want to develop something unique or new, create the application idea with no programming. It's simple to start.
Best app for travel guides:
Do you want an app that guides travelers to help make their travel more enjoyable? Create this app to be the top travel guide. It doesn't require any code.
Development Services
Up-to-date technology is at the core of every company, and we are convinced that we show it through our products, precisely mobile solutions for travel businesses. At Adivaha, we offer a wide range of mobile travel applications that will encompass all of the services provided by your travel agency to reach your end customers easily.
Our robust mobile applications run perfectly on Android as well as iOS platforms. Customers can book hotels, flights, visas, and tours on their phones with a single click, anytime and anywhere. We also provide a wide variety of B2C, Mobile apps for B2B products or services. Also, managing your agents is not stressful when you use our B2B mobile applications. Mark-ups and commissions confirmation and vouchered bookings All of this is manageable through our mobile apps.
Travel Portal & Booking Engine Software
Adivaha's software developers, with years of experience in the travel industry, are specialists in various fields, including Central Reservation System (CRS) development and programming for price engines. Our white label travel portal developers create online travel websites that offer agent - and agency-tiered accessibility central dashboards for sabre booking system management, mapping travel-related materials and commissions administration, searching and filtering features, and much more.
Travel Marketplace
For both end-users and businesses, we offer an all-inclusive package of development services for apps, including cart, the listing of products, payment integration, and ticketing. Our developers have put in a lot of effort to create an effective travel market that can generate dedicated revenue.
GDS API Integration
We offer integration solutions that grant guests access to booking and payment system. We also develop services for lodging, including innovative pricing, the issuance of virtual keys to intelligent locks, visitor and activity logs, guest communications channels, and many more.
Travel API Integration Solutions
By bringing top travel providers together with offline and online travel customers to enable the purchase of travel products by way of their platform for B2B travelers, our experts ensure that Travelport technology is seamlessly integrated with your unique software. At Adivaha, our expert developers provide complete integrations.
Development & Integration Solutions
We offer specific services for travel Software Solutions by api integration, implementing cutting-edge features, and providing professional-grade GDS development services. We leverage our industry and development expertise to offer mobile solutions that provide the most efficient hospitality management experience while letting users manage their travel plans from their phones.
Detailed Features
We design the framework to provide seamless connectivity with the popular Global Distribution System APIs for secure distribution and access to various sites and channels for sales.
Flights, Accommodation & Transport
Provide your customers with all their travel data in one place.
Arrival and departure details (airport, terminal, gate, baggage retrieval, flight duration), booking references, and aircraft type.
Online check-in for the flight.
Twenty-four hours before departure, a notification on the device will invite your customer to check in for the flight directly from the app
Arrival and departure dates, room type, booking references, Car rental, activities, etc.
Daily Activities & Itineraries
The customized application with your brand will integrate all the details of the customer's daily itinerary according to the type of trip they have purchased from you.
Includes details of each day and each period. You can add activities and places to visit as you like, along with the movements planned by the customer's itinerary, specifying the time required for each visit, the location, description, photos, and more.
Let them plan their trip for they with us will automatically generate daily itineraries based on the user's travel preferences, the popularity of different destinations, opening hours, and location.
Rich Offline Travel Guides
Offer your clients the guidance and resources of a personal tour leader at their disposal. With the customizable app, users can access rich travel guides that include thousands of tourist destinations.
Guides for all the destinations your customers will visit.
Destination Directory Attractions, museums, restaurants, bars, shops, and more, complete with photos, in-depth descriptions, opening hours, prices, traveler reviews, etc.
Live view of nearby destinations, complete with distances, ratings, and opening hours.
Postcards, weather, currency converter, destination editorials, practical information, etc.
Offline Maps & Navigation
Whether organized tours with free time on their hands or independent travelers making their bookings through a travel agency, help your clients move safely to their destination without getting lost or confused.
Attractions, restaurants, and other destinations are visible on the map, along with the user's real-time location.
Explanation of the route with turn-by-turn directions from your location to any destination or street, on foot or by subway.
Quickly locate roads and other destinations directly on the map.
Significant Additional Income
Contact your customers at the time and place they plan their trip.
Many travel agencies lose 25% of their clients' travel funds because they are not in contact with them at the right time: when planning the trip.
By providing a mobile app that lends itself to profitable and continued use by the customer, online and offline travel agencies have the opportunity to create a new revenue stream.
Generate new revenue with related products and services:
Tickets for attractions, city cards, tours, and various activities,
Car rental, airport transfers, hotel and flight reservations,
Travel insurance, local SIM cards, etc.
Conclusion
At Adivaha, we develop flexible apps that address the challenges of the travel industry. Our developers design and develop advanced applications that are functional and give users quick, reliable, reliable, and efficient travel booking experiences. With a UI/UX that makes booking travel easy, our team of experts is adept at creating comprehensive apps for the travel business. Through establishing a mobile presence for your business and building an audience, we will assist you in making your business make a mark against the rest. The best travel agency App Builder offers users various travel options, such as creating applications to book tbo flight api and hotels. So make your life easy with us!
Our Comprehensive List of Services
adivaha® is a one-stop-shop for all your travel website needs. We offer a multitude of services that empower you to become a market leader. Contact us for more info.
Have Questions?
The Internet is a huge resource, but
if your question requires particular expertise.
Keep Refreshing your customers - Who doesn't want his site to stand out from crowd? adivaha® gives you multiple options for home pages, headers, colors etc. Which can easily be managed from admin via shortcodes and settings. The theme supports almost all the big players in this market ie, WEGO, Travelpayouts, Agoda, Booking, Expedia etc.
Frequently Asked Questions
Below are some of the questions asked by visitors. Do visit our adivaha® Digest for more such questions. Don't hesitate to ask us if you have any questions
Do you have cruising ? And if not can we create our own(fake) package itineraries so we can insert cruise …

23

views

1

answers

0

votes
Contact
Have something unique in mind? Drop a message.
Estimated reply time: 3-5 Working Days