Take Your Offline Travel Shopping to the Next Level with E-commerce
E-commerce Can Revolutionize Your travel industry! Learn how Adivaha®'s cutting-edge technologies can improve offline travel shopping experiences and increase income.
With our innovative travel e-commerce solutions, we at Adivaha recognize the value of taking offline travel purchasing to new heights. In this extensive post, we take a deep dive into the realm of e-commerce in the travel technology company, highlighting its benefits, addressing its difficulties, and providing tactics for companies to maximize its potential.
Impacts of online shopping on travel demand
Travelers may now more easily plan, study, and book their travels from the convenience of their homes or while on the road thanks to online shopping. People now have 24/7 access to travel-related information and services, which has increased demand for best travel website.
Price Comparison & Bargain Hunting: Through the use of online platforms, travelers can compare costs for flights, lodging, and other travel-related services, resulting in more economical travel decisions. This motivates more people to travel to new places or make more journeys.
Personalization: Data-driven algorithms are used by online merchants and travel booking website to present personalized recommendations and offers based on customer preferences and previous behavior. Travelers may consider locations and experiences they might not have otherwise due to this customization.
Last-Minute Bookings: Online travel platforms enable travelers to make last-minute bookings with ease. This flexibility encourages spontaneous trips and weekend getaways, boosting travel demand.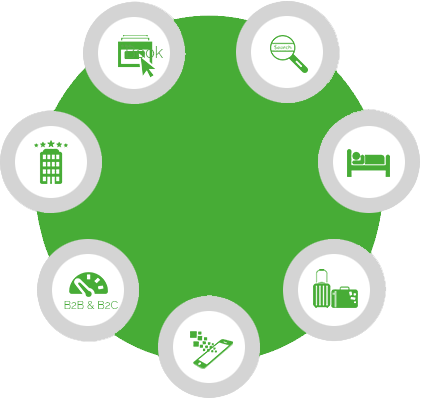 Offline travel shopping e-commerce
Travel Reviews and Ratings: User-generated reviews and ratings on platforms like Trip Advisor and Yelp help travelers make informed decisions. Positive reviews can increase interest in a destination or accommodation, leading to higher travel demand.
Virtual Experiences: Virtual reality (VR) and augmented reality (AR) technologies enable travelers to experience destinations virtually before making a booking. This immersive experience can stimulate interest and lead to more travel bookings.
Travel booking websites (OTAs): A competitive market for travel technology services has been produced by the growth of OTAs like Expedia, Booking.com, and Airbnb. Travelers now have additional options, which may increase demand as they shop around for the best prices.
Why Is Online Travel Shopping Important for Business Growth?
Businesses in the travel sector should carefully consider the subject of "Why You Need Online Travel Shopping to Grow Your Business." The following are the main justifications for why expanding a business requires online travel shopping:
Increased Audience: You can access a global market by selling travel-related goods online. A wider customer base and more bookings result from your services becoming available to prospective clients throughout the world.
You can conduct business around the clock if you have an internet presence. Due to the convenience with which customers may browse and make reservations at any time, fitting various time zones and schedules, businesses may see a boost in revenue.
Cost-Effective Marketing: Online platforms provide affordable marketing techniques including social media marketing, pay-per-click advertising, and search engine optimization (SEO). You can more effectively and affordably contact your target audience using these tactics.
Online reservation systems collect useful data about customer preferences and behavior. You may better match client requests by using this data to adapt your services, marketing initiatives, and pricing strategies.
Enhanced Customer Experience: Self-service convenience is offered to customers who shop for travel online. A more fulfilling experience is obtained as a result of their ability to compare costs, read reviews, and make educated judgments at their own pace.
What is the difference between online Travel Shopping and Offline Travel Shopping?
Online travel shopping and offline travel shopping represent two distinct approaches to procuring travel-related products and services, each catering to different consumer preferences and needs. Online travel shopping, conducted through the Internet on websites and mobile apps, offers unparalleled convenience and accessibility. Travelers can research, compare, and book flights, accommodations, and activities at any time, from anywhere with an internet connection. This method grants travelers the freedom to plan and book their journeys independently, relying on automated systems for transactions and information. In contrast, offline travel shopping occurs in physical locations, such as online travel agency, tour operators, or ticket counters. It provides a more personalized and guided experience, with face-to-face interactions and expert assistance. While offline shopping may require travelers to visit brick-and-mortar locations during specific hours, it excels in offering in-depth guidance and immediate support, making it an attractive choice for travelers seeking tailored recommendations and high-touch service. The choice between these two methods depends on individual preferences, the complexity of travel plans, and the level of interaction and assistance desired by travelers. Some travelers opt for a combination of both to best meet their specific needs and preferences.
How did Adivaha®'s e-commerce solutions help these businesses overcome challenges and achieve growth?
The success and expansion of numerous travel enterprises have been made possible by Adivaha®'s e-commerce solutions. Adivaha®'s e-commerce solutions assist online travel agencies in building a solid online presence through user-friendly websites and mobile applications. Businesses are now able to effectively compete in the digital sphere and reach a larger audience thanks to this. Through automation, our technology improves and eliminates errors in the booking process. Because of this, operating expenses have gone down and customer satisfaction has increased generally. We offer real-time availability and pricing changes through our travel portal solutions. With more precise information being provided to customers, there will be more reservations and money. Platforms from Adivaha provide individualized suggestions and experiences that consider each traveler's preferences.
This level of customization has boosted customer satisfaction and loyalty. Our e-commerce solutions gather valuable data on customer behavior and preferences. Travel businesses can use these insights to make informed decisions, optimize pricing strategies, and target marketing efforts effectively. Adivaha®'s mobile-responsive designs and mobile app development have enabled businesses to tap into the growing segment of mobile-savvy travelers, resulting in increased bookings via smartphones and tablets. Adivaha®'s solutions facilitate better customer engagement through features like chat support, reviews, and feedback mechanisms. This has led to stronger customer relationships and positive word-of-mouth marketing.
Conclusion
E-commerce has become a necessary tool for travel businesses looking to thrive in a competitive request. As a third-party service provider devoted to aiding travel businesses, we believe that embracing commerce is pivotal for sustained growth and success. Adivaha, with its innovative e-commerce results, can really help you take your offline travel shopping to the coming position. In a world where digital metamorphosis is crucial to staying applicable, we invite you to explore the possibilities that e-commerce offers and consider how Adivaha can be your strategic mate on this travel. Elevate your travel business, enhance the client experience, and embrace the future of travel shopping with confidence.