Turning your ideas into reality—faster than you thought possible.
Complete Guide to Set Up XML API Travel Portal
We do not think there is any need to explain how important Travel Portals are today in our daily lives. The system that has affected our lives more than we think, and without them, part of our day-to-day life seems to be disrupted. Now, in continuation here, we will introduce the best travel portal setup that you must have installed on your Smartphone for your travels. 
One of the best XML API Travel Portal Setup that you should have on your monthly trips. With the help of this portal, you can easily, accommodation and hotel anytime and anywhere and enjoy a memorable and safe stay. White Label portal provides you with complete information about the accommodation of your destination city along with photos and comments of other users, which will make your choice for suitable accommodation much easier. 
What is an XML API travel portal?
Just like the classic travel agency, XML API Travel Portal has access to so-called "published tariffs" and charges a service fee to cover their costs.  XML API Travel Portal offers package tours that consist of at least two main travel services. The XML API Travel Portal purchases services such as accommodation, hospitality, and transportation for the customer to be able to offer a total service. The XML API Travel Portal calculates the total price and bears responsibility for the implementation of all services.
Travel Portal Setup has also taken over the world of tourism, and today, hundreds of millions of Internet users use local or international Internet portals. From travel advice for booking plane tickets to renting accommodation in the destination city or country.  In fact, XML API Travel Portal provides tourists with vast information and service capacities for easy and convenient, and sometimes low-cost travel and entertainment. XML API Travel Portal is the best portal that can connect hundreds of thousands of visitors from all over the world to this site every day for its services. XML API Travel Portal is a well-known name for tourism activists, and in recent years, with the help of the development of the Internet and foreign exchange services.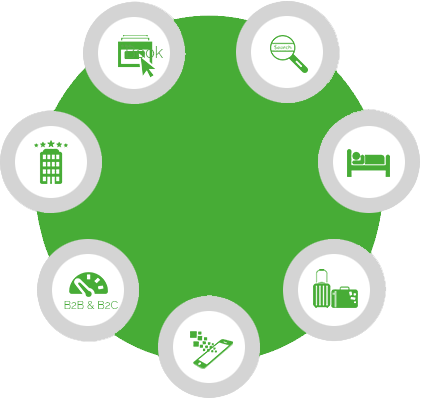 Guide To Set Up Your XML API Travel Portal
XML API Travel Portal Setup gives you the freedom to choose between activities and services available when traveling anywhere, and providing posts and comments from other users will help you make an informed decision. We offer all services online, so you get rid of the usual limitations of scheduled tours or dependence on local leaders. All your requests to receive medical services, participate in local tourist tours and choose a place to stay can be done easily using the Travel Portal Setup and its mobile application. We will always be diligent in updating and adding various services in the dynamics of this platform.
What can XML API Travel Portal do?
The XML API Travel Portal service has a list of attractions, where the user can select an object of interest, read historical information about it, see photos, and plot a route on the map
The service updates daily news feed, which highlights all the cultural events of the city
XML API Travel Portal presented detailed walking audio guides with excursions to the sights.
Provides information about all types of urban transport, as well as all major transport hubs
Recommendations are given on 9 types of thematic tourism
The Travel Portal Setup will show the calendar of events, including exhibitions, festivals, performances, and much more. Here you can see their schedule, topic, and address.
The portal contains creative videos about some of the sights, history, and features of the city
A list of excursion walking and car tours, compiled and conducted by guides accredited by the City Tourist Information Center, is proposed. The tour can be ordered directly on the portal
Provided a list of hotels and hotels with a rating of the international service and a list of popular restaurants with a variety of cuisine, as well as popular shopping places
Characteristics that must be included in the Setup of XML API Travel Portal
Predicted search:

Nowadays, tourists want speed and efficiency from a travel Portal and predicted searches are a big part of this puzzle. Predictive search means that the user can see the prediction of their full search as soon as a letter is entered. While the predicted search only stores several keywords to be searched by travelers. Its high level of convenience leads to users returning to your site for potential future bookings.

Especially when the Travel Portal Setup of a travel agency is displayed on a mobile platform. The anticipated search capabilities facilitate the purchase of passengers and remind that the travel company is managed in a sustainable manner and by the expectations of today's technology.

Customer's comments:

Due to a large amount of information available to today's travelers, the transparency of information according to the travel experience is a key factor in creating an XML API Travel Portal for consumers. A travel portal that allows customers to comment on all aspects of the travel agency's operations contributes to greater transparency and allows travelers to interact with other travelers and create a small community, which enables the company to engage travelers and Use its feedback to enhance the company's performance.

The efficiency of XML API Travel Portal payment methods:

Providing the most affordable payment options to customers should be a priority in making any API Travel Portal more efficient. Because in today's world travelers use different methods to pay, providing easy and user-friendly methods of payment can link the relationship between the website and the customer (B2C) in the long run. Also, using software to store the type of payment method that the customer prefers to buy can, like predictive search software, cause travelers to decide to return to your site to make a purchase.

Social Networks:

Travelers and tourists are interested in telling stories about their travels and interacting with other travelers about it, sharing their experiences, or even giving advice to others. Today, many of these conversations take place on social networks such as Telegram, Twitter, and Instagram. Those Travel Portals that integrate their social networks well with the website put themselves in a better position to participate in these conversations and use them as a key factor for more customer engagement on the site and online management strategies.

XML API Travel Portal must be integrated with Google Maps:

Combining with Google Maps on the Travel Portal makes it easier for travelers to find destinations and entertainment at their destination. This potentially provides more bookings. For example, suppose a customer is looking for a hotel to book and intends to use Google Maps for a better location. While at the same time finding a one-day cultural tour via Google Maps a short distance from his hotel. This action can be a driving factor for the hotel that the customer chooses.

Interesting pictures and photos:

In the tourism industry, customers engage with the tourism Portal because of the content and products but return to the site for the ancillary services provided. The use of images, photos, and other interesting visual elements encourages customers and leads to a certain level of brand loyalty, especially if the portal has a specific branding market segment.
Conclusion:
As you can see, travel portals today have become more popular, with simple payment methods and vague information and content. The XML API Travel Portal Setup should be a strong arm of the business model of travel companies. Travel companies should look at their portal as a tool beyond online advertising tools. Instead of being a platform for selling products and services, a tourism portal should be used as a way to increase customer engagement with the brand and have long-term relationships with travelers worldwide.