Adivaha is a Travel Software Company that develops the most efficient online booking system for agencies to streamline the booking process, integrating various flight suppliers and instant confirmation. This helps customers search and book flights or airline tickets to international destinations.
Mahan Air Solution is an online booking solution that lets customers search and book flight tickets online for specific seats on numerous flights. Mahan Air Solution comes with sophisticated features and functions of third-party supplier nightbridge api integration, GDS connectivity managing inventory and quotations, B2B/B2C booking engine, one-way round-trip, multi-city search option Reservation management, reporting customer management, custom layout, and design, multilingual and multicurrency, payment gateway integration, and more.
Our team of experts created Mahan Air Solutions with B2B and B2C models that allow travel agents and businesses to offer flight tickets to B2B/B2C customers in real-time availability and fares for flights. The Mahan Air software is integrated with multiple or single GDS platforms, LCCs, and third-party flight APIs based on customer requirements. Mahan Air Solution enables travelers to find flights to destinations worldwide, book flights, and pay online. The Mahan Air Software System includes flight schedules, reservations of passengers, and ticket information.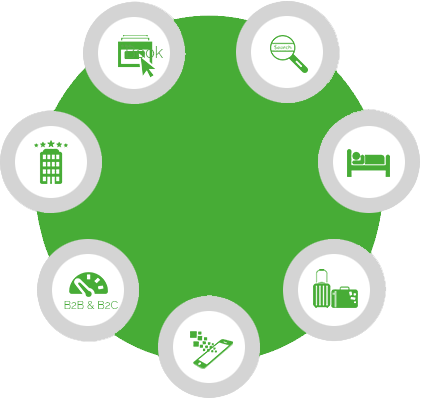 Integrate Mahan Airline API for Your Travel Business
The Mahan Air Solution comes with Flight Booking System to help the travel agent to enhance the customer's travel experience and increase revenue for the business. It offers real-time flight inventory and prices for travel agents with strong Flight Booking features such as multilingual and multicurrency, multiple payment gateways, and much more.
What exactly is Mahan Air Solution?
Mahan Air System Mahan Air System is a web-based application that allows you to consolidate information about flights, such as flight schedules, seat availability, flight prices, and reservations for every airline, with the help of distribution systems worldwide. It gives real-time inventory and prices for passengers and agents to purchase flight tickets on the internet.
To create your own list, compare and find the top Airline Reservation System benefits and features.
Let's take a look at Airline Reservation System Features:
Highly Customizable System
The rapid and error-free online reservation system
A multi-city search is an option
Reservation Management
Inventory Management
Multicurrency support
Multilanguage support
Payment gateway integration
A mobile-friendly design
How Mahan Air System Is Beneficial For Travel Businesses?
Mahan Air Solution is a full airline quotation booking system that allows airlines to share flight tickets online via different channels and make bookings for flights that are coming up. Mahan Air Solution Mahan Air Solution helps travel businesses integrate all flight information in the online portal to offer customers many flights with affordable rates.
Mahan Air Solution, also called Mahan Flight Reservation System, is a full airline reservation software system that integrates GDS/FlightXML service in the travel agent portal to access all flight information and functions online, thereby reducing operating costs, development costs, and maintenance.
Additionally, this flight system permits booking flights with other travel services like hotel tours. Activities transfer packages that are dynamic and much more to enhance customer satisfaction and increase the number of online reservations and revenue.
Airline System provides online reservations and inventory management solutions for inventory management and reservations. It includes flight schedules along with fares, seat availability, fare tariffs, passengers' reservations, as well as logs of ticket bookings for flights on the travel site.
Mahan Air Solution aggregates all the travel information available for hotels, transfers, tours, and flights. It shares this information with all portals on the internet for single access via their APIs or Web Services. Users can find and book all travel-related content online by searching for and creating payments. Thanks to automated processes and systems, most fulfillment tasks can be completed easily with the help of the system.
In addition, by reducing time spent in the process of finishing files, ticketing, and invoicing, you can focus on value-add-ons and grow the efficiency of your business. It is a 24-hour system that you can use at any time. Anyone can log on to the Mahan Air Solution anytime to make ticket reservations.
Through Mahan Air Solution, the efficiency of travel businesses will increase. Access to inventory information in real-time will be a key factor in your success over the long haul. Reduced operating costs and a boost in revenue can certainly assist you in expanding the reach of your chosen channels by providing solutions.
A boost in efficiency and a higher sales rate could increase the reach of reaching out to a global group of travelers and a global community. An online airline reservation system is linked with Mahan GDS through Mahan API or Mahan Air XML to fetch the inventory of Air Tickets. Online booking offers many advantages. It is time-saving and efficient for travel agents and travelers across the entire service.There are only a handful of advantages to traditional practices, such as making a trip to a travel agency, making flight reservations, and other questions.
Mahan API Air Solution
Cloud computing's rise has made it much easier for the technology to be integrated to serve various functions. The principal element that allows the connection of all the applications that comprise an ecosystem of digital applications is APIs. Mahan API Air Solution is an interface for programming that permits diverse applications to connect via data exchange. In cloud services, web APIs are utilized for communicating with each other over the internet.
There are many services we use with different APIs to perform everyday tasks. For instance, on our phone, you could view the weather forecast we obtained via the API provided by a meteorological source.
Why is it so important to incorporate Mahan API Air Solution?
Businesses are taking on digital transformation projects to remain ahead of the competition, including solving the challenge of integrating all of their platforms.
Mahan API Air Solution allows the systems of different business sectors, either external or internal, to share information, improve processes, and save time and money. By utilizing this Mahan api musement Air Solution of other services or systems, the functions you can gain access to without needing to develop can be extended, such as sending notifications using various methods, like SMS or email, as well as other methods.
In the realm of APIs for websites, we can distinguish two major categories:
API-oriented services to provide service. These are services that service providers provide to complete specific tasks. For instance, to send out notifications, you can utilize an API for a service for messaging.
API to connect with apps. They are part of an entire system that allows the exchange of data. For instance, in software designed for transport companies, the API is used to monitor the progress of an order.
Because using Mahan API Air Solution enables businesses to compete and also provide superior services, the idea "of "API Economy" is a description of these features. It is API economy, as per ITDO, "is an API-based service that can demonstrate some profit for your business whether it is strategic or economic."
Mahan API Air Solution Advantages
Alongside enhancing customer service, one of the main advantages of ensuring the mystifly api integration of Mahan API Air Solution into an existing system is the massive cost savings compared to other solutions. Businesses can avail of many Mahan API Air solutions without making major changes to their current platform, allowing them to grow their business effectively. Here are some of the advantages Mahan API Air Solution can offer businesses in a contemporary context:
Automatization: Through the integration of different APIs, businesses can completely automatize all of their operations. This greatly reduces the time required to execute the various business processes, reducing overall operating expenses.
Application Mahan API Air Solution can be integrated into diverse ways based on the needs of the business and needs, thereby making the provision of services and scope more adaptable.
Reach: As mentioned previously, integrating different APIs can dramatically improve a company's reach by making more services available to the user, thereby improving the user experience.
Information: The current business environment is controlled by information. Integrating multiple APIs into an organization's system lets the business gather data from multiple sources accurately and without ambiguity. This will result in smoother operations and more effective decision-making in the long term.
Efficiency: To constantly enhance your service, you must be highly efficient in offering your services. Through the automation of various processes, Mahan API Air Solution will help make the entire process more efficient, improving the quality of service for your customers.
Integration: Mahan API Air Solution lets you embed content from various sources, ensuring the smooth delivery of content and an enhanced customer experience.
Personalization Services and products offered by companies must be customized to meet the preferences and needs of the market they are targeting. By incorporating Mahan API Air Solution into the mix of existing products, the company will offer its customers an extremely user-friendly and personal experience.
Adjustment: When addressing specific market segments' varying desires and needs, it is essential to consider the many patterns that drive customer preferences and needs. So, the needs and desires of any audience will shift in time, and focusing on the various products and services takes a lot of work. Mahan API Air Solution can aid businesses in making these adjustments quickly and with no risk by allowing content from various sources to be incorporated into existing platforms and allowing businesses to evolve to changing needs over time.
Innovation is the key to success. Therefore companies should always look for new ways to innovate within any sector. Mahan API Air Solution constantly encourages innovation in a modern setting by allowing the mondee api integration of different services.
We now know the benefits Mahan API Air Solution provides for developers and businesses of the future. We can look at how APIs can give you advantages over competitors in the hospitality and travel industry.
Mahan API Air Solution Role in Modern Travel and Hospitality
Travel and hospitality are among the largest industries within the service industry that provide a vital service to the modern world. Companies that operate in this field must be conscious of the different developments and factors that influence customers' behavior to ensure they can market their services and products effectively. Inventory and cost are the most important factors that drive customers' choices. Therefore, businesses offering superior products or services at a lower cost will draw more customers.
To grow effectively in today's global marketplace, a business or service provider must cooperate with multiple suppliers to give the best pricing and listings, thus improving customer experience. Mahan API Air Solution can enable this by integrating different services into your existing systems without changing the code source, thus opening the door to myriad possibilities. Are you interested in showing the weather on your application? Incorporate your Mahan API Air Solution into your application, and you'll have access to your information, allowing customers to make educated booking decisions according to the forecast weather.
But, having numerous vendors who constantly feed information into your system could be extremely tiring and result in inconsistent data. When you're an online tourism agent or supplier who works with multiple companies, you'll know how difficult it can be to integrate data from various sources and eliminate inconsistencies.
In the travel and hospitality industry, one of the biggest issues is mapping rooms and hotels in a way that accurately records the various characteristics of rooms and hotels and correctly displays them on a particular platform. A wrong display of listings or duplicate listings could cause massive losses to a company, not just due to damage control but also the loss of brand image and value.
Mahan API Air Solution makes collecting data from many sources extremely effective. If you are working with several suppliers, Mahan API Air Solution can eliminate duplicate listings, allowing you to provide your clients with the most comprehensive inventory possible. Learn more about how you can integrate it into your system and how we can help modern travel companies to grow.
What exactly Mahan White Label Air Solutions perform?
Today, this Mahan White Label Air Solution model is extensively used in offline and online businesses. Here are a few examples:
The items that are sold by supermarket chains under their brands
Cards for payment that larger banks offer to smaller ones;
Coupons and money-back deals;
Affiliate links on forums and blogs;
Digital cross-selling services.
Mahan White Label Air Solution is a fantastic option for customization. If you buy a WL license from the company, you can brand your products and services in your company's colors, patterns, or other designs. In their minds, as well as those of customers, these items will be inevitably connected to your business. Be aware that you are purchasing an item with characteristics those even slight adjustments. However, choosing an authentic supplier who offers high-quality products is vital.
Mahan White Label Air Solution model is built upon the CPA (cost per action) monetization method. You will be paid for each customer you refer to the service provider. It could be a fixed amount per customer or based on your purchase.
Advantages Mahan white Label air Solution
What makes this Mahan White Label Air Solution association superior to developing and manufacturing your product? Look at the five main advantages of Mahan White Label Air Solution. Mahan White Label Air Solution!
1. Save time and money

It's not a secret that creating an item takes a significant amount of money and time, and human resources. If the product that is to create is something new for you, you must be prepared to spend a lot of energy and money on research and development, as annoying training. In this scenario, it's worthwhile to purchase a turnkey product and make an effort to promote it to the people you want to reach.

2. Passive income

With a reputable supplier and a clever marketing plan, Mahan White Label Air Solution can provide consistent revenue with minimal work on your behalf.

3. Customer loyalty

Look at the products and services your customers may find beneficial and offer them as an offer they cannot turn down. Do not make your audience keep them waiting too long. If you don't, you risk making them customers of your rivals. Addressing the requirements of your target audience and addressing their issues will increase your customer loyalty and potential value for your business.

4. Position in the top search results

Promoting a new product requires an increase in search engine rankings. This way, you kill the two birds that strike. A well-planned SEO program is a guaranteed method to draw in new visitors and increase your website's authority.

5. Improved design of web pages

It's worth dedicating one page on your site to the White Label product. A fully-fledged page gives an impression more effectively than blinking banners that can irritate customers and divert their attention.
Mahan B2B Air Solution
Mahan B2B Air Solution Mahan B2B Air Solution is ideal for travel agencies online that want to market their products to traditional travel agencies and their partners. A travel solution is vital to the running of an enterprise since it reduces travel wholesalers' and agencies' production and administration costs. So, it is essential to have a well-functioning website or booking site to create an impressive presence in travel.
Mahan B2B Air Solution supports multi-level distribution. That's why agents can connect with much travel service providers worldwide. Mahan B2B Air Solution Mahan B2B Air Solution allows travel agents to form sub-nets for agents, which in turn assists in expanding sales.
Mahan B2B Air Solution is helpful for travel agents because they can simplify their trade sales. It assists in establishing new relationships with business professionals from different industries and improves your marketing effectiveness.
Mahan B2B Air Solution is an air travel service that provides wordpress api integration and development expertise through partnerships with various GDS and API suppliers worldwide. Our customers can enhance their business by providing the most user-friendly, robust, and responsive B2B reservations that meet your needs.
The benefits of Mahan's B2B Air Solution to help travel agencies expand their businesses smoothly:
A central platform to manage reservations:
Mahan B2B Air Solution helps us manage and book our products. Like a b2b site, it is utilized by entrepreneurs, business owners, and solopreneurs to build an improved connection to other owners of businesses. It can easily take businesses to the next stage when you can create an online system that permits agents and partners to manage and fully manage their bookings online. Mahan B2B Air Solution Mahan B2B Air Solution works using a login supplied by the agency. It also provides continuous access to the latest prices and details.
The website is accessible all day long and is sure to boost productivity. Additionally, no matter what time of the day or location busy you may be, you can buy bulk travel packages through a travel agent that is connected to the API. In addition, because business transactions are done on the internet, there are no obstacles like time zones or currency problems, and the sub-agents can work at their own pace.
Creates a connection to the world's leading travel service provider:
Because the system for booking travel reservations integrates with top GDS systems, agents can anticipate a wide variety of flights api integration and accommodations, as well as transfers and tour packages from worldwide travel service suppliers. With a Mahan B2B Air Solution, a travel agent can quickly learn about the vast travel market. If a travel company is physically located, there is no option for a tour company to assist travelers with comprehensive details. However, you can give your customers more chances when you establish an alliance with tour companies from a different country via B2B.
Distribute and aggregates travel information:
An agency for web development can develop a customized Travel Software solution per your needs. In simple terms, the value of a travel website is the ability to build and strengthen connections between businesses to improve hotel, flights, transfer sightseeing, and package modules. The travel engine collects and disseminates information about flights, hotels, automobiles, and packages to international B2B clients, allowing them to book their travel needs on the internet effortlessly.
The same and distinct distribution of contents:
Mahan B2B Air Solution provides the necessary support, communication, and hotel information to appropriate parties for login and review of current reservations and searches. Our unique service makes travel agents eager to get access to the travel services of our clients' B2B online travel engine. Mahan B2B Air Solution is designed with the latest features, such as chatting online and comparing prices. Through this Mahan B2B Air Solution, you can anticipate gradual growth within your company.
Automatic booking, confirmation, and payment procedure:
If you look at the booking process online with the traditional method, you will see how challenging the procedure was. Making reservations or booking buses or hotels requires lots of paperwork. Also, you spend longer negotiating tie-ups than setting targets for your business growth.
B2B solution can find and book online packages for travel agencies and distribute information about hotels, flights, and transfers. It is a unique Mahan B2B Air Solution with the assistance of worldwide suppliers unique to their regions. Thus, agents can book and confirm accommodation reservations without wasting their time.
Through the years, Adivaha developed multiple travel websites and also assisted the business in establishing the brand. Our team of experts is committed to developing plug-ins and tools that make hotel booking and B2B lodging bookings to a greater extent.
Mahan B2B Air Solution has the expertise to develop dynamic travel website creation, Airline software, and the b2b hotel reservation system with appealing, user-friendly, and intuitive interfaces. Mahan B2B Air Solution devised by us is compatible with accommodating all user needs.
Additional Benefits:
Offers on airfares around the world boost revenues with savings of 3 to 50 percent, which includes the most complete market-specific private and public rates
Book, search, edit and print e-tickets and invoices on the web.
Fare tools for cancellation and destruction before completing the reservation.
Markup edits tools and invoices.
Users can be created and control their rights, roles, and passwords.
Book, search, and cancel travel services with immediate confirmation.
Search results can be refined based on multiple parameters per service.
Cancellation policy management, including deadline alerts
Automated cancellation of un-finalized reservations before the end of the time of the deadline
Label for White-labeling B2B (sub-agents) and B2c (end users)
Agent's brand within the booking engine (banner and logo on voucher)
IATA conditions, certificates, or equipment do not require any licenses, statuses, or specific equipment
Manage multiple currency transactions easily.
Utilize various payment settlement options to book (fixed deposit bank transfer, credit card, bank transfer payment, etc.).
24/7, 365 days support via phone/email
Booking management through the control panel (see the booking list or export the list of bookings in an excel spreadsheet, and search for locate reservations)
Comments / messaging system for travel agencies (messaging between the agent and the root of the reservation)
Booking history
Credit history
Mahan Air Solution App
Travel apps assist modern-day travelers in planning their travels, from leaving the house to their destination and back. 58% of apps for travel are downloaded monthly, and 35% discovered the apps through mobile application development app stores. Mahan Air Solution App makes booking and planning travel as simple as possible.
As with any other industry, they are creating or developing apps for travel needs certain features that must be present. Reviews and recommendation functionality and wordpress api integration with social media are crucial, along with an interactive scheduler and push notifications to update. In-app translators for languages and currency converters can also aid users on their travels. The app should be as efficient as it can significantly boost engagement.
What is the reason for having a Mahan Air Solution App?
The primary reasons to have a Mahan Air Solutions App are as follows:
Users can find low-cost flights and organize their travel
Real-time updates like disruption and departure alerts keep them updated
You could provide suggestions to get the most out of their trips and increase engagement
Users can book hotels, automobiles, and flights
You can provide details of the local public transport routes as well as schedules
Several app development companies work on travel-related app development projects with designers with experience specifically for these apps. Mahan Air App development solutions for your travel business Our services for developing travel apps are focused on meeting your business's specific needs and enabling you to reach new heights of growth and success. Here are the key solutions we offer.
Ticket, Hotel Bookings
An all-inclusive and complete Mahan Air Solution App that can make hotel and ticket reservations in the comfort of your home.
Travel Planning
A platform that allows travelers to easily plan their travels and design an accurate and enjoyable itinerary to ensure the best possible travel experience.
Car Booking
A dedicated platform for arranging for vehicles to be booked in any area that can provide travelers to have easy and affordable access to mobility solutions.
CRM Platform
A robust CRM (Customer Relationship Management) platform to handle the entire customer experience and nurture lead to growing your travel company.
Ad-Hoc Services
We can incorporate extra services in the main travel app, like the conversion of currency, translation services, local guides—communities, and so on.
Virtual Reality
Let your customers be a part of a journey and see a destination or hotel by allowing virtual reality tours and offering them the most immersive and futuristic journey experience.
What is a Mahan Air SDK Solution?
Mahan Air SDK Solution helps developers develop applications that can be integrated with existing platforms. As a platform supplier, it allows you to extend the possibilities for businesses that work with the api integration platform. If you're in the field of software development, understanding how to use the Mahan Air SDK Solution may aid in developing new products for customers. This article will review Mahan Air SDK Solutions, discuss why they are important, look into their strengths and how they function and provide guidelines and examples to ensure you get the most benefit from using one.
Mahan Air SDK Solution is a program or development program that provides developers with the tools needed to create applications. Mahan Air SDK Solution often uses a specific platform or produces a specific kind of software. The kit developer can modify the tools available to create a process that is as efficient and effective as possible for the developers who use the toolkit to build their applications.
What's the reason why Mahan Air SDK Solution is important?
Mahan Air SDK Solution is crucial in making the development of software simpler as well as more effective. Mahan Air SDK Solution can profit by offering its SDK to other software travelport developer or might develop an SDK specifically designed to be integrated with the platform of the organization responsible for the SDK, which allows for the commercialization of outdoor party applications. If you are a developer working with this Mahan Air SDK Solution, it provides tools to improve the development process. It can make it simpler to integrate applications developed on a compatible platform. Mahan Air SDK Solution provides compatibility.
Mahan Air Solution - Manage Your Flight Bookings Online
Mahan Air Solution offers a full flight booking service for travel agents. Mahan Air Solution provides an airline reservation system with the most recent flight booking engine, which includes features such as the ability to book online and an airline booking system customized for travel agents and businesses across the globe.
Mahan Air Solution is an online booking system that allows end-users to book flights and airline tickets. It allows travelers to search worldwide destinations, book flights, and generate the PNR using payments online. Mahan Air Solution can offer quotations on rates for flights to customers and also manage customers' queries within the same software for booking flights. We offer an online flight booking engine with the latest inventory, ticketing, and tools to manage customers.
We provide an integrated and fully integrated flight booking system that takes care of the complete business process from start to finish and includes all the functions of our flight reservation engine. We create software for flight reservations that can be used by B2B and B2C travel agents to make more flights booked.
Mahan Air Solution offers Travel System Modern, user-friendly interface with a sturdy structure. It allows you to search and reserve seats for airline flights efficiently and quickly by connecting to the major third-party airline supplier systems. Mahan Air Solution helps increase efficiency and manages more reservations without hiring new staff. You can sell airline tickets directly through the back-office system.
Lower costs, no recruiting of certified and trained personnel, only handling flights. Also, you can extend your offer if you require airline tickets on your shelves. Mahan Air Solution features include options to display the details of bookings and print e-tickets. This allows consumers to select their seats, display baggage and fare information and support frequent flyer programs, and the ability to book multiple-city flights, and many more. We provide you with the most effective online booking tool that helps you find flights around the world.
Mahan Air Solution is growing with the help of globally recognized apps to make online reservations for B2B/B2C flights in various destinations across the globe. We provide the most advanced flight metasearch engine reservation system with a modern, flexible, reliable reservation structure. A user-friendly interface facilitates checking in and allows real-time reservation access. Mahan Air Solution for international clients that offer a wide variety of inventory on GDS, LCC flights, and a variety of flight API providers across the world. This means we can provide international and domestic Flight Booking Systems smoothly for different countries.
In addition, the evolution of tourism-related activities is affected by the rapid growth of social media and the rising popularity of mobile phones with smart features. It would be best to find the ideal balance between reward and risk to address this issue. We assist businesses that provide tourism and travel services to increase opportunities and keep the level of competition.
Bottom
The travel industry is extremely active. It earns billions of dollars worldwide and provides millions of jobs worldwide. Travelers travel for various reasons, such as business, leisure, and visiting relatives and friends. Many people worldwide are avid travelers and enjoy exploring diverse destinations, either internationally or nationally. Because traveling offers relaxation and refreshment, it can also be an effective stress reliever since we are doing something different that is not typical.
Additionally, organizing a trip with your family increases the bonding process and allows you to discover the different cultures of various groups worldwide.
Many travel agencies offer the finest services from Mahan Air Solutions to ensure that your trip is pleasant and durable. Additionally, many are looking into developing travel software to make their job easier. The executives in the industry have many challenges to overcome in operations excellence, business processes branding, customer loyalty, and the utilization of IT.
Suppose you're planning to create your own Travel Business and need to discover how to choose an organization that offers travel technology. It is important to look into our services, solutions, check-out options portfolio, and more features to make your business easy and efficient