Build your own Travel Brand!
Ready to go-LIVE travel solutions that helps your travel agency to sell a range of travel services pretty instantly. adivaha® travel solutions make sure you have no boundation over your imagination, you can do everything online, without the need for any technical knowledge or design skills. Easy Backoffice, extensive reporting with integrated Funds Management System. Upload funds easily and instantly through Netbanking, Debit Card, Credit Card. The best part is, we do offer customizations in case you believe it will boost your business!
Google Hotel Search API
adivaha® Travel Portal Solution's Google Hotel API integrations assist the consumer in generating travel searches straight in their business websites.
We give an excellent platform for travel facilities providing organizations and our innovative Google Hotel search API, and Google Travel API is integrated with a top technology infrastructure an is ahead from the competition by a considerable margin. We supply travel agencies with our high-end search API and Google Travel API that help travelers find the ideal hotels and resorts for their next excursion. The commission-based version we use is your preferred sales model from the hotel and vacation business and ensures long-term, mutually rewarding business relationship with all the hotels. We can personalize the booking engine per your unique requirements as we always strive to find new solutions to every problem of yours. We'll adapt our method to fulfill your business's needs, and we provide all of the help to integrate your site with our Google Travel API. We've got an enormous travel technology set, and we supply them at costs on the market provided by none of our opponents. We offer integration solutions at incredible prices, which means that you can start with us with a little budget also. GDS API integration is supplied by us, which means you receive access to the market leaders in GDS programs like Amadeus GDS. These GDS system integrations for your site won't enable you to scale your organization but also have a global reach. Amadeus GDS is popular in the travel business for supplying the Distribution system for airlines and hotels. Also, getting access to this can be a blessing to your company. Adding GDS to Your site will allow you to receive secure real-time monitoring connectivity, multiple stations for supply of suppliers, along with auto-updating of contents.
We plan to supply a new measurement of support theory and continuously strive to remain in the technological forefront in any way by providing the best options for the traveling industry.we have remained the best in the travel business by providing the best to our customers.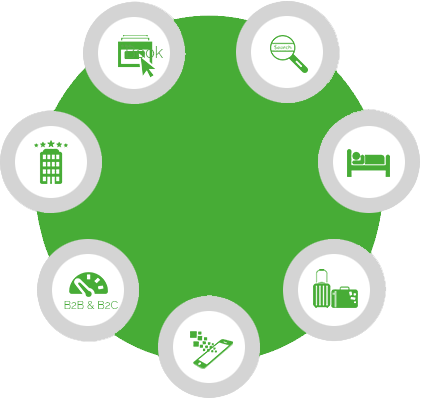 Google Hotel
Search API
We design, construct, and integrate Google Travel API via our enthusiastic in-house staff comprising designers, project managers, and programmers that are specialists working with a range of varied endeavors. Whether you're a startup or a nicely established travel agent, we'll lead you to attain your objectives successfully. Our API provides information such as type of room with graphics, book/cancel rooms, and create reports of resale and booking. Our solutions are integrated, analyzed, and maintained by a seasoned group of specialists. adivaha® Travel Portal Solutions provides simple to use, and user-friendly Hotel search Solution for the international travel market.If your guest is picking a vacation rental, hotel, or resort, all of the information that they want ought to be available in real-time at their hands. It helps tourism and travel business to cultivate their company by giving useful and reasonable Google Travel API Integration solution. Our API was created to ensure all of the real-time necessities of small-medium travel agents and guests are met. Even once it's incorporated into your site, it is going to enable your traveling company access to a fantastic selection of services.
That, in turn, will give your customers more options to choose from, giving you more recognition as a travel agency brand. If you're an owner at a resort or any hospitality service, you might not know why Google Hotel search API and Google Travel API matters or what an API is. They affect the organization in a very considerable way. These latest technologies can make or break an organization. In contrast, different techniques like Hotel CRS, are essential to the work of people in hospitality, like technician managers and decision-makers at any resort. Tech is a part of the organizations and the hospitality industry, which are currently changing entire swaths of the sector. OTAs, Airbnbpayment. APIs, or Application Program Interfaces, are the backbone of any digital network of applications. They're how the hotel industry connects programs that keep our resort operations running on a daily basis, applications, and a variety of hospitality software. So when choosing new technology, you must consider how our Hotel search API and Google Travel API will work to benefit you. Let's take a look to get a better idea of how an API might work in a resort. Let's say that you run an independent hotel. You probably have a few internal systems that help you run your daily operations and make things easier for you: an accounting system, a housekeeping system, and an entertainment system, and so on. Our Hotel search Engine will help you bring you more travelers so that you can run your business correctly and can make the most out of the investment you have made on these other technologies. The Google Travel API provided by adivaha® Travel Portal Solutions is going to benefit all the businesses in the travel industry because it has been crafted to make the most out of all trades. It's designed in a manner that allows for easy integration with other apps. In a complex environment, so that the communication and synchronization between them occur efficiently, all these systems will need to have a smooth and clear API layer which we can provide quickly. Google Travel API is an API that is well-designed and properly integrated with your systems. It can help you deliver experiences that are better for your guests and will make your team's jobs easier. A system with a great API can be leveraged for constructing whole applications or your reports. The final and critical advantage is because your information is readily accessible; it is possible to change software or hardware as required.
Having a fantastic API allows for integration, connectivity, and maximum value from the programs you're using and the information you have. They represent a philosophy of inclusion in the most real sense of the word. It acknowledges the fact that there are possibilities in further linking these systems and that many of the apps, programs, and methods we use are interlinked. Instead of walling program from program and users off from their data, we should be encouraging users to use their data and applications that are electronic and tools with each other in tandem. Its time for the hospitality industry to embrace. We are ahead of many travel businesses, and these advantages have benefitted many travel businesses. adivaha® Travel Portal Solution's Google Hotel search API and Google Travel API are not only a good idea; they're the future. Its high time to hop on board with us and start making your business better. Our joyful customer base praises us all across the world for our quality services and products that we have provided them. We have always strived for the very best and will always do the same. Your traveling technology requirement is our priority, and we work to ensure that it is fulfilled regardless of how much hard work we have to install. Our customers appreciate the commitment that we place into our job, and that is why we have earned their faith.
We are dedicated to providing you the very best customer support possible. To be able to satisfy this assurance, we always try to employ friendly, optimistic people who believe in our core values and principles, enthusiasm for assisting others, and obsession with customer services. Our employees have always come to work every day knowing they're making a real difference in society. It's this passion for helping others who continue to push our culture of service excellence. We have implemented the essential tools to make sure you benefit from the very best experience possible, each moment. We genuinely care for our customers. We aim to build and maintain good connections with each and each of them. We are going to take a while to get to know you personally, and we won't be scared to ask for your honest comments. We aim to understand what our customers need before we perform and to act on it.
We have done and will do everything within our ability to surpass your expectations and ensure you get a positive experience at every touchpoint. We guarantee to listen to our client's needs. We will ask the questions that matter. Your aims will become our goals, and we're going to work tirelessly to reach them. We always love hearing from our clients. Implementation of Different travel technologies has not only made Matters Easier for people in the travel business but has also helped in their growth. The reservation system, Holiday Rental Software, and other travel technology solutions provided by adivaha® Travel Portal Solutions have helped enterprises perform better. The customers have loved adivaha® Travel Portal Solution's dedication to providing you with the most recent and the best travel technology.
adivaha® has assisted plenty of companies by supplying cost-effective integration of APIs, tools, B2c white tag travel portal to lots of consumers. It's generated the rise of confidence among a lot of individuals, leading to many startups appearing too successful companies. Now, you do not need to become a huge investor to initiate a new company in the travel market. Our cost-efficient providers have helped lots of fresh minds create what they wish to. We've helped a lot of men and women become entrepreneurs, and we work harder each day to keep doing that. We've provided customers with the ability of the most recent technology, which has helped many companies grow in the travel industry. We deploy technologies that maximize your company to ensure ironing out unnecessary expenses, and maximizing profits is achievable and straightforward. Our optimizations assist you in reducing out the need for a middleman and help you to reduce operations price by a substantial amount. We make the entire process compact so that booking is as simple as possible for the consumers. We assist you in understanding your organization statistics by supplying you with attributes like fiscal reporting. It won't just enable you to make choices to lower costs but can also help you know the best place to spend more and in which to invest less. Our affordable Google Hotel search API and Google Travel API is exceptionally secure. We've got the most secure payment systems, which will be making you sure that every penny is shielded.
We make sure everything penny that is sent to you is as safe as it can get. We make sure that newer technologies in the cybersecurity industry are implemented by us to help you have a peace of mind that is not provided by any other travel portal solutions company. We use secure payment gateways and use almost all the popular payment gateway technologies to make sure nothing is at risk. We have tie-ups with many prominent organizations in the cybersecurity industry, and we always test our Google Travel API and Google Flight search APIs security to make it much better. Every technology made by us follows the norms and the standards of the industry, and that is the reason why adivaha® Travel Portal Solutions is considered unrivaled in the travel tech space. You do not need to be worried about anything when you choose adivaha® Travel Portal Solutions for your travel portal needs, and our customer base all over the globe is an example of our high customer satisfaction rate. We don't need to give any evidence of our quality because of our happy customer base. We have scaled globally, and we have been loved globally because of our class-leading service. So come and be a part of our 10,000+ growing customer base and experience the best service in the travel technology space. Choose our Google flight search API and Google Travel API now!
Our Comprehensive List of Services
adivaha® is a one-stop-shop for all your travel website needs. We offer a multitude of services that empower you to become a market leader. Contact us for more info.
Have Questions?
The Internet is a huge resource, but
if your question requires particular expertise.
Keep Refreshing your customers - Who doesn't want his site to stand out from crowd? adivaha® gives you multiple options for home pages, headers, colors etc. Which can easily be managed from admin via shortcodes and settings. The theme supports almost all the big players in this market ie, WEGO, Travelpayouts, Agoda, Booking, Expedia etc.
Frequently Asked Questions
Below are some of the questions asked by visitors. Do visit our adivaha® Digest for more such questions. Don't hesitate to ask us if you have any questions
What all GDS and Providers are connected in the platform?

27

views

1

answers

0

votes