Build your own Travel Brand!
Ready to go-LIVE travel solutions that helps your travel agency to sell a range of travel services pretty instantly. adivaha® travel solutions make sure you have no boundation over your imagination, you can do everything online, without the need for any technical knowledge or design skills. Easy Backoffice, extensive reporting with integrated Funds Management System. Upload funds easily and instantly through Netbanking, Debit Card, Credit Card. The best part is, we do offer customizations in case you believe it will boost your business!
How to Choose the Right Hotel Extranet Booking System
adivaha® is most organizes and travel technology company, travel software company, and travel portal development company. This company is trusted by more than ten thousand companies. Our company helps and promote for a very long time.
We know about the modern and latest technology and also affiliated by the latest technology athwart airlines, flight, hotels, cars, and other types of floor services, hotel extranet, and ticket booking software extranet. Our company is the only one which provides all in one platform and we will help you to provide colorful digital marketing. We integrate GDSs (global distribution systems), API, and also offer third party OTA (online travel agency) with a private branded website.
Our company provides a comprehensive system to manage rates, discounts, customized and allocation, best quality services. adivaha® Hotel's Extranet is known as Hotel CRS and authorizes the travel agents to upload their own compacted hotels and give you access to the entire registered management online system so you can input your hotel detail (description, rates, discount, special offer, allotment and many more). By using our company Booking Extranet empower the hotel properties to manage rates, cut off dates and low night stays. Our platform co-existent with the leading channel management tools and also our admin is a secured arrangement of your suppliers. It's cooperative and guiding channel mechanisms and also enables us to connect the ability to publish inventory.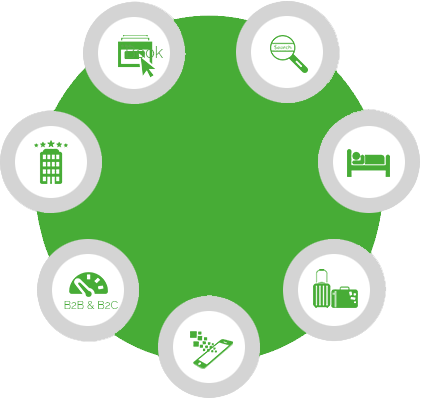 An Overview of Popular Hotel Extranet Booking Systems
adivaha® hotel CRS is a computerized reservation system that includes the information of reservations of hotels, resorts, and hosts of loading facilities. Our CRS (central reservation system) recommendation revolves around storage and distribution of information such as resorts, hotels, etc. our company hotel CRS is primarily offering support for hoteliers to manage all of their online sales marketing. At booking admin we provide you all you need for online booking, payment process, and guest contact before arrival for your short term rental property and holiday and ensure that booking process quickly. It is used as a tool to approach the GDS (global distribution system) along with an internet distribution system from a single point system and those using CRS can also see the rates and availabilities by the sales channels. Our system completely enables you to control your pricing structure, hotel inventory, and also take the benefit of sales and distribution across your system. Our booking system is acting on just a single application that allows travel agents to upload their suppliers, they can also input the information special offers, restrictions, and room availabilities. Hotel booking API is a web service supply online functionality of searching and booking hotel. adivaha® also offers its clients and hotel range a password protected booking system. It is due to seedless online reservations, communication for online hotel Booking system, and by using CRS, hoteliers can manage and set up their online airline business travel. Our booking admin is very simple and easy to use. A hotel can also allocate a certain number of rooms to sell through you.
Hotel reservation is very initial and important part of hotel CRS central reservation system and also very commonly used around the world to upload their partner hotels provide them approach extranet system by travel agencies and travel agents, through this with any special offer, deals, restrictions, and cancellation policy partner can put their hotel information about rooms and availability. With our company, your customers book your property through anyways either your website or call center, the hotel provides you complete detail about rooms types, rates, from the description of facilitates and also control hotel content profile. adivaha® provides easy, simple ways to use a hotel booking software engine, from this you can easily book your online tickets directly from your website. It allows complete configure their rooms, and other facilitates our hotel system can easily be integrated into your websites and provide you the same offer to sell with proper functions on your website as in the other distribution channels and also comprehensive, customize offers to your website. We are also providing detailed information, a description about room facilities and hotel, hotel images, detailed hotel map that will help customers to the choice best hotel according to your needs about each hotel on the system and determine that you can promote your hotel's features and also guest satisfaction will increase.
Travel agents and hoteliers can easily manage their registry in the central reservation system or CRS. With our hotel extranet CRS, you can easily manage your inventory, minimum night stay and cut off dates without any hassle. This will give you a lot of help, it will help you to increase your productivity, establish customer loyalty, and also minimize the margin of errors. By using our extranet systems internet based admin section, all this hotel information can be updated and new pictures can be posted easily and this is specially designed for hotelier convenience. Our user friendly extranet admin section also makes it too easy and manage your booking 24/7 and control reservations through their account in the CRS extranet system. How an extranet system actually work? Extranet system is important for travel business and need to link with first class and best hotels. hotel booking api integration System help them to link directly to the oriented hotels channel managers, and handling all operations of channel manager, in order to get information about the updated dynamic rates and availability. This extranet system need only to use the login id and password to insert the information. The main purpose of connecting is to get price quotes from different hotels. A good and best portal development company should be simple, smooth, reliable one, and the company also have experienced and skilled professionals in real estate vertical with hand on experience in portal development and mobile application. This will help the end user to choose the best accommodation according to their requirements and also affordability. A complete travel technology portal includes Booking Extranet integration into the system. Our company provide authority of facilitates that will help to removes the chances of theft and improves data accountability and also assigned hotels uploaded their virtual tours videos price and other properties into the system. This system has option for everything, and the benefits of system is never end here, it also help the staff to the remove tension and work pressure in the travel technology industry. A person can also change data or detail on the real time base from the hotel industry. It may add or delete data to the system. The hoteliers are able to add or remove their room inventory and apply the active rate for their room category, and many more and these available directly to you to benefit from the best available rates and synchronize them to your selling channels. adivaha® provide you to secure more bookings and also help you to increase the facility to enter the numbers of rooms and occupancy last minute. Extranet is actually controlled networks common business partners who are using the internet, they are basically business to business networks operating over the internet. It is regulated network that allowing partners, vendors, customer, suppliers, and other businesses to gain information, typically about a specific company or institutions.
There are some of the best primary function or objectives in extranet like, the first development of Extranet system, it is completely flexible, simple and scalable for your growing business, the platform which is easier to use, deal with room facilities, manageability of rates, content or information all in one place and according to your requirements, with channel manager usage underscore the multiple distribution channels, the hotel is also connecting with a third party best online travel agency agent (OTA), GDS (global distribution system), and with global hotel's system allows mobile booking engines, booking confirmation and verification by auto email and SMS, comprehensive system to manage the discount, special offer, allocation, room upgrade, long stay, free nights, etc. Including various markup use on agents, according to seasons rates also change increase or decrease step by step, take care of supplements, mandatory or optional, deals management system to enter package plans and make it sure that availability on the all channels like B2B, B2C (travel portal software) for reservations, and also in primary function generate daily report, reservation details report, inventory report, billing details report, nationality rate report, cancellation details report, add unlimited photos and little size video of the hotel environment and also manage policies like payment technique, arrangement tax, retraction approach, and other condition policy. Booking extranet is the limited access provided to the hoteliers by distribution channel and by giving a personal login and password to the hoteliers.
History of extranet, during the late 1990s and early 2000s, several industries started to use the term 'extranet' to describe centralized repositories of shared data made accessible via the web only to authorized members of particular workgroups.
Adivaha, provide key features about hotel extranet and their system.
Own Branding : Tour Operators can have their own branded interface for system access by hotels and suppliers via their domain/URL. Markup; also the choice of defining markup or commission respective to the property both in percentage and fixed amount. Cancellation policies; amendment policies can be defined as per room/s and according to seasons, different cancellation policies, terms, and conditions. Promotions; multiple promotions can be introduced like discounts, stay an early bird, min nights special price, book by date. Smart inventory; on a room basis, the system shows rooms status, availability, price, and promotions on the calendar. The system can be designed in a very flexible and friendly for users. Season creation; multiple seasons with numerous date ranges and description e.g. peak, high, low, etc. Free sales; with date formalize apply for free sale to any room/s. Bulk updated; on the date set out basis, in bulk prices, allocations, blackouts, and policies can be updated. Blackout inventory/stop sales; this can be defined as per the date range and the same can be displaced by defining any date range. Supplements; it can be defined as per night basis, pax for a date range. Minimum/Max nights policy; this will help customers to search about properties within a date range, through this they showed a message of minimum nights charged and customers can also book for the same number of nights because it can also be defined as per the date range. Properties information; the property information about hotel or apartment, describe given facilities, upload images, contact information, also about local currency, local time and release time, and also include the option of introducing different ids for notifications during flight booking api integration, on request, cancellation, confirmation, and rejection.Booking System also cover many other options like Allocation or Request feature; means defining rooms as available or on request (yes/no). In the case where allocation ZERO, the system automatically shows rooms "Available on Request" and also to check-in date is less than release days. According to hotel information customers apply for booking requests for the same and the rejection and confirmation depended. Suppliers and hotel direct access; if you create your suppliers (DMCs, Chain, Group), they will help you to create more properties and control all the respective at their end. Also hotel direct approach by login to manage its respective content. Contracting; Simple, Easy, and user-friendly interface to upload contract entries on a room category basis. The option of defining multiple weekend pricing. Further apply seasons, allocations, release period, room prices, other guest charges, (as per age criteria) on board basis. Market wise pricing; countries are assigned to market and further apply to properties. Room definition; it is the definition according to rooms category like a deluxe, standard, suite, etc. and other room facilities, image, child policies, extra guests allowed (yes/no), child policies accordingly age range, and inclusions. Contract approval (QA) process; by the verification of entries done by data entry person, the contract approval process allows the supervisor to QA and approve the contract/s. for approval auto email notification help to approve the contract. Booking experience explains the need to book in advance or wait in line to buy tickets.
There are some key benefits and advantages of hotel solution and booking extranet; improved yield, the reduce perimeter of error, versatility, increase sales and productivity, expansive choice of hotel, flexibility, decreased inventory, cost-saving, up-to-date and reliable knowledge, real-time availability, build customer loyalty, integration support, Data can be revised, renewed and improved immediately on extranet system. All unacknowledged members thus hold immediate access to the multiple high-level data, Hotel Booking Extranets qualify company details to be partition at point proper for consumers, associates, distributors, workers, and other related people and information can be modified, updated, changed instantly. This supports removing the convention/gathering duration and is also convenient for business operating in more than one country has a different time zone and access the authorized to the most advanced and modern information. Extranet also prevents in rectify company performance and decrease the chances of mistakes automatically, approach to the negotiated rates, the task of work is complete and finished quickly as compared to the old manual booking system, the lower period to sale, Strengthen buyer commitment, choose the structure that is fit for you, and timely and true information.
Why do you need it and want it? You need it because it is the essential and important part for travelers and online business, nowadays it is necessary for accommodation providers and small, medium, large business so the hotel central reservation system plays their role in it. A large number of travelers are counting only on online reservations for accommodation booking, and without this talent you will a significant amount of business. There are many other reasons to consider the investment in the hotel reservation system; it will help to compete with your competitors because not a huge amount of people lives there so you can get a competitive edge with an online booking system. Today there are yet many small hotels that have not online Extranet booking capabilities. It also increases your business efficiency, when receiving your reservation notification, then updated your availability, it not only in your system but also against all of your channels. This system helps you to decrease the chances of overbooking the room and you will save your time on administrative tasks at your property.
By Booking Extranet, your business will outgoing in every step, Revenue in each step. Today, hotel booking api software is an initial and important part of hotel operation because it will show you all information about different categories, room detail (ventilation, the temperature of their room), rates, packages, and other additional services, boking from any part of the world. adivaha® checks your revenue by design software. It will provide an option to track the traffic on your websites and study the nature of different clients, then provides customize offer accordingly. A hotel booking software helps you to accept direct bookings on your website from your guests. adivaha® software consists of property of management system, booking module, and channel manager. This software to get more direct bookings and avoid bookings, and also improve your guest's experience drastically. When you will get our software, you will realize that our software is not only better but also most moneymaking bet your travel agency could have ever made!
Boost revenue with adivaha® hotel booking extranet software; sell your rooms with different packages to cater to all guest's needs, sell rooms through the hotel website, mobile website, and also your hotel Facebook page and also sell extra services. The features of our corporate hotel booking software; Quick and simple reservation process when guests book a room, your booking engine offers a short form to guests, there should not need to forward different sites for reservation. BOOK NOW button that attracts the attention of your target audience. Mobile friendly this software will also help to accept mobile bookings. With the going year, mobile booking increase all over the world. Ability to connect with social networking sites; through this your guests are easily connected to you by using Facebook, and other popular sites. Multi-currency and multi-language features; to attract a global audience, your booking engine should confirm to different languages and different currencies as important to make it easy to online book for guests.
The advantages of instruments of the adivaha® hotel reservation system are, it simplifies the administrative and imparts process for you and your staff. Instead, you can also do reservation through mobile, our online flight booking apis system work for you. After completing your administrative duties in the office, you can spend more time interacting with your guests. It allows you to combine valuable data about your guests; in the hotel industry, data collection is critical where guests are demanding experience person, without hotel extranet, hotel extranet system and booking extranet it is difficult to know where your guests come from, what their interests are, how old they are, etc. It directly improves the guest's experience at your property, a cloud-based reservation system assign your guests to book room on their computers, phones, and tablets. Our system provides you a variety of features that allow you to automate your process. It decreases the danger of overbooking your rooms, all live rates and availability are automatically updated by the software. Improve your hotel image with Adivaha, through our company booking engine booking is simple and easy, make booking convenient for your guests, encourage guests by providing a choice of room rates and conditions and also allow to book in their native language. Provide your clients with secure payment options, publish comments on your website by asking feedback from guests and improve reputation, making guests feel that your room is according to their choice. Raise your hotel by the adivaha® booking engine on your social networking channels.
Advanced best hotel booking app system: Empowering the travel industry to help the best travel experiences, our hotel aims to sell more rooms and get benefits. However, you have to depend on mobile for reservation without an online booking system. An online booking platform is necessary? Yes, it is important because it is the face of the travel business and to attract more clients, crack a better deal, and remain consistent in the industry. For domestic or international tours, your travel agency needs API, XML integration, adivaha® provides innovative hotel booking engine with an array of features to maximize the revenue of hotel and enable hotel's extranet that allows OTAs, TMCs, travel agents and tour operators to manage their direct contract.
Our Comprehensive List of Services
adivaha® is a one-stop-shop for all your travel website needs. We offer a multitude of services that empower you to become a market leader. Contact us for more info.
Have Questions?
The Internet is a huge resource, but
if your question requires particular expertise.
Keep Refreshing your customers - Who doesn't want his site to stand out from crowd? adivaha® gives you multiple options for home pages, headers, colors etc. Which can easily be managed from admin via shortcodes and settings. The theme supports almost all the big players in this market ie, WEGO, Travelpayouts, Agoda, Booking, Expedia etc.
Frequently Asked Questions
Below are some of the questions asked by visitors. Do visit our adivaha® Digest for more such questions. Don't hesitate to ask us if you have any questions
I am setting up this plugin for my client's website, I tried registering and received the account activation email, but …

9

views

0

answers

0

votes