The journey so far has been so nice. difficult at times, but it really inspired us in achieving nice relationship. In one word "#CLIENTSRAWESOME"
adivaha® Clients
The success of adivaha®, which is visited and used every day by many people who connect from all over the world. Thanks to the fact that the site is translated into many different languages, is given by the wide possibility for users to be able to make an immediate comparison on rates and prices.
On adivaha® it is possible to compare the various offers for adivaha® clients, buy plane tickets, and rental cars. As well as book cruises and other types of services, always related to the travel sector, but be clear: adivaha® does not sell travel, flights and other services offered but welcome travel sector operators, through whom you buy what you have chosen through the platform.
Online agencies as adivaha®, offer their clients a variety of accommodation options in one place and all the information at your fingertips. OTAs have become a very important resource during trip planning, maintaining their importance during the reservation period, becoming the option that achieves the most conversions of travelers.
The tools, data, and statistics available that can be found in OTA extranets offer hoteliers the opportunity to inspire travelers, set expectations, create personalized experiences, identify and resolve situations to better meet the needs of guests, and offer direct reservations. Understanding the per-client phases and client's experiences at all times is critical to maintaining an online reputation.
Understand the client's process
Let's look at the adivaha® client's process. We find four phases: inspiration and planning, purchase and reservation, stay, and return from the trip. According to a report, throughout this process, company clients, who are advanced users of mobile technologies? Seek personalized and relevant content based on their preferences rather than general information. Those who are looking for a trip have unlimited resources and a good part of them take advantage of them when they are considering a purchase, which generates a complex and far from easy reservation process.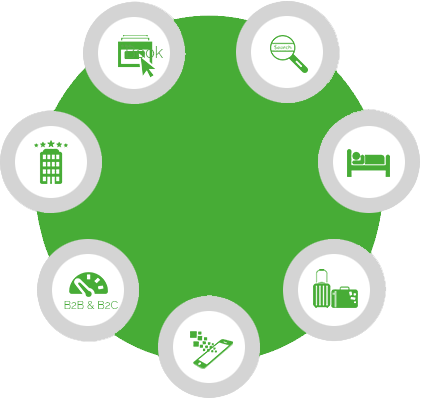 adivaha® Clients
So what tools can be used to attract and engage clients along their journey?
Influence the guest experience 

OTAs play an important role in the initial stages of this itinerary and are essential to attract the attention of international clients. So we facilitate this process so that tourists can visualize their stay and, at the same time, differentiate their property.

Engage adivaha® clients with content that makes them dream

During the initial travel planning and inspiration phase, clients browse vast amounts of content to learn about their options. Once a destination has been chosen, the decision to book a hotel is influenced by detailed descriptions of its facilities, spectacular images of its spaces, and information on nearby points of interest.  The importance of content is confirmed, which allows not only to inspire clients but also to provide an opportunity for hoteliers to take on the role of ambassadors for their destinations.

Photos of hotels are key to the online market.  

An adivaha® investigation found that customers prefer evocative images, which elicit emotional reactions. The rooms, restaurants, and general spaces with pleasant views generated feelings and sensations of delight. Favorable towards the hotel, and the photos that show unique and attractive features also made a good impression. On the other hand, those that seemed natural, without distortions or effects, elicited a sense of confidence. Being an authentic and realistic representation of the hotel.

Recommendations on the local market

Hoteliers must become local experts and share ideas about local activities and important landmarks around their accommodations. For example, adivaha's points of interest tool, which allows hoteliers to review and select their local points of interest, help attract more clients by highlighting cultural sites, unique activities, and experiences in the areas near hotels. 

adivaha® use market data to help secure bookings

As clients move into the booking phase, options are narrowed and they are closer to shopping, but hoteliers still need to take into account the diverse needs and budgets of clients. By offering a variety of room types and rates that meet these needs. We can attract more clients and increase the likelihood of more bookings. Understanding the market, offering competitive rates and availability can be what helps clients make that final booking decision.

As is the case with a client's purchasing decision, it is easier for a hotel to make pricing and strategy decisions when it has data to support them. To do this, adivaha® has created a powerful set of tools to help you analyze your results. Be more competitive in your market, and grow your business. Making use of information on performance, results, market behavior, together with public data on purchases. We can develop strategies aimed at conversion, to attract clients.

Easier and early engagement with guests

Success! The client has booked a hotel stay. Once adivaha® clients have booked, the hotelier can begin to build their guests' experience by opening lines of communication with them. 

In this sense, hoteliers comment that it is a challenge to communicate with clients who booked through OTAs and that they need to communicate with them before they arrive at the property.

Based on this feedback from hoteliers, adivaha® developed a guest communication platform for managing their first impressions. And setting expectations through personalized welcome messages or check-in instructions. This tool allows hoteliers to recognize, confirm, and manage any special requests and provide information about the offers available at the hotel, helping to improve interaction.

Constant interaction with clients 

Constant interaction with clients once your journey begins is key to creating a positive experience. Particularly when you arrive at your destination and experience a hotel stay for the first time. Identifying potential issues and communicating with guests while they are staying is important as this is when hotels are in the best position to resolve or avoid a potentially negative visitor experience.

It should be noted that the guests involved, who interact with the hotel, are also returning guests: this type of customer is 40% more likely to return to the hotel, demonstrating that there is an opportunity for accommodations to generate potential earnings through active engagement with their guests. 

When hoteliers address and resolve client issues immediately, they can create a positive impression and potentially increase the likelihood of receiving a better rating after the trip. Accommodations that respond to comments in real-time can get post-stay assessment scores up to 10% higher than those that don't.

Reliving the experiences 

When returning from a trip, clients want to relive their experiences by posting on social networks and sharing their positive or negative ratings and opinions on the network. Understanding the role that reviews play during your trip and their impact on hotels' online reputation is critical for accommodations. The online comments provide valuable information about what customers think of a hotel and also help to inform and influence the decision-making of potential guests. To the point of being the turning point leading to a customer to book or not in an accommodation. Research has shown that 50% of travel agencies clients will not book a hotel without first reading a review, and most of them will read 8-12 reviews before booking.

In addition to following up on guest feedback at the end of their trip, we must respond to their questions and concerns. In fact, the guests note that when hotel management responds to comments, it generally "increases the chances that they will return".

Guest feedback is invaluable to hotels and potential customers alike, but obtaining this information is often time-consuming and expensive.
Conclusion:
A good loyalty program isn't just about rewarding the right clients. It aims to get to know customers to encourage the right buying behavior and improve their experience with your brand. For example, if an adivaha® client books a lot of flights but never a hotel, we'll give them a big discount to test our hotels or all-inclusive packages. The program allows this and it is a real advantage for our customers, who now benefit from offers that we could never have offered before. 
Frequently Asked Questions.
Few of the important questions, which we think you should take a look in order to have better understanding of the application.