Build your own Travel Brand!
Ready to go-LIVE travel solutions that helps your travel agency to sell a range of travel services pretty instantly. adivaha® travel solutions make sure you have no boundation over your imagination, you can do everything online, without the need for any technical knowledge or design skills. Easy Backoffice, extensive reporting with integrated Funds Management System. Upload funds easily and instantly through Netbanking, Debit Card, Credit Card. The best part is, we do offer customizations in case you believe it will boost your business!
Choosing the Right Solution for Your Travel Agency Needs
Travel Industry has expanded briskly and with the introduction of the internet, there is a different kind of rosiness in the sector. Every day we witness, new technological advancements, these advancements are both good and bad for the travel businesses.
But the opportunities that come with these b2c travel portal development are too good to be missed and the benefits of this growth outshine the disadvantages. Travel and tour agencies have understood this window of opportunities and using everything in their power and available on the market to seize the moment. So, the competition has also grown tenfold in the sector and it going to get fierce in the coming days. In short, the travel industry is an industry of immense opportunities but a never-ending battle of wits. Thus, to gain some ground in the industry you need a team of technical experts who can useful travel agency software to overcome every obstacle and provide help to enhance your outreach. That's where adivaha® comes into the picture; we exist to develop and provide the best travel-related solutions to travel agencies from all across the world. adivaha® lives and breathes the field of the travel industry.
adivaha® is the world's leading travel service solution provider and we have every solution for travel agency. Our software is meant for everyone from well-established travel agencies to budding travel agents. We are not just about sweet talks but we are dedicated people to provide you the best in class solutions for travel agencies. Our solution for a travel agency booking software is built with automation at their core to help you with the daily work. They can help manage your whole business, so you can only focus on expanding your business. Moreover, we have the best customer support that will provide support throughout the year.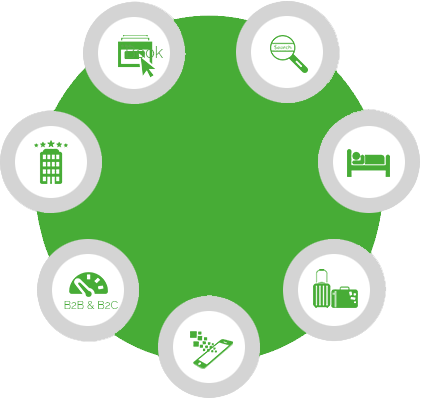 Perfect Travel Agency Software Solution
adivaha® is one of the best and well-established travel software development company present in the industry. It never fails to fulfill the desires and needs of their clients, in terms of software development. Our team of experts offers well-designed travel portals for travel agencies.
We also understand that business is not just about sales and profits, it is about building a healthy professional relationship with your clients. We also know how crucial conversions are for travel agency app businesses. So we help people thrive in the tour and travel sector by providing them the right mixture of knowledge and tools. Tools without proper knowledge about using them effectively are useless, similarly, just theoretical knowledge is not enough to make a name for yourself in the travel sector. So we at adivaha® have devised novel travel agency solutions to help them in hardship they might face in their journey.
There is a lengthy list of things that fall under our specialty. We have expertise in almost every solution related to the travel sector. We have a dedicated team for designing websites. We offer the best APIs in the market. We have the best GDS integration. All-in-All we provide everything that a new company will need to establish a successful top travel technology companies business. And we also offer potent tools to well-established companies that are looking to extend their functionality. Our Solution For Travel Agency don't end there, we have various other weapons and in our arsenal like digital marketing tools, secured payment gates, etc. However, with all kinds of tools available, it is difficult to understand which tool you may or may not requires. To understand what's best for you, you need to have knowledge about the functionality of each tool. You don't need to know every technical detail but some kind of familiarity is required. So to help you we have brought the list of some of the most common travel agency solutions with their know-how and why adivaha® is the right choice for you.
Website
First, let's get the most obvious one out of our way. The website is the most important travel agency best hotel booking software, in today's era of the internet. Without having a web-portal a business cannot thrive nowadays. Moreover, it is the best way to market your brand. And with the introduction of content management systems like Wordpress, Joomla, the process of making a website has become easy that's why there are web designers available in every corner of the town. However, creating a website is one thing, and using it to improve conversions and maximize revenue is another. And when it comes to actually help you with increasing the profits only a few players can make that happen. Moreover, an ideal travel portal is the one that gives more than sufficient features to users so that their search is eased down and simplified. It should be able to attract people with the facilities and offers provided by the agency. Further, a user's search should be a two-way thing so that in case of any query, he/she may be able to put questions and the query is processed making it an interactive search.
adivaha® is at the summit of building web-portals. At Adivaha, we built 100% customizable websites in accordance with the need of our client. Our web-portals are built with the latest technology and are integrated with the most advanced tools and have a clutter-free easy to use interface. Moreover, the search functionality of our portals is top-notch with advanced filters to narrow down the searches and provide results of users' choice. We can build everything from simple websites to a full-fledged travel agency. All of this at the lowest cost in the market. So not only you will have the best in class website, but it will also not become a burden on your pocket.
GDS Integration
The website alone is worth nothing, it has to be unified with some powerful tools like Global distribution systems. GDS indeed is one potent solution for travel agency needs. It eliminates the need of maintaining inventories. Initially, GDS was brought to facilitate the airline industry, but now it is as capable of handling other industries also. Earlier travel agencies had to contact various hotels, cars, airlines to gain access to their inventories, but because of GDS things are completely different now. They just need to have access to a good GDS system, they can integrate it with their website and done. The api integration will directly fetch the data from the individual inventories of the airline, hotels, etc, and will display it to the users. The travel agencies don't have to keep that on their server or have professionals to manage the inventories.
At adivaha® we have the most advanced GDS integration facilities available. We offer various kinds of GDS integrations like Amadeus, Sabre, etc and we provide plugins to make the process of unifying GDS with your web-portal, hassle-free. We also provide WordPress GDS API integration, that is the easiest way to have GDS integrated with your booking portal.
Bus Reservation system
The bus is an essential means of third party travel theme, within a country and also forms a major travel agency software. It also forms the basic transportation facility for travelers. Though the importance of bus as a transporting facility has not changed much over the decades, however, customer behavior has changed a lot in those decades. They are no longer required to physically visit ticket counters to book bus tickets and check the schedule of buses. They just need to have a phone and they can buy bus tickets, remain up to date with the schedule and all related things related to buses. Further, bus booking systems help travel businesses manage their business by providing them self-service features like automated customer details management, route management, billing, etc.
At adivaha® we offer the top-drawer bus reservation software. Our bus CRS is automated to software to help both the travels and the businesses. It will aid the travels by providing them a lengthy list of vehicles available along with their details and prices. And to make the booking process smooth we have also added filters, so travel can search directly for what they want. For tour operators, our bus booking portal is integrated with APIs that will allow them to access inventories of various bus vendors. The sabre gds system also has the feature to change routes in between the journey, if the prescribed route is not accessible or it is no longer the optimum path.
Car Rental Software
The introduction of the internet has completely changed the car rental game. Now, car rental agencies cannot function as they were functioning some years earlier. And since, every full-fledged travel operator also offers car rental service to their users, besides the normal vacation package. That's why the car rental portal is an important travel agency software. The car rental portal is a one-stop solution for all the problems that an agency might face. They automate various aspects of car rental like invoice management, displaying information to users, inventory management, cars available, detailed information about each car, and many more. Further, they also provide a better communication channel between the tenant and the vendor and play a major role in improving the overall customer experience and hence promote a healthy relationship without customers.
adivaha® has ready to use tbo api integration for adding car rental functionality, assuming a travel agency has a web-portal. Even if you are using car rental software, there are chances that it might be missing some key features, that conventional solution provider doesn't offer. One such example is a daily/weekly/ monthly analysis of your business and the real-time information about various aspects of your business and many more ingenious features like these. adivaha® offers you the perfect blend of conventional and modern features. Those when used in association with each other will help your business to reach new heights. And for dedicated car rental agencies, we provide full-scale web, mobile app, that too at a very low cost.
Airline Reservation System (ARS)
Airline Booking System is another important aspect of a successful travel agency. No GDS or nothing else can help you if your web-portal doesn't have a good airline ticketing system. Moreover, the inventory management tour operator software is an integral part of the airline booking system which is a part of a larger system called the passenger service system. Though users' search queries will be answered by the GDS, however, they use that GDS through ARS only. Along with a lengthy list of options, a travel agency has to provide a way of booking tickets with a secure online transaction facility.
adivaha® is known for providing the finest airline reservation solutions for travel agencies integrated with some of the top inventory management sabre gds software. Our airline ticket booking software will let users book tickets from any remote part of the world. Further, it has a recommendation system that recommends packages to the users, based on their search behavior. We also include a secure payment gateway with our software, so customers won't have to worry about carrying out the transaction. And once a customer has booked a ticket it will be mailed to the registered email account and details will be shared on the phone number provided. Moreover, the schedule will also be sent to both the registered email address and phone number, if the flight is delayed, the news about the same will be conveyed through a message.
Digital Marketing Tools
No matter, if you are providing the finest tour services through the most advanced travel agency software at the most affordable prices. They all will be useless if you cannot communicate your brand's message to the audience. The profits of a travel agency depend directly upon how well they are marketed. The more your agency is visible to the user, the more traffic it will get, hence more conversions. Therefore, it is important to have tools that not only provide you basic travel agency services but also help you to marketplace wp theme your services in a better way. However, conventional marketing ways alone are not that potent, in today's digital world. They have to be used along with the new digital marketing techniques for the best results.
adivaha® offers the most innovative digital marketing tools. A travel agency's portal process lots of data which is actually very valuable. This data can be used to find user behavior and provide them with the most appropriate services. Adivaha's digital marketing tools are capable of finding meaningful information from all the available data. Once the data is feed to our tools they analyze the data and generate reports which will help the businesses understand what the users want. Further, our tools also have capabilities to provide an effective channel for internet marketing, social media campaigns, etc.
Mobile Application
A web-portal is good but having a mobile application for your agency is awesome. The number of smartphone users is way more than desktop users. And more search queries on Google are performed with the mobiles than the desktops. This is not surprising since mobile phones are the best way to save time and users can access anything from anywhere around the world. These mobile applications are also beneficial for travel agencies since not only they will have a much larger market place to target users but with mobile applications, agencies can communicate easily with the audience, provide value to the travelers, and having a web and mobile app is the best way to stick out from the masses. That's why mobile is such an important travel agency software. But not all tour operators have mobile applications for their businesses since mobile application development is a costly process. The agencies with large wallets can afford to have both the web apps and mobile applications and the other operators have to choose one of them. So to reduce the overall cost of mobile application development and management, adivaha® has invented novel ways.
At adivaha® we have a dedicated team for mobile app production which will also help you to manage the app. And we specialize in building applications for both the iOS and Android operating systems, to ensure every potential customer has an application of your agency on their smartphones. We build applications by keeping in mind the future needs, so our software is future proof. And the mobile app will have every function that your website has. It will allow users to book a ticket, search for products, etc.
Effective communication channel
Customers are the heart and soul of a travel business and this is true for every industry all across the world. Hence, companies take every major business decision by keeping customers in mind. That' why having an effective communication channel to directly connect with the masses is also considered an important travel agency software. Moreover, having a potent platform to connect with the user can help your agency target new sections of customers. It also plays an important role in enhancing the customers' experience establishing loyalty among the customers. Not only, having an effective communication channel is beneficial, but it is also important since every customer prefers companies with which they can directly talk or have some way to communicate, where they can provide feedback, where there is someone to help them through every hardship they are facing or they might face while booking flight ticket, renting cars, booking hotels, etc.
adivaha® understands that how a good communication channel can skyrocket the profits of a travel agency. We consider every ins and outs and the feasibility of implementation before start working on a project of deploying our tools. We provide the finest communication tools to the travel agencies. Along with traditional channels with also offer advanced products like automated chat-bots, live chat facility, automated replying feature integrating within your platforms, etc.
Conclusion
adivaha® is recognized all over the world as a Solution For travel technology company and it has won many awards. Software designed by our company always aims for maximizing profits and satisfying customers to the fullest. Our online booking engine is highly cost-efficient and it helps tour and travel agencies to function smoothly. It also provides a list of other benefits including quick purchase services, confirmation emails that are being auto-generated and inventory management.
adivaha® offers software like collective travel agency software which helps to sort the choices and connects to multiple travel technologies, hence improves the relationship with other suppliers and form a nice bond with them. Other tools that we offer are an advanced travel agency and tour operators software that reduces running price provides the best travel process for the client and maintains sales, finances, and marketing. They also help to maintain records of reporting, billing, and settlements. On every portal built by us, products of a travel agency are sold on the basis of different pricing values depending upon range, unit, and occupancy. Pictures, videos, maps, and other descriptive features are related to travel packages are also added so that they can help people to choose accordingly. Along with these features, our travel agency systems also provide details about different offers on packages and discounts, payment methods, stay details, and restrictions, if any. And if there's any blackout date, people are notified in advance so that people can book without facing any issue.
Our internet booking system also takes part in the promotion of online travel agencies. It has a unique feature that will provide access to third-party operators in real-time. It uses default templates to manage the journey, vouchers, billing, etc. In today's competitive world where there is the pressure of customers' expectations and agencies like regional players, online travel agencies, and mega agencies, it is important to not only stand with them but outshine them as well. This task is done by the efficiency of our smart software designs which can automate the ticket booking and settlement.
Those who are in search of a cost-effective method to the issues related to their travel agencies or businesses can contact us. Our team of enthusiastic experts will definitely help you.
Our Comprehensive List of Services
adivaha® is a one-stop-shop for all your travel website needs. We offer a multitude of services that empower you to become a market leader. Contact us for more info.
Have Questions?
The Internet is a huge resource, but
if your question requires particular expertise.
Keep Refreshing your customers - Who doesn't want his site to stand out from crowd? adivaha® gives you multiple options for home pages, headers, colors etc. Which can easily be managed from admin via shortcodes and settings. The theme supports almost all the big players in this market ie, WEGO, Travelpayouts, Agoda, Booking, Expedia etc.
Frequently Asked Questions
Below are some of the questions asked by visitors. Do visit our adivaha® Digest for more such questions. Don't hesitate to ask us if you have any questions
I am setting up this plugin for my client's website, I tried registering and received the account activation email, but …

9

views

0

answers

0

votes