Best Travel Themes for Travel Agencies
Find the perfect travel theme for your website and take your website to the next level. Check out these 8 expert-approved travel themes!
8 Professional Third-Party Travel Themes You Should Try Today
Looking for travel portal website excellence? Try these 8 third-party themes now. Create immersive experiences for your audience and boost your bookings.
At Adivaha, we're not just a technology provider; we're your partners in travel success. Let's delve into the possibilities together and uncover how these themes can reshape your travel business's digital landscape. Your journey to excellence starts here, with Adivaha as your compass.
Why are these 8 third-party travel themes considered essential for enhancing your travel business website?
You know how important it is to have a great website for your travel business, right? Well, these 8 themes we're talking about are supercharged tools that can make your website awesome! They're not just about making things look pretty – they actually do a lot more.
Imagine if your custom website could easily help people book their trips or show them cool pictures and videos of places they want to visit. These themes do exactly that. They're like special packages that bring together good looks and smart features to make your website stand out. You might offer adventurous trips or luxurious getaways, or maybe you're all about promoting wellness or cultural experiences. Well, guess what? These themes are designed to match those things perfectly. They make sure your website feels just right for the kind of travel experiences you offer.
But it's not just about the fancy stuff. People use their phones a lot, right? These traveler booking WordPress themes know that too.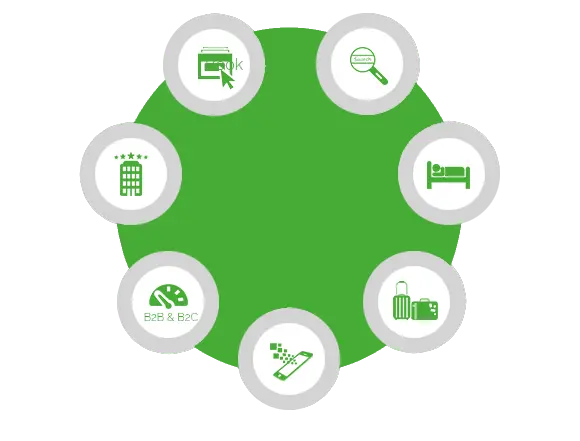 Finding the Perfect Third Party Theme
They make sure your website looks awesome on phones, tablets, and computers, so everyone can easily explore what you have to offer. And guess what? You can even make these themes your own. You know your business has a unique style, right? You can change colors, add your logo, and make everything feel just like you.
So, why should you care about these 8 third-party wordpress travel themes? Because they're like magic tools that can make your website amazing. They help you connect with travelers, show them how awesome your trips are, and make it super easy for them to book with you. At Adivaha, we're excited to show you how these themes can totally transform your travel business website. So, let's team up and make your website shine!
What features make these third-party travel themes stand out as game-changers in the industry?
If you're wondering what makes these third-party travel themes so special, we've got some exciting insights for you. These themes aren't just your average designs; they're game-changers that can revolutionize your wordpress travel website. Here's what sets them apart:
Immersive Visual Experiences: These themes are crafted to tell stories visually. They offer captivating layouts that showcase stunning images and videos of destinations, making visitors feel like they're already there.
Smart Booking Integration: Say goodbye to clunky booking processes. These themes come with advanced booking integrations that make it super easy for travelers to plan and book their trips directly from your travel website development.
Niche-Centric Customization: No matter your travel niche – adventure, luxury, wellness, or something else entirely – these themes are designed to match. They're not one-size-fits-all; they're tailored to suit your unique offerings.
Responsive for Any Device: In today's world, people use all sorts of devices to browse the internet. These themes are responsive, meaning they automatically adjust to look amazing on phones, tablets, laptops – you name it.
User-Friendly Design: The best websites are easy to navigate. These themes prioritize user experience, ensuring that visitors can find what they're looking for quickly and effortlessly.
Elevated Brand Identity: Your travel business to business has a personality, and these themes help you express it. You can customize colors, and fonts, and even add your logo, making sure your website feels like an extension of your brand.
Engagement Boosters: Interactive maps, image galleries, and video sliders – these themes offer engaging elements that keep visitors exploring and discovering more about your travel offerings.
Can these third-party travel themes be customized to reflect the unique brand identity of my business?
Absolutely, customizing these third-party travel themes to match your unique brand identity is one of their standout features. We understand that your travel business has its own personality, style, and values, and it's important for your website to reflect that. These themes are designed with flexibility in mind, allowing you to personalize various elements to create a cohesive and tailored look. You can easily change the color scheme and fonts to match your brand's colors and typography. This ensures that every element on your website aligns with your visual identity. Your logo is a crucial part of your brand. These themes allow you to seamlessly integrate your logo into the travel website designing, reinforcing brand recognition. Whether it's images, text, or multimedia, these themes allow you to upload content that resonates with your brand's messaging and values.
Many of these themes come with customizable widgets and modules. You can add functionalities that are unique to your business and enhance user experience. You can often choose from different layout options that suit your brand's aesthetic and how you want your content to be displayed. The header and footer of your best travel website are prime real estate for branding. These themes usually offer customization options for these sections. From the homepage to the contact page, these themes often provide various page templates that can be tailored to showcase your brand's offerings in the best possible way.
How do these themes cater to various travel niches and help businesses connect with their target audiences?
These themes have been meticulously designed to cater to various travel software niches, making them effective tools for businesses to connect with their target audiences in meaningful ways. For businesses specializing in adventure travel, these themes offer dynamic layouts and interactive elements that capture the excitement of thrilling journeys. From showcasing adrenaline-pumping activities to highlighting off-the-beaten-path destinations, these themes resonate with adventure seekers. Themes tailored for luxury travel exude elegance and sophistication. They emphasize high-end experiences, showcasing lavish accommodations, exclusive destinations, and personalized services that appeal to discerning travelers seeking opulent getaways.
Wellness-themed themes focus on tranquility and self-care. They highlight wellness activities, spa treatments, and serene settings, creating an inviting atmosphere for travelers seeking relaxation and rejuvenation. For businesses promoting cultural experiences, these themes emphasize local traditions, heritage sites, and immersive cultural activities. They engage travelers with captivating storytelling, showcasing the rich history and authenticity of destinations. Themes centered around eco-friendly travel emphasize sustainability and responsible tourism. They highlight eco-conscious accommodations, green initiatives, and nature-based activities, attracting environmentally-conscious travelers. Themes designed for group travel showcase multi-traveler experiences, group accommodations, and team-building activities. They resonate with businesses arranging group trips and corporate travel portal.
Consider Your Branding and Design Preferences.
Selecting a travel theme with the right design and business branding is just as important as choosing a theme with good SEO optimization. You should choose a theme that reflects the personality of your business and matches your brand narrative. Consider the color palette, fonts, and typographies of your themes to ensure that it portrays the exact image and vibe you are looking for. Also, take into account user engagement elements such as embedded videos, maps, slideshows, sliders, etc. to create a more interactive experience.