Best Travel Themes for Travel Agencies
Find the perfect travel theme for your website and take your website to the next level. Check out these 8 expert-approved travel themes!
8 Professional Third Party Travel Themes You Should Try Today
Starting a travel agency business is both exciting and daunting, and finding the perfect theme to showcase your offerings can be difficult. Fortunately, there are third-party themes specifically designed for travel agencies that fit all sorts of varying businesses. Learn about what you should look for in a theme, and explore some of the best ones available.
If you run a travel agency, it's important to choose the best theme for your website that will attract customers and provide a great user experience. From beach-inspired designs to rustic themes and modern color schemes, there are many options available to help make your travel website stand out. Explore these ideas and find the perfect theme for your travel business.
Select the best theme for your travel agency website.
Choosing the best theme for your travel agency website is essential to create an attractive and user-friendly site. A great theme should be visually appealing, technically proficient and offer useful features such as search, booking options and easy to use customization options. An optimized theme should also enable you to add plugins, tracking codes, social media integration and other tools to promote your business online. When selecting the ideal theme, consider factors such as responsive designs, support options, scalability and customization options.
Integrating adivaha® Travel Booking Plugin in any third-party travel theme
It's very easy to build a travel website with travel booking engine using Adivaha's plugins. Our cross-platform plugin is compatible with any popular software like WordPress, HTML, Laravel, Joomla and Magento, as well as custom PHP templates. All you have to do is place two simple shortcodes on your website template and you'll instantly have end-to-end online bookings feature for your site! You can always take help of our experts to integrate the travel booking feature in your preferred travel template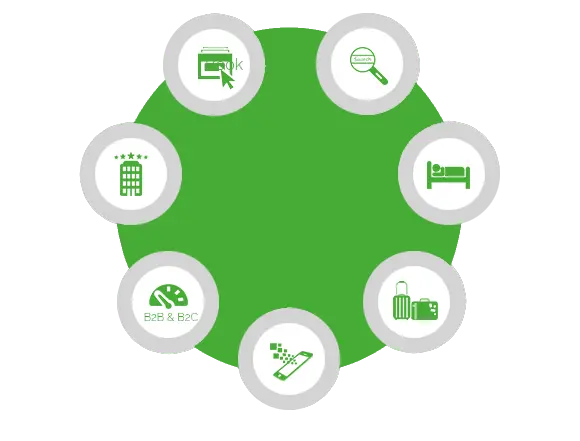 Finding the Perfect Third Party Theme
Focus on Responsive Design and Mobile Compatibility.
Before settling on your website theme, make sure that it is responsive and mobile-friendly. With more travelers browsing the internet on their phones and tablets, having a website with optimized designs for these devices is crucial to ensure a pleasant user experience. Responsive designs allow the elements of your website to automatically adjust according to the screen size of different devices, making sure that websites look their best no matter which device they are viewed on.
Its SEO Optimization Options.
SEO optimization is one of the most important aspects when selecting the right theme for your travel agency website. It is essential that you choose a theme with SEO optimization options such as meta tags, optimized URLs and search engine friendly code. This will ensure that your website is properly indexed by search engines and can be easily found online by potential customers looking for a travel agency. Finally, make sure the theme has a good design and layout that will help to create an engaging user experience.
Consider Your Branding and Design Preferences.
Selecting a travel theme with the right design and branding is just as important as choosing a theme with good SEO optimization. You should choose a theme that reflects the personality of your business and matches your brand narrative. Consider the color palette, fonts, and typographies of your themes to ensure that it portrays the exact image and vibe you are looking for. Also, take into account user engagement elements such as embedded videos, maps, slideshows, sliders, etc. to create a more interactive experience.