Build your own Travel Brand!
Ready to go-LIVE travel solutions that helps your travel agency to sell a range of travel services pretty instantly. adivaha® travel solutions make sure you have no boundation over your imagination, you can do everything online, without the need for any technical knowledge or design skills. Easy Backoffice, extensive reporting with integrated Funds Management System. Upload funds easily and instantly through Netbanking, Debit Card, Credit Card. The best part is, we do offer customizations in case you believe it will boost your business!
Free Hotel Search API
Hotels and apartments gets a lot of popularity in the past few decades because of the increasing trend of peoples towards travel and tourism. Hotels have their own importance in today's world as there are a lot of people traveling from one place to another, from one country to another for business, and for spending their vacations or in order to meet their loved ones or also for getting higher education.
According to recent estimates, millions of hotels booking is made and that the reason that is why hotels are benefitting the world's economy very much. There is a handsome amount of profit that hotels owners earn, and that's the idea that it becomes the first choice of investors to invest in hotels and tourism. Most of the countries have their total income gained from these hotels and tourists. Because of the increasing trend of hotel bookings and tourism, every hotel and tourism agency is looking to build online portals for hotel bookings and tour planning's. This is the 21st century, and the world is evolving at such a rapid pace that every business person has to change its practicalities and values according to changing culture and environment. Because of the advancement of technology and social media, peoples are also looking for online hotel reservations systems and also looking to pay their debts online. For this purpose, every business owner is looking for technology companies to build software for their hotels and booking system. Now software companies are also changing their trend and seek to provide quality and up to date software to their respected costumers to grow their business. Software companies use free hotel search API to provide ease as these APIs provide multifunctional software to the hotels, which not only offers combined manifesto but also offers you online payment services. Yes, you are reading right, now you can book hotel rooms just by clicking on the hotel software and also can pay the debt of the hotel rooms through this hotel website. These all things are possible only because of the hotel search API through which you can search hotels in your destined locations and many more. Here we bring some of the best hotel APIs which are as follows: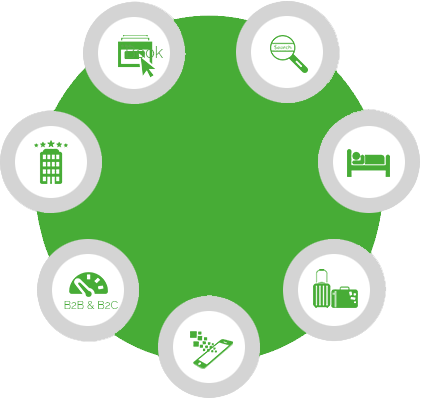 Free Hotel
Search API
Air bnb API
Here we bring for you one of the best and mostly used API not only for hotel rooms booking, but it also lets peoples rent out their properties or apartments for a short or long time. This API allows the user to securely login to the Air bnb account, and as a result, they can search for the rates and also able to push content. One of the important things here for you is that this API is not only easy to use as there is no public documentation available for this API; however, it provides technical instructions on how to integrate Airbnb API is offered only to some specific partners.
Trip advisor API
Another interesting API that developers can use is the travel advisor API. Yes, it is also one of the famous and exciting API, which is already serving in thousands of working software and providing ease to the end costumers. You will be amazed to know it is the world's largest travel advisory having 700 million-plus reviews and opinions. This API is a single purpose API having restful architecture. One of the other important things here for you is that this API is not much easy for use as the API is not publically available and only limited to its licensed partners. As mentioned above, it is a free hotel search API.
Hotel beds API
Another amazing Hotel search Engine here for you is the hotel beds API. This API is amazing as it gives some shocking figures to its developers. Yes, you are reading right as this API will provide you with 175000 hotels and more than 10000 activities. Moreover, it allows that kind of integration in which users can be able to find some specific places around the world or one can select the location where they are gone and find hotels to that particular place. Hotel beds API also published its in-depth integration and documentation so that it will be easy for the developers to use this API in the travel agency software.
Zilyo API
Zilyo is considered to be one of the best Hotel's search API as this API provides you many multifunctional processes that will make the travel software more comfortable to use and integrate. Zilyo is an API that offers users access to over 2,500,000 Vacation Rental as well as Short term rentals listings all over the world with amazingly over 200,000 destinations points. Its API provides users to integrate directly and search for hotels and rentals and book hotel rooms directly. This API is also a single purpose AI with restful architecture. If we talk about ease of use, then zilyo is amazingly beneficial as it provides all of the necessary information required in the integration and also providing documentation and also providing sample codes with examples.
Hotwire API
Hotwire is one of the best user-friendly free hotel search API. Through hotwire, API one can book high-class hotels at amazingly low prices. This API was connecting with multiple service providers that the reason that it provides cheap services. Hotwire API allows the user access to the search engine that, in result, offers excellent prices and deals. This is the only one API among all of the above that uses an API key authentication model and a single-purpose API. Moreover, it also supports the XML response format and URI query. Hotwire API is considered to be a fast-growing community with amazingly lots of developers looking to integrate with this user-friendly platform. Hotwire API is also well documented, just like all other APIs.
These are all the best free hotel search solution developers can use while creating software for the travel agencies and hotels as it can find the ease of searching for hotels in nearby locations. So what are you waiting for if you are also looking to develop software then use one of these API as we are telling you mostly used and originated APIs.
Our Comprehensive List of Services
adivaha® is a one-stop-shop for all your travel website needs. We offer a multitude of services that empower you to become a market leader. Contact us for more info.
Have Questions?
The Internet is a huge resource, but
if your question requires particular expertise.
Keep Refreshing your customers - Who doesn't want his site to stand out from crowd? adivaha® gives you multiple options for home pages, headers, colors etc. Which can easily be managed from admin via shortcodes and settings. The theme supports almost all the big players in this market ie, WEGO, Travelpayouts, Agoda, Booking, Expedia etc.
Frequently Asked Questions
Below are some of the questions asked by visitors. Do visit our adivaha® Digest for more such questions. Don't hesitate to ask us if you have any questions
I am setting up this plugin for my client's website, I tried registering and received the account activation email, but …

9

views

0

answers

0

votes