Build your own Travel Brand!
Ready to go-LIVE travel solutions that helps your travel agency to sell a range of travel services pretty instantly. adivaha® travel solutions make sure you have no boundation over your imagination, you can do everything online, without the need for any technical knowledge or design skills. Easy Backoffice, extensive reporting with integrated Funds Management System. Upload funds easily and instantly through Netbanking, Debit Card, Credit Card. The best part is, we do offer customizations in case you believe it will boost your business!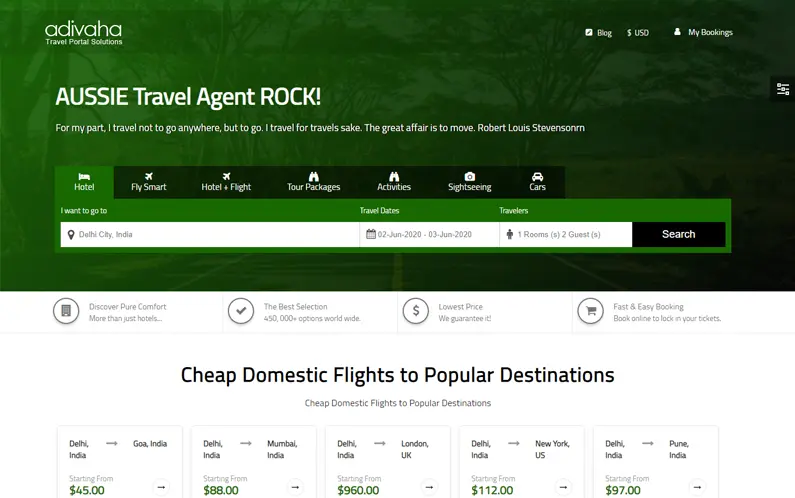 Free Travel APIs
API is generally called to be as application programming interface which acts as an intermediate between multiple software. Moreover, APIs also travel words as an extension as it usually provides an extension mechanism so that one can extend some of the existing functionalities.
APIS has widely used in the development of software as well as in customizing the software. Similarly when we start travelling, then everybody has fond of travelling and wants to travel whole of his life around the world. In the past few decades, the fond of travelling increasing day by day and you will be shocked to know that there are millions of peoples from all over the world travel around the globe. You can get the idea of its importance from the fact that many countries in this world have their 90% of income from the travels and tours. These things not only increase the use of free travel APIs but also proves to be an easy way to manage software of travelling. Now by reading all these facts, you must be aware of how much travelling gains essential in the past few decades and how much it is necessary to get new advancements in this field of life. There are thousands of travel agencies working and helping travelers and have tours guiders that guide people about travel expenses as well as about the countries which are more attractive for travelers. By knowing all the facts that how these travel agencies need to online their business as everybody has smartphones these days and want to get information about travels and tours as fast as he can by just sitting at home. If you are also running a travel agency and want to grow to your business to the international market, then don't worry anymore we are here to help by bringing travel APIs for you. Some of the travel APIs are as follows: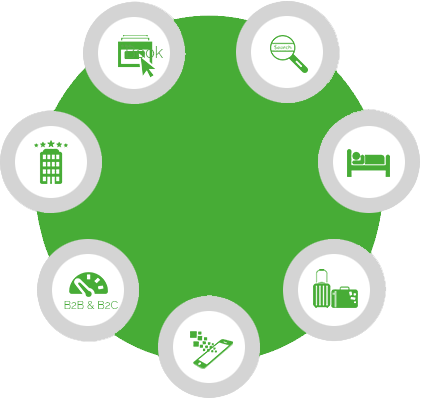 Free Travel
APIs
What is Travel API and its working?
Everybody here wants to know that what travel API is? And how it works. Don't worry anymore as we bring here a complete view of free travel APIs. Yes, you are reading, travel API is a tool working as a messenger between two partners. Travel API is a software development tool that helps the developers to work rapidly and reasonably. Every travel agency wants to grow their business online and want access all over the world as the field of the internet provides a wide range of costumes. Because of this reason, travel agencies go for the software development company and this the point where travel Integration's work. APIs working as a linking software as in travel agency you not only need just a single component as you have to provide multiple elements at a unique software.
Travel API integration Working
To understand the working of the travel API integration, one must have a clear example in front of them. Here let's start talking about some travel agency who needs some software to online its business. That company must go to some software development company which start developing software according to the lack of the company. Now a travel agency needs hotel booking services as well as flight booking and also car booking services at one single software. Here is the place where a software developer starts using API. Yes as I said earlier API is working as a stand between two or more components. It will begin to the connection between the flight booking system and also car booking services as both of these services provided by two different companies. APIs deliver the message of a person from that specific software to the car and flight booking systems. This is the precise working of API integration working. Here another important thing for you is that some suppliers provide hotel search API, which in return allows using their services directly. If there is an integrated API of a payment gateway, then it gives ease to the travelers as travelers can make secure payments by only using their credit card as well as a debit card and e-wallet.
Benefits of Free Travel APIs
Here we bring some of the benefits of the travel APIs that attracts you towards using APIs in your software. The whole system of software developed for travel is based on APIs as it acts as an intermediary between several components. Some of the benefits of free APIs are as follows:
Travel APIs allows software adding markups for end-customers which is indeed a benefit of using APIs. As if you are using software without APIs then believe me you are not getting benefit for your end costumers which gives your company not only excellent customer response but increase your rating level.
Another essential advantage of using travel solution is that it will charge users directly. Now because of APIs, there is no need to go to the travel agencies to pay as API provides you with a mechanism to pay through your bank or e-wallets just through the travel agency software.
One of the essential benefits of using travel APIs is that it focuses more on the core tasks of travel as before the use of APIs there is the whole focus of a software development company was on the content maintenance. Still, now APIs benefitted you in this term also.
Fligh travel APIs not only help you in terms of ease and support; it will also reduce the cost of overhead travel agencies cost. Yes, you are reading right it will provide cost less experience of travelling which all becomes possible due to travel APIs.

Travel Booking APIs provide a whole working mechanism to you because of which not only booking APIs become better to understand and also becomes more comfortable to use not only by third-parties nut also but also for customers. This is the main reason behind the fact that more and more partners start working directly with brands. It is a way that eventually reduces the need for traditional tracking methods that usually done through affiliate networks as well as through tracking providers. These are all the facts and benefits of using travel APIs in the software developed for travel.
Our Comprehensive List of Services
adivaha® is a one-stop-shop for all your travel website needs. We offer a multitude of services that empower you to become a market leader. Contact us for more info.
Have Questions?
The Internet is a huge resource, but
if your question requires particular expertise.
Keep Refreshing your customers - Who doesn't want his site to stand out from crowd? adivaha® gives you multiple options for home pages, headers, colors etc. Which can easily be managed from admin via shortcodes and settings. The theme supports almost all the big players in this market ie, WEGO, Travelpayouts, Agoda, Booking, Expedia etc.
Contact
Have something unique in mind? Drop a message.
Estimated reply time: 3-5 Working Days