Build your own Travel Brand!
Ready to go-LIVE travel solutions that helps your travel agency to sell a range of travel services pretty instantly. adivaha® travel solutions make sure you have no boundation over your imagination, you can do everything online, without the need for any technical knowledge or design skills. Easy Backoffice, extensive reporting with integrated Funds Management System. Upload funds easily and instantly through Netbanking, Debit Card, Credit Card. The best part is, we do offer customizations in case you believe it will boost your business!
Free API For Air Ticket Booking
Traveling trend is increasing day by day, and there are millions of travelers traveling from one place to another.
There are a lot of purposes of traveling, which includes business meeting as well as vacations spending and to meet relatives. There are millions of people's book tickets to travel and reach their destinations. In the past few decades, the trend of traveling has been increasing in such a vast way that the airline industry's income becomes an accessible business, and many of the big investors start investing in this industry. Because of the increasing trend towards traveling and also towards the online booking, all of the airline companies are looking to provide a fair and user-friendly mechanism to their customers to get more and more audience. There are thousands of airline companies, and there is a race in between them to get better user attention, and for this purpose, they are looking to online their business. This is the reason why every industry is looking to online their activities because of the vast amount of audiences on social networking sites. This is the technology world, and the world is entered in the technology era, and everybody has a smartphone in their hands and wants to get every facility at their fingertips. By keeping in mind all these things, travel agencies intend to provide a fully functional website to their costumers so that they can book air tickets online just by sitting at home. Moreover, amazingly you can also pay the debts of the tickets only by sitting at your home. This is all done because of the APIs that help developers in order to gather multiple functionalities at a single place. Finding the best flight for your trip is a headache, and everybody wants a precise searching regarding the right flights. Here is the place where APIs show their magic by giving the details of more than 500 plus perfect flights for your tour with the location providing facility. Here we bring step by step process of booking a flight using free API for air ticket booking that proves helpful for you if you are looking for some multifunctional websites which are as follows: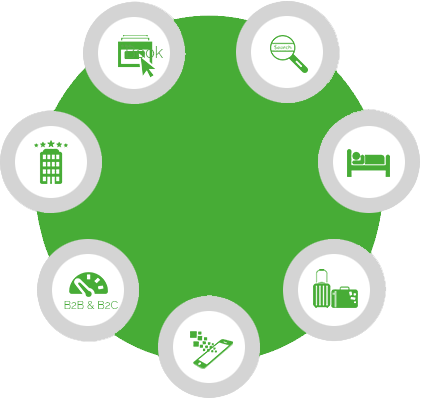 Free API For Air Ticket Booking
Flight Booking Process
If you are looking to add flight booking service in your website, then it's a good step that you are taken as it will engage your audience. No matter if you are looking to build a new website or to add new functionalities in your older it will prove to be a booster for your business as it will affect the end-users behavior towards your website. Here, we are bringing the complete role of API's for air ticket booking and the complete flight booking process, which are as follows:
Searching For Flights
The first thing while you have to do when you are going to book tickets you must have to search for flights. API for air ticket booking provides the facility of searching for flights from the list of flights. You can use flight offers search API in order to explore the cheapest and best flights for your desired tour. It not only shows you the list of flight as well you show you its fares as well as the baggage quantity that is being offered by each flight and also additional price for additional baggage.
Confirm Availability and Fare
Free API for air ticket booking also offers you the exact prices of the tickets as you are going to book. It is an essential thing for every travel agency and even for the customers as ticketing prices fluctuate every minute and every day. But you don't have to worry anymore as flight offers price API. It works efficiently in the time you are going to check, and then you finally decided to book the ticket. It will show you the current time and the fare of the ticket. Moreover, you can also add additional bags and legroom by using APIs for air ticket booking.
Make a Booking
As you confirmed the fare of the tickets, the next step is to confirm the ticket that is being done using free API for airline ticket booking. In this stage, there is a creation of a passenger name record. It is a unique history that is being made according to the customer providing details on the airline reservation system. This is all done because of the API used in the software products that facilitates the air ticket booking staff and the end costumers.
Complete Payment
In this step of ticket booking, there is the role of the API Integration for air ticket booking system arrives as here the connection between the software and the banks is established because of the API used in this process. API develops a direct connection with your bank, as there is no redirection using APIs. Once the booking is done the next step is the payment handling, and here a gateway of online payment for you. So what are you waiting for? Can you also get this benefit by just pay sitting at your home through your bank or e-wallet?
Issuance of Ticket
The final step in the air ticket booking using free API for air ticket booking is the issuance of the ticket. Yes now be ready to get your ticket after following above mentioned simple steps. After securely paying for the ticket through your bank, it's time to get your ticket that you can quickly get in the form of a file that you can print out from the printers. Here an important thing for you is that most of the airlines issued tickets through their specialized licensed agents while some are also providing at your doorstep.
These are all the steps that are generally followed by every passenger. Following these steps is much more comfortable while you are comparing it with traditional air ticket booking methodologies. These all things re happened because of free API for Flight reservation booking, which eases the whole of the ticket booking system, and you can get your ticket quickly.
Our Comprehensive List of Services
adivaha® is a one-stop-shop for all your travel website needs. We offer a multitude of services that empower you to become a market leader. Contact us for more info.
Have Questions?
The Internet is a huge resource, but
if your question requires particular expertise.
Keep Refreshing your customers - Who doesn't want his site to stand out from crowd? adivaha® gives you multiple options for home pages, headers, colors etc. Which can easily be managed from admin via shortcodes and settings. The theme supports almost all the big players in this market ie, WEGO, Travelpayouts, Agoda, Booking, Expedia etc.
Frequently Asked Questions
Below are some of the questions asked by visitors. Do visit our adivaha® Digest for more such questions. Don't hesitate to ask us if you have any questions
Hello team, can you tell me if I can connect several APIs in one platform or website?

32

views

1

answers

0

votes