Build your own Travel Brand!
Ready to go-LIVE travel solutions that helps your travel agency to sell a range of travel services pretty instantly. adivaha® travel solutions make sure you have no boundation over your imagination, you can do everything online, without the need for any technical knowledge or design skills. Easy Backoffice, extensive reporting with integrated Funds Management System. Upload funds easily and instantly through Netbanking, Debit Card, Credit Card. The best part is, we do offer customizations in case you believe it will boost your business!
Best Free Multiple Hotel Booking WordPress Themes
Hotel booking WordPress themes are pre-designed templates specifically created for building websites related to hotels, resorts, vacation rentals, and other accommodation businesses. These themes come with features and functionalities tailored to the needs of the hospitality industry, particularly facilitating the online booking system process for guests. Choosing the best free multiple hotels booking WordPress themes can offer several advantages.
Cost-effective
One of the main advantages of choosing the best free multiple hotel booking system WordPress themes is their cost-effectiveness. Free themes are available at no cost, which means you don't have to allocate a budget specifically for purchasing a theme. This can be particularly beneficial for small hotels or businesses with limited financial resources. Building a website from scratch or hiring a web developer to create a custom theme can be expensive. By opting for a free theme, you can save on travel portal development costs since the theme is already built and ready to use. Free themes generally have a large user base, which means the community can help identify and resolve any bugs or issues. Additionally, theme developers often release updates to address security vulnerabilities and improve functionality. By using a free theme, you can benefit from these updates without any additional cost. Free themes often come with essential features and functionalities required for a hotel booking website, such as room listings, booking forms, availability calendars, and payment gateways. While premium themes may offer more advanced features, free themes can still serve the purpose for many small to medium-sized hotels. By saving money on the theme, you can allocate your resources to other important areas of your hotel's operations, such as marketing, customer service, or improving the overall guest experience. This flexibility allows you to invest in areas that directly impact your hotel's success and growth.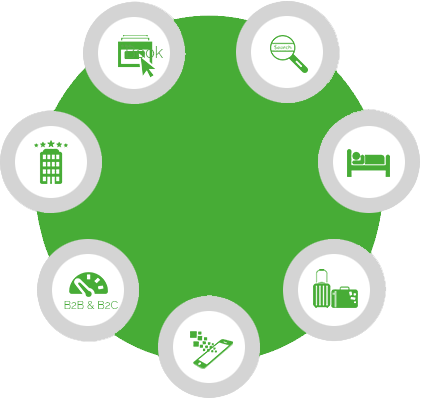 Multiple Hotel booking Wordpress Theme Free
Multiple booking functionality
One of the key reasons to choose the best free multiple hotels booking WordPress travel themes is their built-in multiple booking functionality. Multiple booking functionality allows your guests to make reservations for multiple hotels directly through your website. This streamlines the booking process by eliminating the need for users to visit individual hotel websites or booking platforms separately. It provides a convenient and efficient experience for your guests. By offering multiple hotel bookings, you expand the options available to your guests. This can attract a wider range of travelers who are looking to book accommodations for multiple destinations or different parts of their trip. By catering to their needs, you have the opportunity to increase your bookings and revenue. Free Multiple hotels booking themes usually provide intuitive booking engines, availability calendars, and room management features. These tools allow your guests to easily search for available rooms, select multiple hotels, and complete their bookings in a seamless and user-friendly manner. A positive user experience can lead to higher customer satisfaction and increased loyalty. With multiple booking functionality, you can manage reservations for different hotels from a centralized admin panel. This makes it easier to keep track of bookings, availability, and customer details across all your properties. It simplifies your management processes and helps you stay organized. Free Multiple hotels booking themes are often compatible with popular booking hotel plugins WordPress. These plugins can further extend the functionality of your website by providing additional features such as advanced booking options, payment gateways, pricing rules, and reporting capabilities. You can customize and enhance your booking system according to your specific requirements. Offering multiple hotel bookings through your website sets you apart from competitors who may not have this functionality. It positions your hotel as a one-stop solution for travelers looking to book accommodations across multiple destinations. This can give you a competitive advantage in the market and attract more guests to choose your hotel.
Customizability
Customizability is an important aspect to consider when choosing the best free multiple hotels booking WordPress themes. Free themes often come with customization options that allow you to align your website with your hotel's branding and visual identity. You can customize colors, fonts, logo placement, and other visual elements to create a cohesive and consistent online presence that reflects your hotel's unique style and personality. While free themes are widely used, you can still customize them to achieve a unique look and feel for your travel portal website. By modifying the layout, adding custom graphics or images, and adjusting the design elements, you can differentiate your hotel from others using the same theme. Customizing a theme allows you to tailor the user experience to meet the specific needs of your guests. You can arrange content and navigation in a way that maximizes usability, ensuring that visitors can easily find the information they need and navigate through the booking process effortlessly. Free themes often come with responsive design, but customization options enable you to fine-tune the responsiveness of your website. You can ensure that your site looks and functions well across various devices and screen sizes, providing a seamless experience for users accessing your website from different devices. Customization options in free themes allow you to integrate additional plugins and extensions to enhance the functionality of your website. You can add features like social media integration, review systems, language translation, or other relevant plugins that enhance the user experience and extend the capabilities of your white label travel website. As your hotel business grows, you may need to add new features or update your website to accommodate changing needs. Customizable free themes provide flexibility for future scalability. You can easily modify and expand your website's design and functionality as your hotel evolves, without having to start from scratch.
Responsive design
Responsive design is a crucial factor to consider when choosing the best free multiple hotel booking WordPress themes. With the increasing use of smartphones and tablets, more and more people are accessing the internet and making bookings through mobile devices. A responsive design ensures that your hotel booking website looks and functions optimally across different screen sizes and devices, providing a seamless user experience for mobile users. A responsive design adapts the layout and content of your website to fit the screen size of the device being used. This means that users don't have to zoom in, zoom out, or scroll horizontally to view the content properly. A positive user experience leads to higher engagement, longer website visits, and increased chances of bookings. Responsive design is favored by search engines like Google. Having a mobile-friendly website improves your chances of ranking higher in search engine results pages, as search engines prioritize websites that offer a good user experience on mobile devices. A higher search engine ranking can drive more organic traffic to your hotel website and boost your online visibility. With responsive design, your website maintains a consistent look and feel across all devices. This helps to reinforce your hotel's branding and identity, regardless of whether users are accessing your website on a desktop computer, laptop, tablet, or smartphone. Consistency in branding builds trust and recognition among your target audience. Responsive design takes into account the limitations of mobile devices, such as smaller screens and touch-based navigation. It optimizes the layout, fonts, buttons, and interactive elements to ensure that users can easily navigate and interact with your website on any device. This improves usability and reduces friction during the booking process. Investing in a responsive design ensures that your website is prepared for future technological advancements and changes in user behavior. As new devices and screen sizes emerge, your booking website wordpress will be able to adapt and provide an optimal user experience without requiring significant modifications or redevelopment.
Community support and updates
Community support and regular updates are crucial considerations when choosing the best free multiple hotel booking WordPress themes. Free themes with an active community support system offer a valuable resource for troubleshooting and getting assistance with any issues or questions you may have regarding the theme. The community often includes experienced users, developers, and theme enthusiasts who can provide guidance and solutions to problems you encounter. Communities associated with popular free themes foster knowledge sharing among users. You can benefit from the collective expertise and experiences of others who have used the same theme. This can include tips, tutorials, code snippets, and best practices that help you make the most of the theme's features and customize it to your needs. Free themes that receive regular updates address bugs, glitches, and security vulnerabilities that may be discovered over time. The developers, along with community feedback, work to resolve these issues and release updates to ensure that your website remains secure and functional. Keeping your theme up to date with the latest version helps protect your website and data. WordPress frequently releases updates to its core travel technology software. Themes that receive regular updates are more likely to remain compatible with the latest WordPress versions. This ensures that your website functions smoothly and takes advantage of new features and improvements introduced by WordPress. Free themes with active community support may receive feature enhancements and improvements over time. Based on user feedback and requests, developers may introduce new functionalities, improve existing features, or provide additional customization options. These updates allow you to enhance your website and adapt to evolving industry trends and user needs. Choosing a free theme with an active community and regular updates indicates that the theme is likely to be supported and maintained in the long term. It reduces the risk of the theme becoming outdated or incompatible with future versions of WordPress travel Plugin. Opting for a theme with a strong community and consistent updates ensures its long-term sustainability and reliability.
Our Comprehensive List of Services
adivaha® is a one-stop-shop for all your travel website needs. We offer a multitude of services that empower you to become a market leader. Contact us for more info.
Have Questions?
The Internet is a huge resource, but
if your question requires particular expertise.
Keep Refreshing your customers - Who doesn't want his site to stand out from crowd? adivaha® gives you multiple options for home pages, headers, colors etc. Which can easily be managed from admin via shortcodes and settings. The theme supports almost all the big players in this market ie, WEGO, Travelpayouts, Agoda, Booking, Expedia etc.
Frequently Asked Questions
Below are some of the questions asked by visitors. Do visit our adivaha® Digest for more such questions. Don't hesitate to ask us if you have any questions
Hello team, can you tell me if I can connect several APIs in one platform or website?

20

views

1

answers

0

votes