Build your own Travel Brand!
Ready to go-LIVE travel solutions that helps your travel agency to sell a range of travel services pretty instantly. adivaha® travel solutions make sure you have no boundation over your imagination, you can do everything online, without the need for any technical knowledge or design skills. Easy Backoffice, extensive reporting with integrated Funds Management System. Upload funds easily and instantly through Netbanking, Debit Card, Credit Card. The best part is, we do offer customizations in case you believe it will boost your business!
The Best Vacation Packages API Providers & Tour Booking Software
adivaha® a one-stop Travel Portal Solution is rising as one of the top vacation packages API providers by integrating the digital travel industry all around the world through its booking engine software.
Grow your travel website designing business by connecting your business with the world`s leading travel API provider. Adivaha`s tour booking software allows travelers to reserve hotels, buy tickets, and rent cars directly from your website by integrating your business with our travel API solutions. Our Advance tour booking software for tour agencies helps you manage all your travel business through a single website. Create vacation packages, book hotels, manage customers, make transactions, and grow your sales by improving your tour business with our worldwide vacation packages API and online tour booking engine software.
adivaha® being a vacation packages API provider allows people to manage all of their journey necessities, scrolling flights, buying tickets, booking hotels & restaurants, and so on by just through a single website. Travelers and tourists used to spend tons of hours to fulfil all their journey needs. Comparing multiples vacation packages, selecting the right hotel, checking flights & availability time on various online travel websites took hours to select or make the right tour plan matching their desires and budget. Adivaha`s online tour booking software has made the life of travelers easy by making their journey planning super easy and cool. Our advance tour booking engine software connects your website with the travel website development company industry including transport booking, accommodation reserving, and advertising vacation packages that allow your travelers to manage all their needs through your single site.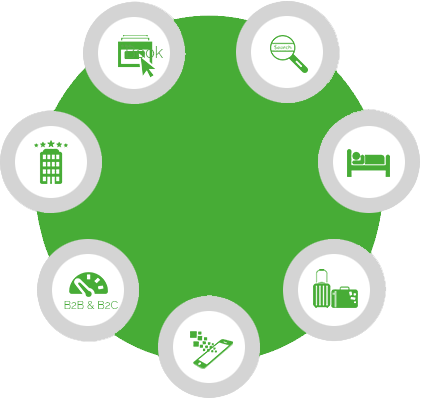 Vacation Packages API Providers & Tour Booking Software
adivaha® Company not only provides vacation packages API service but also offers travel agency software, tour booking software, online travel website development, travel portal solutions, Amadeus GDS System Integration, travel app development, vacation packages search engine software and travel portal development for the travel agencies and tour business companies all across the world. We offer a totally customized vacation packages software as per our clients` requirements to ensure the best travel system development. Our vacation packages API system a offers highly optimized and well-organized tour booking system for online travel websites. adivaha® vacation packages API provides real-time detailed information about the available hostels, open restaurants, and upcoming flights to our users. We believe in freedom of choice and consider our clients` requirements as the very first priority. Multiple other features like booking cars, buying tickets, and offering special vacation packages can also be provided by our tour booking software. You can connect & synchronize with hotel search engines, flight-booking systems, car rental l agencies, restaurants reservation system by using our vacation packages API and can display dynamic tour packages on your travel website. Travelers can easily go through multiple vacation packages and can have a quick overview of the available travel services. People can simply buy flight tickets, book hotel rooms, or rent a car from a single travel website. Our tour booking software can also work and serve both B2C (business to customer) and B2B (business to business) transactions at the same time.
People love to make all their tour reservations and cruises plainings through a single website. According to the study and stats of fueltravel.com and TripAdvisor, back in 2017 people used to visit 5 to 16 websites on average to find the best tour plan for their trip. Now the vacation packages API providers have reshaped and revolutionized the travel industry. These days, travelers book accommodations and buy flight tickets without spending even a couple of hours. travel website templates industry contributors; restaurant companies, hotel agencies, and car rental businesses are connected with each other by using travel APIs. Travel companies are openly sharing data with each other and tour booking software is managing this vast amount of data, making it easy to monitor and display information & vacation packages in a stunning view. Vacation's API providers have synchronized the digital tourism industry and tour booking software has reformed the travelers their experience by simplifying the tour booking system and choosing the right travel package matching their budget. At present, tourist can easily manage all their journey need through a single travel website and can certainly commute from one landmark to others.
How Travel APIs Works:
API (Application Programming Interface) a networking software that allows the travel companies to share streams of data and several utilities by using programs like tour booking software. Travel and tour booking APIs for online travel and tourism agencies are serving as a network connectivity. Vacation packages APIs helps the developers as a control desk or dashboard to link different programs and software without bothering with the source code management. Travel APIs are basically a network of programs and web series accessing travel details and information from different travel agencies. Tour operators use APIs like GDS APIs and other third-party APIs to collect information about online travel deals. The travel industry can use tour booking software to integrate their business with other travel agencies of diverse niches. Online travel agencies (OTAs) like hotel business companies and accommodations businesses can use vacation packages integration via api to link their hotel search engine with the car rental system of other agencies to offer your customer car rental service directly from your website. Similarly, a flight traveler might be interested in booking a room in a hotel to spend his time. Thus, flight booking travel businesses can link their website`s flight booking system with hotels and restaurant reservation systems to offer a hotel booking service to their clients. It saves your clients` time and effort on going to other sites to avail of these services. They can easily avail of these travel services directly from your travel site, resulting in increasing your relationship with your client. Ultimately, adivaha® vacation packages API provider offers you to grow your travel business by integrating your website with the digital travel world.
adivaha® vacation packages API engine is a complete online web-based tour booking software. A fully customized web-based vacation packages software that helps tour agencies to provide their services in a well-organized manner. Create your own customized vacation packages and offers quickly and easily. adivaha® offers a variety of custom vacation rental software packages starting from booking flights, buying tickets, reserving hotels, and sightseeing plans. Travel agencies and tour companies can provide multiple vacation packages on a single screen by using our tour booking software. The customers can easily search and compare these packages as per their requirements and can simply choose the one that suits them best. Our vacation packages API service allows your customers directly view available vacation packages and hotels in real-time. adivaha® tour booking software makes it easy for your customer to connect with your platform. A user-friendly and simple interface of our tour booking software makes travelers` journey planning super easy and fulfills your clients` needs. adivaha® vacation packages API provider helps you customizing your travel website by allowing you programmatic access to the technical features and functions of tour booking software. We offer both B2B (business to business) and B2C (business to customer) to the travel agencies to easily manage the seals and inventory.
adivaha® tour booking software works with GDS (Global Distribution System) APIs from top companies like Amadeus. The global distribution system (GDS) is the main data source of online travel information over the internet. Travel companies use GDI APIs for accessing travel details and information. Vacation packages API providers use GDS to collect information from various tour operators all around the world. GDS acts as the main reservation point of contact for not only local online tour operators but also for worldwide tourism business companies. GDS consolidates entire the collected data from all the travel service providers in real-time, allowing the local travel agencies to book flights, reserve hotels, rent a car and so on. Our tour booking software use GDS APIs to integrate your website with this global reservation system, enabling online booking and reservation support into your OTA booking engines. With our GDS & vacation packages APIs developers can offer real-time information about the availability of hotels, flight schedules, booking rates, and much more on the websites. adivaha® provides an OTA-branded tour booking software and engine that are allows travelers to easily connect with the online travel agencies (OTAs) through the website. The travelers can manage all their itineraries` needs in just a few clicks through your single website, rather than going to multiple sites and dealing with flight booking, hotels, and transport separately. adivaha® is leading as one of the best vacation packages API provider and travel portal solutions. adivaha® uses Amadeus GDS system APIs to provide its clients border coverage by allowing access to flight booking systems, hotel reservation systems, car rental agencies, cruises lines, and railways systems. adivaha® vacation packages flight ticket booking api integration provides in depth data about the flight time scheduling, pricings, location description, accommodations availability, cruises, hotel reviews, etc. Our tour booking software allows the user to share their views about their journey, accommodation, and hotels by providing a feedback service. adivaha® vacation packages API allows your developers to link the tour booking system and online reservation system with your web sites or application. Travel agents can sell vacation packages more efficiently to their clients. adivaha® travel APIs provide full freedom of customization, making your site more user-friendly to make booking flights and tours easier.
At Adivaha, our main focus is to offer you the best vacation packages API provider service that helps your business to grow and rank high in the digital travel industry. You can use our vacation packages API with your tour booking software to allows your travelers to make easier tours, quick reservations, and one click cancellations using your application or directly from your web site. With our advanced Travel APIs and effective tour booking software, adivaha® is also leading hotel bookings, airlines scheduling information, car rental, and tour companies to reserve online by API integration provided by top travel API suppliers. Maximum your sales and turn your simple travel website into an advanced travel booking site by using our vacation packages booking system. Our developers use the latest technologies and hottest tools to develop the tour booking software to ensure your satisfaction, high ranking, and maximum revenues. Upgrade your out dated travelpayouts plugin and tour websites and with our vacation packages API's providers.
You are running a tour website and looking forward to the best tour packing system development, adivaha® is a one-stop solution for you, promising best-customized web designs and complete tour booking software development for your travelport software. Well promise a fully customized vacation packages system as your requirements. Our tour booking software shows real-time information and offers cost-effective tour booking engines with the best quality algorithms, showing faster search results, making quicker reservations with a user-friendly UI interface. We use modern booking management tools integrated with our tour booking engine that allows you to enhance your customer service by easily managing post-booking operations, modifications, tour additions, cancellations, and introducing new features and offers. adivaha® tour booking software gives you freedom from transactions records worries by keeping a secure and comprehensive log of all the transactions and tour plans tracks.
adivaha® is working with global travel companies and emerging as one of the best vacation system packages API provider and tour booking software developer, serving quality travel portal solutions and unique customer relationship management (CRM) system with dynamic tour packages facility. We encourage our clients to develop their own vacation packages of booking hotels, reserving flights, and car rental service instead of just advertising the predefined packages by using dynamic packaging. Our tour booking software with dynamic packaging features offers travel agents and tour companies a trademarking engine system, inventory management system, and tailor-made packages facility. With our tour booking engine you can not only offer dynamic packages directly to your clients but also design a quick and smooth tour online reservation system for your website. Our vacation packages allow travelers to book your accommodations, hotel, or restaurants easily, and in advance and travelers can also cancel their bookings directly through the web site. Tour booking software provides guidelines and details to the travelers while booking their desired tour plans. Increase your user retention and give your travelers a memorial experience by using our vacation packages API system and tour booking software.
Features of Vacation Package we offer:
adivaha® is the superior quality Vacation Packages API Provider for the tour provider's business. We help you in becoming the upcoming brand in the traveling industry. There is no limitation while choosing your unique packages. We facilitate our customers to have complete freedom while choosing the layout of your packages. If you don't have the experience related to Tour Booking Software even before, then adivaha® is the right choice for your traveling business. We help you by providing some important key points for engaging your targeted audience.
The tour software can be customized according to your end-users demand. As the world is becoming busiest day by day, most people have not enough time to spend memorable moments with their families. So, they decide to schedule a complete tour package once in a year and they want it to be a perfect one. The most important benefit of having an online vacation platform is that a traveling company can have a chance to target both the local and global customers from all over the world. Hence you can increase your business and generate more productivity.
Our team supports the security of complete agreement, reliability, and efficiency of the tour software packages. The vacation package software developed by adivaha® Company is the most advanced and unique system. It allows your customers to search and compare the prices and facilities of the different packages provided by various hotels, car services, trains, and planes at the same time.
Here is the list of other features provided by us to clear your doubt while opting for us.
An attractive and unique portal design.
Live chat option with customers.
Advanced search and filters option is available.
On-demand packages: car and hotel, flight and hotel as needed.
Discounts and offers
Auto E-mail and SMS alerts for booking confirmation.
Booking cancellation policy.
Membership for customers.
Advance Reservation option.
Easy process of booking.
Regular checking for errors.
Vacation package API integration.
Most reliable and secure.
Provide invoices for booking.
Both Local and International packages are available.
Vacations management by demanding locations.
Most advanced reports.
Friendly to mobile users.
Many advance services for comparing in every aspect.
The filter of inclusion and exclusion of services.
Staff management and reporting.
Modern design of software layout.
Review and feedback options for clients.
Our Comprehensive List of Services
adivaha® is a one-stop-shop for all your travel website needs. We offer a multitude of services that empower you to become a market leader. Contact us for more info.
Have Questions?
The Internet is a huge resource, but
if your question requires particular expertise.
Keep Refreshing your customers - Who doesn't want his site to stand out from crowd? adivaha® gives you multiple options for home pages, headers, colors etc. Which can easily be managed from admin via shortcodes and settings. The theme supports almost all the big players in this market ie, WEGO, Travelpayouts, Agoda, Booking, Expedia etc.
Frequently Asked Questions
Below are some of the questions asked by visitors. Do visit our adivaha® Digest for more such questions. Don't hesitate to ask us if you have any questions
a. What security measures are in place to protect sensitive customer data? b. Does the API comply with data protection …

6

views

0

answers

0

votes