Build your own Travel Brand!
Ready to go-LIVE travel solutions that helps your travel agency to sell a range of travel services pretty instantly. adivaha® travel solutions make sure you have no boundation over your imagination, you can do everything online, without the need for any technical knowledge or design skills. Easy Backoffice, extensive reporting with integrated Funds Management System. Upload funds easily and instantly through Netbanking, Debit Card, Credit Card. The best part is, we do offer customizations in case you believe it will boost your business!
Choosing the Right Bus Booking Software for Your Company
The introduction of the Bus Reservation system has made the bus ticket booking service hassle-free and the fashion of standing in the long queues to book bus tickets are long gone now.
Earlier, people had to go to the counters to buy bus tickets and check the schedule and there used to be someone sitting at those counters to aid the general public. But, now everything is just a query away; people just have to search Google or download a mobile app from the Playstore or app store and they can do just about anything from their mobile phones. So, how important is it to have a copy of your business online?
Let's find about it.
In today's digital world, everything is available over the internet, and the things that are not, are soon going to be on there. Whatever your business is, you need to have a digital copy either in the form of a website or a mobile application or both. Not only it helps your business gain popularity but it also helps make your business more discoverable. That's why it is not surprising that all offline agencies like travel agencies, car rental agencies are trying to use the power of the internet and the same is the case with bus booking software owners. They are trying to make everything available online, so they can gain an advantage over their competition. However, it is not that easy to create an established online business, there are already a lot of fishes in the sea, so something extra is required. Therefore, a partner that can help you take advantage of the opportunities present online is a must. So, we at adivaha® took the oath to help our clients reach the peak of the summit.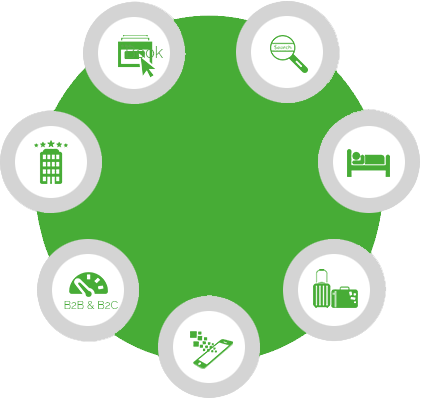 Guide to Choosing the Right Bus Booking Software
adivaha® is a travel api integration solution providing company, which was founded to help every traditional travel-related company to establish an online business. Even though we are new to the market, but ours is a team of experts with decades of software development and IT experiences. And, we have already helped a list of companies to create a strong foothold in the digital realm. adivaha® offers every travel-related service, you name a service there is a high probability that we are offering it, and Bus Reservation System are our specialty. Our bus CRS is the best in the market, and with each passing day we are adding new things to it, that will aid our clients. Adivaha's long list of features doesn't end there, but we cannot talk about them in one place, otherwise, things will get messy, and we like to make things smooth, not complex.
Every software built buy adivaha® has an easy to use interface and that's our priority while creating a tool, so everybody from the old-age group to the young generation can use it easily. Second, we focus on the quality of our products; we perform regress testing before launching anything in the market. Third, we pay special attention to create automated software, to reduce the overall human involvement, so our clients can fully concentrate on expanding their businesses. Fourth, adivaha® tries to make every software future proof, since the internet world is dynamic, with new technology being created every day, so having software that will be compatible with the future needs is important for long term benefits. Fifth, you won't find better customer support than Adivaha's, that's what makes us stick out from rest of travel service providers, we have dedicated support, that is available 24 x 7 for answering the queries of our clients.
adivaha® is also well versed in developing personalized web-portals and integrate various important tools with the portals. Although we are new, but we have attained some significant achievements already. Before talking about our qualities in detail, let's talk about what is Bus Reservation and why is it necessary and what are some features of a good bus booking software.
What is A Bus Reservation System?
Bus Ticket Booking System is a web-based platform that empowers general public to book tickets over the internet without physically going to the crs bus booking ticket counters. It is beneficial for both the customers as well as the bus service providers, as it makes the overall bus travel smooth. Previously the bus booking process was tedious for both the travelers and providers; many operations had to be done manually. The chances of error were also very high because huge data has to be processed every day by humans and humans are prone to mistakes. These errors used to lead to disputes among the customers and the bus service provider, which is not good for any business.
So, the introduction of bus booking software revolutionized the bus travel agency. Not only, it has eliminated the chances of human error but it has improved the overall traveling experience, as people don't have to spend hours on ticket flight booking api integration, they also know the schedule up-front, so they plan their journey accordingly. That's not all, bus CRS has also reduced the need for human involvement, so businesses don't have to spend money and resources on not so important things.
It further helps in managing the travel business with its automated features like managing the details of customers, management of schedule, details of each bus, the price per seat, invoice generation, and many more.
However, most of the software present in the market provides a majority of these services, but they are not all good, so choosing the best among them is perplexing. Here are all the features that make a good bus booking system.
Features
Automated Booking : Booking forms the most basic feature of a book reservation system. It is one of the most important aspects also and providing an automated booking can enhance passengers' experience. Nobody will deny if they get a chance to plan their trip, a self-service booking portal can also help in achieving that.
Inventory Management : Companies had to spend a lot of money on inventory management. And, they cannot ignore it because the maintenance of inventory is just as important as the sale of tickets for the bus operators. Thus, they hire people for managing their records and pay them a handsome salary. A good bus booking software eliminates this need of hiring people for inventory maintenance.
Easy to use interface : There is a very famous saying "the first impression is the last impression" and it is true for the bus booking portals also because people will visit your crs website or use your software if it is ranking at the top in Google searches and is marketed well. However, the conversion rates will be awful if the overall layout is not pleasing to the eye and difficult to navigate. Travel solution companies that don't focus on this aspect of the software produce disappointing results.
Since the software is just as good as its interface. No matter how good software is but nobody is going to use it if it is difficult to understand. Thus, an easy to use interface is also a must for a good bus reservation software. And it should be the priority of the clients while choosing a product.
Feedback & Communication
People prefer products about which they can find reviews over the internet. If those reviews are from other people, it is the icing on the cake. So, public reviews are crucial to improving conversion rates. Communication is the key to success, this is true for every business. Hence, channels that pave the way for effective communication serves as the soul of the bus booking systems. Therefore, a good bus CRS should have tools to display genuine public reviews and automated chat support to improve the conversion rates. These were some of the chief attributes of a satisfactory bus booking portal. Now let's talk about some of the benefits of using a bus sabre reservation system software.
Here is the list of advantages:
Smooth ticket booking and easy access to detailed information about every bus.
Universal search tool for exploring schedules, available vehicles, and fares.
Automated management of customer's details.
The secured digital payment gateway for making the booking process hassle-free.
Multi-language support
Why adivaha®?
Though adivaha® is a budding travel website designers solution providing company, but ours is a team of seasoned professionals with extensive experience in software building and technical support providing. Some companies were developing excellent products for the travel and tour industry but the cost of their products was too high and other companies who were affordable didn't have that good quality product. So to close this gap between the travel agencies and service providers adivaha® was established. And we offer a perfect blend of cost and quality.
adivaha® also understands that the traveling industry is a business of low margins, so companies cannot spend blindly, hence we provide affordable software built with the latest technologies to guarantee maximum profits. Our team of experts provides an innovative solution to every problem present in front of it and when innovation meets experience the results are mostly ingenious. Other then the basic features that a bus booking system should offer, adivaha® provides something extra.
Here is the long list of extra features that we guarantee to our clients.
Real-time Updates : Real-time updates are very important to manage your business properly. They reduce the chance of confusion among the customers and the bus operators. Moreover, the bus booking system was not only introduced for booking, they were meant to improve the overall experience of customers' journeys. Adivaha's bus ticket booking portal could provide instant updates to both the customers and the bus operators. Travelers can check the exact location of their ride and will receive pop up notifications about every single change from the original schedule. Further, our car rental software will also provide information about any roadwork that might be happening on the way and will suggest a change of route accordingly. And, for the bus operators, our software has features with which they will able to track their vehicles, keep a check on their drivers, provide details about which bus is available and which bus is not, and will also keep their vehicle secure from theft. It will also eliminate the possibility of drivers using the vehicle for their personal gains.
Futuristic Price Management : The pricing of the tickets determines the overall profit margins. It doesn't mean that a bus contractor can charge very high because it will decrease the overall sales if other operators are providing the same services at a lower cost. However, the prices can also be not too low, because a bus operator would not want very less profits where he might end up spending money from his pocket for too long. If you want long term gains you might want to diversify your rate per seat based on the distance, group booking, two-way travel booking engine, etc. For such operations, it is necessary to have software that will provide accurate yet dynamic prices to the customers after considering all the necessary factors. Adivaha's software is based on machine learning and it has been trained with huge sets of data. Therefore, it is capable of performing all the things mentioned above. The ticket prices will be dynamic and will change with the change in parameters. And, the option of changing the prices manually is also there, which can be used in case a bus operator doesn't like the rates generated by the software.
Inventory Management : Management of inventories is a tedious task that includes messy paperwork. However, inventory management is utterly important for every travel agency. Therefore, more often than not travel agencies have to hire some professionals to maintain their inventory which increases the overall expenditure and decreases the overall profit. Most of the operators plan their fleet in advance, it would be good to provide customers with an option to choose their specific seat on a particular segment without disturbing the seats on other segments. Adivaha's corporate booking tools for travel system has advanced inventory management features that will help the clients to their seat utilization and revenue per km.
Digital Marketing Tools : The success of a bus operator agency depends on how well it has been marketed. It helps in making the business more discoverable and in return generates more revenue. A successful business is known to each and every household even if they have never actually used the services. In today's digital world, the traditional ways of marketing are not that potent and people spend more time on their phones rather than watching TV or listening to radios. Digital marketing is the most powerful form of marketing nowadays, not only it is cheap but it affordable. Without decent digital marketing tools, a company is good as invisible for modern customers. And, a bus booking technology involves the processing of huge amount of data that is actually very valuable. This data can be used to attract the target audience based on there online behavior and target them specifically. It's necessary for bus operators to maintain a continuous presence on every digital channel so that passengers can find them fast and easily. Therefore, it is necessary to have a tool that can not only provide you basic bus reservation features but one that also aids you in targeting a particular audience. Adivaha's bus booking system is capable of providing reports with meaningful numbers that can help with marketing. It will help you study the passengers' behavior. It has specialized tools for social media campaigns, email marketing, internet marketing, and many more. All of these tools if used correctly with other features of our api integration platform can help you increase your ridership.
Automation : More employees mean less cost efficiency and this is true for most of the companies around the world. Thus, an automated bus CRS can help passengers to manage most of their corporate travel portal-related aspects, which will reduce the need of employees on the support desk. The reduced strength of the support desk will contribute to the overall profits of a bus providing agency. Moreover, self-service software will also enhance customer experiences because they don't have to spend time on phones talking to people. They can manage their trip with just their phones. Automation of software can also aid digital marketing channels. However, automation is not that simple to understand and special attention has to be paid to the usability. Else, it would lead to confusion and increase the load on your customer service. Every software built by adivaha® has automation at its core and we focus on making our software intuitive, simple, and logical.
Analytics : Reports are necessary to find out how well your business is doing. And these reports have to be regular and daily, weekly and monthly statistics are advantageous. However, most travel solution providers don't put too much on building software with reporting tools. Instead, they focus on the basic functionalities but there is no benefit of using software that doesn't provide you key insights about your business. At adivaha® we have specialized tools integrated into our platforms to provide key statistics to our clients about the performance of their business. With the help of these reports, they can make plans for the future.
A Team with History of Continuous Product Development
No matter how good a software is but it will become useless if the service vendor doesn't have a future-oriented vision. It is necessary to provide continuous updates to avoid becoming legacy software.
At adivaha® we don't stop working just after providing you the software. We keep on searching for techniques that can help us enhance the quality of our product. So, updates will never be a problem with us.
Conclusion
A bus reservation system designed with the goal of automating the process of bus ticket booking with the help of resources present over the internet. It helps companies manage the reservation, passenger details, invoices, etc. The functionality of a good bus booking portal doesn't stop there, it also helps bus operators to schedule bus routes easily by describing the starting destination, and end destination and modifications to the route can be performed in between the travel. Further, it provides a secure payment gateway so the transfer of funds can be performed simply.
At adivaha® we provide specialized travel related solutions that help clients to reach new heights in their business. Our bus CRS is designed to help bus operators manage their business. It's an automated software that will aid both the general public and bus service providers since it will serve as the one-stop solution to most of their problems. The customers will be able to choose a specific date of their choice, starting point of their likes and the providers won't have to do all these things manually because the software will do it for them.
Our solutions are business-oriented and have the capabilities to help our clients ensure maximum gains in the long run. And we provide a demo of every software so that it will be easy for our clients to understand what they actually need. Before taking up a project adivaha® help client vision out their business requirements by conducting an array of interviews and brainstorming sessions which helps in developing a personalized software. After that, key people are positioned to build the project within a short time frame. Moreover, each product built by us goes through many different levels of testing before it is used in reality. All of this is done to reduce the number of bugs, however, the process of finding bugs is a constant program which continues even after the product is handed to the clients.
Adivaha's delivered travel-related solution has helped various companies grow their profits tenfold. Their businesses have reached the summit, and our products have been benchmarked for the technology by companies in India and other parts of the world.
adivaha® provides peer-to-peer business consulting, deployment, support, and development for the project. We take pride in proving affordable travel related solutions. Currently, we are based in Delhi; contact us to book your demo. We are sure you won't be disappointed after seeing our products.
Our Comprehensive List of Services
adivaha® is a one-stop-shop for all your travel website needs. We offer a multitude of services that empower you to become a market leader. Contact us for more info.
Have Questions?
The Internet is a huge resource, but
if your question requires particular expertise.
Keep Refreshing your customers - Who doesn't want his site to stand out from crowd? adivaha® gives you multiple options for home pages, headers, colors etc. Which can easily be managed from admin via shortcodes and settings. The theme supports almost all the big players in this market ie, WEGO, Travelpayouts, Agoda, Booking, Expedia etc.
Frequently Asked Questions
Below are some of the questions asked by visitors. Do visit our adivaha® Digest for more such questions. Don't hesitate to ask us if you have any questions
What all GDS and Providers are connected in the platform?

36

views

1

answers

0

votes