Build your own Travel Brand!
Ready to go-LIVE travel solutions that helps your travel agency to sell a range of travel services pretty instantly. adivaha® travel solutions make sure you have no boundation over your imagination, you can do everything online, without the need for any technical knowledge or design skills. Easy Backoffice, extensive reporting with integrated Funds Management System. Upload funds easily and instantly through Netbanking, Debit Card, Credit Card. The best part is, we do offer customizations in case you believe it will boost your business!
Reliable Hotel Booking Software Solutions for Maximum Efficiency
Maximize efficiency in the hospitality sector with reliable hotel booking software solutions. From real-time availability to personalized experiences, discover the transformative impact, including insights on Adivaha.
In today's dynamic travel industry, efficient and reliable hotel reservation software solutions have become the backbone of successful travel businesses. These software solutions not only streamline the booking process but also enhance the overall customer experience, leading to increased revenue and customer loyalty. As a third-party service provider committed to catering to the needs of the travel sector, we understand the significance of these travel portal solutions and their impact on business growth.
What are online hotel booking software solutions?
At the forefront of modern hospitality travel technology company , hotel booking solutions represent a pivotal advancement for the industry. These solutions embody a suite of digital tools meticulously designed to streamline the hotel reservation process, seamlessly connecting travelers with their preferred accommodations. As a dedicated third-party service provider, we recognize these solutions as the technological cornerstone that empowers hotels to efficiently manage bookings, optimize revenue streams, and deliver exceptional guest experiences.
What is the purpose of the best hotel booking software solutions? How do these solutions contribute to the efficiency of the hotel industry?
The purpose of hotel booking software solutions transcends mere automation – it's about orchestrating a symphony of efficiency. These solutions stand as the digital concierge that bridges the gap between travelers and hoteliers, ensuring swift and accurate reservations with a few clicks. By integrating seamlessly with a range of platforms and channels, they empower hotels to manage reservations effortlessly, preventing missed opportunities. In doing so, these solutions elevate operational efficiency by freeing hotel staff from manual booking tasks, allowing them to focus on creating memorable stays for guests.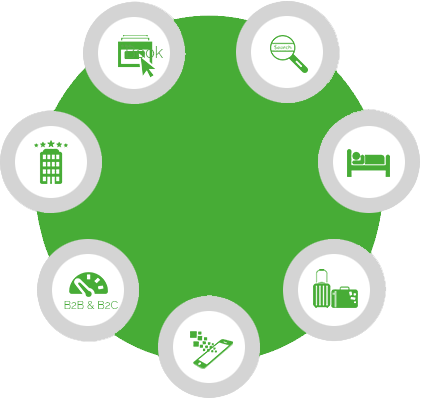 Top Hotel Booking
Software Solution
In the competitive landscape of the hospitality industry, time is a precious resource. online booking software solutions infuse this environment with efficiency by providing real-time updates on room availability, rates, and special offers. This timely information facilitates prompt decision-making for travelers and minimizes the risk of booking errors or overbookings for hotels. The convenience of a user-friendly interface further amplifies this efficiency, enabling travelers to swiftly navigate through booking processes, resulting in improved customer satisfaction.
As staunch supporters of the travel sector, we comprehend that every interaction counts. Efficient payment processing, made possible by these solutions, ensures secure and smooth financial transactions, fostering trust between guests and hotels. Moreover, the integration of hotel reservation system across various distribution channels optimizes bookings, broadening the hotel's reach and revenue potential. This comprehensive approach simplifies the complex task of managing reservations across multiple platforms, consolidating processes, and reducing administrative burdens.
With our unwavering commitment to enhancing the hotel industry, we embrace the significance of reporting and analytics within these solutions. Robust reporting features empower hotels to extract meaningful insights from booking data, leading to data-driven strategies for revenue maximization and guest experience refinement.
In this landscape of perpetual connectivity, mobile accessibility is paramount. B2B Travel agency software solutions that prioritize mobile responsiveness offer travelers the flexibility to book accommodations on the go, aligning with their digital lifestyles. This mobile capability not only caters to changing traveler behaviors but also contributes to heightened booking efficiency and increased reservations for hotels.
As we explore the forefront of innovation, we encounter a rising star in the realm of hotel booking software – Adivaha. Adivaha®'s pioneering approach to travel technology software resonates with our commitment to efficiency. Its comprehensive suite of tools seamlessly integrates with our service ethos, promising to revolutionize booking processes and empower hotels with unprecedented efficiency.
What features define reliable hotel booking software solutions?
Reliable hotel booking software solutions encompass a range of essential features that elevate them to the forefront of the hospitality technology landscape. As a dedicated third-party service provider, we understand that these features collectively redefine how hotels manage reservations, enhance guest experiences, and drive operational efficiency.
At the core of reliable solutions lies an integrated reservation management system. This feature ensures that reservations from various sources, including online travel agencies (OTAs), direct bookings, and more, seamlessly converge in a centralized dashboard. This streamlines the entire booking process, eliminating the risk of double bookings and simplifying reservation tracking.
A user-friendly interface is a hallmark of reliable solutions. An intuitive, easy-to-navigate interface benefits both hotel staff and travelers. It reduces the learning curve for hotel employees, enabling them to efficiently manage bookings without extensive training. For travelers, a user-friendly interface ensures a smooth, frustration-free booking experience, resulting in higher conversion rates.
What are the key features that distinguish reliable solutions from others?
Distinguishing reliable solutions from the rest lies in a combination of advanced functionalities. Automated payment processing is a prime example. Reliable solutions seamlessly integrate secure payment gateways, ensuring that financial transactions are smooth, secure, and in compliance with industry standards. This not only boosts guest trust but also minimizes the risk of payment-related errors.
Efficient channel management is another key feature that sets reliable solutions apart. These solutions seamlessly manage bookings from various distribution channels, including OTAs, global distribution systems (GDS), and the hotel's official website. This comprehensive approach prevents overbookings, maximizes visibility, and minimizes the risk of missed opportunities.
Advanced reporting and analytics capabilities are also defining features. Reliable solutions offer robust reporting tools that allow hotels to extract valuable insights from booking data. These insights guide revenue optimization strategies, help identify booking trends, and enable hotels to tailor their offerings to meet customer demands effectively.
How do integrated reservation management systems work?
Integrated reservation management systems are the backbone of modern online booking software solutions. These systems function as a centralized hub that seamlessly connects various reservation sources, ensuring a unified and efficient booking process. As a dedicated third-party service provider, we understand the intricacies of these systems and their transformative impact on hotel operations.
At the heart of integrated reservation management lies a sophisticated database that houses all reservation-related information. This includes room availability, rates, guest preferences, and booking history. When a traveler initiates a booking, the system instantly accesses this database to check real-time availability and pricing. Once the booking is confirmed, the system updates the inventory across all channels, preventing overbookings and discrepancies.
What role does integrated reservation management play in maximizing efficiency?
Integrated reservation management is a cornerstone of efficiency in the hotel industry. By centralizing reservation data and automating updates across various platforms, these systems eliminate the need for manual data entry and reconciliation. As a result, hotels can avoid overbookings, reduce the risk of errors, and optimize their revenue potential.
Additionally, integrated reservation management enhances customer experiences. Travelers encounter consistent information across all platforms, promoting transparency and trust. This reliability contributes to faster decision-making, increasing the likelihood of immediate bookings. For hotel staff, the streamlined process reduces administrative tasks, allowing them to focus on delivering exceptional guest experiences.
Moreover, the centralization of reservation data enables hotels to gain valuable insights into booking trends, customer preferences, and revenue optimization. This data-driven approach empowers hotels to make informed decisions, refine their pricing strategies, and tailor their offerings to meet guest demands effectively.
In our pursuit of elevating efficiency in the hospitality sector, we advocate for the integration of reservation management systems. As a third-party online travel service provider, we understand that this integration not only simplifies operations but also paves the way for enhanced revenue streams and improved guest satisfaction.
Our Comprehensive List of Services
adivaha® is a one-stop-shop for all your travel website needs. We offer a multitude of services that empower you to become a market leader. Contact us for more info.
Have Questions?
The Internet is a huge resource, but
if your question requires particular expertise.
Keep Refreshing your customers - Who doesn't want his site to stand out from crowd? adivaha® gives you multiple options for home pages, headers, colors etc. Which can easily be managed from admin via shortcodes and settings. The theme supports almost all the big players in this market ie, WEGO, Travelpayouts, Agoda, Booking, Expedia etc.
Frequently Asked Questions
Below are some of the questions asked by visitors. Do visit our adivaha® Digest for more such questions. Don't hesitate to ask us if you have any questions
hello team, I want to know the cost of hiring your services. could you please provide full-fledged information regarding this?

29

views

1

answers

0

votes