Build your own Travel Brand!
Ready to go-LIVE travel solutions that helps your travel agency to sell a range of travel services pretty instantly. adivaha® travel solutions make sure you have no boundation over your imagination, you can do everything online, without the need for any technical knowledge or design skills. Easy Backoffice, extensive reporting with integrated Funds Management System. Upload funds easily and instantly through Netbanking, Debit Card, Credit Card. The best part is, we do offer customizations in case you believe it will boost your business!
How to Choose the Right Travel Booking Software
adivaha® is one of the leading and famous Travel Booking Software solutions providing companies that offer their clients feature-rich travel CRM software including hotels, flights, cars, sightseeing, and holiday packages. adivaha® is a specialist in the development of an online Travel booking website and provides complete end-to-end solutions for the travel industry by offering technology with high performance, reasonable, and user-friendly interface, easy to use internet booking engines that will deliver online sales success to your travel agency.
With adivaha® Travel Booking Software you are also able to compare prices from different websites. And we believe that our prices are reasonable as compare to other websites. We provide you with one-stop travel shop online travel booking engine solutions, when your best travel portal development company uses our online travel booking software with API solutions then your customers can easily plan, book, and purchase a complete travel schedule including real-time access to all travel products. Our Travel Booking Software has vast facilities to connect with multiple GDS's and third party suppliers for fetching content in several countries. It enables complete booking process functionality from the creation of PNR to generation e-tickets and invoices. We believe that our success is based on our ability to build a long-lasting association with our consumers.
adivaha® a reliable Travel Booking Software
Our Travel Booking Software and Travel Booking site ensure reliability, security, and quality of the travel business. adivaha® Business travel booking software regularly updated for the benefit of our clients. Our software enables the clients to provide the best customer services through quick search response capabilities. Moreover, it helps you to correct the error through user-centered interfaces where multiple players can access, review, and modify offerings.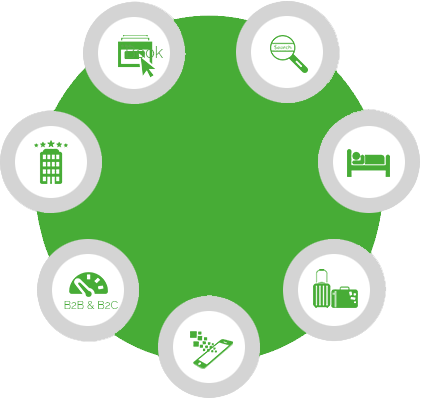 Best Travel Booking Software for Your Business
As one of the leading experts in the online booking travel portal solution, we understand the unique needs of this market and thereby develop a precise platform that can meet specific demands, completely hassle-free. We have designed a Travel Booking system with robust booking that allows users to quickly find the cheapest fears and flight details to book their desired destinations. We create custom-designed and developed travel websites to make sure the end customer gets the best experience when visiting your booking website. With a customized booking website you can enjoy quick and easy online implementation and enhance your airline and travel business. We can develop booking websites according to the search engines. So that after implementing online marketing techniques you can get good ranks and increase your revenue. Our portal on travel booking provides a completes the online solution for booking your tickets. Our travel portal website development experts pay complete attention to your travel booking system requirements and offer you the website whilst in the development stages. For many travelers, the Travel Booking technology has become an essential resource for trip planning. Platforms such as Goole, Yahoo, Bing, and other search engines are now often where travelers turn to do everything from researching destinations to learning more about transportation/accommodations and booking In multiple ways, this shift in behavior should be a boon for travel brands the nature of the best travel website enables a firm to reach consumers in a much more targeted way, and at a much lower cost, than too early channels. However, the promise of a search doesn't always deliver. All too usually travel brands develop search optimization content/advertising campaigns that di not produce the expected results. Why does this happen? Frequently it's because marketers fail to properly understand the nuances of hoe travelers use Travel reservation as part of their travel planning. In particular, travel brands often fail to take into account these four essential facts when developing their search engine strategies. To begin with, marketers need to understand how indispensable the travel portal development has become the travel planning process.
adivaha's Travel Booking Software to acquire the ease to booking for your tips, you should now consider going for the online, travel booking system to find the multiple options. adivaha® is one such trusted travel technology company at which you can discover the different options and make your choice. Have you been looking for a travel booking Software or Travel booking website that can help in boosting you the travel business? adivaha® is the right service on which you can rely that serves as a global best b2b travel portal in india marketplace for tour suppliers. Your choice of tour packages are limited by the small numbers of an operator that you work with, but you would like to work with a larger pool of operators from multiple countries and offer more travel choices for your customers. adivaha® lets you access thousands of tour packages listed by tour operators around the world and you can book them online. If you are operating in tours and travels space you would understand the pain of accounting various aspects of your business. There are many travel technology company accountings Travel Booking Software out there as if the accounting standards for accounting various aspects of your business. There are many travel technology accountings Travel Booking software out there as if the accounting standards for travel agencies are different A lot of them have been in the market for quite some time and are exhaustive enough to take care of the most of the things a tour and travel services provider does. Given the fact that this software has been there for some time now, they are all desktop based. Online corporate travel booking software is a recent trend and many services providers are entering this space, however, catering to just on industry makes it a costlier affair, and this booking software is priced high and may not be affordable for small service providers. Now there is free booking software as well however a free Travel Booking Software may be farfetched to expect. The whole tours and travel technology services industry through organized is still very fragmented. Your technology may be purely dealing in tour packages and others may be doing just tickets and some are one-stop-shop. The ones that cater to the specific market and are small in size tend to use bill books, excel or word document or the ones who are little sophisticated use free Travel Booking Software, which only does the booking portion. Just booking alone may help keep track of the income however the expenses, accounting, and reporting features are not part of these free travel technology software. So first let's look at what are the various aspects that need to be traced in tours and travels business which will then lead us to features one should look for in a paid or free Travel Booking Software.
A customer may come to a b2b travel agency software for Ticketing (air, road, etc). Tour package booking, Hotel booking, Sightseeing. Above are some big heads there are again many varients, subcategorization in above services, like hotel booking + sightseeing, customized package inclusion/exclusion all permutations and combination you can think of. Now just to booking alone for all these above noted different services it requires a different booking format, again can free travel booking software to provide such flexibility? Here we are just talking about the booking portion and free services in this space appears little possible to leave alone an exhaustive travel agency accounting software. Our direction for tours and travel services provider is to look for a moderate and exhaustive solution to manage their business. A paid generic alternative that takes care of 80% of requirements is better than a free Trave Booking software or high-priced industry-specific software. There are sufficient and more web-based software which provides access basis subscription. Most of these are promoted as industry business travel booking software, for example, Travel booking software but are much more than just books.
If you are travel portal software development company your travel business or entering for the first time in e-business adivaha® helps you find the Travel Booking sites. We provide a travel's booking website development that empowers travel companies to deliver a fully loaded online booking website that works beyond the expectations of the customers.
Our Comprehensive List of Services
adivaha® is a one-stop-shop for all your travel website needs. We offer a multitude of services that empower you to become a market leader. Contact us for more info.
Have Questions?
The Internet is a huge resource, but
if your question requires particular expertise.
Keep Refreshing your customers - Who doesn't want his site to stand out from crowd? adivaha® gives you multiple options for home pages, headers, colors etc. Which can easily be managed from admin via shortcodes and settings. The theme supports almost all the big players in this market ie, WEGO, Travelpayouts, Agoda, Booking, Expedia etc.
Frequently Asked Questions
Below are some of the questions asked by visitors. Do visit our adivaha® Digest for more such questions. Don't hesitate to ask us if you have any questions
What all GDS and Providers are connected in the platform?

36

views

1

answers

0

votes