Build your own Travel Brand!
Ready to go-LIVE travel solutions that helps your travel agency to sell a range of travel services pretty instantly. adivaha® travel solutions make sure you have no boundation over your imagination, you can do everything online, without the need for any technical knowledge or design skills. Easy Backoffice, extensive reporting with integrated Funds Management System. Upload funds easily and instantly through Netbanking, Debit Card, Credit Card. The best part is, we do offer customizations in case you believe it will boost your business!
Guide to Airline Reservation Systems for Flight Bookings
Many people may have wondered. When hearing the word Travel Portal, most gamers think it is One game only But believe me It has more than that...One of the most important features of the portal, which we mentioned in the scientific definition as capability and service, is the possibility of establishing two-way communication between users.
Like a home computer, the adivaha® travel portal provides a variety of information and services on a single web page that is consistent and well-combined. This page is sometimes called a WebTop. The adivaha® travel portal can have a specific starting point or page that users can view when connecting to the web. However, unlike a computer screen, a travel portal can be used through a wide range of devices that have web connectivity.
Although there are many similarities between a website and the adivaha® travel portal. A single login port through which you can access the adivaha® travel portal's resources.
Targeted display of information using user experiences.Divided access to data types and grouped information.Provide the possibility of communication and cooperation between all users and users of the adivaha® travel portal.
Ability to join adivaha® Flight that have a defined workflow. The most important features of the adivaha® travel portal in a sentence can be described as follows:
"provide information adivaha® airline reservation system of different purposes prior permission and Classification, under staff supervision and management, in the form of flexible "It is attractive and accessible, along with useful services to Internet users, so that both the server and the client can ensure the security of adivaha® travel portal service."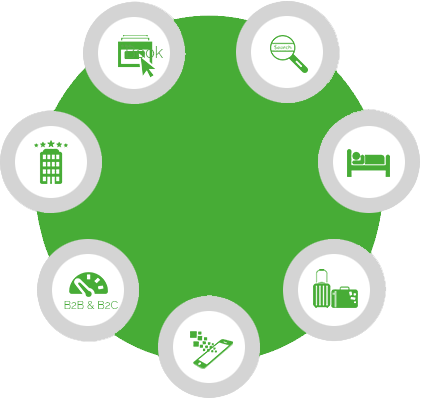 Ultimate Guide to Airline Reservation Systems
The result of these features will be cost and time savings, fast and desirable access to information and Internet services, and consequently increased work efficiency. adivaha® travel portal works similarly to an operating system in that it makes it easy for us to access folders and files on the hard disk, regardless of how the operating system interacts with the hardware.
In adivaha® travel portals, users are allowed to be able to communicate and interact with each other in certain formats through various means such as chat. Also the possibility of personalization, which is one of the most important service factors It is considered a portal, it has satisfied the audience and users of the adivaha® travel portals, because, with the possibility of personalization and customization, you can determine how to access the management section, services and information with the desired security. Depending on the similarity with the operating system, you can back up your data, take a shortcut, or define other people's access to your information, both in Security and View.
adivaha® travel portals are collaborative and allow users to chat with each other, participate in group discussions, share their content with others, and more.
In adivaha® travel portal content management, which manages a variety of searches, tracking, and also provides specific capabilities for data mining. Personal services (also called transactional services) that enable users to connect directly and indirectly with other systems in adivaha® travel portals. This feature usually allows the user to perform the following activities, for example:Buy the products of an organization ,Schedule your appointments ,View or balance your account
adivaha® airlines reservation system: This system can store, reserve, and issue and return tickets. Other features of this service include a comprehensive financial report of connection to Total Franger service, SMS service, and email to the passenger. This design and production of the adivaha® airline management system In addition to using the expert programming team, experienced consultants and managers of airlines and experts in the tourism industry have been used. Other features of the adivaha® airline Booking System include general operations of DCS operations-No need to install,Reduce airline api integration costs ,Compensate for shortcomings and improve some operations over other CRSs ,Integration with other franger systems
adivaha® Flight Booking systems: We have talked about the importance and benefits of the adivaha® airline reservations System and reservation programs and software. An important issue with using a flights reservation system or multiple reservation systems is their integration with your airline computer reservation system. The adivaha® airlines Reservation is an integrated computer service through which airlines or chartering agencies can create the desired flights, determine the number of seats that can be sold and rate them, and can also comply with the rules and regulations. Apply it. In the adivaha® airline reservation systems, the ability to report the names of passengers, flight dates, etc. is possible. Also, in the adivaha® travel technology company, the ability to create access for traditional agencies and online agencies is applicable.
The adivaha® ARS eventually evolved into the so-called " computerized reservation system which is a computer system used to store and retrieve information and conduct transactions related to air travel, hotels, car rentals, or activities. CRS was later extended for use by travel agencies. Large important functionaries of the CRS, who make reservations and sell tickets to multiple airlines are known as " Global Distribution Systems(GDS) and other distribution channels, making reservations for most major airlines, in a single system. Flight booking api cost engine has sold most of its direct participation to dedicated GDS companies, which make their systems accessible to consumers through Internet gates. Modern GDS typically allows users to make reservations in hotel rooms, car rentals, print e-tickets, as well as excursions and activities. adivaha® airline reservation system also provides access to certain markets for rail and bus bookings, although these are not always integrated with the main system. Certainly, like many others, one of the most important concerns of your life is traveling. Especially how and in what way you travel is important. Of course, if air travel is one of your options, adivaha® airline reservation software will make your job easier for you to decide.
Today, although our world has expanded, traveling is always one of the most exciting pastimes. The only entertainment adivaha® airline reservation system, is popular in all contexts, especially the family, and in a way, it can be said that all sections of society are involved in it and consider travel as one of their important and popular programs. On the other hand, for many work and non-recreational matters, anyone may need to travel.
Certainly, the fastest way to travel is to travel by air and by plane. Especially in the hot season when traveling with other vehicles may be exhausting for you or your family. For example, suppose you plan to travel in your car. Let's skip the costs your car imposes on you, let's skip the depreciation, the heavy traffic of summer vacations and vacations may bring you a lot of fatigue.
There are many software and systems that allow you to buy and book plane tickets online. It can be said that the adivaha® airline reservation system is one of the best adivaha® Bookings which offers a more reasonable price. One of the most popular of this software is adivaha® Airline Reservation System, which will also have acceptable features. adivaha® software is a web-based system that acts as a resource and displays airline tickets with the help of robots that are connected to the domestic ticketing system.
Of course, it is worth noting that this software is by no means a trader to sell plane tickets. adivaha® Airline's is just an intermediary between you, the passenger, and the passenger company, and without any intention to guide you better, it works to buy a cheaper and more suitable ticket. The user interface of this System is very simple. You can easily select the origin, destination, and date you want.
The most important information that this travel technology company System shows you about flights is price, travel time, date and time of travel, and stops for foreign trips. Also, based on information similar to these, you can filter the results of your search to more easily access your desired ticket. You can compare all your options in terms of these options and especially the price. By the adivaha® airline, a reservation system is also possible to find out which flight agency and which airline the flight is from.
adivaha® travel technology companies has made it much easier to buy plane tickets in every way, especially the price, and it may be better for you to visit this system from now on, every time you decide to travel.
Travel Portal development incorporates airline schedules, fares, passenger bookings, and ticket records. Direct airline sales not only provide information to GDS but also work within their booking system. The second type of direct distribution channel is consumers who make their reservations using the Internet.
Travel booking system may host "ticketless" and "hybrid" airlines that use electronic tickets, as well as no tickets to accommodate code sharing and interlines. adivaha® airline ticket reservation systems include global, online, and local flight booking api software.
We all know that technology was created for our greater comfort and has uncontrollable progress. One of the areas that have benefited from many services due to new technologies is tourism. A variety of adivaha® airlines tickets reservation systems help us a lot in planning and managing travel.
adivaha® System Services: At the beginning of its establishment, adivaha® Flight Reservation System offered only services related to airline ticketing services. Today, however, it handles all the tourist facilities around the world that deal with the reservation system. From hotel reservations to ship reservations and even travel insurance, it covers all reservation systems. However, due to the limitations of our country, its use is focused only on various types of airline ticket reservation systems. The CRS stands for computer reservation systems or central reservation systems, which means computer reservation systems.
adivaha® plane ticket reservation systems: adivaha® System is not the only type of airline ticket reservation system. This system also works in the field of providing various types of tourism reservation software. Flight reservation software, hotels, tourism services, airport software are just some of the activities of the adivaha® Systems web service. The ultimate goal of this system is to provide comprehensive and integrated Booking software in all areas of tourism and tourism industry. Therefore, currently, many tourist complexes across the country benefit from the services of the adivaha® airline ticket reservation system.
adivaha® resident plane ticket reservation systems: The residential reservation system is another type of adivaha® best portal development system and its related areas. The complex works in the field of programming, production, and sales of travel and financial system reservation systems. Currently, more than 140 airlines use various software in the field of tourism. Although the specialized field of this reservation system is the tourism industry, it also implements special projects in other fields. Flight, hotel, and tour reservation systems are the most widely used adivaha® System in the field of tourism services.
Local section. This system can be installed by the Windows version on internal networks. Hence, it is more popular among large charterers and travel agencies. The system's local resident service includes flight booking api provider, hotels, tours, ticket warehousing, and e-ticket management. Undoubtedly, one of the reasons why this system is user-friendly is its simple design. It is also possible to buy and sell all kinds of tickets on a floating and quota basis. Flight charter warranty and hotels are other features of the adivaha® local reservation system.
Online section Despite the simplicity that makes working with the local system so popular, it does not cover online booking. However, with online applications, it is possible to book flights, hotels, and tours at any time. Tourists can book their tickets online or by bank card to pay online.
ORS, online reservation systems are another type of adivaha® online booking system. As its name suggests, ORS is an online airline ticket reservation system.
Many domestic airlines use this reservation system and use its services.
Flight Booking Software: These days, due to the rapid development of technology in the foreign world, and consequently in our country, there have been many advances in recent years. adivaha® Flight Software has been able to provide good services to the people, especially the educated. With adivaha® Booking Software Stay tuned to the best software reservation to introduce.
adivaha® Flight Booking mangement system specializes in selling domestic and foreign plane tickets. The system eliminates sales intermediaries in its management system so that users can purchase plane tickets at the lowest prices.
adivaha® Software helps you to make all your domestic and foreign flights completely secure and easy, and with their 24-hour support, you will not need anyone else to help you. You can take help at any time of the day or night.
adivaha® Flight Booking engine- with a quick look at its benefits With the help of online efforts, the aviation industry has achieved rapid sales. Considering most flight operators that allow customers to buy tickets online, the work of travel agencies has become a bit easier. However, the demand for a service provider has increased, so the platform Software used should provide the ability to quickly book for many passengers. If you are a travel agent who wants to join the world of online services with a website that has excellent flight reservation software, try to understand exactly what customers want and what service providers offer them. Go for platforms that have extensive experience working with both B2B customers.
adivaha® solution, Placing low-cost airline tickets, or choosing the best domestic or international flight plays an important role in the performance of a reservation software. Make sure your reservation system has access to a GDS as a service provider rather than global data for reservations. Use international. Therefore, you will have more options to offer to travelers. Apart from comparison and ease of booking, another feature of Booking Software that customers are looking for is that while the system helps them make a reservation, it also provides them with confirmation of the reservation immediately. Ease of cancellation is another important feature.
Importance Flight Booking Software
Online bookings help increase your sales, which is why you need a smart, well-designed tool. adivaha® Flight Booking Software is much more than a reservation system. These systems offer many features to users. Therefore, the focus should be on retaining customers and satisfying them, because these are elements that cannot be lost or ignored in any case.
By implementing flight reservation software on your site, adivaha® provides the possibility of booking and selling domestic and foreign flight tickets directly for your customers.
The adivaha® company is the best ticket reservation software The traditional business system of the travel business is becoming obsolete day by day. Currently, most travel agencies prefer to provide online services to their customers. Flight reservations, hotel reservations, cars, buses, etc. are now offered to customers on online platforms.
adivaha® Online flight's plays an important role in the growth of the online travel business. The latest and most advanced software solutions are web service providers that provide services for all small and large travel agents.
adivaha® online flight's has successfully helped many travel agencies increase their profits. This web service provides the best fast and complete online booking engines for you to become an online agency. Your products, along with adivaha® System, increase your sales and customer network expansion in a short period. This software provides a better way to provide customer relationship management, accounting on a central reservation system platform. Another important advantage of adivaha® Airline is the effective management of contracts and proper connection with various supplier systems.
There is a lot of software on the market, but choosing one that has advanced features and meets all your needs is essential for automating and simplifying the work of travel agencies and that is adivaha®.
The software should be designed based on product marketing to be able to increase marketing efforts and travel agent assets. Proper marketing, along with complete products, increases the sales and popularity of any travel agency. Multiple sales channels are one of the important features of travel software through which the agency can increase its sales and revenue. Software with dashboard and appropriate reporting tools can sell insights and important business measurements. Meet the work at a glance. So you get all the information you want about your business and sales.
Technology is changing day by day, and every business needs to make changes and update its business management. To be successful in today's competitive marketplace, every travel agency must market and manage its tourism business online.
By implementing flight reservation software on your site, provides the possibility of booking and selling domestic and foreign flight tickets directly for your customers.
adivaha® is much different language software that allows you to buy flights from different airlines. So that you can choose your destination and destination as quickly as possible, as well as various filtering facilities that are placed for the convenience of your work so that you can fly in less time and according to your request. Choose adivaha® our flight system and start a happy journey.
adivaha® software is a reference for charter flights. All airline agencies and their tickets can be searched online and you can make your purchase easier. Also, you can search the travel agencies of agencies, visa services, and online access to many foreign airlines.
Online booking is a way to easily find flights and make flight reservations over the internet. When using adivaha® flight online services, By adivaha® mangement system you can create a travel itinerary that suits your travel plans and you can request a specific seat, special meal, or service. You can pay online with your credit card using our secure server.
To book you by adivaha theme® flight online, choose the cities and dates you will travel, choose a suitable flight, confirm your personal information, and decide how you want to pay.
Our Comprehensive List of Services
adivaha® is a one-stop-shop for all your travel website needs. We offer a multitude of services that empower you to become a market leader. Contact us for more info.
Have Questions?
The Internet is a huge resource, but
if your question requires particular expertise.
Keep Refreshing your customers - Who doesn't want his site to stand out from crowd? adivaha® gives you multiple options for home pages, headers, colors etc. Which can easily be managed from admin via shortcodes and settings. The theme supports almost all the big players in this market ie, WEGO, Travelpayouts, Agoda, Booking, Expedia etc.
Frequently Asked Questions
Below are some of the questions asked by visitors. Do visit our adivaha® Digest for more such questions. Don't hesitate to ask us if you have any questions
What all GDS and Providers are connected in the platform?

36

views

1

answers

0

votes