Build your own Travel Brand!
Ready to go-LIVE travel solutions that helps your travel agency to sell a range of travel services pretty instantly. adivaha® travel solutions make sure you have no boundation over your imagination, you can do everything online, without the need for any technical knowledge or design skills. Easy Backoffice, extensive reporting with integrated Funds Management System. Upload funds easily and instantly through Netbanking, Debit Card, Credit Card. The best part is, we do offer customizations in case you believe it will boost your business!
Tech-Enabled Airline Ticketing & Inventory Management: A Guide
Airlines serve as a global platform for connecting cultures, businesses, and people from different parts of the world.
Over the years the aviation sector has grown significantly. And now, Airplanes are the most common way of global travel and with improvements in the purchasing power of the general public, the usage of flight is increasing with each passing day. The aviation industry is experiencing a boom and is expected to expand even more in the coming years. Since history repeats itself and the aviation sector has doubled in size every 15 years which is way faster than any other sector. It has also exhibited great adaptability during crises; hence, it won't be wrong to say that airways have become an indispensable means of transport. All-in-all air transport is and will remain an industry of immense opportunities. But with great opportunities comes great challenges and more & more agents and agencies are trying to establish a strong foothold in the industry. Therefore, to seize the opportunities present in the air transport industry, having the best in the market airline ticketing system and flight inventory management system is a must. Thus, you need professionals with extensive knowledge and powerful tools at their disposal by your side to help you set up a successful online air travel business. Moreover, having experience in handling and creating airline-related solution is also a necessary quality of the optimum partner.
adivaha® is a business travel solutions providing company and we dominate every aspect of the tour and travel industry. We have potent tools and a team of experts with decades of industry experience that will help overcome every obstacle which a travel service provider might face. We believe in creating a strong bond with our clients and working until they are satisfied.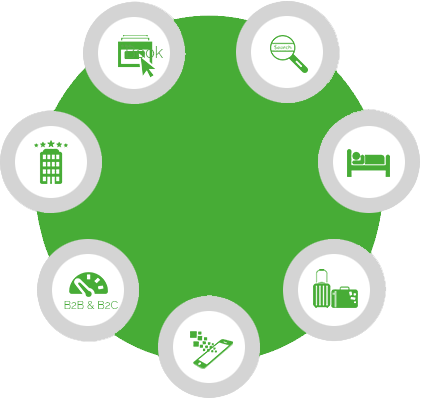 Airline ticketing system & flight management
We have helped various startups, travel agents, tour operators, and travel agencies to reach the peak of the travel business. Our solutions are meant for the business of every size and scale. At adivaha® we have to pay equal attention to all the components of the travel industry because they all are equally very important. You cannot say that car rental software is less important than a hotel airline ticket booking api portal or a ticket booking system. That's the reason adivaha's team consists of experts from every field and is capable of designing the best in class solution for every aspect of the travel industry. However, when it comes to the airline ticketing software and flight inventory management software, adivaha® has mastery in delivering the most advanced airline inventory management cum reservation system. Moreover, our solutions are built with the latest technology and automation form the basis of every software we design to ensure less human involvement and more profits.
At adivaha® we have helped many clients' to build their online business from scratch while the cases where we have enhanced the quality of our client's tools are also not uncommon. We have facilitated many tours and travel operators by building them the best in the market air ticket reservation systems and catalog management systems. There are various other features that we offer to our clients like adivaha wordpress theme GDS integration, Car rental portals, and many more solutions just like these.
Here is what makes airline booking and inventory software must for travel and tour operators.
Airline Reservation System
The airline booking system is an element of a larger system known as passenger service systems (PSS) and the whole PSS is responsible for providing booking and other airline-related features to the end-users. But now the airline reservation system reservation system has transformed into computer reservation systems (CRS). Every travel agency and other distribution channels have their own CRS integrated with the global distribution system which allows them to interact with the inventories of different airlines.
The airline ticketing system provides easy access to ticket fares, airline schedules, information about passenger reservations, and ticket records. The airline's data about their inventory is present of their reservation system as well as pushed on the global distribution system whenever GDS makes a request. Travel agencies have web-portals integrated with various GDS APIs which allows them direct access to these global distribution systems. Whenever an end-user searches for a flight price api ticket from a travel agency's website, the integrated GDS API establishes a direct connection with the airlines' inventory to retrieve data in real-time and display it to the user. In today's world, ARS or CRS integrated with GDS is essential for the travel industry's survival.
The fact that these kinds of systems are fairly complex makes the in-house operation of airline reservation software expensive.
Features of Good Airline Ticketing System
Though there is a never-ending list of a good airline reservation system, but mentioning them in one place is not possible. Therefore we have brought to you some of the most important features that an airline booking system must-have.
Provides a solid search function with various filters like price range, airline preference, seat preference to help narrow down the searches.
Provide various functionalities like automated management of information about seat availability, the price per seat, and flight schedule.
Automatic tracking and updating of canceled flights, rescheduled flights, etc.
Provide an effective way for managing and retrieving customer information whenever required.
Displays the accurate and most recent results for customer's search queries.
Provide a secured channel for transactions over the internet.
Though, the flight inventory manager is an integral part of the airline booking system. However, to explain the things clearly we have dedicated the next section to flight inventory management software.
All About Flight Inventory Management software
Before talking about inventory management software, let's understand the meaning of inventory in terms of airlines. The available seats on any airline are referred to as inventory of that airline computer reservation system. The inventory is divided into up to 26 different service classes like business class, economy class, etc based on the ticket prices and almost all airlines follow this convention.
The information present of the inventories is dynamic and changes with every flight booking api provider and cancelation. However, it has to be maintained to provide accurate information to users. So, the flight inventory management system is a platform for maintaining multiple flight inventories through a common channel. The most basic functionality of an inventory management system is inventory control to keep track of available seats in various booking classes for sale. Further, the inventory control function has to determine the seat prices based on the fares and booking conditions stored in the Fare Quote system.
In most of the systems, the inventory control function has direct access to an airline's Yield management system. This is not only beneficial but also necessary to support a durable optimization of the cited booking department since the customer's demand and competitor pricing strategy keeps on changing.
Why Flight Inventory Management System Is Necessary?
The workload is increasing with each passing day of the travel providers. Though they have automated tools to help them manage various aspects of their job, however, most of these tools are not built with the latest technology and only provide help with traditional tasks. But customers' behavior keeps on changing and one customer is different from the other, so the previous tools are not so potent in the current situation. Moreover, these days clients have become demanding and want more options in both prices and catalog. And with all the information available just a click away they have learned to dictate terms while shopping for travel, online. There is a setlist of thing which passengers seek nowadays, they all want best and cost-efficient alternatives in terms of time and date of travel, routes, etc. These changes in customer's habits have made it necessary for the tour operators to have 100+ flight itinerary options, otherwise, the chances of expanding the business will go down the drain. As a result, travel and tour businesses are looking for ways that will help them enhance customer experience, reduce the overall workload, and increase the overall revenue. And there is no better way than using flight inventory management systems to achieve all those things.
An airline inventory management system will provide you real-time data about the availability of flight api integration, cost of the seats, etc. A system derived from an economic-based algorithm is a must to get accurate results for customer's booking requests and search queries. It further removes the need for manual updating or manual checking of the available seat after each booking or cancelation activity, as it does it all that too without any error.
Nowadays, every tour operator must have direct access to one or a flight catalog system. Not only it is the easiest way to access inventories of different airlines but it also carries the process in real-time and a secured manner leaving no chance of a mistake. With the help of a flight inventory manager, an agency will have the ability to retrieve the inventory data to provide it to the end-users. Flight inventories managers build with the latest technology will also empower agencies to use the newest revenue management techniques. They also have superior availability management capabilities and advanced customer identification tools.
However, to harness the true potential of a flight inventory management system it should be coupled with a good airline ticketing system.
Why Choose adivaha®?
It all starts with a web-portal without having an up to date website businesses cannot even think about making their brand renown in the digital realm. Websites may be the only place on the internet where travel agencies can communicate their brands' messages free of errors. Having an excellent web-portal has a direct impact on the conversion rates of a travel agency; these conversions decide the total revenue of an online business. In simple words, having a website is as important as having a good business plan.
At adivaha® we help our client built a clutter-free easy to navigate web portal and also enhance the quality of prebuilt websites if they have one. However, a website is not the only thing that matters, it is just the first step of creating a foothold on the internet. Once this website is built it has to be integrated with the best travel-related tools in the market to convert it into a full-fledged travel agency. These tools range from a powerful GDS system to a ticket booking system to the inventory management system. But it all depends on the client and their specialization, there are cases when agencies need all the tools while some agents require some specific tools only. So, it is necessary to understand the business requirements of the client and provide them solutions accordingly.
At adivaha® before start working on a project, we do an extensive analysis of our clients' business model by scheduling regular meetings and brainstorming sessions. Once we fully understand the client's requirements, then only we start the actual work. And for the tour operators and travel agencies that are looking for personalized airline ticketing system and flight inventory management system we have some very powerful tools.
adivaha® has mastery in building the best airline reservation system integrated with the most advanced flight inventory managers. Our software is intended to empower travel companies, tour operators, and travel agents looking to book tickets online from any corner of the world. Nowadays, everything is available over the internet, so people are no longer accustomed to spending time traveling to offices. So, it necessary for the travel agencies to provide all the facilities like hotel booking, airline ticket booking over the internet. Our airline ticketing system is not just a formidable companion but is also a necessity in today's world. We also offer various API integrations that reduce the overall error rate. They will further enhance the ticket booking and inventory management capabilities of your agency and will empower passengers to reserve tickets from remote areas, thus increase the chances of conversions. The most important impact of our software will be that it will significantly reduce the workload or the tour and travel agencies.
adivaha's airline ticketing system is the easiest way to book flight tickets over the internet that too on the best flights available. Though there is a stereotype that a flight reservation system will only make the airline reservations easier, it doesn't apply to our system. Since, we have worked tirelessly to include some other necessary features to it, like it will pave an easy way for marketing. Which other travel solution providers might not offer you and if they are offering they will charge a hefty amount. Our software will not allow travel and tour businesses to book holiday packages, cars, hotels, and flights but it will also recommend them things to them based on their previous preferences. And for first time users, the search function is delineated with some very nice filters to help them narrow down their searches. Our booking engine software comes with a wide variety of digital marketing tools, to help promote your website and with those tools, you will be able to reach those sections of the society which were earlier unreachable. Our airline booking system will be integrated into the homepage of your web-portal in an efficient manner, so the customers don't have to waste their time finding the software to book tickets. And whenever, a client will perform a search the ticketing booking system will establish a real-time secured connection with the CRS of the agency or the GDS if the agency is using one, to retrieve the most recent results and will display them to the users in an efficient manner. There is no need to say this, but our airline ticketing system for web-portals is the fastest and the most reliable reservation tool for the passengers.
adivaha's inventory management system is built after performing extensive research and surveys so that it will be able to fulfill all the general requirements. Initially, it will provide you some general features but it will grow with your business. Moreover, we have ready to use APIs that can be directly unified with any platform be it your web portal or your mobile application development to provide futuristic functionalities for clients looking for some advanced features. Our flight inventory manager will provide the smoothest ways to manage routes, rates per seat, and availability of seats. Further, it will provide direct access to the airport and airline databases and will display the most recent data available, so you won't have to keep track of ever-changing information on those databases. Overall, we provide the most advanced flight inventory management system that is flexible, fast, and accurate. And our solutions can easily address every challenge that a travel agency might face. Moreover, our system is readymade software so the travel agencies can quickly implement and test our inventory management techniques. And, it was designed by keeping future needs in mind, thus no matter how many new techniques are invented we got it all covered. We know that each client is different with different requirements so providing the same product all of them will not satisfy them all. Therefore, we paid special attention to make our software flexible so doing enhancements and modifications will be easier.
Conclusion
The airline industry is a sector of immense opportunities but fierce competition and low margins. It has grown a lot and is expected to expand in the coming years. So, it is necessary for every tour and travel operator to seize the opportunity when the time is right. And nowadays, it is easy to set-up an online web-portal to enhance your brand's image and outreach. However, when it comes to increasing the revenue that's not straightforward, there are various factors when combined together results in improved conversion and profits.
The most important factor is the use of advanced and powerful tools available in the market. These tools range from simple websites to full-fledged air ticket booking system. Having an excellent airline ticketing system is important for travel agencies to increase the interaction time of the users with their websites.
Though the meaning of an airline reservation system is clear from the name itself, nevertheless, it is a platform through which customers can book airplane tickets over the internet. Nowadays, everything is available over the internet so people are no longer habitual of physically going places to buy things. That's also true for travel shopping; people don't want to physically visit offices of brokers and agencies to book flight tickets. So, it is necessary to provide travel booking services online. That's the reason all the travel agencies now have web-portals providing flight booking services. However, the flight booking system will be of new use without the flight inventory management system.
A flight inventory manager is a specialized tool meant for automated maintenance of various flight-related information like the available seat, price per seat, etc. Along with maintaining inventory related data on individual computer reservation systems (CRS) of the airlines, it is also responsible for pushing the most recent data on the global distribution system (GDS). A GDS is a tool that provides access to multiple flight inventories, from individual travel agency CRS. GDS is responsible for retrieving data from multiple flight inventories and displaying it to the end user's through a travel agency's website. Without having all the above-mentioned software your online business doesn't stand a chance in the cut-throat competition of the digital realm.
At adivaha®, we provide 100% customized travel booking software to clients. We offer a full suite of travel-related services and our airline ticketing system is a one-stop solution for passenger's woes. Our software is capable of handling inventories, ticket reservations, and schedules and comes integrated with some powerful APIs. We provide flexible software that can be easily modified in the future, so there is no chance of our system getting obsolete. Moreover, we send regular updates in order to prevent our systems from becoming legacy systems.
At adivaha® we believe that our work doesn't stop just after providing a product, so we continuously monitor our software to find ways to improve their quality and enhance their capabilities.
Want to know more about our products, contact us, and get your demo.
Our Comprehensive List of Services
adivaha® is a one-stop-shop for all your travel website needs. We offer a multitude of services that empower you to become a market leader. Contact us for more info.
Have Questions?
The Internet is a huge resource, but
if your question requires particular expertise.
Keep Refreshing your customers - Who doesn't want his site to stand out from crowd? adivaha® gives you multiple options for home pages, headers, colors etc. Which can easily be managed from admin via shortcodes and settings. The theme supports almost all the big players in this market ie, WEGO, Travelpayouts, Agoda, Booking, Expedia etc.
Frequently Asked Questions
Below are some of the questions asked by visitors. Do visit our adivaha® Digest for more such questions. Don't hesitate to ask us if you have any questions
What all GDS and Providers are connected in the platform?

36

views

1

answers

0

votes