Build your own Travel Brand!
Ready to go-LIVE travel solutions that helps your travel agency to sell a range of travel services pretty instantly. adivaha® travel solutions make sure you have no boundation over your imagination, you can do everything online, without the need for any technical knowledge or design skills. Easy Backoffice, extensive reporting with integrated Funds Management System. Upload funds easily and instantly through Netbanking, Debit Card, Credit Card. The best part is, we do offer customizations in case you believe it will boost your business!
What Is the Average Cost to Develop a Robust Travel Portal?
The world has changed a lot in the past two decades. The thing (internet) which used to be a luxury, available in only some countries, that too on a very small scale was made available to every country.
In the beginning, the internet was used by armies for communication. Soon after, it became a hot topic of the town. And just like that, the internet grew into one of the most important discoveries of all time. Now, the invention of the internet is considered as important as the discovery of electricity. And the introduction of smartphones gave the required boost and people started using more and more internet. Earlier they had to read books to learn a thing, now they just have to search Google, since Google knows everything. Moreover, earlier people had to physically visit places for shopping, but now they are no longer required to go out of their homes. This was also true for travel shopping, people had to visit offices of travel agencies and tour operators if they were planning for vacations, but now they can check everything on the internet from the packages available to the cost of each package and plan their vacations accordingly. Every travel agency has its web portals over the internet, so they can connect with the customers in a better way. However, companies have to spend loads of money as travel portal development cost to have good web-portals. More often than not, the money invested in the travel portal development brings huge returns. But the development of the web portal still is a burden on the pocket of the travel agencies. And travel agents with not so large wallets cannot spend blindly. adivaha® was established with the goal of helping tour and travel operators of every scale and size. We provide the most economical solutions, but it doesn't mean we compromise on the quality. We can help reduce the overall travel website development cost.
adivaha® is a global travel solution providing company established with the aim to build best in class and affordable related travel technology software. At adivaha® we provide ingenious travel solutions that help travel companies to establish a strong foothold in the travel sector and earn more from travel booking.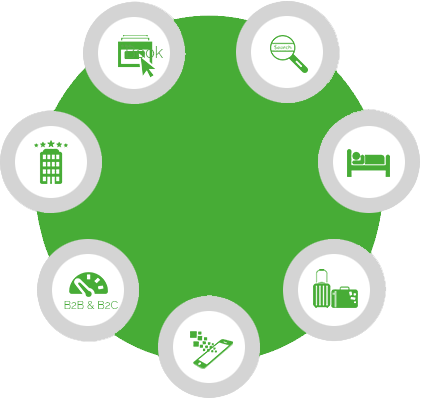 About the Cost of Developing a Travel Portal
We offer various travel technology solutions to travel agencies and tour operators. Though we are relatively new to the market, however, each individual we have is an expert with loads and loads of software development experience. Every software built by us is based on two core components: automation and innovation. Our team pays special attention to the latest market trends to ensure our software are up to date with the latest travel technology solution. We offer peer-to-peer solutions that are tailored to fulfill every need of online travel agencies. Moreover, our solutions are specially designed to let agencies and operators earn more profits.
There is a wide range of travel-related products present in the market. However, everything doesn't suit everyone. Each travel operator differs from the other, that's why the same techniques cannot be deployed by every travel technology company to become successful. However, one thing that is common among the requirements of travel agencies of every size and scale is the "travel portal". They all want an easy to use not so messy website with all the functionalities of their businesses. But why websites or "travel portals" are so crucial for travel businesses across the world.
Let's find out the reason.
What is a Travel Portal?
A travel portal is a travel service provider's digital identity, which it uses to influence customers over the internet. It is basically an online booking engine that facilitates both businesses and users. It helps travel agencies to connect with other businesses as well as the customers. A automatedtravel portal website provides any or all facilities to book an airline ticket, hotels, railways, etc, and provide every important piece of information about them to the users. In short, a travel portal is a one-stop-shop for all travel-related services. But why has it become so necessary for travel agencies, that they are abandoning traditional ways and only focusing on setting up an online business? Does it really have the potential to completely change the face of the travel industry?
Why Travel Portals have become a necessity?
The introduction of the internet has completely changed the game, and it has affected every major industry. Gone are those days when people were accustomed to spending hours on shopping, by physically visiting places. Now, they have a magic wand "smartphones" and have mastered the most important spell "search the internet", and they can do just about everything from buying clothes, shoes to learn unknown technologies by using their wands and spell they have learned. So, when they can get everything they want by sitting on their sofas, why they will want to stand in queues for hours to buy bus tickets, or visit a travel agency office just to find vacation packages. They won't, that's why it became necessary for travel businesses to have a travel portal.
Initially, travel business portal b2b used web-portals just to provide an overview of their businesses to clients. But with time, the travel portal evolved and replaced traditional travel agencies. And we have reached a time where travel agents no longer need offices. Having a website is enough. However, that's not surprising at all, since a travel portal can do just about anything that a full-fledged travel agency can do. So calling a travel portal a full-fledged travel agency will not be wrong.
Along with traditional services like airline reservations, hotel reservations, travel portals also provide various other services like car rental travel technology services, secure payment gateways. And the list of benefits of using a travel portal is an extensive one. So, let's talk about various advantages that accompany a travel portal.
A travel portal makes the ticket booking process effortless. Users just have to search for the package that suits them the most, select a starting point, select the means of transport, and book a hotel room. And just like that, they can plan their entire journey from the starting point to the destination from their homes.
A travel portal also helps in reducing the manpower required to run a travel agency. It can support day to day work like invoice management, inventory management, etc, thereby a travel agency has to hire less number of employees, which ultimately contributes to its profits.
 The most important benefit of using a travel website is, they provide real-time reports. From the beginning, the travel agency's operations used to involve loads of data. However, tools were not available to use this data effectively. But a travel website comes loaded with tools that can convert this data into meaningful numbers, which a travel agency can use to find where it is lagging.
Last but not the least, it also helps the travel businesses to improve their outreach and make their business more discoverable. Since one thing is true for every business "the more discoverable a business is, the more are its chances selling".
However, all these features come at a price, and usually, the travel portal development india cost is very high. But adivaha® has mastered the art of building a futuristic travel website at a very low cost. Our portals come pre-loaded with some powerful plugins. And we make our websites flexible in case a client wants to add some more functionality to the portal, modifications can be done easily. That's not all, we provide various other important integrations that are needed to compete in the travel sector. But all of them have a cost and we at adivaha® believe in building a relationship of trust and respect with our clients. And providing details about various solutions that we provide and cost associated with each one of them is necessary to build a relationship of that kind. So, the next section is dedicated to various important features that are necessary to have on a travel portal to stand a chance in the travel industry.
What Necessary Features You Should Have On Your Travel Portal & Why adivaha®?
A travel portal is developed around the business vision of a travel company. There are various t-commerce platforms on which a travel website can be built like a holiday package booking system, bus reservation system, cruise booking engine, car rental system, hotel booking engine, flight booking engine, etc. A travel portal can be developed around any or all of them, depending upon one's requirements. While choosing the most appropriate technology, you need to know the details associated with it.
Flight Booking System:
The flight booking system is an automated system that facilitates customers to book airplane tickets from remote areas as wells as support airlines with their day to day work. It is one of the most renowned travel commerce platforms that form the basis of global tourism. However, a travel booking system alone is worth nothing, it has to be loaded with various powerful XML integration. And one such integration is GDS integration, which in most cases is provided by some API or Global distribution system (GDS) vendors.
A GDS is a network managed by a company that allows automated transactions between the end-users and the airlines through a travel portal. It is necessary to have GDS integrated on your portal if you are providing air ticket booking services through your travel portal development solutions. Since it provides direct access to various airline inventories and when a user performs a search through a travel agency's portal, this GDS integration will create a secure connection with various airlines' servers and retrieve information from those servers and display it to the end-users. Hence, integration of GDS forms a very important aspect of travel portal development and it is an onetime investment that can enhance customer experience and in return generate revenue.
At Adivaha, we provide you highly sophisticated GDS integration services. Our GDS integration enables travel companies to offer a lengthy list of travel product information and rates to their clients. It also helps travel agents to effortlessly reserve holiday packages, car rental, hotels, flights, etc. With our GDS integration, you will have real-time access to various information like cost per seat, discounts, information about flights, etc.
We have extensive experience in integrating the global distribution system and we specialize in unifying every renowned GDS system with a travel portal. Choosing us will be a onetime investment and it can help your business grow tenfold.
Hotel Booking System:
An online hotel reservation system is a computerized system that stores and distributes information about hotels, lodges, bed&breakfasts, and various other accommodation facilities. It is a complex travel technology software that helps customers book hotels remotely and schedules their dates and length of stay. It enables customers to choose the rooms of their choice. Some of the advanced hotel booking systems even provide the facilities to select extras like fruits, wine, flowers, etc while booking rooms. Though a hotel reservation might sound more like a tool used at the receptions of hotels, but in reality, it is a piece of code available over the internet that enables travelers to plan and book their stays and pay for them through a secure payment gateway.
A hotel booking facility is needed by every customer, no matter if he/ she is planning vacations or he/she is going on a business trip. So, it is necessary to offer hotel booking services through your travel portal. Not only it will help in increasing the interaction time of clients with your portal, but it will also enhance the overall customer experience. That's the reason travel agencies focus on providing more and more accommodation facilities to the end-users. However, management of inventories of these hotels is not an elementary thing to do, more often than not, travel agencies are forced to hire some professional to do the messy paperwork, which in return decreases their profits. Hence, it is important to find affordable hotel booking systems that can easily be integrated with your travel portal and reduce the overall travel portal development in india.
adivaha® provides online web-based hotel booking systems with access to inventories of hotels all across the world. Our system can be easily unified with your travel portal software, if you have one, and if an agency or agent doesn't have a web-portal then we can develop travel portals for them which will come equipped with a hotel booking system.
We develop hotel reservation engines that can support B2C, B2B2C, and B2B business requirements of the travel industry. Our hotel reservation system will offer users a clutter-free easy to navigate interface that will make sure customers don't face any difficulty while using the system. Moreover, it is also an effective channel that will allow customers to directly book hotels in every major city through your website. Further, all the information like rates, available rooms, will be accessed in real-time from the hotel servers and displayed to the users. All-in-all, integrating our hotel booking system with your web-portal is an efficient way to cut down the amount of money that you have to spend on developing a full-fledged travel portal.
Car Rental Software
Car rental software provides automated vehicle rental facilities with which your clients can rent a car anytime from any part of the word. It can receive and process reservations automatically. Other than providing facilities to the customers, it also helps tour operators to maintain information about various vehicles, cars available at the moment, invoice management, etc. Moreover, nowadays, it has become necessary to provide every service in one place, since customers prefer travel agencies which provide every service, they will need during travel. And renting cars during their vacations is also quite common among travelers. So providing car renting facilities to the user with your travel portal can boost your revenues. To your pleasure, it is very easy to integrate a car rental system with your travel portal. There are various readymade APIs that can provide you this functionality. However, the in-house cost of maintaining these kinds of systems is high, since integrating car rental system is a complex process and requires highly skilled individuals. But you cannot just ignore car rental systems, otherwise, you will lose many potential customers.
adivaha® is a leading car rental system developing company, and we have developed car rental software to clients all across the globe. Our car booking system is a complete package with a car booking engine, fleet management options, etc and we also build car rental websites for car rental agencies. Our system can be easily integrated into your existing website and enhance the functionality of your travel portal. It will enable users to search for cars, the rate of those cars, instant booking facility, and a secure payment gateway. We also provide effective third-party XML API integration to your existing travel website.
adivaha® takes pride in building the most economical car rental systems to ensure that you don't end up spending too much on travel portal development cost. We are a reputed travel solution provider company, and we have helped many travel agencies, travel consolidators, and agents to set up a successful online business.
Conclusion
For the past few years, the travel portal is one of the most important parts of the travel industry. And now, travel agents can survive without having offices, but their survival is not possible without having a website. Having a travel website has its advantages and disadvantages. But the list of benefits comfortably outshines the list of disadvantages. The first and the foremost benefit of having a travel portal for your business is, your business becomes more discoverable. It will help you to reach those sections of the society which were earlier unreachable for you. You can target customers globally. The second advantage of getting a travel portal developed for your business is, you will be able to communicate your brand's message free of distortion, to the potential customers. There are various other advantages of having a website, but it doesn't mean you can pay whatever a website building company is charging you for travel website development. Since building a website is a different thing and actually generating profits from that website is a different thing. Other than spending money on travel portal development, you will also have to spend a hefty amount on various API integration. Since a simple website is not enough, it has to provide some value to users, to increase the chances of earning profits. The cost of these APIs forms a major part of the money you have to pay as a travel portal development company cost. So, it is necessary to have a clear idea about how much a full-fledged travel website will cost you.
At Adivaha, the first thing that we tell our clients is how much they will end up spending as travel portal development in Delhi. This is certainly a critical question, after all, knowing the costs involved will allow travel agencies to plan their strategies accordingly. Ultimately, the price depends on the particular company's requirements. However, it is important to let you know, investing in adivaha® can get you impressive returns, since our portals are built with advanced techniques, to ensure maximum profits. Moreover, our travel portals if used with the right SEO techniques and potent digital marketing tools can surely drive more traffic, which means more chances of conversions, ultimately enhancing your sales and revenue.
When you choose us, you are choosing a team of seasoned professionals with decades of software development and IT industry experiences. We strive to deliver the best possible solutions with the most attractive travel portal development prices by leveraging our experience and expertise. We also guarantee the best APIs that will help you increase the functionality of your business.
To find the online travel portal software cost and the features that will come with the portal, contact us, and book your demo. For further queries, you can drop an email to info@adivaha.com or you can physically visit our office at 252-E, 1st Floor, Sant Nagar, East of Kailash, New Delhi, Delhi, India 110065.
Our Comprehensive List of Services
adivaha® is a one-stop-shop for all your travel website needs. We offer a multitude of services that empower you to become a market leader. Contact us for more info.
Have Questions?
The Internet is a huge resource, but
if your question requires particular expertise.
Keep Refreshing your customers - Who doesn't want his site to stand out from crowd? adivaha® gives you multiple options for home pages, headers, colors etc. Which can easily be managed from admin via shortcodes and settings. The theme supports almost all the big players in this market ie, WEGO, Travelpayouts, Agoda, Booking, Expedia etc.
Frequently Asked Questions
Below are some of the questions asked by visitors. Do visit our adivaha® Digest for more such questions. Don't hesitate to ask us if you have any questions