Build your own Travel Brand!
Ready to go-LIVE travel solutions that helps your travel agency to sell a range of travel services pretty instantly. adivaha® travel solutions make sure you have no boundation over your imagination, you can do everything online, without the need for any technical knowledge or design skills. Easy Backoffice, extensive reporting with integrated Funds Management System. Upload funds easily and instantly through Netbanking, Debit Card, Credit Card. The best part is, we do offer customizations in case you believe it will boost your business!
Using the Latest Technology in Travel Portal Software Development
The number of travel booking system made annually exceeds 148 million. In 2023, 700 million people are likely to book online. There are a lot of players in the travel and tourism sector.
The process of operating a B2C white label travel portal in such a competitive environment is itself a challenge. By using technology, you'll stand out easily. Let's discuss how Travel portal software development works.
What is travel portal software?
This web-based online booking system is used primarily by tour operators, business-to-business and business-to-consumer travel agencies, aggregators, and corporate travel agencies.
Travel portal development companies handle all aspects of B2B and B2C travel portal development, including consulting, development, and maintenance. API integration services are available for hotels, flights, travel packages, car rentals, buses, cruises, and insurance.
COVID-19 has forced travel companies to be more flexible than ever. Travel requirements frequently change, affecting many destinations around the world. This can lead to travelers becoming confused and losing their way. You might also consider providing your customers with the most current information regarding restrictions in your destinations. This can be done with a Travel APIs to update and provides data only from official sources.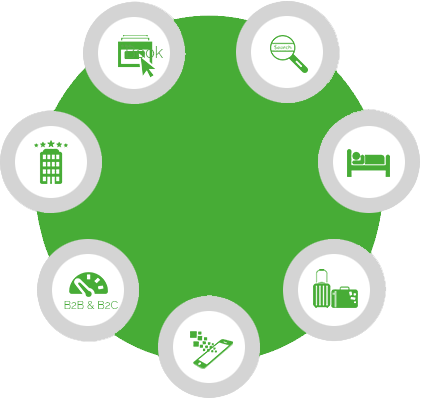 Travel Portal Software Development
The covid pandemic will make it difficult to get more customers. To address these challenges, we need to arm ourselves with technology. Let's analyze the key challenges;
What are the key challenges faced by travel companies?
Business-to-consumer travel companies face several challenges.
Cost of Technology
B2C portals require robust technology to function properly. B2C travel portals cost a lot to set up.
Supplier Licenses– Licenses for CAPs, bank guarantees.
Payment Gateways– Cost of initial sign-up.
Travel Technology Provider– Cost of platform licensing, initial setup, and maintenance.
Hosting – Webhosting, server licensing, security protocols, certifications, etc.
A travel agency's start-up costs are huge due to all these factors. Keeping up with technology's rising costs is challenging for many companies.
Engaging Customers
Making customers stay and getting their repeat business is only half the battle. Customers are more likely to remain engaged when you have:
Information, content, and pleasing imagery can be found on a website that performs well on various devices.
Programs that enhance customer travel experiences include loyalty modules, coupons, discounts, and offers.
Users will stop using your online service when they feel their data is misused.
For all of this to work, good technology is essential. You will lose customers if your portal lacks anything to keep them engaged.
Providing the best deals
Checking a hotel's price on a competitive website takes only 30 seconds. If you want to make a name for yourself in such a competitive market, you need to be able to beat your competitors on pricing and discounts. Only if you have the best deals from your suppliers can you provide your customers with the best deals. You must ensure that your inventory and coupon modules are the best to keep your customers happy.
Stand out from the competition.
The travel and tourism industry is highly competitive. With so many travel portal solution, it can be difficult to grab your customers' attention. You must be different from everyone else and keep your customers happy. Do not let your competition overshadow you.
What are the challenges in post-pandemic travel?
The Covid pandemic shut down an industry worth almost trillions of dollars. Moving forward requires adapting to a new way of living. Due to the availability of vaccinations, people are once again traveling. In the travel industry, a few concerns must be addressed.
Safety and hygiene will continue to be the highest priorities.
Good transfer services should have sanitizers and masks.
It is the responsibility of the hotel to inform its guests about its safety and hygiene rules.
Follow local laws and regulations.
Customers are very concerned about payment details.
There are changes in the hotel preferences and types.
The timeframes for searching and staying are changing.
How can you build a strong travel business?
To build a successful b2b and b2c travel portal, many factors must be considered. Developing a B2C travel business requires you to ask yourself the following questions:
The main purpose of your business.
How do you provide your customers with what they need?
Are there any key differentiators between you and your competitors?
What makes customers want to come back to you again and again?
Answers to these questions will allow you to make informed decisions about your business and who to partner with. As an example, if you're planning to provide your customers with a hand-picked range of villas, private properties, and the best activities, the overall setup of your B2C Travel Portal will differ from a full-service agency. To build a successful online travel portal, you should consider the following factors:
Understanding your customer
Be aware of who your target audience is. You must understand your travel audience's needs and goals to provide the best service. Create a complete profile to get to know your target audience and their preferences. Understanding your customer's better helps you choose the right course of action for your business when you create this kind of profile.
Services
It is only necessary to select the features and travel technology services that are most important to your customers after you have created their profile. You need to work with the best suppliers to build a strong inventory. By offering various options, you can appeal to your customers. For example, adding a Transfer and Car Rental Module to your offers will help you better serve business travelers.
Choosing the right travel technology partner
B2C travel portal can either succeed or fail based on technology. Scale your business by finding a technology partner. Ensure that the travel technology provider offers the broadest range of partners, integrations, and features. There are several characteristics that a great travel technology company will have:
They have a diverse portfolio of customers.
You can build all your services with these comprehensive features and services.
All categories of suppliers are strong.
Exceptional reputation in the market and a long history of technology innovation.
Service and support after the sale are excellent.
Providing you with the latest technology solutions is the most important part of what we do.
The X factor
Your portal has a unique X factor. By doing this, you may attract new customers and retain existing ones. For instance, it could involve a loyalty program, availability comparisons, guided booking, or price comparisons.
One option is to offer a live video call-based booking process where a live agent will guide customers. You can also provide customers with a spend analytics tool on your platform, which lets them track their planned and actual spending. It is the X factor that makes you stand out from the crowd.
Go Live and Promotions
After setting up your online travel portal, ensure that your audience discovers and views it. As a result, you need to utilize practices such as:
The content on your platform is excellent, as is the documentation.
Enhance its search engine optimization and digital marketing capabilities.
Through organic and paid social media marketing, promote your B2C travel booking platform.
Share content that your customers will find relevant and shareable.
Mobile App for Travel Portal
Mobile apps are essential for any B2C travel business.
Your customers can expect personalized services and offer from you.
Provides them with exclusive content and deals.
Inform and alert localized audiences.
Access to booking details and travel history on the go.
With an excellent travel mobile app, you can increase your revenue and increase customer loyalty.
Features of Your Travel Portal Development
Curating a promising travel portal requires putting oneself in the consumer's shoes. A good strategy combined with the right technology can yield outstanding results for a travel portal development company. Over the last few decades, the travel sector has undergone radical changes. In the past, getting a ticket involved standing in a long line.
Travel portals are devising clever marketing strategies to entice customers, keeping in mind the huge impact the sector has on the economy. Entry level players are making no compromises in making a mark in the industry.
They have begun investing in comprehensive travel portal development to provide their customers with a complete travel booking experience. For travel portals to be successful, they must incorporate the following features:
Create an Android/iOS App
Mobile devices generate most of a company's revenues. Using this idea, you can set the portal ablaze and comfort the user—the business benefits from such features and concepts.
The importance of this move cannot be underestimated. Every problem needs a quick solution, no matter what it is. Travel portals that offer convenient services are a total win-win for customers. Users are looking for travel portals that are innovative and tailor-made for them.
Responsive Design
As mentioned earlier, a top notch travel portal will have an aesthetically pleasing design that incorporates mobile devices seamlessly. In this way, users are easily engaged. You should design the website so that it is easy to navigate. In this way, the user would avoid potential problems.
It is easy for customers to screen your products and services with the easy navigation option. A website should also be easy to understand by users. A convenient & seamless travel portal development service is what you need.
Easy Search Filters
A filter should be available for search results on the white label travel portal. In regards to the online travel booking system, more information is necessary. The traveler should have the option to select the country, the date, and the kind of hotel they wish to stay in.
There will surely be many other menu items such as holiday packages, car, bus rental services, etc. You can add this feature and many more when you hire an experienced company to develop your travel portal.
Integration with Google Maps
Integrating Google maps successfully is like finding a gold mine. By doing this, travel app can boost their business by leaps and bounds. After reaching a destination, a traveler's first thing that comes to mind is a comfortable hotel.
You should also find out where a delicious local meal can be found. The best way to attract customers is to show them nearby areas in your app. taking the travel portal to a whole new level is a great idea.
Inserting Attractive Images
It is a cherry on top if many attractive images are displayed. Photos of the hotel rooms and balcony view tempt potential guests. This strategy is not to be ignored by any travel portal development company. The website would surely attract more users if it showcased a few beautiful pictures. Photographs of a location's best features act as incentives to visit.
Payment Gateway
You will not be able to make money from your website without a simple and secure payment gateway. In the absence of a payment gateway, the entire plan remains incomplete. Credentials for entering the gateway should be kept simple with a minimal number of fields. Gateways must never ask for unnecessary information. The information could include details such as the address, zip code, phone number, etc.
If you exaggerate, you may lose the interest of a potential client. It's worse if they never return to the site. Therefore, these moves need to be done seriously. It's here where customers get mesmerized. In other words, they lost interest.
SEM
Your website will appear at the top of the search engine results with Search Engine Marketing (SEM). Organic and paid links on Google, Bing, and Yahoo increase visibility for travel development companies.
Our Comprehensive List of Services
adivaha® is a one-stop-shop for all your travel website needs. We offer a multitude of services that empower you to become a market leader. Contact us for more info.
Have Questions?
The Internet is a huge resource, but
if your question requires particular expertise.
Keep Refreshing your customers - Who doesn't want his site to stand out from crowd? adivaha® gives you multiple options for home pages, headers, colors etc. Which can easily be managed from admin via shortcodes and settings. The theme supports almost all the big players in this market ie, WEGO, Travelpayouts, Agoda, Booking, Expedia etc.
Frequently Asked Questions
Below are some of the questions asked by visitors. Do visit our adivaha® Digest for more such questions. Don't hesitate to ask us if you have any questions
Hello team, can you tell me if I can connect several APIs in one platform or website?

20

views

1

answers

0

votes