Build your own Travel Brand!
Ready to go-LIVE travel solutions that helps your travel agency to sell a range of travel services pretty instantly. adivaha® travel solutions make sure you have no boundation over your imagination, you can do everything online, without the need for any technical knowledge or design skills. Easy Backoffice, extensive reporting with integrated Funds Management System. Upload funds easily and instantly through Netbanking, Debit Card, Credit Card. The best part is, we do offer customizations in case you believe it will boost your business!
Get the Best Deals With These Hotel Booking APIs in India
A hotel booking API is a mechanism through which guests can create secure reservations online. Although the process is similar to booking with an online travel agency, the main difference is that the hotel's booking engine links to your website, saving you additional costs. The term API is used by all technology providers in the hospitality industry. But also by all the professionals who offer IT tourist services. However, hoteliers, sometimes even the owners and managers of the structures, often do not know what this abbreviation refers to.
Technology has now become fundamental in the modern hospitality industry. It is, therefore, necessary to know what the abbreviation API means. Through the hotel reservation api, guests can select the length of their stay and the type of room they want, obtain add-ons, and pay securely through an online payment platform. This article will explore a hotel booking API free India system, how it works, and its advantages. Let us begin!
hotel booking API free India
APIs, also known as Application Program Interfaces, are the functions and procedures that provide access to the attributes or information that are part of the operating system software or another service. They form the foundation of any network of digital programs. In our business, they serve as the way we connect all the applications, hospitality software, and programs that help keep our hotels operating day-to-day. It is essential to consider how the connection will function when selecting the software to implement in your hotel api.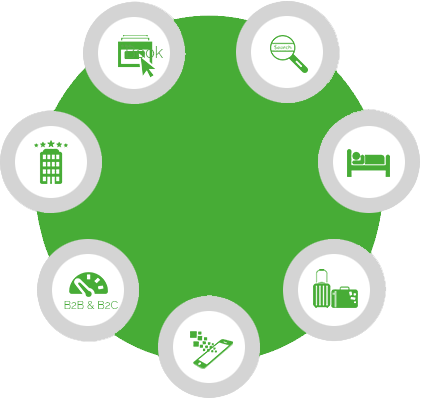 Best Hotels in India With These APIs
An Application Program Interface is a means of communicating between systems. To give some examples, we go from the weather app that receives information from a station connected to the large OTA that sends data on reservations to your channel manager.
Even in the hotel api provider industry, can be closed or open. Closed means that the manufacturing company asks for a payment for the documentation release. In recent times, however, many companies are starting to offer open APIs. This means that developers can access it freely. For example, connect systems, gather more information, and create an optimized experience for users and customers. In our market, many OTAs, Channel Managers, and several of the world's most influential technology companies have open and easily accessible APIs.
API and hospitality
Let's look at an instance. If you own an establishment in the central area of Verona You will require a PMS, a channel manager, a house keeping program revenue optimization software and possibly more. The various systems have to be able to communicate with one another regardless of whether each one is written using distinct code.
This is where APIs with open APIs can are useful. Open APIs mean that the portion that talks with the outside world has been created in a way that is standard. This allows for easy integration with other applications.
How hotel booking API programs work?
Then, the hotel's revenue management manager downloads the hotel's rates, inventory, and restrictions. The data is then entered in the PMS, and it is then, using software to manage channels, it's sent to the hotel's reservations channels. These channels include the hotel's booking engine on its website, online travelport api integration agencies, and the global distribution system metasearch and wholesalers.
If a person is booking a hotel room via any channels, the data is sent to the PMS and CRS, which then store it to be available when they check in. At the same time, the availability is continuously updated across all distribution channels.
Of course, this process depends on bidirectional connectivity between the reservation system and the other components. If the features are not integrated, these tasks must be performed manually, a time-consuming and error-prone process.
This hotel booking API system is used in the hotel industry for guests to book their stays online through software. It helps provide a smoother free flight booking api process and quickly collects the data in your system. Plus, hotel booking API free gives you an edge over competitors and improves efficiency by automatically synchronizing your system and channels.
api integration guide was created using an existing portal for travel built on the requirement and the data of hotels from international hoteliers to provide the most satisfying customer experience. By integrating hotel API, travelers can access the entire hotel's information, including the hotel's name, address and longitude, latitude, the cost of hotel rooms, facilities, and other features from worldwide hotel business managers.
When you integrate hotel booking API into your global travel agency domain, your customers can book their rooms easily, and your company's profits will rise. The industry of hospitality and travel has a global audience. Hotels are growing, and hotels have emerged as an essential part of travel and tourism—millions of travelers book hotels on various booking platforms or travel agencies annually.
With the rising need for hotel reservations, online hoteliers are making the booking process more efficient by connecting gds api. This hotel reservation engine can verify and confirm the availability, rates, and variety of services available, allowing your client to pick the best and most economical hotel in the city they're seeking.
Below are a variety of the most popular features of hotel booking API.
Real-time booking
Instant response
Scalability and flexibility
Agent facility
Push Notification
Add rooms and hotels.
Agent facility is a possibility to be added.
Cost-effective
Optimized technically
Multi-lingual
After integrating the Hotel API, the hotel booking engine and the processing of payments are automated. Your brand's presence grows in the world market. Through API integrations, your customers can access all the information regarding your property, including images, reviews, ratings, and information about other services you offer. The customized service is available to guests who use ota api integration to book hotels.
This hotel booking gds api integration type of software is essential to increase the attractiveness of your establishment and improve occupancy rates. It is a necessary tool for growing bookings and creating enhanced guest experiences, which translates into higher customer retention and increased revenue.
Why hotel booking API free is a must?
While most hotels switched to a reservation management system some time ago, some small hotels and hostels, inns, B&BS, and operators of vacation rentals continue to use manual procedures. This hotel booking gds api free system puts them at a disadvantage compared to their more modern counterparts or the hotels that are part of chains.
Here are some reasons why the hotel booking API is essential for hotel managers:
Meets the expectations of travelers.

Travelers today want to book a room without emailing the hotel or waiting on hold. With a web booking engine, guests can book online anytime, anywhere, generating reservations 24 hours a day!

Increases efficiency.

An integrated reservation system reduces labor costs, prevents costly errors, and frees staff to handle more complex tasks by automating administrative tasks such as rate comparison, inventory management, and email confirmations.

Save commissions

Save commissions from OTAs with a hotel booking API free system. If visitors book directly through your site, you don't charge a significant fee on an intermediary. That is why the hotel booking API free system is usually the most profitable booking channel for an establishment.

Offers multiple booking options.

You can promote room packages, promotions, and other types on your website or social media channels. You can target an array of travelers with different budgets and preferences. Some third-party websites don't provide this kind of freedom.

Increase your revenue.

If guests book through your site, you can offer upsells of superior rooms and cross-sell on-site products like breakfast, dinner, spa, and leisure. Develop relationships with guests before arriving. Most OTAs do not share guest contact details when submitting a booking. Guests who book through your website collect this information and build loyalty. Email automation software can invite them to start planning their stay and check-in, upgrading their room, or more.

The hotel booking API system Improved efficiency

This hotel booking API system improves the efficiency of hotels, mainly because the availability is updated immediately on all channels, including your design. This reduces the time your front desk staff spends on administrative tasks and minimizes the risk of overbooking.

On the other hand, an online reservation system can automate tasks such as sending reservation confirmations. This frees staff to spend their time on other vital areas, like providing top-notch customer service. As guests create their reservations, they arrive in the system with all the information already entered: all the front desk staff has to do is prepare for your arrival. Process automation is the key to ensuring the pre- and post-trip process's success and efficiency.

The Hotel booking API system gives you a competitive advantage.

In the age of digital technology, there's no excuse not to be connected. But, some smaller hotels aren't keen to immediately invest in software for managing their reservations. They are required to distribute a portion of their earnings to intermediaries.

Hotel booking API systems can also customize the software to implement their brand image throughout the checkout process, building trust that translates into conversions. The hotel booking API system can reflect your hotel brand within your URL; this gives guests a sense of security and makes them want to book directly with you, an advantage that your competitors will not have unless they also have their booking engine. In addition, in this way, the reservation experiences are more functional and easier to use than through a third party.

On the other hand, since most guests now book online, offering online booking gives you an edge over businesses that haven't yet invested in the software to make it happen. When guests book directly through the hotel's reservation system, hotels avoid having to give commissions to third parties. This Hotel booking API allows them to offer better prices to their guests.

Reduce chances of human error

If you've got an account on your platform, the guests will consider it was making reservations, and it is assumed that there are no errors in the details of guests or details of their contact.

However, if a mistake does occur, the hotel will not be held accountable, and its reputation will remain intact. Also, because the reservation system is synchronized with channel managers, there is little or no chance of overbooking due to human error. Reducing human error in bookings enables better service and frees time to take care of other tasks that would otherwise be spent fixing errors.

Data collection is more accessible.

Collecting customer data is critical to marketing, and a hotel booking API system is one way to ensure data collection is accessible and all guest data is in one place. You will be able to quickly identify the demographic data of the guests, their tastes, the services they prefer, their origin, and the number of guests that travel. Use this data to customize your marketing strategies, enhance the overall experience for guests, and increase the likelihood of a repeat visit.

Easily manage rewards

A hotel booking API system allows you to keep track of the stays of those customers with rewards and assign them the corresponding benefits. Through their single sign-on, guests can track their tips, so they only need to enter their information once, and from there, it's the system that monitors the status of their rewards, with minimal maintenance by staff.

Since hotel loyalty programs are essential for retaining guests and maintaining occupancy in the off-season, the simpler you can manage rewards, the easier it is for your staff to follow up and the more likely it will be. You can keep guests returning with rewards using the hotel booking API free system.

Provides security to travelers.

Regarding date changes and cancellations, the top concern for travelers in the 2022 Travel Trends Report is flexibility. If guests book their stay through your website, they can change their dates or cancel directly through your hotel, providing them peace of peace.

Manage availability and rates in real-time. With a channel manager integrated into your booking system, you can instantly change rates as well as availability for all channels of booking. This will allow you to increase occupancy, ensure rate parity and help you avoid pricing errors, overbooking, and loss of sales.

Automate your payment process.

Suppose you connect a payment gateway with your reservation engine. In that case, credit card transactions are automatically validated, and payments are processed swiftly, reducing mistakes in the input process, payment delays, and refunds.
Advantages you should look for in a hotel booking API free system?
An open cloud-based platform that's simple to set up and manage and accessible from any device with an internet connection. Hotel booking API free is scalable to meet the needs of your business.
Integration with the hotel's PMS will automatically update guest details instead of manually moving information from one platform to another.
A simple, easy-to-use, commission-free booking engine that can be customized to fit your website design.
Two-way connection with channel manager and revenue management software optimizes pricing, distribution, and inventory.
An integrated rate comparison widget reassures visitors that booking directly is the best option.
Built-in insights and analytics with robust data to help you understand buying behavior and preferences.
Language and currency functionality allow international guests to complete a reservation in their preferred language and currency to simplify the reservation process.
A secure system complies with privacy regulations and ensures that guest information and payment details are processed and stored securely.
Dedicated hospitality customer service staff will be there when you need them, providing robust onboarding, training, and support services to enhance the guest experience.
Conclusion
At Adivaha, we have analyzed a hotel reservation system, how it works, and its benefits to the hotel industry. The benefits of the hotel booking API system range from a reduced human error to improved efficiency, more accessible data collection and rewards management, and competitive advantage.
With the best technology, having a hotel booking API free system is one of the most straightforward changes a hotel can implement to reap the benefits mentioned in this article. It allows you to maintain occupancy and ensure that everything runs smoothly without needing hotel staff to intervene. The less time your spend on administrative tasks, the more time you can spend delivering the best possible service.
There are a variety of services of hotel booking API free to offer you the most effective results. At Adivaha, we are committed and dedicated to every project. With many years of work experience, our team has completed many travel projects and delivered complete satisfaction. Our team has experience integrating several providers (APIs) and delivering results of searches in just a few seconds. Finally, an excellent hotel booking API free India will help you provide a better experience for your guests. Having well-connected systems will facilitate the work of your staff, which will have more time to dedicate to guests.
Our Comprehensive List of Services
adivaha® is a one-stop-shop for all your travel website needs. We offer a multitude of services that empower you to become a market leader. Contact us for more info.
Have Questions?
The Internet is a huge resource, but
if your question requires particular expertise.
Keep Refreshing your customers - Who doesn't want his site to stand out from crowd? adivaha® gives you multiple options for home pages, headers, colors etc. Which can easily be managed from admin via shortcodes and settings. The theme supports almost all the big players in this market ie, WEGO, Travelpayouts, Agoda, Booking, Expedia etc.
Frequently Asked Questions
Below are some of the questions asked by visitors. Do visit our adivaha® Digest for more such questions. Don't hesitate to ask us if you have any questions